[ ABOUT ]

This blog covers my experiences at
Hot Docs 2005.
[ BLOGS & PUBS]
indiewire
Blamblog
Blogumentary
Docfilmweblog
Cinematical
docfilms.net
GTA Bloggers
Playback
[ FESTIVALS ]
- TORONTO -
Hot Docs
TIFF
Images Fest
Inside Out Fest
Worldwide Short Film Fest
One Minute Film Fest
Reel Asian Fest
- INTERNATIONAL -
IDFA
IDA
Full Frame
Sundance
Cannes
DOXA
Shadow
SilverDocs
Iowa City
[ ORGANIZATIONS ]
Wednesday, January 18, 2006
New ...
This blog has evolved! You can find regular updates on my main page at BrettLamb.com.
11:50 AM , # , |

Wednesday, July 20, 2005
TAFF
The Toronto Arab Film Festival starts today!
8:14 PM , # , |

Thursday, June 30, 2005
Updates
Vinyl - The Yard Sale. Filmmaker Alan Zweig is selling his crap this Saturday from 11am to 6pm at 402 Dovercourt. And there will be vinyl for sale ...

Street Fight - The Broadcast. Marshall emailed to remind everyone that his award-winning doc will be airing on PBS on Tuesday night. Don't miss it!

This blog was mentioned in a recent Realscreen article on docs & blogging. Chuck Olsen's Blogumentary project was included, too.
9:55 AM , # , |

Tuesday, June 28, 2005
Kirby Dick on Rocketboom

Rocketboom videoblogger Amanda Congdon interviews Kirby Dick, director of Twist of Faith & Sick.
6:10 AM , # , |

Tuesday, May 24, 2005
insideout
insideout, Toronto's lesbian and gay film and video festival runs to this Sunday (May 29).
10:06 AM , # , |

Tuesday, May 17, 2005
Hot Docs Grows!
Here's Indiewire's review of the 2005 festival. Not mentioned in the article: audience attendance grew from 37,000 in 2004 to 41,000 this year.
11:12 AM , # , |


El Contrato
Min Sook Lee's doc, Hogtown: The Politics of Policing, won the jury prize for Best Canadian Documentary at Hot Docs this year. Meanwhile, her previous doc El Contrato continues to generate threats of legal action after airing on TVO recently (the film's release was delayed because of legal action). The subject of that film is migrant farm worker conditions in Southwestern Ontario. You can show your support by emailing asktvo@tvontario.org .
10:52 AM , # , |

Wednesday, May 04, 2005
The Week After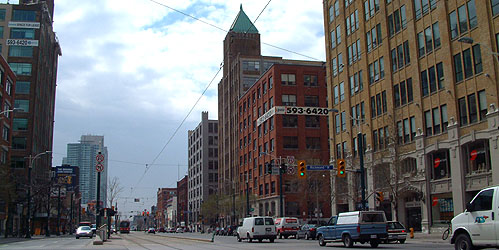 Spadina Avenue, Toronto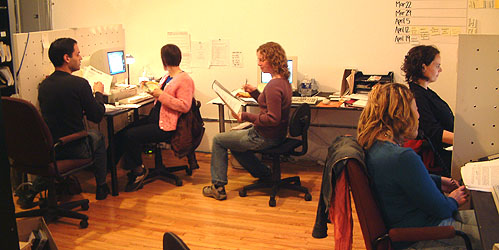 It's quieter at Hot Docs these days, but the communications gang continues to communicate the post fest news. Just announced: Street Fight won the Audience Award (scroll down here for the top ten audience picks), not just at Hot Docs but at the Tribeca Film Festival as well.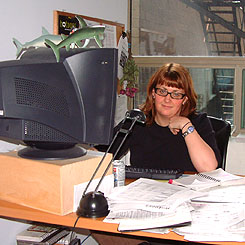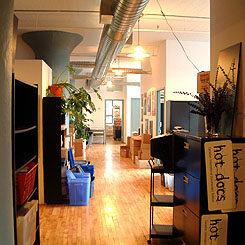 [above] Jenn appreciates the slower pace and an office no longer piled-high with boxes.
1:26 PM , # , |

Monday, May 02, 2005
Last Reviews
Hot Docs 2005 has ended! Here are some final reviews from James at Consolation Champs:

Lost Children (9/10)

Bunso (The Youngest) (8/10)

Xiara's Song (8/10)

The Swenkas (10/10)
6:09 PM , # , |

Saturday, April 30, 2005
Hot Docs Awards Night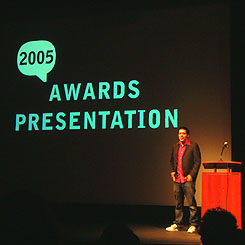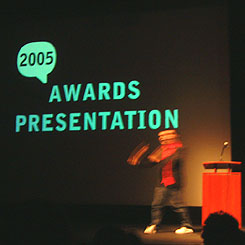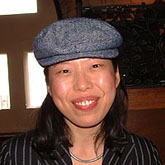 HAW! Host George Stroumboulopoulos shows off his moves at the start of the Hot Docs Awards Ceremony. The full list of awards winners, honourable mentions and an archive of past winners can be found here. The Audience Award will be announced on Monday after the votes are counted.

This year, Street Fight (screening again tonight at the Bloor at 9:30pm) won Best International Documentary and Hogtown: The Politics of Policing (directed by Min Sook Lee, right) won Best Canadian Feature Length Documentary. Hogtown is showing again on Sunday at 2pm at the Bloor Cinema.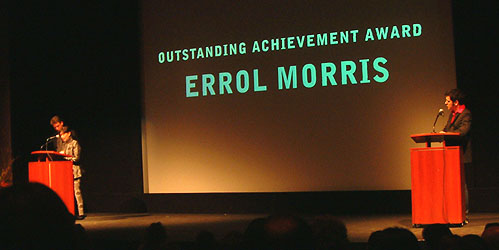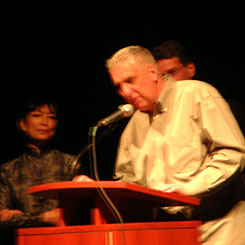 Festival Co-chairs, Louise Lore and Michael McMahon, introduce this year's Outstanding Achievement Award winner, Errol Morris. Morris (left, accepting the award) appears in an on-stage interview tonight with film critic Gerald Peary.

The Awards Presentation was followed by a party at UofT's Victoria College.

Sunday - Closing Night!

The Hot Docs Daily Bulletin has a listing of the films showing on the final day of this year's festival. The big finish is the Closing Night Screening, Heysel '85, Requiem for a Cup Final and the Closing Night Party at the Royal Ontario Museum.
11:16 AM , # , |

Thursday, April 28, 2005
Parties
Spotlight on Israel Party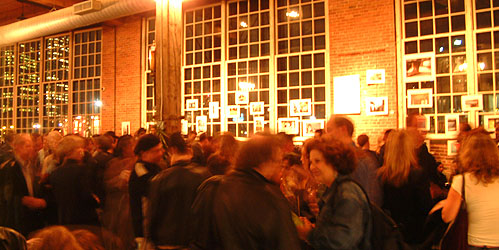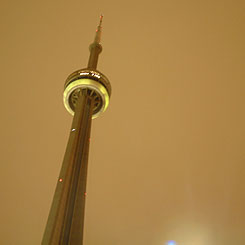 It was standing room only Wednesday night at the National Spotlight party held at the Steamwhistle Brewery in the Roundhouse at the foot of the world's tallest freestanding structure, the CN Tower. It was a solid crowd of filmmakers and other industry people.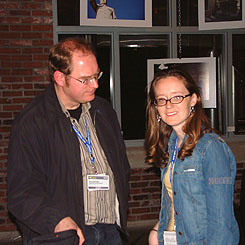 [right] Ron and Amy make parties happen. Ron is the Theatres Manager and organizes the fine volunteers (the people in the black shirts). He says they're an exceptional group this year. Amy is the Special Events Coordinator and if it wasn't for her, we'd all be drinking pop and eating chips and listening to music on tinny speakers plugged into somebody's ipod.

Thursday night the Documentary Organization of Canada held their party at the swanky C Lounge.

Friday
Tonight I'm sponsoring the Canadian Premiere of Werner Herzog's new film, Grizzly Man (7pm at the Bloor). Another excellent doc to check out is Bearing Witness (1:30pm, ROM Theatre).

The Hot Docs Awards ceremony is also this evening, hosted by George Stroumboulopoulos from CBC's The Hour.

Check out the daily bulletin for updates, press links and event slideshows.
11:40 PM , # , |


Recommended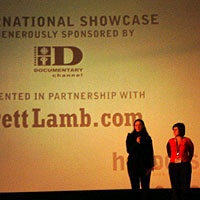 Director Edet Belzberg introduces her doc, Gymnast, last night at the Bloor. James gives it an 8/10 in his latest batch of reviews. It screens again at the Isabel Bader Theatre on Friday at 3pm.

He also reviews:

A Perfect Fake (8/10)

Lifelike (9/10)

Say Amen (7/10)

Keep Not Silent (8/10)

Boing Boing has a post about Enron: The Smartest Guys in the Room [via Kirby]. That film had its Canadian Premiere at Hot Docs last Sunday.

And on my blog: Gym night at Hot Docs!
8:51 AM , # , |

Tuesday, April 26, 2005
Reviews
James continues to review this year's festival docs:

Battleground: 21 Days on the Empire's Edge (10/10)

BlogTO is predicting Street Fight will win this year's audience award. They also have posts on Fall of Fujimori and Murderball.

Torontoist has their picks. They misread the schedule and thought only two Errol Morris films were being screened (there are five plus an on-stage interview with the filmmaker on Saturday night). Torontoist's cheeky tone would be a bit more bearable if they didn't screw up constantly. Which they do.
9:17 PM , # , |

Monday, April 25, 2005
Monday Evening Reception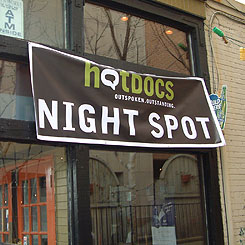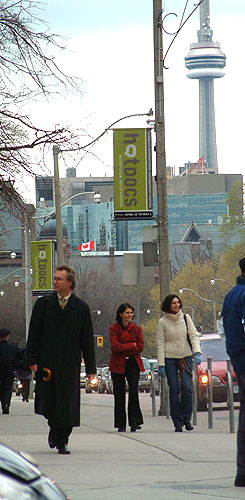 Monday evening's Reception at the Hot Docs Night Spot, the Bedroom Ballroom, was packed with filmmakers. Here are a few pics from the event.



[below, left to right] Hot Docs Developent Director Rose Bellosillo, director Min Sook Lee (Hogtown: The Politics of Policing), Albert "the Dean of Documentary Filmmakers" Maysles (Gimme Shelter), distributor Ryan Bruce Levey (Vagrant Films Releasing) and Marshall Curry (Street Fight).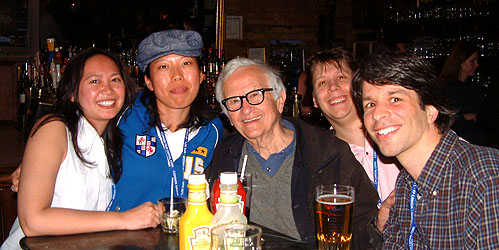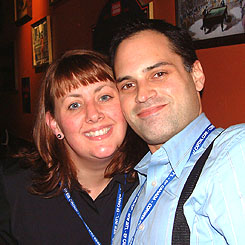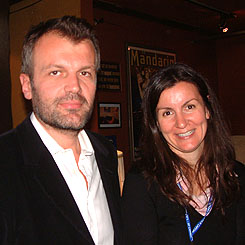 [above, left] Hot Docs Development Manager Jennifer Hobbs Tworkowski and Communications Manager Jonathan da Silva. [above, right] Director Thomas Balmes (A Decent Factory) with Hot Docs Admin Manager Rhonda Costas.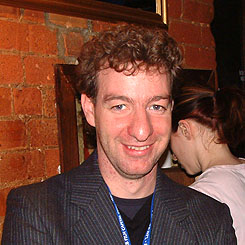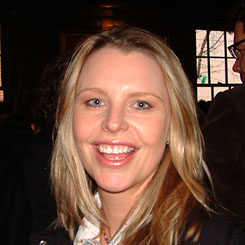 [above, left] Joost den Hartog returns from the Netherlands as a delegate! Joost works at the world's largest documentary festival, IDFA, in Amsterdam. [above, right] You may recognize the mouth of TDF Publications Coordinator, Lynette Gryseels. Her mouth is on the left in the middle row on the covers of this year's publications.

Tuesday
Abel Raises Cain is at the Bloor at 7pm. It's a humourous biography of prankster, Alan Abel.
11:22 PM , # , |


More Reviews
James McNally provides more festival reviews on his blog, Consolation Champs: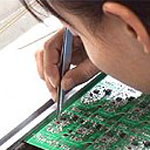 A Decent Factory (7/10)
Screens again tomorrow,
7pm at the Innis Town Hall and on Saturday, 7pm at the Bloor Cinema.

Beneath the Stars (8/10)

There's also a pic of the Opening Night Q&A at the Daily Dose of Imagery photoblog.
1:19 PM , # , |


Programme Guide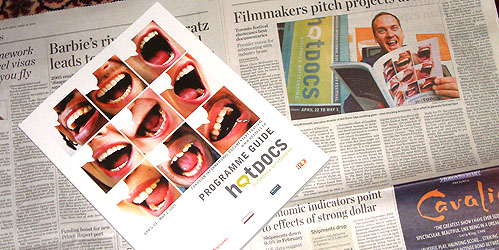 You can get a copy of the Hot Docs Programme Guide [above, being held by Hot Docs Executive Director Chris McDonald in a recent Toronto Star feature] at the Cadillac Box Office, downstairs at Sonic Boom Records (right next door to the Bloor Cinema). It's 164 pages of film descriptions and stills for $4!
1:02 PM , # , |

Sunday, April 24, 2005
Bloggin' Hot Docs
Merv's Hot Docs adventure.

Eva's twist of comfort.

James is reviewing 11 docs. The first two reviews: The Cross and Bones (6/10) and The Education of Shelby Knox (10/10).
7:16 PM , # , |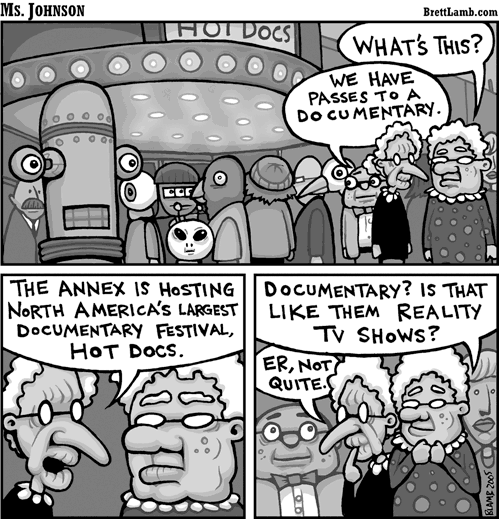 If you're attending festival screenings, grab a copy of the local neighbourhood newspaper, The Annex Gleaner. This cartoon appears in the current issue.

Here's a festical article at SceneandHeard.ca.
12:23 PM , # , |


Today is DAY 3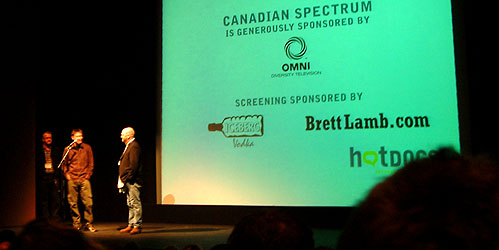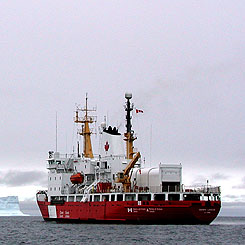 [above] Jody Shapiro and Dave Best introduce their doc, Ice Breaker [still, left], at Saturday's world premiere. It follows the crew of the Canadian Coast Guard icebreaker Henry Larsen on a six-week voyage escorting ships to the arctic.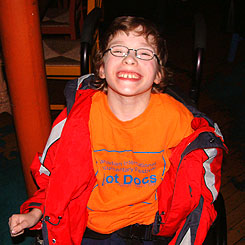 My cousin Cody [right] shows off his Hot Duds at yesterday's screening.

Canadian Spectrum Party
The Swallow Lounge was packed last night at the party for the launch of this year's Canadian Spectrum programme. Many of the filmmakers were there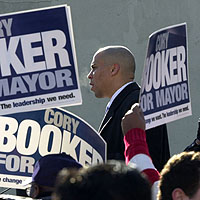 Sunday
Street Fight, one of the best films this year [still, left], screens at the Bloor at 7pm tonight. There's a second screening next Saturday at 9:30pm. Not to be missed!

Lots of good stuff on Monday including Linda& Ali (3:30pm, ROM), Occupation:Drealand (7pm, Bloor) and there's a free screening of Kirby Dick's Sick: The Life and Death of Bob Flanagan, Supermasochist at 11:45pm.


The Hot Docs Daily Bulletin has regular updates, announcements and links to press!
6:29 AM , # , |

Saturday, April 23, 2005
The Fest Begins

Design Exchange, King & Bay, Toronto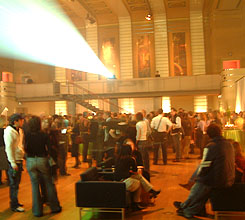 The 12th Hot Docs Festival started in style with a party on the floor of the historic Toronto Stock Exchange (now the Design Exchange). A huge crowd mingled and grooved to tunes spun by nanmac.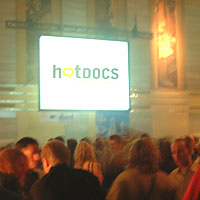 It was a great space for a party. In past years, this event was held in Walker Court at the AGO which is now closed for the Gehry reconstruction.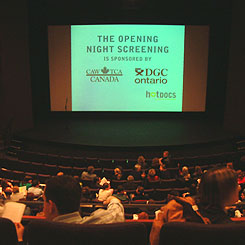 Earlier in the evening we took in the screening of Murderball at the Isabel Bader Theatre (I thought it was going to be at the Bloor right up to the screening ... whoops). It's a great, action-packed flick and worth catching if it repeats.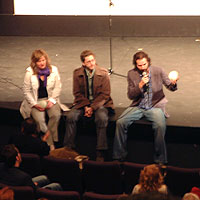 Directors Henry Alex Rubin and Dana Adam Shapiro (seated with International Showcase programmer, Shannon Abel) took questions from the audience following the show.

Saturday
The Canadian Spectrum opens with the world premiere of The Cross and Bones, 7pm at the Bloor Cinema (no, really). This afternoon I'm sponsoring the world premieres of Icebreaker and Operation Homecoming, 4:45 at the Isabel Bader.
2:59 AM , # , |

Friday, April 22, 2005
Hot Docs 2005 - Opening Night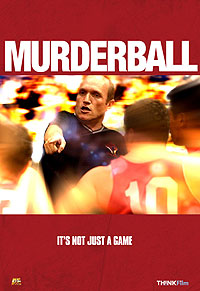 This year's Hot Docs Canadian International Documentary Festival kicks off tonight with the International Premiere of Murderball at the Bloor Cinema (industry screening at 7pm, public screening at 9:30pm). The doc tells the story of a quad rugby grudge match between Team USA and Team Canada.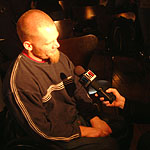 [left] Mark Zupan, one of the Team USA players, being interviewed by MovieTelevision at the Hot Docs press conference on March 30.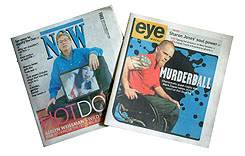 The festival is the cover story on both of Toronto's alternative weeklies, eye and NOW, this week. Both publications have reviews of lots of docs.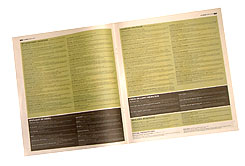 Also included in eye are the full festival listings in the centrespread.

About This Blog



I'm the art director for the 2005 Hot Docs festival. I created this mini-blog to record and help promote this year's festival. This blog will be updated daily. Also visit my regular blog.
11:16 AM , # , |