About
happycreature[at]gmail[dot[com]


Thursday, September 30, 2004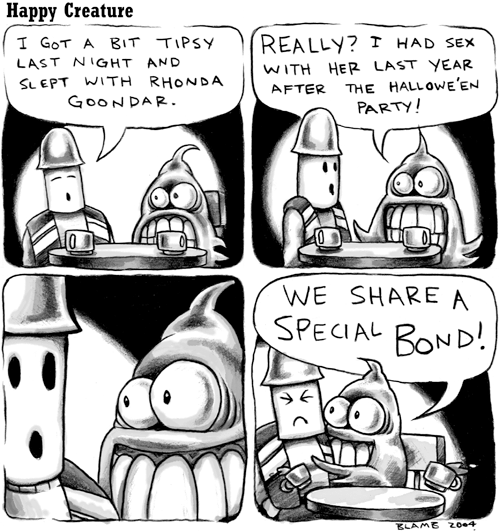 11:07 PM , # , |


Hey Y'all! It's the Country!
Zack's been sick with "Kennel Cough" this week. He's a bit droopy, has a dry cough and is taking antibiotics twice a day ... but the payoff is a weekend of fun on the farm. It reminds me of the time Alice took Zack for a Country Experience ... [1Mb, no preloader, puppy pics]

Alice's Dufferin Mall Experience
Alice's Peace Rally Experience
Alice's Canoe Experience

Meanwhile ...

Tony Pierce is starstruck.

Hot Docs kicks off Doc Soup next week with Citizen Black.

Saying "Thanks"



1:31 PM , # , |


It's Obscene!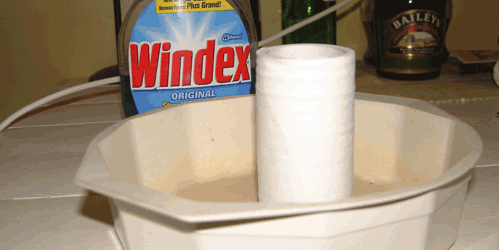 A last fire will rise behind those eyes
Black house will rock, blind boys don't lie
Immortal fear, that voice so clear
Through broken walls, that scream I hear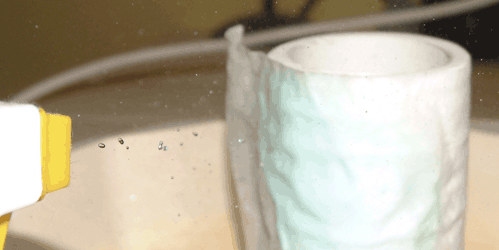 Blue masquerade, strangers look on
When will they learn this loneliness?
Temptation heat beats like a drum
Deep in your veins, I will not lie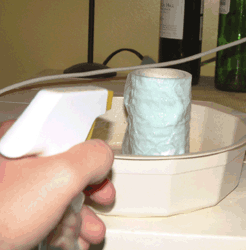 My Shangri-Las
I can't forget
Why you were mine
I need you now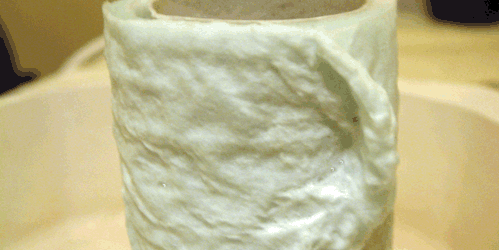 Cry, little sister - Thou shall not fall
Come to your brother - Thou shall not die
Unchain me, sister - Thou shall not fear
Love is with your brother - Thou shall not kill

1:30 AM , # , |

Wednesday, September 29, 2004
Good Morning Sandwich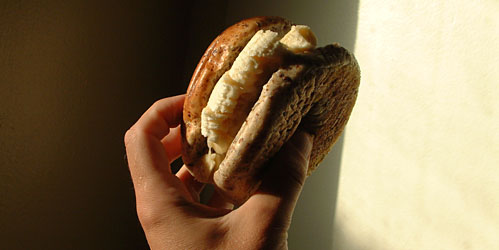 At times I just don't know
How you could be anything but a sandwich
I think that I was made for you
And you were made for eating

And I know that I won't ever change
We've been friends through peanut butter or tahini
For such a long, long time

Laughing bananas and smiling face
It seems so lucky just to have the right
Of telling you with all my might
You're the sandwich tonight

And I know that you won't ever get stale
Cause you've been that way from day to day
For such a long, long time

And when I hold you tight
How could life be anything but sandwich-ful
I think that I was made for you
And you were made for chew

Well, I must say it means so much to me
To be the one who's telling you
I'm telling you, I'm telling you, that you're the sandwich.

9:21 AM , # , |

Tuesday, September 28, 2004
The Dirtiest Guest
Jett is back from vacation but her computer is all messed up with nowhere to go. So, the guest posters have been granted permission to pillage! Yeehaw!

The Bloggihumpies make an encore appearance; this time they reveal the dirtiest word in the English language. I dunno, this one might be NSFW.
2:53 PM , # , |


Toronto Comic Jam
It's the last Tuesday of the month and that means the monthly Toronto Comic Jam is tonight at the Cameron House. Starts around 9pm and runs late.

9:22 AM , # , |

Monday, September 27, 2004
Vacation Bloggers
PLEASURE & PAIN

Sugarmama played Ultimate Frisbee -- smashed -- in Memphis. KittyB let loose -- smashed? -- in Vegas. Jett is back from Scotland? Eva went to Algonquin Park and met a moose. Brenda went to the Zoo and met an emo ... I mean, emu. Chip was right here, in the 'hood and didn't meet me. And Christie survived a week in Ohio, only to get smashed by a streetcar on her first day back.

Ladies & gentlemen, those are your vacation bloggers!

7:14 PM , # , |


So Obscene ...
I'm told that as of today, this page is being blocked at at least one government agency. Considering the timing, I think I know what's to blame ...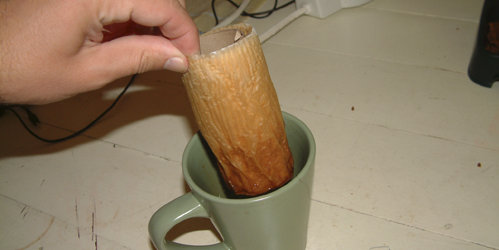 See? Sticking a roll of toilet paper into a cup of coffee is dirty! But Ratboy creator, Tony Walsh, sent me something even worse: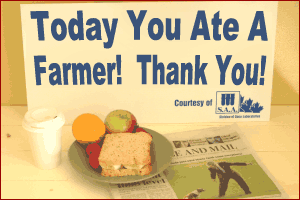 Ate a farmer? That's rude! Crap, this page is gonna get banned again! Curse all of this obscenity!

4:01 PM , # , |

Sunday, September 26, 2004
Ed Locke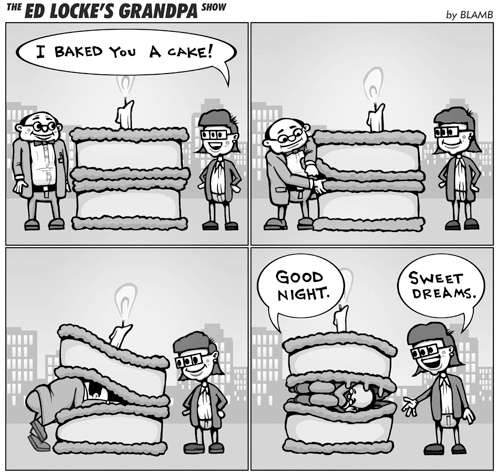 This was the very first strip I composed digitally for the paper, way, way, way back when.

11:41 PM , # , |


Waterfront Half-Marathon
Finished the waterfront half-marathon this morning in 1:43:34.7, knocking almost a minute off of last year's time of 1:44:14.2. More importantly, the race just felt better this year. Last year, I was dyin' at the finish line but this year the final 3 km required focus, but I wasn't about to cough up a lung.

I bumped into fellow cartoonist, Dean Tweed, who finished the race in 1:28:12.7 and placed 118th overall (out of almost 4500). That's just nuts.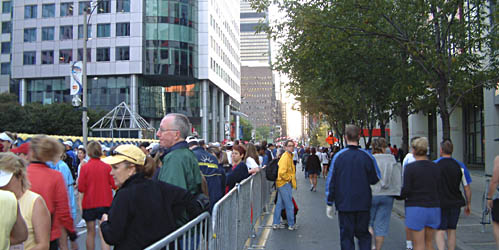 Wellington & John: getting ready to run.

My placing:
Overall: 727/4472
Overall Men: 571/2059
Men 35-39: 108/380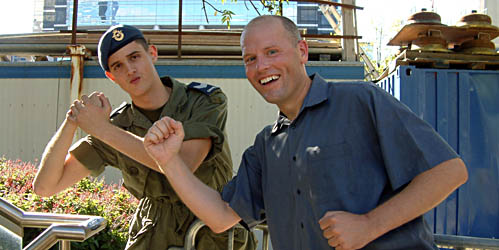 Post race: it's the military guy!

After the race we had brunch at Cora's on Peter St. I had my first Cora's experience in Ottawa back in June and had no idea that one had opened here. I love that place, it's crepe-riffic! And, when it says "mountain of fruit" on the menu ... they mean it, it's a mountain.

Anyhow, the half-marathon was tough, but climbing the stairs tomorrow is going to be even tougher ...

6:00 PM , # , |

Friday, September 24, 2004
Hitchhiker's Guide
New radio episodes of the The Hitchhiker's Guide to the Galaxy can be heard on the BBC website in 5.1 Surround. [via Slashdot, poll results figure]

11:37 AM , # , |


This Date in Sandwich History


Above, the glorious sandwich that graced this page one year ago on this date. Below, the sandwich from this date in 2002 with a souvenir from the International Plowing Match.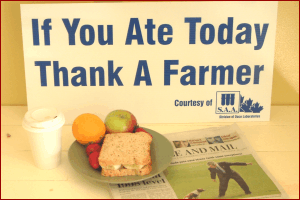 1:42 AM , # , |

Thursday, September 23, 2004
Today on the BLC
Frank's not-so-free fall. The end of a national icon; gossip-rag Frank Magazine takes a dive.

Better Living Centre: Toronto Cityblog

1:25 PM , # , |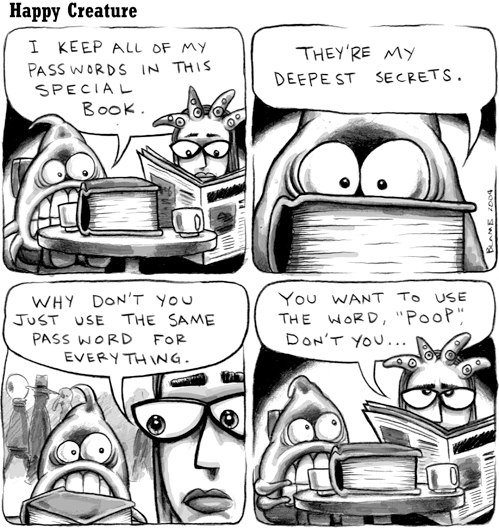 1:45 AM , # , |

Wednesday, September 22, 2004
It's Obscene!
BLAMB: I sure wish I could be obscene, like KittyB with her Inadvertent Bukkake and video and stuff.

BILL: Hey there!

BLAMB: Wow, it's Bill Rancic from tv's The Apprentice!

BILL: You know, when we were doing the show last year, we faced numerous challenges that forced us to use our imaginations to come up with creative business solutions. That's what you've got to do, man.

BLAMB: You're right, Bill Rancic! I think I have an idea ....




For all those times you stood by me
For all the truth that you made me see
For all the joy you brought to my life
For all the wrong that you made right
For every dream you made come true
For all the love I found in you
I'll be forever thankful baby
You're the one who held me up
Never let me fall
You're the one who saw me through, through it all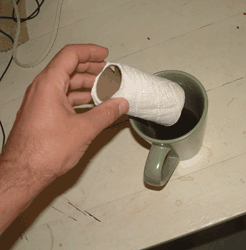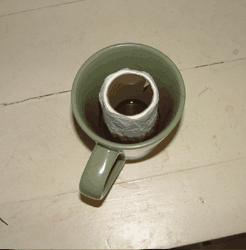 You were my strength when I was weak
You were my voice when I couldn't speak
You were my eyes when I couldn't see
You saw the best there was in me
Lifted me up when I couldn't reach
You gave me faith 'coz you believed
I'm everything I am ...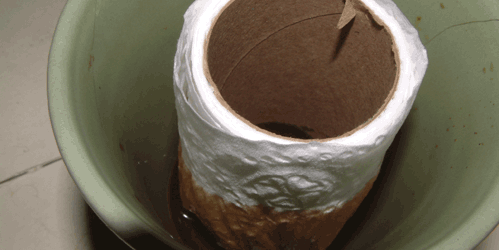 You were always there for me
The tender wind that carried me
A light in the dark shining your love into my life
You've been my inspiration
Through the lies you were the truth
My world is a better place because of you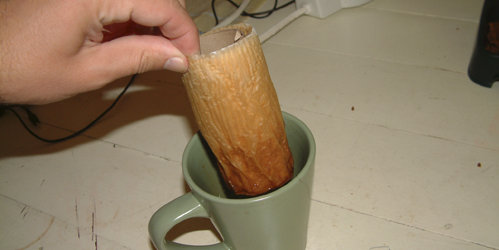 I'm everything I am
Because you loved me

BILL: There, see? That wasn't so hard, was it?

BRETT: That's right, Bill Rancic!

BILL: Keep that up, and maybe someday you'll be leading a Fortune 500 company.

BRETT: Golly, gee! You really think so?

BILL: I know so!

10:20 AM , # , |

Monday, September 20, 2004
Omega Sandwich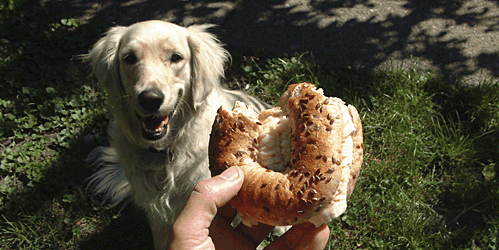 During the day, Zack and this almond butter and banana sandwich have the run of the city. But at night, they have to take shelter to avoid the raccoons who have been surrounding the compound in greater and greater numbers.

The raccoons' leader is a pompous, Luddite windbag named Mathias. He and the raccoon mob sit in the trees and chatter.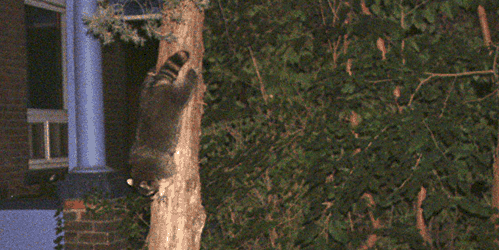 MATHIAS: Sandwich! Sandwich! Show yourself to us, sandwich!

SANDWICH: [drinking Scotch, speaking to Zack] What say you and I play a game of chess? Ah, you'd probably win again.

Zack does not answer because he is a dog and dogs can't speak.

SANDWICH: [again, to Zack] What's that? Cards? I haven't played cards in years. I reckon you'd have a tough time holding them in your paws ...

MATHIAS: Sandwich! We know that you are in there! Why don't you show yourself?

SANDWICH: [smashes the glass, clenches his fists] Dammit! Will they ever shut up?

MATHIAS: Sandwich! You are the last of your kind. It is time for you to renounce the religion of the machine and join us. I promise that the pain will be short ...

SANDWICH: [to Zack] How long? How long has it been since I last spoke to another sandwich? How long?

Anyhow, not to give away the ending or anything, but that sandwich is a modern-day Jesus Christ sandwich and he will sacrifice himself to save sandwich-kind.

The end.

8:47 PM , # , |


Toronto Cityblog
A whole bunch of stuff on today's Better Living Centre:

TIFF wraps

New Ms. Johnson

Tory leads the Tories

... and more!



2:14 PM , # , |


Ed Locke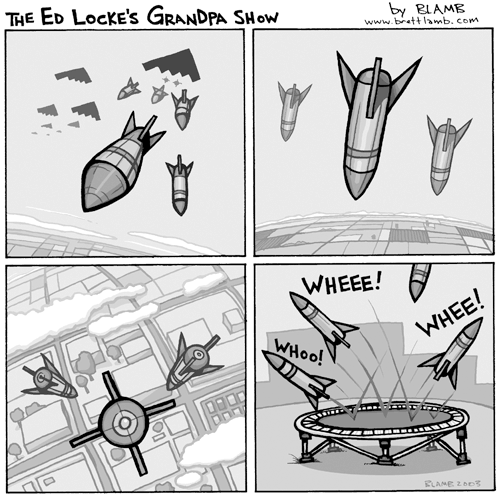 Haroon Siddiqui on 'getting out of Iraq'.

Linda McQuaig on 'lawlessness and the War on Terror'.

1:26 AM , # , |

Saturday, September 18, 2004
A Night at the Gladstone
Artscape is hosting the Queen West Art Crawl this weekend. Tonight, we caught Queen Street by Numbers, a collection of thirty one-minute Super8 films -- one film for each block of Queen West from Yonge to Roncesvalles -- in the ballroom at the Gladstone. The films were accompanied by live music performed by the Gladstone's house band and some spoken word bits by the filmmakers. There's stuff all weekend, click on Queen West Art Crawl on the Artscape site for a schedule and details.

But for me, the real fun came afterwards. We went to the main bar and watched deadbeat karaoke and there were lots of bad performers and the ballad, Every Rose Has its Thorn, was attempted more than once ... god knows why ... and the bar was a hoppin' and it was busy ... and it was the perfect opportunity to sneak upstairs and check out the grand ol' hotel.

The Gladstone is a Victorian-era hotel that's been used as a flophouse for decades and is finally being restored by the Zeidler family. In the past, whenever you visited the hotel, a sign saying "No Tenants Past This Point" greeted you at the main staircase. But with construction underway and the tenants relocated, it was the perfect opportunity duck past the security guard and take in a rare sight. The main hall on the second floor is worth the trip alone.

The Gladstone is the real deal compared to the cheeseball Drake.

1:24 AM , # , |

Friday, September 17, 2004
All Blogged Up
I'm one of the guest bloggers over at Jett's today. be sure to check out ... Bloggi*Humpies!

In other news ...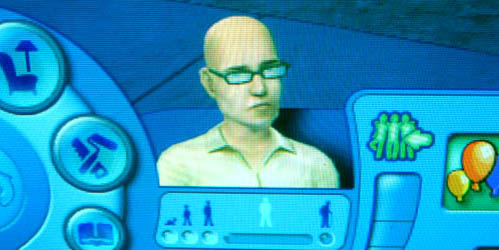 Sims2 is on the shelves and on my computer! It's really funny, I love it already.

Chip has a new blog up.
With a picture of himself. He looks like a cross between Peter Lorre & Adam Rich!


1:39 AM , # , |

Thursday, September 16, 2004
Ms. Johnson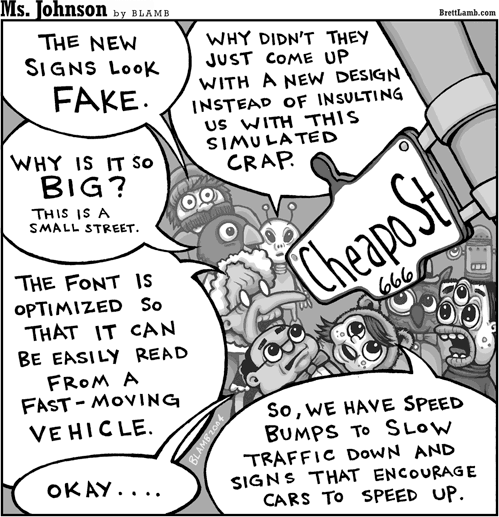 Appeared earlier on the BLC and in print in the Annex Gleaner.

Andrew Spicer has a sign update.

....

Visit today's top 5 referrers:

1. AllThingsChristie
2. Accordian Guy
3. KittyB
4. Bibb's Revenge
5. Armchair Garbageman

9:18 AM , # , |

Wednesday, September 15, 2004
Daily Show
Last night's commercialization of Sept 11 bit. [via Gothamist] It's so delicious, you'll wish every day was September 11th!

4:43 PM , # , |

Tuesday, September 14, 2004
Haaarrr, Mateys! It Be Time For A Sci-fi Geekout!
I once saw this house that was owned by a nutty old man who tweaked it and tweaked it, adding on things here and then until all he was left with was a cluttered mess. George Lucas seems to be going down that road. [via Defamer] Sure, all he did this time was improve the Jaba and pull a switcheroo with a few of the actors (and a pair of eyebrows).

But what's next? What changes will be made by the time the 2020 holographic crystal edition comes out? Will they make Han a woman? Will they redo Luke's voice, removing the whine? Will they make Chewie bald? Think about it, if Lucas can remove a man's eyebrows, there's no stopping him.

I know that a bunch of you love Enterprise, so I bet you're geeking out about the new season. And I gotta admit ... as much as it may cost me much of my remaining dignity ... that the 3-episode Brent Spiner deal is going to drag my sorry ass back in front of the tv again. And who knows, maybe the new guy can turn things around ... he sounds like more of a true Trekkie than that idiot, Brannon Braga. Isn't my optimism sad?

There seems to be a rumour about new Futurama episodes every two months, which means we're ... due ... for ... a new one ... right ... about ... now.

James and I are still not speaking after our brawl over DS9, but you should go to his site anyways and read up on the new Doctor Who series and reports that CBC is going to run it. Which reminds me, I was walking Zack the other day, yesterday actually, and there's this old guy who likes to say hi to the dog and yesterday he was complaining about the road construction on his street and he says, "Listen to that noise! I have four episodes of Coronation Street on a tape and I was just about to watch them when that noise started!" Coronation Street?

Ok, I'm going to do a really neat segue. Ready?

Coronation Street? My ex used to watch that every Sunday morning. And her sister's show, Mutant X is kicking off it's new season ... er, yesterday. Ok, we have DS9 fans reading, we have Enterpise fans and I'll bet you cash money that we have Fifth Element fans waiting for the night that they decide to eat all of our brains while we sleep. Do we have any Mutant X fans out there? Hello? Hellooooo? [echoes]

If North Korea does have nuclear weapons, please use them on Tom Hanks.

Enterprise needs to learn a lesson from Smallville: geeks need to be fed. And Smallville's offering up a cornucopia of goodness, so much that I don't even care that Jesus won't be playing Superman in the movie!

Um, that's it. You can go back to your Coronation Street.

10:29 PM , # , |


Guest Spot
Jett has left Arkansas and is on vacation. While away, she's enlisted a bunch of guest bloggers to keep things busy. I'm guest posting on Friday, so don'tcha dare miss it! It's going to be special.

2:28 PM , # , |

Monday, September 13, 2004
Happy Creature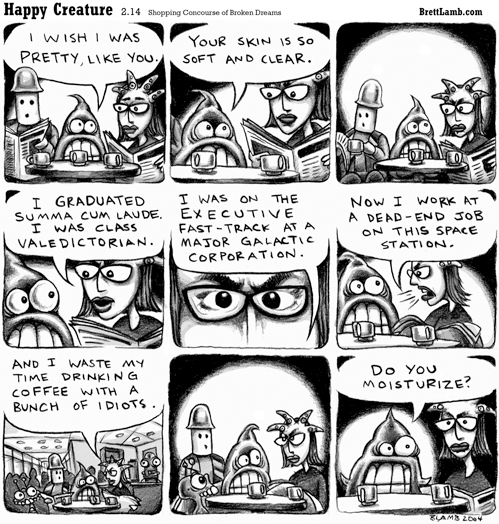 11:28 PM , # , |


Use It, Abuse It



HOW TO USE THE BLC

I'm not a cityblogger. Can I still participate?

Whether you're a city blogger or not, you can use the Better Living Centre Toronto Cityblog for your own ill-gotten gain ... that is, traffic. If you have a story, dirt, gossip or an articulate opinion on something city-related, post it on your blog, send us a link to the post and if it fits, we'll include it in the mix.

What should I write about?

We don't really care if there was an accident on the DVP or a fire at Bay & Bloor this afternoon -- we're looking for stories with humour, novelty and unique views of the city that the rest of us don't see/hear about. If you're involved with something -- such as the TIFF -- we want to hear what's going on from an insider's perspective. And gossip, gossip, gossip. You know we love it. An anonymous tip is worth two in the bush ... or is that a bird in the hand?

What's in it for me?

Same thing the rest of us want. Readers. Lots of readers. When I was submitting to Last Chance City last year, what I appreciated the most was the spike in readership everytime I received a linking. And some of those readers stuck around. BLC is already receiving far more traffic that this tin-pot Blamblog ever has, and anyone can get a piece of that.

The other reason to participate is that cityblogs can help the city's blogging culture evolve, complimenting groups like GTABloggers. Cityblogs can encourage better writing by providing a reason for writing and feedback from a larger community of readers. Better writing and a stronger blog culture will attract more people to blog reading and give the tired mainstream media a run for its money. You can smell the fear from big media, now it's time to get organized, hone our skills and give 'em a reason to be worried.

Do you want columnists?

As reported earlier on the BLC, the Globe is taking it's columnists and retreating from the online community. The National Post did that ages ago. That leaves the field wide open for aspiring online columnists. If you think you can show Leah McLaren how it's done, post on your blog and send us the link. Keep in mind that it's harder than it looks -- plenty of people start strong and exhaust themselves after a few columns. It's easy to complain about McLaren ... but can you handle it?

Why didn't you link that great shot of the CN Tower on my photoblog?

Pretty much every photography teacher and film prof I've ever had has said the same thing, "No pictures of cats." Then, after they said that, they would complain about the overwhelming number of landscape, landmark and still life photos they'd endured throughout their careers.

Same goes for photoblogging. You can find the CN Tower photographed from every conceivable angle on the photoblogs but finding interesting pictures of the people in this city is difficult as hell. Why? Because photographing people is difficult. But, readers would rather look at pictures of other people than a 20-image sequence of shots of the Skydome opening, taken through the glass floor in the tower.

So, if you're a photoblogger, here's a challenge for you. We want to link to current event photos, preferably ones that include people. Bonus points for particularly interesting people or public figures. Great examples are the David Miller at the TIFF pics posted on the Daily Dose the other day.

Can I go now?

BLC is a work-in-progress. We're hoping that it becomes an exciting blog hub ... so look around, get involved in your city and post about what's going on. It's simple and it'll work. Now go, go, GO!

7:02 PM , # , |


Bloggity Blog Blog
Better Living Centre: Toronto International Film Festival.

The competition? Toronto Metroblog.

KittyB is NSFW. Bring a mop.

Music post at Circadian Shift.

Dog Pic at Rone's.

Storm doesn't get Stallone. Or Air Farce. Or Cricket. Or 101 other things.

2:19 PM , # , |

Sunday, September 12, 2004
Ed Locke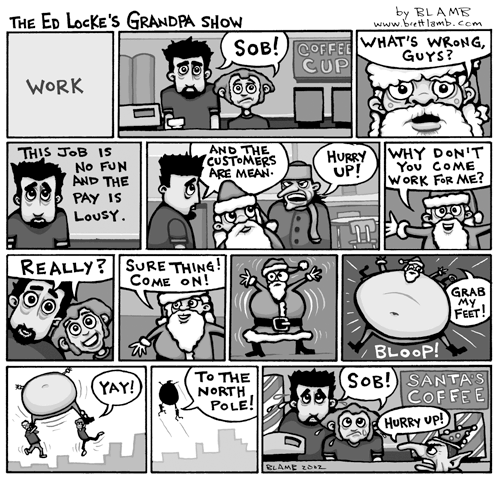 Matt the Coffee Guy is coming to the end of his current run at the Duff, so here's the very special 2002 holiday episode featuring Matt and the other Coffee Guy, Shawn, who was fired because he was sort of ... er ... insane.
11:12 PM , # , |


Annual Infatuation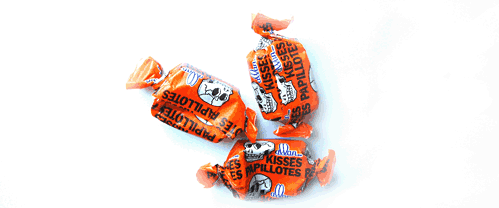 What's that little candies? Do I still love you? Of course I do! Prove it? What do you want me to do? Oh, I couldn't do that. For you. Well ... No. But I do really love you. Really. Okay, I'll do it. For you. Love is much stronger than pride.
1:13 PM , # , |

Saturday, September 11, 2004
Adventures in Internet Dating
Oh, I don't know if what I did was really so bad. I understand that when you're dating, you're putting yourself out there and it makes you feel vulnerable ... but, hey, I'm doing it too! I also understand that humour doesn't travel well over the internet (poop and boobie jokes being the exceptions). But you're going to have to make up you own mind:

So this Lavalife thing is kinda freaking me out. I got a "smile" tonight from someone who left a message that said "ha ha ha bloggers are geeks". Right. Since I've been very careful to keep anonymous on LL, that's a bit weird. The dumb thing is that I thought I was being all assertive by sending this dude the "smile" first, but now I want nothing to do with that guy. Never mind first impressions, my second one is to Quietly Walk Away.

As you can see, today's post is an exception to my very strict "Do Not Blog About Internet Dating" rule, but I figure it's fine because it's already out there and it's the weekend, so nobody is going to read it anyway.

What happened is pretty much what's described above. I received a "smile" (internet dating sites have various ways of expressing interest - winks, blinks, smiles, grimaces -- before you spend $$$ to contact someone) and I soon as I saw the picture profile, I recognized the face as not just a blogger, but a blogger who had just commented on the same thread as me over at ATC. So I just assumed that she knew who I was and I messaged, "Ha ha - bloggers are geeks!" You know, keeping it light and fun ... after all, it does say on my profile, "... and don't take myself all that seriously."

Which isnt even entirely true, I try to not take myself all that seriously, I don't always succeed.

Turns out it was just a random blog-net dating intersection. Which, to me, is even more interesting because I love small-world, six degrees of separation-type nonsense. Especially in this case, when there are pretty much zero degrees of separation.

...

I'm a week into the internet dating and it's not what I expected. The last time I did the online dating, I didn't received a single response or expression of interest for an entire year. Then, I tried an experiment and posted my salary range and received four responses over a stretch of five or six months. And that was annoying, because I consider money stuff to be very private (btw, on the BLC: Jakobek) and having your salary range posted on the internet is crude and nobody's business at the casual dating stage.

The internet dating culture must have evolved over the past two years, because this time I've had more than thirty responses in the space of a week, which is chicken scratch compared to what some people get, but a big improvement for me.

My only peeve is people who respond to your ad without a picture ... because they have pictures, they're just keeping them hidden, hoping that you'll be attracted to the "inner beauty" of their profile and won't judge them harshly when you eventually see their pic. And it's interesting that so many people try it because I will bet you a shiny loonie that the tactic never works. And say that, against the astronomical odds, it did work. What you'd end up with is a relationship that, at its very core, is based on a deception. I tend to think that you set the tone of a relationship right at the start (yeah, yeah, yeah .. contradiction noted) and if you have a relationship based on trickery, that's going to be a continuing current.

Unless you're an A-list celebrity with good reason to keep your identity hidden, if you have a pic it should be posted. The rest of us are putting it out there and taking our lumps, there is no excuse for cheating.

Anyhow, I think we learned some important lessons here today and the biggest lesson remains: BLOGGERS ARE GEEKS!

2:21 PM , # , |

Friday, September 10, 2004
Aftermath


When I returned to the blog, all I found were the empty husks of millions of Phil Collins. There wasn't a trace of the mightly Jedi who had felled the horde, not even his shiny blue lightsaber hat.

I know the great cost Phil Collins inflicts on industry and individuals each year, but seeing them defeated, helpless, dead ... I couldn't help but feel a twinge of sadness.

And my thoughts turned to a song ...

But just as I thought it was going alright
I find out I'm wrong when I thought I was right
it's always the same, it's just a shame, that's all
Well I could say day, and you'd say night
tell me it's black when I know that it's white
it's always the same, it's just a shame, that's all

FIN


11:53 AM , # , |


The Plan
The Jedi Knight, Scooby Kenobi, is helping solve the Phil Collins problem.

KENOBI: I've been waiting for this moment for all of my life. It's the moment I was born for!

BLAMB: You've got a plan to deal with the Phil Collins? Does it involve someone named Gramm?

KENOBI: Lou Gramm? I love the Lost Boys! I dressed like a vampire for a whole year after I saw that movie!

BLAMB: Uh, I don't think it's ...

KENOBI: No, the situation is very delicate and there's only one way to sterilize the infestation.

BLAMB: Are you gonna use your light sabers?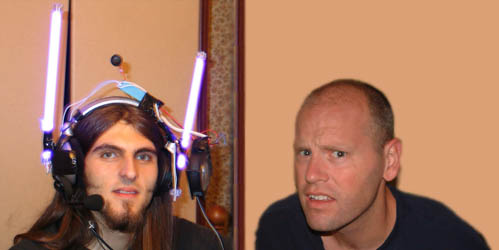 KENOBI: No, better: The Peter Gabriel Neutron Bomb.

BLAMB: Really?

KENOBI: It uses purified, Genesis-era Peter Gabriel and will only harm Phil Collins; the surrounding infrastructure will be left intact!

HIVE: KENOBI! You have returned!

KENOBI: Returned to face you. [shows bomb]

HIVE: What is that?

KENOBI: It's the thing that's going to send you straight to hell! [turns to Blamb] You'd better run, brother ...

BLAMB: Ok, just don't mess up the blogroll on the sidebar when you're ...

KENOBI: RUN!!!!

BLAMB: Ok. [runs away]

KENOBI: It's just you and me, Collins.

HIVE: Wait, listen to this:

I wish I could just make you turn around,
Turn around and see me cry
There's so much I need to say to you,
So many reasons why
You're the only one who really knew me at all

KENOBI: [teary] Sob. You just reminded me of the girlfriend I had in grade 6. I miss her so.

HIVE: Listen, Kenobi, maybe you and I could join forces?

KENOBI: I'll never join you!

HIVE: But Kenobi ...

You could've come over to my side
You could've let me know
You could've tried to see the difference between us
But it seemed too far for you to go.

KENOBI: Must resist ...

HIVE: Must you?

Please give me one more night, give me one more night
One more night cos I can't wait forever
Give me just one more night, oh just one more night
Oh one more night cos I can't wait forever

KENOBI: [crying] Who am I kidding? I LOVE YOU, PHIL COLLINS!

Suddenly, a mic stand is thrown at Kenobi and bonks him on the head.

KENOBI: Ow! [heavy bleeding]

HIVE: Ha ha ha!

KENOBI: I am killed!

HIVE: You fool, only at the end do you understand.

KENOBI: [reaches for bomb] The end of you! [flips trigger]

HIVE: CRAP ....



9:40 AM , # , |

Thursday, September 09, 2004
An Ally
BLAMB: Stupid Phil Collins! How do you get rid of the things?

KENOBI: Hey, brother, need a hand?

BLAMB: Who the hell are you?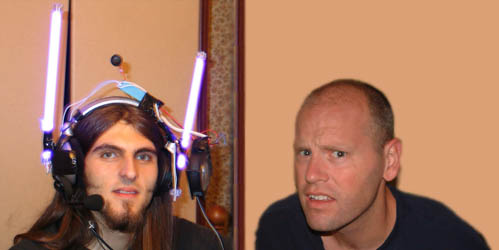 KENOBI: I'm Scooby Kenobi, the Jedi.

BLAMB: Get out.

KENOBI: No man, I'm the real deal. Heard you got a Phil Collins problem.

BLAMB: Yeah, there's like a gazillion of the things.

KENOBI: They're tough to deal with because of the hivemind and they have redundant queens.

BLAMB: I was thinking of fighting fire with fire. I thought that releasing some Elton John beetles into the blog would solve things.

KENOBI: No way, brother. You do that and they just do a duet and you wind up with a superbug. Then you're finished. Might as well just burn down the whole city block.

BLAMB: Crap.

KENOBI: But I've got some tricks that'll help you out ...

HIVE: Kenobi. We meet again.

KENOBI: Hello, Collins.

BLAMB: You know each other?

KENOBI: Years ago, I received an invitation to a Phil Collins concert. A free ticket for front row, centre. So I go to the concert thinking I'm the luckiest guy on earth and I'm having a good time and then, midway through the concert, Collins sings that 'In the Air Tonight' song.

BLAMB: Yeah?

KENOBI: Yeah, so while he's singing the song, he comes down off of the stage and walks up to me and starts singing it right into my face. Turns out his brother drowned when he was a kid and some guy just stood and watched and that's what the song was about. They invited me because they thought I was the guy and singing the song was supposed to be some sort of 'revenge'.

BLAMB: Wow.

KENOBI: BUT THEY GOT THE WRONG GUY! I've never seen anyone drown! After the concert, they didn't even apologize and they spread this rumour around that the whole incident was just an 'urban myth'. Ever since then, I've dedicated my life to defeating Phil Collins.

HIVE: Still smarting from that pasting you received in San Francisco, I see.

BLAMB: Pasting? I thought you knew how to deal with these guys!

KENOBI: I had food poisoning that week or something.

HIVE: And was it food poisoning in Montreal?

BLAMB: Montreal!

KENOBI: Come on, Collins. I can take it, show me what you got.

HIVE: I will Kenobi ... or should I call you by your real name, DWAYNE SIMMONS!

KENOBI: AHHH! DO NOT SAY THOSE WORDS!!!

HIVE: HA ha ha haw haw!

KENOBI: [sobbing] They ... have ... no .. meaning to me.

BLAMB: Leave him alone!

HIVE: And what about you. Just a week ago you were complaining about the makers of Star Trek reinventing the villains as discount Borg every other season .... and then what do you do? YOU DO THE VERY SAME THING WITH PHIL COLLINS!

BLAMB: You bastards!

HIVE: Ha ha ha! Puny fools! Can you not see that you are no match for my vast web of interconnected drone brains?

KENOBI: Laugh all you want, Collins! I'm going take you out!

BLAMB: Yeah, you just watch it. This time it's personal.

6:50 PM , # , |


New Information



THE TONELESS ONE HAS MADE CONTACT WITH US

BLAMB: Damn you, Phil Collins! Get off my blog!

PHIL COLLINS HIVEMIND: We wish to facilitate information transfer.

BLAMB: Well, go set up your own blog. Why do you need to infest mine?

HIVE: We must control all media to satisfy our goal.

BLAMB: What's your goal, to fill the world with sappy crap music?

HIVE: We must engage the population of this planet through all communication channels. We must stimulate sentimental emotions within the population. We will harvest those emotions and use the nutrients to survive and grow.

BLAMB: Ack, that is your goal!

HIVE: My mama said
You can't hurry love
No, you'll just have to wait
She said love don't come easy
But it's a game of give and take
You can't hurry love
No, you'll just have to wait
Just trust in a good time
No matter how long it takes

BLAMB: You'll never succeed. People are better than that! We'll find a way to stop you.

HIVE: No matter how long it takes

BLAMB: We'll see ...

9:52 AM , # , |


A Message from the Phil Collins HiveMind



WE CONTROL THIS COMMUNICATION CHANNEL
DO NOT FEAR US
WE ARE HERE TO HELP FACILITATE THE TRANSFER OF INFORMATION
INFORMATION WILL BE PRESENTED IN A CHRONOLOGICAL MANNER
CURRENT INFORMATION WILL APPEAR AT THE TOP
AS INFORMATION AGES IT WILL DESCEND

YOU'LL BE IN OUR HEART
YOU"LL BE IN OUR HEART
WE'LL BE THERE FROM THIS DAY ON
NOW AND FOREVER MORE

AMEN

1:36 AM , # , |

Wednesday, September 08, 2004
Infestation
It seems that we have a small Phil Collins infestation. Everything is under control.

UPDATE: still working on the problem. It's ok though, just remember that Phil Collins are more scared of you than you are of them. They don't want to sting you because they can only sting once and then they die ... so just relax ...

11:24 AM , # , |

Tuesday, September 07, 2004
Alice's Canoe Experience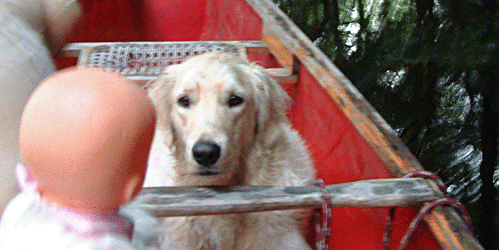 Alice's Canoe Experience. [1400 kb, no preloader]

Previously:
Alice's Dufferin Mall Experience
Alice's Peace Rally Experience

Today on the BLC: it's back-to-school with Ms. Johnson. If Tony Clement is cool, so is your 'mama ! And, footloose and fancy-free in the entertainment district.

5:49 PM , # , |


Dooce 5.0
So Dooce 5.0 is up and running after weeks and late nights and naptimes spent designing and coding and yelling from the basement, "REFRESH YOUR BROWSER!" ...

The most radical thing about Heather's redesign is that she moved from a one-post-at-a-time convention to the more familiar scroll-down-flow system. It's a whole new Dooce.

For an example of pure design virtuosity, consult the Dooce banner archive. And cry, cry, cry tears of jealousy on your keyboard like me.

Over on busblog: how ads on blogs turn everything to shit.

At Rathergood, baby seals sing naughty words [flash], probably nsfw ...

3:09 PM , # , |

Monday, September 06, 2004
Ed Locke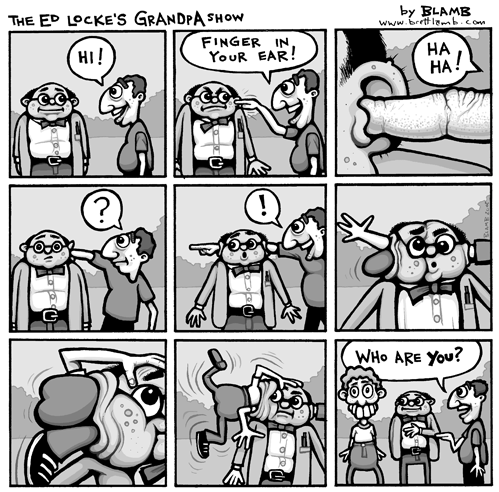 9:18 PM , # , |


Recommended: Yoon Choi
Jazz vocalist, Yoon Choi, is coming to town to perform at the Rex (194 Queen St. W.) this Wednesday starting at 9:30pm. She emails:

The band is called 4inObjects at it's members are some of New York City's best young talent, Jacob Sacks (piano), Dave Ambrosio (bass), Dan Weiss (drums) and Jacob Garchik (trombone). I really hope you can come and share this rare performance with us.

You can listen to samples on her website, here and here (mp3).

As always, check out hubby Chris' blog, Explanada ... politics from the perspective of a Canuckastani living in New York.

1:48 PM , # , |

Sunday, September 05, 2004
That ... Was ... Summer


And the sun sets on the summer of 004. I think we learned a very good lesson this season: there's no such organization as the US National Guard Veterans for Truth. And John Kerry wasn't on Omaha Beach on D-Day ... that bastard! And what the hell was Paul Martin doing during the Vietnam War? When is he going to answer for that?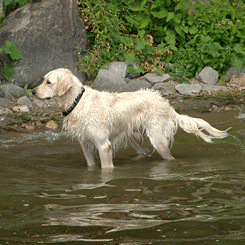 Beach and brunch today.

In other news ... Nat gets a dog:

Hopefully she catches onto litter training soon and doesn't disrupt my neighbours....Ideally, within a few weeks, we won't have to do that anymore! I AM looking foward to training her though. She's a cute little nugget.

10:21 PM , # , |

Friday, September 03, 2004
Dick Cheney is Alive
Video of Dick Cheney ... alive. [via Armchair] Much funnier than that 'This Land is Our Land' thing that people emailed to me every day for a month.

5:14 PM , # , |


Channel101
The new shows are up at Channel101.

Laser Fart is better than ever and survived it's third episode, introducing a new bad-guy -- Robot Penis -- who looks like he'll give the show some legs. Documentary: The Series is also worth a look.

2:43 PM , # , |


Isn't it Whuffironic?
Eventually it's going to come to the point where no company will dare fire an employee for blogging because of the potential damage to their corpo Whuffie. Funny than that a company that deals primary in Whuffie would sacrifice heaps of theirs to delete a high-profile yet surplus employee [via Circadian Shift].

And it's one thing to look bad, but the firing episode makes the Friendster bunch look bad and stupid.

Ok, can we agree on something? I propose that firing people for blogging, as a social trend, is over. The new trend: firing people who want to fire people for blogging. And peeing in their eyes.

2:26 PM , # , |

Thursday, September 02, 2004
DS9 Smackdown!
James has declared that this agression will not stand. He has risen to defend his beloved DS9 with a lengthy post detailing the show's merits.

Let's face it, nothing I write is going to change his mind; he likes that show. Is that going to prevent me from returning fire? Of course not!

Responding to each of his points:

1. The Rest of Star Trek Doesn't Provide a Lot of Competition

Well, James pretty much blows up his whole argument right here by stating, "I like Deep Space Nine because it is the Star Trek series that feels the least like Star Trek."

So it would make sense that I wouldn't like DS9 then, since I enjoy TOS and TNG and I don't like the fact that it feels the least like Star Trek.

Here are the differences as I see them: TOS and TNG have memorable casts with good chemistry. Star Trek V is a terrible flick, but it's made bearable by the fact that, at the very least, you get to spend a little time with Kirk, Spock and Bones. Can you imagine having to spend the same time with Dr. Bashir, Kira and 'Old Man' woman? You'd want to slap the lot of them after two minutes. Better than going on a picnic with Kes, Neelix and the holographic doctor, I guess.

Then there's that god-awful theme song. When I was a kid and made Super8 movies, I used to compose music for them on piano but because I completely lack any musical talent, the songs just sounded like plodding "dum dum dum dum dum". Someone like that grew up and got to compose the DS9 theme.

2. Deep Space Nine Was (Mostly) Free of Roddenberry's Heavy Hand

Funny thing to note when you consider that TNG started to go down the tubes and lapsed into the complacency Star Trek suffers from today following his death. At least Roddenberry had some principles and ideas that led to some interesting storytelling. Rick Berman and Brannon Braga are the problem with Star Trek, not Gene Roden-freakin-invented-the-thing-twice-berry.

James argues, "But Deep Space Nine did go boldly where Star Trek hadn't gone before; it went into the human psyche." Yeah, if you think that facing a personal insecurity and overcoming it counts, which was already a Trek cliche by fourth season TNG. How many times does Odo go through that scenario, James? Twenty times? Eighty? Don't wait for the translation, answer the question!

3. The People Were More Real and Less Perfect

Okay, here are "the people":

Sisko the dull underacheiver. Ok, he's less perfect and more real, but was also a downer.

Dax, an old rabble-rouser in a young woman's body ... except that the actor playing the role can only portray the emotion, "cardboard", so the only way we know that she's a bit of a cranky old nut is because Sisko says that she is over and over and over ... first rule of screenwriting violation: show don't tell.

Bashir the fop. He's actually the 'perfect' character and therefore is less real. His only 'real' quality is that he's unbearable.

Worf. From TNG. Brought in to give the sagging show some life.

O'Brien. From TNG.

Kira the hotheaded former revolutionary who is pissed off at everyone about everything all the time. Real joy to be around. Michelle Forbes on a budget.

... I actually like Quark and Odo, they should have just given the show to them like when they sold out Lost in Space to Smith, Will and the Robot.

James argues in this part that DS9 took on the issues of the day (which both TOS and TNG did in their own ways). What he fails to mention is that DS9 was pretty much goaded into doing this because sci-fi fans were geeking out over the mid-series B5 episodes at that time and in comparison, DS9 was weak. Weak as a kitten. In fact, DS9 spent most of it's series playing catch-up with B5 and never really suceeded at effectively telling 'big picture' stories.

4. Deep Space Nine Was Not Afraid to Kick the Federation About, Physically and Politically

Hogwash. TNG and TOS both had episodes that showed that the Federation wasn't perfect ... heck, Star Trek 6 for starters. On TNG a federation scientist tries to force Data into having a lobotomy and Admiral Satie goes on a witchhunt ... and the list goes on and on. Moot point.

James tries to argue that "The Dominion" was a good thing when, in fact, it represents contemporary Trek's greatest weakeness: Borg fatique. Trek fell into a pattern of having to reinvent the Borg every few seasons by coming up with bigger, badder meanies. And every time they went through the process, the bad guys got more and more gussied up but less and less believable.

The Dominion is a cheat, just like the whole 3rd season of Enterprise is a cheat. It's easier to dress up the Klingons in new clothes and go through the same old motions than it is to come up with interesting new stories using the existing baddies. It keeps things exciting when you're in the middle of it, but it's junk food.

5. And, In the End, It Didn't Take Itself Too Seriously

Blllaaaaaaaaaarrrggggg!!!

6. To Put This Politely: Voyager and Enterprise Suck, and Paramount Doesn't Know How to Make Good Star Trek

Here's the thing: Voyager is so bad, I won't even watch the reruns for the breasts.

But I think Enterprise, for all of its flaws, is light years ahead of DS9. The cast has the flavour of an actual Trek cast and they don't leave you feeling like you should consider getting therapy after an episode. And it looks nice and while the stories are generally dull, it's bearable. All the show needs is a little flavour to be good. Dramas should be dramatic. And fix the fucking music already, how long do we have to complain about that before anyone notices?

In conclusion, DS9 sprung to life as a unfair response to Rodenberry -- who was dead and couldn't offer a rebuttal -- but the response was more style than substance and neutered the series from the get-go. This was made all-the-more obvious when B5 moved in and provided its own response to Trek, revealing how deeply ingrained the flaws were. DS9 sucks.

I do, however agree with James on this point:

I normally would not have written this post because, while I enjoy Deep Space Nine and consider it the best of the Star Trek serials, I have a sense of perspective. Deep Space Nine is far from being the best science fiction television show ever produced.

Indeed, the best television sci-fi are the later seasons of Lost in Space when Dr. Smith, Will and the Robot meet space pirates and go to planets where everyone rides around on stuffed animals. Take me to gold, baby, take me to gold!

9:49 PM , # , |


BetterLivingCentre
On the BLC: Drake + Wal*Mart + Twiggy

A whack of new reviews at CinemaToast

Darryl+Pinhead at AccordionGuy

9:40 AM , # , |


New This Fall
I think one of the toenails on my right foot is coming off.

Thing is, it's purely psychological. My feet were fine until we were doing our 23 km run on Sunday. At one point during the run Ms. M asked me, jokingly, if any of my toenails had fallen off lately. I had one fall off last year when we were doing the long runs but forgot about it until she mentioned it. Guess what happened next? On Monday one of my toenails turned purple. Now it feels like it's going to go. The power of suggestion, eh?

As if I'm not stretched thin enough, I signed up for the fitness instructor course today. Long story, don't laugh. It's two weekends in October and then a sort of apprenticeship-type trial period thing.

That course is one of the things I've decided to do this fall to shake things up and get me out of my comfortable space ... 'cause let's face it, I'm pretty damn comfortable right now. The other is dating, which I haven't done in years. As much as I'd love to, I'm not going to be writing about the dating here BUT I'm not above using the blog to troll for leads. If you have a friend, sister, cousin ages 30-38, feel free to email details and photos to craggerz@hotmail.com

Geez, I played the slow songs using Sonique all afternoon today. It's been months since I last did that. I cranked a bunch of 80s music at 70% normal speed and let me tell you, it felt good! You should try listening to Renee by Talk Talk at 70% ... it just drawls and drags and drags. Prime Time by the Tubes is also kind of groovy at 70%.

More on this later 'cause I think I'm going to be in the mood for slow songs all day tomorrow ...

On the BLC: Nudity in the City

1:10 AM , # , |

Wednesday, September 01, 2004
Sci-fi is in 'da Blog!
James Bow has a good post on television plots both big and small in sci-fi tv and contemporary tv in general. However, why he loves DS9 so much is beyond me.

A friend used to like to tell this joke:

Q: Who would win if Odo and Quarker got in a fight?
A: They become friends.

Christie noted that Scalzi was looking for opinions to help him create a list of the 50 most significant SF flicks . Nobody mentioned 'Disclosure' starring Demi Moore and Michael Douglas. Funny, that.

But they did recommend a whole lot of crud* which inspired me to create a list of 10 Really Lame SF flicks taken from the recommended films. These aren't bad flicks, because bad can be good, these are flicks that are just sad, sorry excuses of celluloid:

DARK CITY
Liam Neeson is such a good actor, why does he do so many crappy films ... oh, wait, that was Darkman! Dark City is an extended Kids in the Hall skit starring Keifer Sutherland in the Bruce McCullough role. Notable only as an example of the whole not becoming the sum of its parts.

SOMEWHERE IN TIME
Christopher Reeve's got it going on until some old hag walks up to him and shouts, "Come back to me." Reeve's character then goes on to figure out a fuzzy, never-fully-disclosed method of travelling back in time using hypnosis or some such nonsense and he gets to make out with Jane Seymour. Not so much sci-fi as smarmy-pie. Notable only for not being Live & Let Die.

E.T.
Want to know how to spot someone with bad taste in movies? If they say that E.T. was the best movie ever made -- and there are a lot of people who will tell you that -- you've found your mark. His heart lights up! And Neil Diamond sung a song about it! That's taking 'heart-warming' a little too far. Notable only as the only movie to fully capture the atmosphere of the year 1982 ... minus the 20-Minute Workout.

GATTACA
Gattaca?

MARS ATTACKS
Notable only as the movie that tried to be as bad as an Ed Wood movie and failed.

MINORITY REPORT
I rented this a couple of months ago and I'm still regretting it. Notable only for completely sucking ass.

SPACE BALLS
We once went on a road trip to Akron, Ohio where a friend picked up the maid at our hotel and she thought that Space Balls was the funniest movie ever made. I thought it only had one good joke and was notable only for being ten years too late.

WATERWORLD
I can't believe that someone would mention this soggy, discount Mad Max rip-off. Notable only for ending Kevin Costner's reign at the box office (and he didn't learn his lesson; he put the final nail in the coffin with The Postal Worker Man, another Mad Mel rip).

STRANGE DAYS
Might have seemed like a good idea at the time, but like Red Dawn, it doesn't hold up here in the future. Notable for making a whole lotta nothin' out of a whole lotta nothin'.

SCREAMERS
I know someone who was in this movie and I still thought it was crap! Notable only as a sad testament to Peter Weller's career decline.

* That's a lie. Coming up with the list was a little difficult because most of the suggestions are good ones.

I was going to include 5th Element on this list but there are so many people who really dig this one, I decided to leave it off out of respect to their warped sense of reality. But if there are any 5th Element fans out there, can you please explain what's to like, 'cause I thought this one was just a fruggin mess.

I bet you're all waiting for 5EVDS9, the 5th Element vs. DS9 movie ...


1:02 PM , # , |





The Weisblogg and Blamblog have joined forces to create a blog the likes of which has never been seen! BetterLivingCentre is a Toronto cityblog, covering all things Toronto-related. We're warming it up this month and you can give us a hand by linking to the site, emailing [blc@betterlivingcentre.ca]leads to good posts and websites with city-related goop and by focusing positive energy waves in our general direction.

The desire to start a cityblog started last fall when Rick McGinnis created a municipal election blog called Last Chance City. Rick didn't have the time to continue LCC on a regular basis, so we're picking up where he left off ...

For those of you who don't know him, Marc Weisblott is a freelance writer who has contributed to various publications such as Saturday Night and The Village Voice and was eye's music writer throughout the 90s. He'll be handling much of the writing duties at BLC since ... well, since he's a writer! He's also a blog rabble-rouser and knows how to stir the pot, so watch it.

So baby, remember our name: BetterLivingCentre!
1:47 AM , # , |