About
happycreature[at]gmail[dot[com]


Monday, January 31, 2005
TV Night
Tonight was our weekly tv night. We started early so we could watch the first episode of DeGrassi with Kevin Smith on it, playing himself.


ALICE: He kind of reminds me of you, Mr. Loaf.

MR. LOAF: Does he?

BLAMB: ZZZZzzzZZZzzzz ....

ALICE: Hey. HEY! Wake up!

BLAMB: Wha? Huh, whuuh?

ALICE: Kevin Smith is on DeGrassi.

QUON'DAR: He's not on very much. You're not missing anything.

MR. LOAF: What's with the sleeping, man?

BLAMB: I think I caught the cold that's going around.

QUON'DAR: This is boring.

BLAMB: Yeah, where's Jason F*cking Mewes? This stunt casting is for people my age and instead they're dragging out this prom crap with the kids. Hey, New Joey Jeremiah is gay. He needs a hat.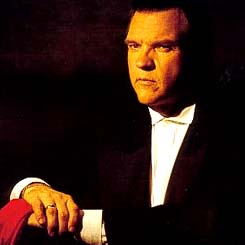 MR. LOAF: Here are the previews for next week. Old Joey Jeremiah is going to be on. He's crying.

BLAMB: That looks horrifying. Who the hell wants to see Joey Jeremiah blubber because Caitlin ran off with Kevin Smith?

ALICE: Did Joey Jeremiah become a downer when he got older or was he always a downer and just managed to hide it under the hat?

BLAMB: You know what's a downer? Pat Mastroianni selling Degrassi crap on eBay.

MR. LOAF: Is that true?

BLAMB: The website says it is.

MR. LOAF: If you want to see a downer, watch Degrassi Talks.

ALICE: Isn't watching that how you got off drugs?

MR. LOAF: And how!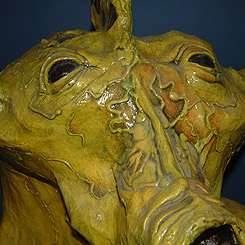 QUON'DAR: Ok, ok, Bachelorette is on. Quiet! I need to learn more about these human mating practices.

MR. LOAF: I'm not sure what's going on 'cause we missed a week.

BLAMB: Don't be so passive aggressive, Loaf.

MR. LOAF: That's not a dig at you or anything. I'm just saying ...

ALICE: So, they have to write letters and the best letters get to go on one-on-one dates with Jenn.

BLAMB: ZZzzzzZZZZzzzz ...

QUON'DAR: If you're so tired, why don't you just go to bed?

BLAMB: [groggy] I want to see the roses!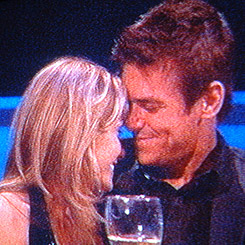 ALICE: She's on her date with Jerry the art dealer. Holy crap! Merv was right, they're totally into each other.

MR. LOAF: Well there's only one girl I will ever love and that was so many years ago ...

BLAMB: [tearing up] No singing.

QUON'DAR: What are you on about?

BLAMB: [blows nose, wipes eyes] Look at them! Look at them!

QUON'DAR: I'm looking.

BLAMB: [soggy faced] It's just so nice, they're so into each other. [sobs]

QUON'DAR: I thought you were supposed to be the cynical one?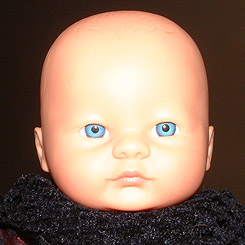 ALICE: Are you kidding? He got all sappy during a documentary about Conrad Black because he thought it was soooo nice that Conrad and Barbara Amiel found one another.

BLAMB: [drip, drip] Well, if such a loathsome person can find love, doesn't that mean there's hope for the rest of us?

Silence. Everyone gave me a blank stare.

MR. LOAF: He's right. The Jenn & Jerry moment was kind of nice.

BLAMB: IT WAS FREAKIN' ROMANTIC, MAN! [sobs again]

QUON'DAR: Yeah, and you're an idiot.

MR. LOAF: There's one more date. They have to race to some tall building and the winner gets a date.

QUON'DAR: CRAP! Fab gave up! He was my pick!

ALICE: They get one more chance to make their case before the rose ceremony.

QUON'DAR: Fab wigged out AGAIN!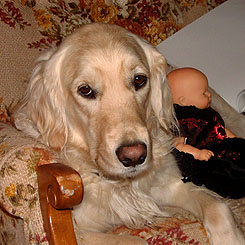 BLAMB: Maybe he's the smart one. Maybe he know's that Jerry is the guy. You gotta know when to hold 'em, know when to fold 'em ....

MR. LOAF: Know when to walk away and know when to run.

QUON'DAR: I don't want him to be SMART, I want him to WIN!

ALICE: He just bowed out! He's ducking out of the rose ceremony.

BLAMB: See, he has good instincts.

ALICE: It was interesting that Jerry thought that he blew it. That's why she likes him, he's not so full of himself.

QUON'DAR: Ultimately, his weakness will destroy him.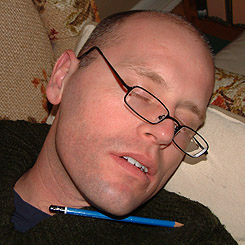 ALICE: Quon'dar, it's not always about being destroyed.

QUON'DAR: Inevitably, it is always about being destroyed.

MR. LOAF: Ok, until next week.

ALICE: 'Night!

BLAMB: ZZZzzzZZZzzzzz ...




10:56 PM , # , |


Advanced Tech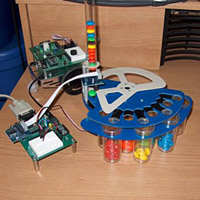 RobotJohnny just sent a link to this amazing machine that sorts M&Ms by colour. A must-have item for anyone planning a party!











1:58 PM , # , |


In Oz
Dad continues to post from his Australia diaries.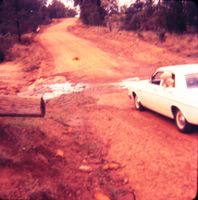 In the latest episodes, he gets a driver's license, a car and we arrived from LA. We also learn:

Apparently everyone is mad at me for going off to Australia, especially Don and Phyllis. (my grandparents)

Apparently a small town in the outback wasn't good enough for their daughter!


9:16 AM , # , |

Sunday, January 30, 2005
Dates from Hell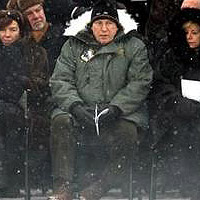 I bet these people wish they'd had John Rhys-Davies around to warn them about the "bad dates". Amazing Amy posted her top 5 dates from hell, inspired by Rude Cactus' story of a girl who got plastered to deal with her nerves. He felt like writing because of Dirty Flower Girl's stories of dating woe. The whole deal appears to have started at Sunburns.

I don't think I've ever had a true "date from hell". Nothing as bad as those described above ... or even as bad as Maria's list. But I've been the date from hell. In fact, I've been a worse date than any of the stories you'll read linked above. Yet, as bad as I was (and the situation was not 100% my fault), my date still wanted to go out again. One persons' date from hell could be another's idea of potential.

Meanwhile ...

I'm Canadian .... yet I've never gone curling. That all changed tonight at the Avonlea Curling Club's Funspiel. And wouldn't you know it? Yet again I forgot to bring along the CrapCam 5000 ... and activities like this were the reason I bought the bloody thing! So we played, we had fun, we lost bigtime and we didn't care ... 'cause we were curling, dammit!

1:42 AM , # , |

Friday, January 28, 2005
A Bit of the Ol' Sci-fi
Reviews & Previews

This site gives favourable reviews to the new Battlestar Galactica series (aside from some motion sickness issues). The guy writing them slowly falls for Starbuck a little more each episode.

The Episode III scrawl is revealed. I think the whole movie can be summed up in four words: Guy gets new suit. update: I'm pretty sure I've made that joke before, so here's a new one: Dooku? I don't even know you! Ha ha ha ha ha ha.

Mixed reviews of the Hitchikers's Guide movie, but everyone seems to give Martin Freeman the thumbs up and the lack of any other English people the thumbs down.

An upcoming Enterprise episode is going to be both "a prequel to 'Mirror, Mirror' and a sequel to 'The Tholian Web'". Someone should do a tv series that's a sequel to Hogan's Heroes and a prequel to M*A*S*H. I watched the Enterprise tonight and it was another really good episode, making up for last week's terrible (in a bad way, not a good way) transporter inventor filler episode.

It would be a shame if the show ended now [via Scifi News Blog], just as the changes are helping it hit its stride.

Scanner Darkly pics [via Solar Flare]

6:42 PM , # , |


Doc Soup Passes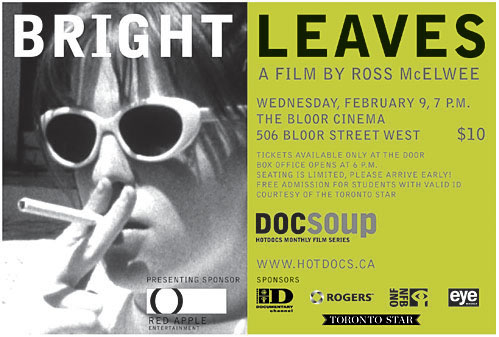 The first person to email me at happycreature[at]gmail[dot]com can have two passes to this month's screening of Ross McElwee's latest, Bright Leaves. Like last month, expect this one to be sold out. The film was on pretty much every top ten film list -- from the New York Times' to Entertainment Weekly's -- for 2004.

Update: Gavin claimed the passes!

2:28 AM , # , |

Thursday, January 27, 2005
11:18 PM , # , |


Discount Toronto Tour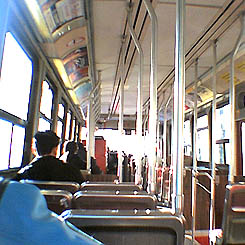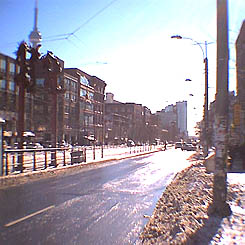 On Thursdays, I leave the 'hood and visit clients. Today I brought along the CrapCam 5000. First the streetcar to Spadina.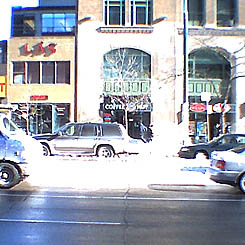 Hey Merv, there's your old "Coffee Hut". After Spadina, it's a short walk to the financial district.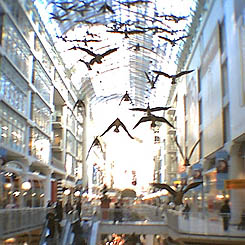 Then it's up Yonge to the Eaton Centre where, yet again, I failed to buy a new toque.

The end.

4:08 PM , # , |


There Must Have Been Some Magic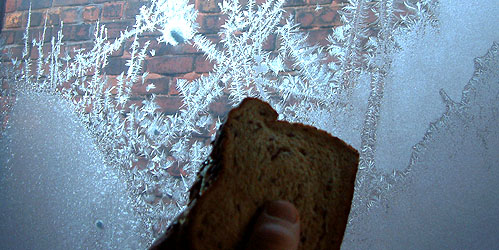 Frosty the Sandwich
Had to hurry on his way
But he waved goodbye
Saying, "Don't you cry
I'll be back again someday"

Thumpety thump thump
Thumpety thump thump
Look at Frosty go
Thumpety thump thump
Over the hills of snow!

9:25 AM , # , |

Wednesday, January 26, 2005
Quickstop
I was at the grocery store and saw Jay & Silent Bob with Caitlin from Degrassi on the cover of the tv guide. Talk about worlds colliding. But the 3-episode storyline sounds a little lame: Kevin Smith plays himself and he tries to woo Caitlin. You just know that everyone is going to be watching and wondering how many cocks she's sucked.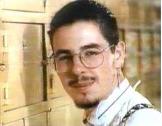 A true homage would have Smith blow his brains out in the boys washroom after Caitlin rejects him and would include a scene where Jason Mewes buys condoms at Shoppers Drug Mart and then tries to have sex with Liz. "Liz" used to come to our fitness class and it always made me giggle because I'd immediately think of her saying, "I hate you, Joey Jeremiah! I thought you were my friend!" There really should be some sort of homage to Claude Tanner, since he was the single greatest character in television history. Claude was the Pierre Trudeau of messed-up high school proto-goth geeks.

Speaking of my fitness class, I told my friend that I re-googled her and informed her of what I found and she's considering (justifiable) legal action (so, obviously, no details for you, dear reader!). But I can tell you this: my friend has learned the value of both googling other people and yourself. She has also learned never to doubt the depth of my wisdom.

But I should take a moment to apologize. When we went out dancing with the pseudo-goths on Monday night I forgot to set the VCR to tape the third episode of Bachelorette and so we missed a tv night. My wisdom only extends so far. I will make it up by injecting the 4th episode review with 1/3 more bile.

Anyhow, if it were up to me, a Degrassi/Jay & Silent Bob crossover story would involve Jay & Silent Bob busting Wheels out of prison and there'd probably be some hijinks at the Dufferin Mall (ok, ok, Gerard Square is more appropriate). At the end of the episode, Jay would lay his hands on Lucy and she'd be able to walk again.

In other news...

The Bloggies site is working, vote while you can (but someone else exceeded her bandwidth 509, dude!). Accordian Guy's annotated Starbucks map is an interesting read (vote for him at the Bloggies, dammit). Storm considers the "new" Sunday Star. When I saw the first edition of the redesign, it left me wondering which high school yearbook committee they recruited for the job (because only a 16-yr-old would have selected that headline font). The cover was nice, but the rest was ... WTF? Nutso! Even worse, because they run the entire paper in full-colour, the pages were still wet. Adina is starting to understand how this whole running thing works ...

Ok, Zack is going nuts, we've gotta "go walkies". BESERKER!

8:19 PM , # , |


The Dufferin Mall Experience - DUFFX2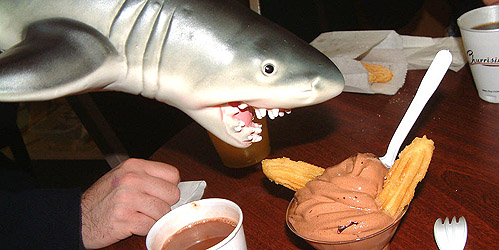 Here it is, the DUFFX2 photo essay. Be sure to hit F11 and view it fullscreen.

Unfortunately, the funniest exchange of the day didn't make the final cut. It happened when Maria met Sharkey MacDonald (it's funnier if you imagine Maria's Mexican accent) ...

MARIA: ... and then I went to the London School of Economics.

SHARKEY: Is that where you learned to knit?

MARIA: Not home economics, you idiot!

Oh, those were funny times ... again, a big thanks to the participants:
Maria, Jamie, Eva, Dave and Jen

... and to Tony Pierce for his pioneering work in the fullscreen photo essay genre.

Past photo essays:
Last summer we Bowled in Perth
Last winter Zack walked to Hot Docs

2:06 AM , # , |

Tuesday, January 25, 2005
Googled
Jamie left this comment with the previous post:

when I tried using online dating services, I actually gave out my blog address early on in conversation to speed up any background checks they might have done on me :p

I leave that part of the process up to Almighty Google. Which reminds me, I was talking with a group of people at the gym yesterday and I made an offhand remark about googling someone and a few people were shocked -- shocked -- that I would do such a thing. The woman who was most shocked then asked if I'd ever googled her and I said, "Of course, I GOOGLE EVERYBODY. " And googling her turns up a funny story; I'll ask her if I can post the link. Not only do I google people regularly, I do a thorough vetting through images and news as well.

What shocked me was that anyone would find that odd in this day and age. I just checked my stats and 4 of the last 100 visits to this blog were the result of Google searches on my name. As Tom Jones says, it's not unusual!

9:49 PM , # , |


Every Blogger Get Laid Tonight
Apparently, this is the point of blogging:

chris says:
"why would someone who is married have a blog"
"doesn't make sense to me"
"isn't the point of a blog to get laid"

mer says:
"WHAT??"

Yeah, that's always the first thing I mention to women: check out my blog.

Ok, kid pics: check out my dad's blog, there's a pic of me feedin' a roo. Kitty has a pic showing that even as a kid, she knew the deal. Sugarmama wants to slay a few traditions herself.

3:12 PM , # , |


Bloggo
Don't buy this! Don't buy this line that you're getting from these "blogger people"! They're the same ... the other side of the same coin as the corporate news media. And for instance, as an excellent example, you know something? Your guest called CBS a liar. And I don't believe that! - Bill

Marc was on CFRB last night talking about blogs and the news media and the BLC. David Janes posted an MP3 of the show here (starts around the 8-minute mark in the file, "Bill" phoned in around the 20-minute mark). Marc made some great points about the polarized political debate on the blogs, Armchair got a mention, Mike Brock phoned in and admitted that sometimes he "goes too far" (but sometimes going too far is the point) ... um, I didn't hear MY PLUG!!!!

Nominations
Oscar nominees announced. [via RobotJohnny] Much snoring ensues ...

The Bloggies site was up briefly last night before getting wiped out again.

11:37 AM , # , |

Monday, January 24, 2005
BLC @ CFRB
Marc is going to be on CFRB1010 tonight (the show is Nightside with Mark Elliot), talking about the Better Living Centre blog and the local colour. He'll be fielding callers' questions about blogging, blogs and such. Should be good, Marc's hilarious in talk-mode.

4:58 PM , # , |


X X X V I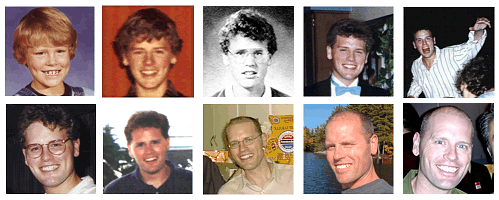 Whoa! Look at that! I'm aging!

For my birthday, I've been trying to come up with a list of songs that would be better if they were sung by Leonard Cohen. Here they are:

Edge of Seventeen - Stevie Nicks
Curious - Sand Box
Let's Go Out Tonight - Craig Armstrong
More More More -Kylie Minogue
Sunrise - Simply Red
It's a Sunshine Day - Brady Bunch
Calling Occupants of Interplanetary Craft - Klaatu
Beat's So Lonely - Charlie Sexton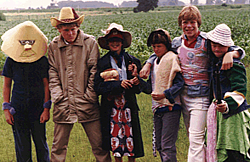 Ok, that's all I've got. Meat Loaf says he wants to hear Two Out of Three Ain't Bad covered. And I want to hear the Brady Kids cover Queen Victoria and confuse the star-dazed tourists with their incomparable sense of loss. Crap, I've made that joke before ... that's the thing about turning 36, it all becomes reruns.

Tonight's snazzy dancin'!

1:24 PM , # , |

Sunday, January 23, 2005
Cold Winter Walkin'
Zack was stuck inside all weekend while I was at the course, so I made it up to him this afternoon with a walk down to the waterfront. The lake is his favourite spot.

And I brought along the CrapCam 5000, which has quicky become my new craptacular addiction. I love the low res, retro-style images ... it reminds me of those quaint, old-fashioned, turn-of-the-century digital cameras. Or, because of the distortion from the lens, some of the pics look like they were taken by the Mars Rovers (known for their stunning photos and jaunty folk music!).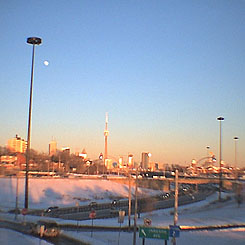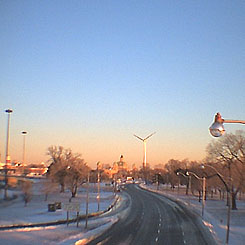 10:11 PM , # , |

Saturday, January 22, 2005
Saturday Night Freezer
I almost didn't go to the party tonight, it was my second night out in a row (last night I tried getting low-light pics using the minicam at the pub: success!), we're dancing on Monday, I started the fitness instructor course today and was bagged from that and there's another day of it tomorrow, but I figured I could make an appearance because it was on my streetcar line. And then I took a cab. But it was a great party with lots of groovy folk, so the savage trek across Hoth dodging Wampas and AT-ATs was worth it. Party-related linkage:
Images Festival
One Minute Film & Video Festival
Hot Docs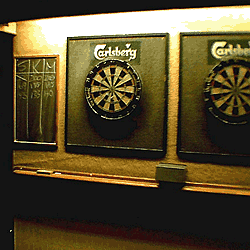 As for the fitness course, it was a great way to spend a blizzardy Saturday. The characters in the class are funny-bordering-on-wacky and they have a Waiting for Guffman groove going on. It's a bit strange being there, if you'd asked me at any point before two years ago if I had an interest in becoming a fitness class instructor, I would have said, "Pfffft .... no." But there I am, eh?

I also submitted my votes for the 2005 Bloggiestonight, just before the deadline but the message bounced on the first try, so who knows if they'll get through. I wound up on one of the "panels" that voted for the short lists of nominees ... which meant that I had to surf a lot of blogs. I'm a little disappointed that I didn't fall in love with any of the nominees (besides the ones I already read) ... and I really wanted to find some good, new stuff. I've found a few excellent blogs through your blog rolls this week and I didn't see many in the nominees that were as good.

But, the number of political blogs in the nominees was minimal; THAT was a relief. And I'm not crazy about the US Magazine-style celebrity blog genre, like political blogs they tend to be repetitive (the Linsay Lohan dribble pic isn't as funny the 23rd time around) ... but at least they're witty and tend to be more negative, sarcastic, realistic and less idealistic than the politicos. And what more do you want?

Bloggie voting starts tomorrow. Past winners include Natalie, Davezilla, Loobylu, Rannie, Textism, boing boing and, of course, WHEATON!

11:45 PM , # , |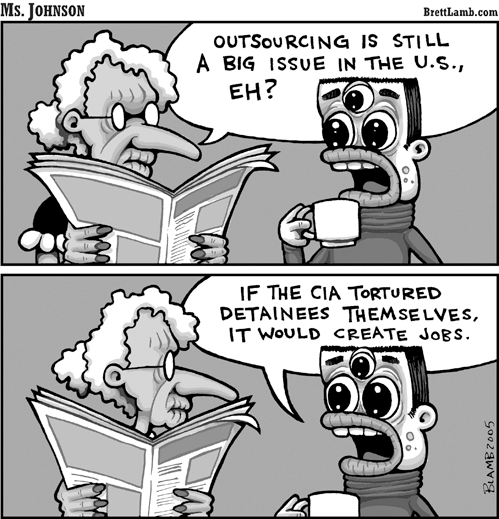 1:18 AM , # , |

Friday, January 21, 2005
Poke in a Soap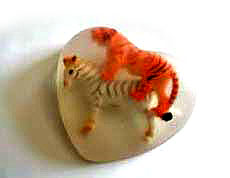 Jennifer Lovegrove is selling little animals having sexual relations in custom-made bars of soap over at Soap Scum. You can choose from a variety of animals ... myself, I want to see Manta Ray and Spider get it on. I bet half of you are thinking of mating the Lion and Tiger for your own personal gain.

Other designs, flavours, scents, etc are available. Go buy already!

......

Also:

One does not simply walk into Mortor! (via indigoblog)

Kat learns that if you give a doctor a pad of paper, they'll take it!

But Adina is a blogger!

Brent is tired. Tired of haircuts? HAIRCUTS! I'm tired of 12 things on his list, not the ones you think.

At the BLC, it's Wussel Pith!

11:44 AM , # , |

Thursday, January 20, 2005
Dancing Fool
What? Worst day of the year? Nuts to that!


This Monday is my birthday and it's dancing time!

There's retro 80s night at the Dance Cave -- no cover! -- and that's where we're going. Feel free to stop by here for a pre-drink. I'm not sending out invites, this isn't a big production, if you wanna show up, show up -- email happycreature[at]gmail[dot]com for directions, info, confirmation, gentle words of support, etc. btw, everytime I type out the email like that, I get a half dozen people saying "it didn't work". Ok, you have to replace the [at] with the @ and the [dot] with a period. No spaces. If you don't get a reply, you did it wrong.

Come on out and get groovy!

7:48 PM , # , |


Clarence Has a New Toy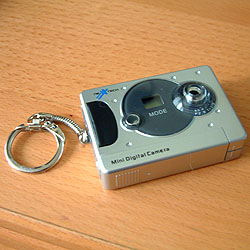 Like everybody, I covet with my eyes and lately I've been coveting the secret agent mini-camera Jenn brought with her to DUFFX2 the other day (btw, Jenn, I'm not using IE).

That prompted me to go out and get one. While my parents have been on a year-long quest to find the perfect digital camera, I've wanted a tiny, low-res camera for taking pics on those missions when lugging around the full-size camera is unreasonable. Considering it cost a measly $40, the pics aren't bad ... I'm not looking for quality, just some smudges for the blog.

These samples prove that it's good enough: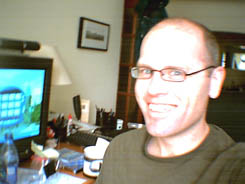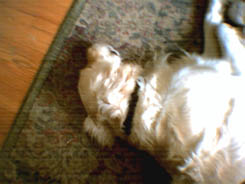 In other news, it was one of those mornings where I was bumping into everyone and anyone on the trek down to Spadina, I grabbed an early lunch and even got to meet Atom Egoyan. Crap, I had the mini cam ... I should have snapped a pic.

1:15 PM , # , |

Wednesday, January 19, 2005
Health & Welfare
I've never bumped into a blogger at the gym before, but that changed tonight when I saw Adina, who recently joined. She asked when she'd see "results" and we said that results take time. At first, your body and muscles are simply shocked that they're being asked to do anything. During my first year at the gym, I experienced all sorts of adjustment pains (headaches, strained muscles, sore feet, etc) that eventually went away.

But stick with it and you'll get results, though the best results are the ones you don't see. So, if any of the rest of you are thinking of getting in shape, please consider this guide to ...

How to Stop Being a Lazy Slob



Lucky for Adina, she's not as far gone as I was. As the pic on the left demonstrates, I'm not one of those naturally fit people who doesn't know what it's like to lug around extra pounds. That's me the year I joined the gym. Look at that freakin' gut. And a second chin. And hair! Sorry, but as soon as you start working out, you will lose all of your hair. Those fit people you see at the gym with hair? Weaves!

The pic on the right was taken five years later at the most recent GTABlogger Xmas party. I'm fifty pounds lighter than in the pic on the left. Unfortunately, twenty pounds of that was my soul.

Here are the guidelines I followed to achieve my goals:

1. Stop eating so much goddamn cheese.

2. Try everything.
When I joined the gym, I tried a whole bunch of things to get a sense of what worked for me and I still try new things from time to time, just to shake it up. Last fall I started spinning twice a week. Then someone told me that was also the name of the class where you ride the stationary bikes, so I started doing that instead. Ba-DUM!

You also need to realize that nothing is as difficult or as complicated as it looks. What may look intimidating won't seem that way after you've been doing it for two months. And everything can be done at your own pace. Fortunately, at our gym intimidation isn't much of a problem because most people there are pierced & tatooed schleppy schlobs.

3. Classes
The fact of the matter is: I am an extremely unmotivated, lazy slob when it comes to working out. Stick me on a treadmill on my own and I'll barely last twenty minutes. So I do classes. The only way I can stay focused and motivated for a full hour is to take a class and have some instructor barking at me. And it helps having someone set the level of intensity for you. I also enjoy seeing the regular characters in class and making up nicknames for them. One of my greatest disappointments in life is learning someone's real name ...

4. No cheese!

5. Inspiration
One reason to take classes is so you can see people who are in better shape than you and let them inspire you. You also feed off of the energy of the other people in class and get a better workout. And if you're really lucky, you might land a fitness class crush or two.

6. Embrace tragedy
After my last relationship ended, I dealt with it by going to the gym. You'll see even more results if you break up with someone who likes to eat a lot of cheese. Spite, anger and work stress are all things you can harness to improve your workout!

7. Fun it up
Some people think that working out is all about pain and misery. If you're not enjoying it, you're not doing what's right for you and should try something else. What's the freakin' point if you're not having fun? Fun it up!

Hope that helps.

11:39 PM , # , |


Skillz Test


Can you pick Cellino & Barnes out of this line-up? Do you have what it takes?

4:10 PM , # , |


Some Junk 4 U
Paul posted a new Van Impe review:

A trained rottweiler called 911 and then unlocked the door when help came! I wonder how many times that dog called 911 for no reason, and then opened the door for some Jehovah's Witnesses.

Subway station buttons! [via RobotJohnny]

Ok, this image at Rusty Robot is safe for work, but you may want to think twice before looking at it, because once you do, you will NEVER BE THE SAME AGAIN! Click here. My god, it's full of stars!

Dave also links to a great Enterprise review site, take a look.

If you need some calm images to detox, Bored Astronaut posted Jupiter pics. Monolith not included.

11:31 AM , # , |


The Amazing Ray P. I.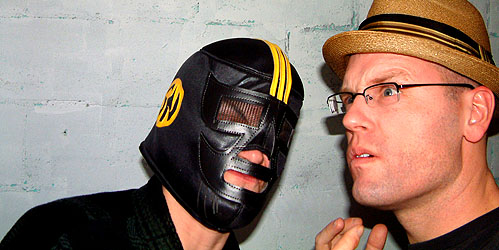 BLAMB: So, I came to you because you're the best private dick in town.

RAY: What have you heard about me?

BLAMB: People say you're amazing, Ray.

RAY: And what do you want?

BLAMB: I want to you to dig up dirt on somebody.

RAY: I don't "dig up dirt". I seek truth.

BLAMB: Does the truth ever include dirt?

RAY: Usually.

I liked this Amazing Ray already. His manner was calm and efficient. He was like a ninja, only more pleasant.

BLAMB: Good. I want you to find out the "truth" about a guy named Quon'dar.

RAY: Who is this ... Quon'dar?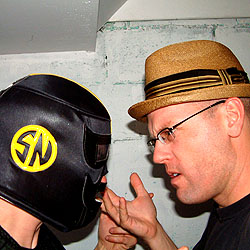 BLAMB: He's this guy, see? He's been staying at my apartment. He's going out with a friend of mine ... but I don't trust him. I get the sense he's hiding something, that he ain't on the up and up.

RAY: Really? Or do you harbour a personal dislike?

BLAMB: That, too.

RAY: Fine, I will do a preliminary search and see what I come up with. If there's enough information to warrant further investigation, we will proceed from there. Is that acceptable?

BLAMB: Sure thing. Thanks, Ray.

RAY: But I must warn you, sometimes the truth is not what we expect it to be. Sometimes the journey leads us in directions we did not anticipate.

BLAMB: Don't give me all this philomasophical blabbermagook! Just you do your job and let me worry about "the journey". Sheesh.

RAY: I will abide.

1:06 AM , # , |

Tuesday, January 18, 2005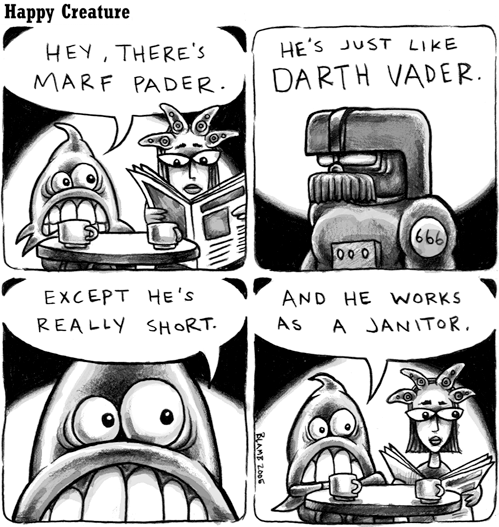 2:05 PM , # , |

Monday, January 17, 2005
Scratch 1 Stalker, 1 Virgin
Bachelorette ep. 2

Tonight Mr. Loaf, Alice, Quon'dar, Zack and myself gathered to watch the tube.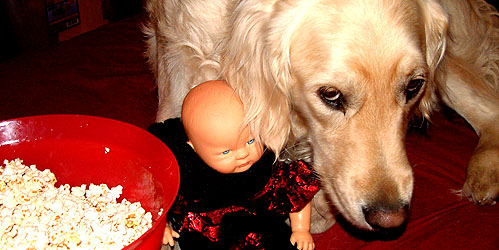 BLAMB: Hey, it's on! Mr. Loaf, get in here!

MR. LOAF: Okay. Is the poetry guy on yet?

BLAMB: Poetry guy?

ALICE: No, that was the first series. What was his name?

BLAMB: Ryan Reynolds .. no! Stuart Sutcliffe!

ALICE: Ryan Sutter, you idiot. I hated that Trista. Everytime she talked in that little baby girl voice, I wanted to clock her in the jaw with a pipe wrench.

QUON'DAR: What's going on? There are all of these men and they live together? I thought this was a show about mating.

ALICE: These guys all go on dates with the same woman, Jenn, and every week she selects the guys she likes best until she finally ends up with one guy at the end.

QUON'DAR: What if she likes more than one guy?

ALICE: She can only have one.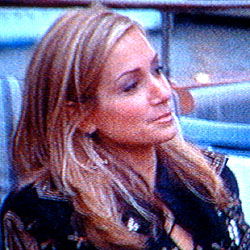 QUON'DAR: She can't invoke bhur 'rhanda kahl?

ALICE: Only in Utah.

QUON'DAR: So we have to watch the whole series just to see the mating at the end?

ALICE: You don't get to see the mating.

QUON'DAR: WHAT? Then what's the point?

BLAMB: Okay, everybody pick your winner and the reason why you think they'll win. Quon'dar?

QUON'DAR: I am picking the French guy because he is playing the best game. With the other men, he is constantly working to psychologically disarm them and undermine their confidence. With Jenn, he makes it appear as though he is disarming himself ... but he is the only one with a strategy and that is why he will win.

ALICE: I think Jenn and Jerry, the art gallery director, have already fallen for one another. In the first episode they fell immediately and both got caught up in it and in this episode they seemed spooked by that and took a step back ... and that's how those things go, two steps forward, one step back. I'm picking him because it was love at first sight.

BLAMB: Mr. Loaf?

MR. LOAF: The welder looks like Tim Curry.

ALICE: So you're picking him?

MR. LOAF: Yeah.

BLAMB: I guess I get stuck rooting for Wendell, then. Bloody hell, Wendell sucks. Okay, who do you want to see dragged right up to the end, only to have their ego smashed like a bunch of ostrich eggs at a charity casino?

ALICE: John Paul, the smarmy fop. Rake his ass over the coals and scrape that slimey grin off his face.

MR. LOAF: Virgin Josh. I would do anything for love, but I won't do that.

QUON'DAR: Brett. But since that's not possible, Wendell can fill in.

BLAMB: Gee, thanks. I'd like to see the welder guy get keel-hauled to the finish before he gets popped. I get the sense that he's covering up a bunch of insecurities and I think seeing his buttons get pushed and his fears exposed would make good television.

ALICE: When he tried to make her feel comfortable, he showed one of the very worst qualities you men have: the need to try to "fix" things. And sometimes we don't want things "fixed", sometimes they can't be "fixed", we just want you to say that you freakin' understand. Morons.

QUON'DAR: That is why I adore you. You do not require fixing, you are perfect.

BLAMB: Suck up.

MR. LOAF: Hey, the Tim Curry Welder Guy just said that he writes poetry!

BLAMB: That's it, then. He's doomed. Why the hell do all the guys keep asking her what went wrong with her past relationships? For one thing, that sort of stuff is kind of personal and for another, the information is useless ... how would it help them? Each couple is different ... and it's kind of a negative way to kick off a conversation.

QUON'DAR: Well, I for one like Stu's passion!

BLAMB: He's an obsessive freak!

QUON'DAR: He feels a burning within and he is not afraid to embrace it!

ALICE: Stu always looks like he's about to cry.

QUON'DAR: It is the passion boiling forth.

BLAMB: Uh oh, the big, burly fireman just wigged out.

ALICE: He knows he's toast. He's just accepting what his instincts are telling him.

MR. LOAF: What are they telling him?

ALICE: Get your ticket signed, buddy. And he did! Now he'll always have a memento of the time he was on tv and almost dated that girl.

"You cannot begin to understand the depth of me ... My life is my legacy!"
- Josh the Virgin

ALICE: The French dude really got under Virgin Josh's skin.

MR. LOAF: Hey, Jason's a virgin, too!

ALICE: I can't believe he came clean with her about that, he's toast. Actually, he seems a little gay.

BLAMB: They should have a season called Bachelorette: Virgin Territory. The twist would be that all of the men are virgins. And they would all have to wear a big, black "V" mark on their foreheads.

ALICE: Imagine trying to cast that. Oh, there's Chris the host. It's time for the rose ceremony. Everybody loves Chris.

BLAMB: 'Cause he's married. He's not a perceived threat to either the men or the women. And there's a hint of Stockholm Syndrome as well.

QUON'DAR: Why is she handing out plant clippings to the men?

ALICE: Red roses symbolize romantic passion.

QUON'DAR: On my world, when we want to present out lovers with a gift symbolizing passion, we give them a gel bladder filled with warm, salt water.

BLAMB: Nothing says "I love you" like a bag of water.

QUON'DAR: Shut up, lemur. It symbolizes the gift of life.

ALICE: You've never given me a gel bladder filled with warm, salt ... Holy cow! Virgin Josh got a rose!

BLAMB: But Stu is going home. I thought that he'd explode after not getting a rose. Or faint. Or both.

MR. LOAF: I'm just happy the fireman got his autographed ticket and that Tim Curry lived to see another episode.

ALICE: So, honey, what did you learn about human love?

QUON'DAR: It amazes me that any of you hook up, ever.

11:49 PM , # , |


DUFFX2 Reports
Here's what everyone had to say about the second Dufferin Mall Experience:

Maria found some good reads and posted a gallery of pix. Dave was happy that he spotted J-Rock and thinks I have "wit", but every time I made a baldie joke, he didn't laugh (and he was disgusted when he brought up a Family Guy episode and I drew a complete blank). Jamie, on the other hand, caught my Airplane! quote and has pics of me in his gallery. Not good pics, but pics. And Eva was super-impressed by the underground Dollarama ... but then, isn't everyone?

But the full story, in the form of a DUFFX2 photo essay, will be up in a day or two, as soon as I get some sleep and some time ... 'cause there's no time and I have to watch Bachelorette with the idiots in 15 minutes. I hope there's crying tonight. I hope there's lots of glorious crying!

A BIG THANKS!
One more thing, I'd like to send a big shout out to those of you who nominated and voted for us on the Canadian Blog Awards. We sure shook the pillars of Heaven, didn't we Jack Burton? Yes sir, the cheque is in the mail ...

8:33 PM , # , |


New York State of Sandwich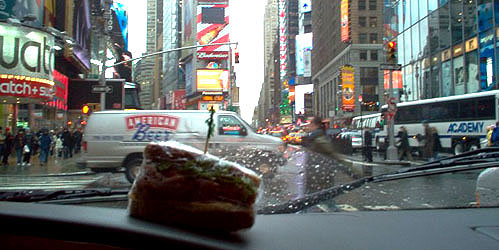 While in New York last week (1, 2, 3), Christie shared a cab with this sandwich. The sandwich was late for his appearance on Conan, got in a fight with the cabbie and when he finally got to the green room, his faced was smeared with mascara and tears. And then he got bumped!

10:44 AM , # , |

Sunday, January 16, 2005
DEFEAT!
The results of the Canadian Blog Awards were posted seconds ago and the winner the Most Humourous category is ... KIM! Congrats to her (she also won best non-political blog) and her staggering 270 votes. This blog placed fourth, just behind Meatriarchy and much further back from Paul Wells at MacLeans. Am I a sore loser? YES! To mark my defeat, I am going to go and punch a hole in the wall with MY BARE FIST! Or, I would if I could get motivated, which I can't.

Argentinian in Toronto won best blog and it's pretty good so check it out.

As for the rest, the political blogs so dominated the contest, they took all the fun out of it. This could have been something, it could have been a contender instead of a borefest which is what it was. Voting for the Bloggies begins January 20th.

9:02 PM , # , |


Flipper was Miffed
Just to recap: last summer Alice was kidnapped by aliens and spent six months in deep space. She recently returned with an alien lover named Quon'dar and they've been living in my tv room. I'm forcing them to share the room with Mr. Loaf, a 70s rock icon.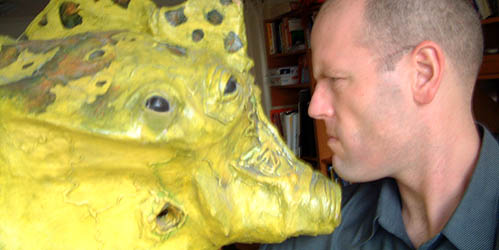 Needless to say, Quon'dar wasn't happy when I told him that Mr. Loaf had moved in.

QUON'DAR: You should have told us you'd offered the room to someone else.

BLAMB: Would you have found another place to stay?

QUON'DAR: That's not the point!

BLAMB Then what's the problem?

QUON'DAR: You're the problem! You're inconsiderate, you're obtuse, you're annoying, you're juvenile ..

BLAMB: Who's juvenile?

QUON'DAR: You have no sense of humour, no affection for manners or etiquette and you let the dog sleep on our bed during the day! It's covered in hair!

BLAMB: That was his bed before you annexed it. Do you think I like you? You're arrogant, pompous and completely full of crap. And you may have Alice fooled, but I see right through it ... I can spot a poser from two hundred metres.

QUON'DAR: We'll see who the poser is.

BLAMB: Yeah, we will!

QUON'DAR: It's you! You're the poser!

BLAMB: No, you are!

Mr. Loaf walked into the fray.

MR. LOAF: Lot of shouting going on out here ... this isn't about me, is it?

QUON'DAR: We haven't been introduced yet. Our host lacks manners. I am Quon'dar.

MR. LOAF: My name if Loaf, Meat Loaf.

QUON'DAR: Charmed. And what is it that you do to occupy your time?

MR. LOAF: Stuff. Just dabble.

BLAMB: He sings and dances and does some acting.

QUON'DAR: He's not going to practice singing, is he?

BLAMB: I said 'no singing'.

MR. LOAF: But if you don't mind, I could give you guys a bit of a preview of my new ...

BLAMB: NO SINGING!

QUON'DAR: Bah.

The computer dinged. There was a new email.

BLAMB: Ha! Look at this!

Dear Brent,

We are lawyers from Buffalo, NY. We are going to be working on a trial in your city and require a place to stay for a few months. Your website googled up and we read about the room. Would you mind if we crashed while we're in town? It would really help us out.

Yours truly,
Cellino & Barnes

BLAMB: Would you guys mind sharing?

MR. LOAF: The more the merrier!

QUON'DAR: GRRRRRR!!!!!

3:32 PM , # , |

Saturday, January 15, 2005
DUFFX2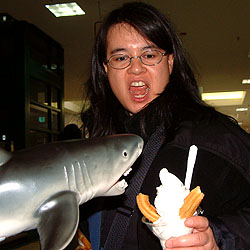 Hello, sexies ...

This afternoon was the second Dufferin Mall Experience. It was an experience. There was joy, laughter, sadness, crying, acid reflux, a shark attack, a journey to a secret underground kingdom, flowers, tiny little animals, rides, a bagel lady, dinosaurs and Spanish treats both authentic and Gringo-ized.

It was the Dufferin Mall in all its glory.

update: Jen's mini-cam pics are up!






Our action-packed blogging team (from left to right):

Maria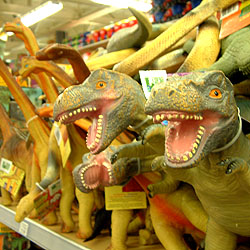 Eva
Jen
Dave
Jamie

The full DUFFX2 photo essay will be posted early in the week. Keep yer lids peeled.

.......

In other news, the BLC is the blog of the week in today's Toronto Star (page H3, A&E Section) and was mentioned on Gawker the other day.

4:27 PM , # , |

Friday, January 14, 2005
Mac Attack, Episode 173
It would have been a great week if the Mac cultists hadn't forced us to endure their spoogasms over a bunch of relatively trivial consumer product releases from their beloved corporation. They've now surpassed Saturn owners as the world's most irritating marketing tripe victims.

Here are a few things I noted this week:

Steve
For some reason, Mac users are all on a first-name basis with Steve Jobs. You'd never get this from non-Mac users because we're polytheists and like the ancient Greeks, believe our Jobs are flawed at best but more realistically, complete and utter jerks. The Mac cult's belief in a single, infallible entity is kind of quaint and endearing, but hey, there's no mystical energy field controls my destiny. End of line.

... and Steve Has Peaked
Remember eight years ago when ER was hot and Steve Jobs was on the show with all of those other hot cast members? Now, they've all moved on and Steve is still hanging out on ER cause that's all he can do (is it even on anymore?). Yeah, yeah, I know he was in Donnie Darko, but he didn't really do anything in it, did he? At least PC users can admit that Bill Gates' career started and ended with Sixteen Candles. What about Breakfast Club? What about it? That's Molly, Judd & Freejack's movie!

Caring About Everything
The big news this week: little, cheap Macs and a little cheap ipod for poor people. But think about it, you idiots ... the little cheap Macs aren't so cheap once you realize that you've also gotta buy a monitor and ipods are MP3 players ... big freaking whoopdee crap, you want me to get my knickers in a knot over a little Walkman? I didn't do that in '83, why am I going to now? I guess if that's your definition of "cultural revolution", you'll never be disappointed.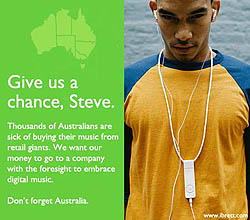 Taking It
You see crap like this from Mac users all the time, loyalty taken to ridiculous extremes (also note the use of the casual, "Steve"). And that loyalty is fed by the myth that Mac users are "counter-cultural rebels" when they're really the most status-obsessed, consumerist clique in computerdom. Apple is not pre-Unilever Ben & Jerry's, it's The Gap. If you just think of your computer as a "store", great. But if it's more than that, P2P is still where the creative potential lies, not lame-ass istores.

Design
Oh those Macs! They sure are well-designed! The G5 looks just like a big ol' dehumidifier! How did they do that? That's freakin' good design! Will it store my files and keep the basement dry? YAY!

But the week is over and we can get back to the hum-drum without feeling inadequate because our consumer product purchases don't reflect those of the guy in the pic above, who looks like he's experiencing some sort of aneurysm.

5:45 PM , # , |


Aussie Diaries
Dad is posting the continuing adventure of the time we moved to Australia. First, they sold the house & the car, then they spent the wad on my Xmas presents. Priorities, y'know?

I can't wait until the story about the time I tried to drive the car. I was three!

2:27 PM , # , |

Thursday, January 13, 2005
TOMORROW!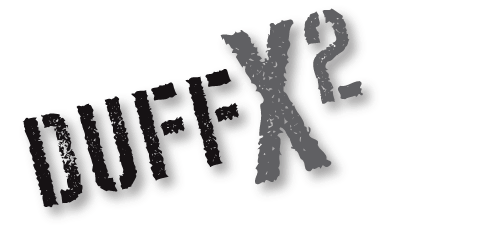 True story: Before there was a Dufferin Mall, the land was occupied by track for racing horses. One night, the stables caught fire and a young jockey, Dan O'Malley, tried to get the horses out of the stables but the frightened horses ran into the fire instead. Dan O'Malley's foot was snagged in a stirrup and he was dragged into the flames as well where we was burned alive with the horsies.

To this day, some nights if you walk past the mall, you can see the ghost of young Dan O'Malley being dragged from the Body Shop to his doom, just over by the McDonalds in the food court. Oooooh, are ya scared?

DUFFX2: Saturday, 1:30 pm, meet at the Second Cup

10:10 PM , # , |


Here Comes the Sandwich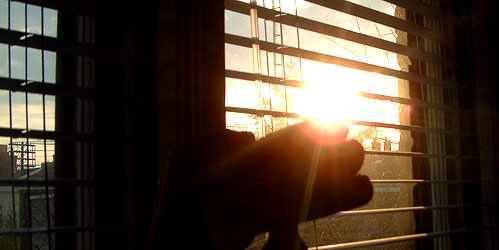 Little darling, I feel that ice is slowly melting
Little darling, it seems like years since it's been clear
Here comes the sandwich, here comes the sandwich,
And I say it's all right

Okay, that was this morning ... I just got soaked by tonight's cold hell rain, but bit by bit, the days are getting longer!

8:01 PM , # , |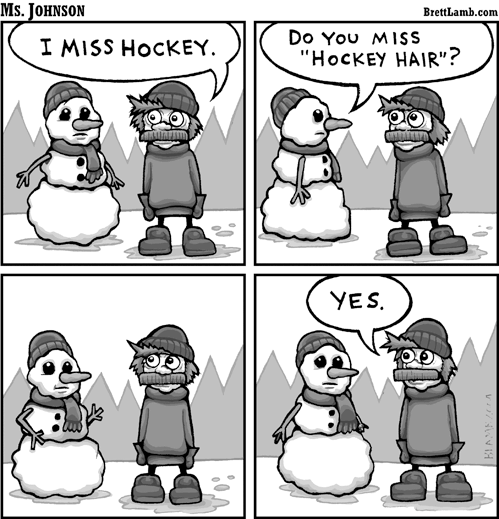 3:02 PM , # , |

Wednesday, January 12, 2005
Hot Docs: Doc Soup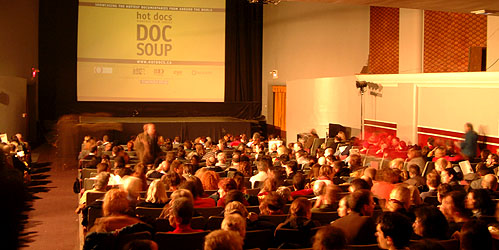 Say good-bye to my little slide -- it's curtains for this one!

There was a sold out crowd for Liberia: An Uncivil War this evening at the Bloor, presented by Hot Docs as part of the monthly Doc Soup series, with the line for rush tickets snaking around the block. It's a great doc as the Globe review notes:

Stack and Brabazon had alarmingly close access to key players and civilians alike, as they detail events while contextualizing the Yankee ties to this corner of Africa ...

It's that rare war doc that provides a sense of perspective and shows how the violence festered in the society rather than dramatizing or romanticizing it.




Director Jonathan Stack (with Doc Soup programmer, Sean Farnel) takes questions from the audience.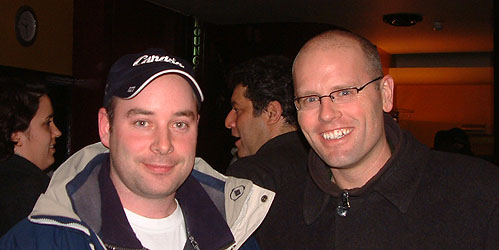 And I got to meet long lost cousin Kevin, who drove down from Barrie to use his comps. You can see the director in between us -- he's been nominated for an Academy Award twice -- that's two more than you!

10:49 PM , # , |


Mr. Loaf
Today I took a month's load of shirts to the cleaners, braving the wet, wet ice. I'm determined to avoid another cycle of buying shirts because I can't be bothered going to the cleaners. When I arrived back at the apartment, Meat Loaf was standing at the front door with two large suitcases.

BLAMB: What the hell are you doing?



LOAF: I've come for the room, remember?

BLAMB: There's no room.

LOAF: You said there was a room.

BLAMB: No, I didn't.

LOAF: You said, in your email, "I'm afraid that while there is a room, it is not "spare"."

BLAMB: Right.

LOAF: So, I thought that meant that I could still stay in it.

BLAMB: No, it means there's no room! Besides, you're too late, there's already a couple staying in it.

LOAF: I can share.

And then it hit me like a tonne of well-oiled bricks. If I forced Alice and Quon'dar to share the room with Meat Loaf, it would give them an incentive to find their own place. They'd be out by February!

BLAMB: You'll share?

LOAF: Sure.

BLAMB: Fine, then. But you'll have obligations. We're watching Bachelorette on Monday nights and it's something we're doing to connect as a family, so you're expected to be there.

LOAF: Aw, man, I hate reality tv.

BLAMB: Shut up, Mr. Loaf! That's non-negotiable. And no singing Paradise by the Dashboard Light. I think I've heard that enough for this lifetime.

LOAF: L ... l ... le ... let ... let me sl ...

BLAMB: STOP IT!

LOAF: DAMN!

BLAMB: Okay, you can move your crap in. Alice and Quon'dar are at the Duff, we'll inform them of the accomodation modifications when they get back.

LOAF: Thanks, man! You won't regret this!

BLAMB: I already do.
2:16 PM , # , |


Tonight!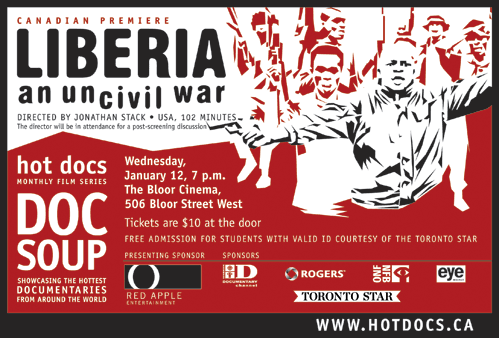 1:23 PM , # , |

Tuesday, January 11, 2005
Take It or Leave It, Take It or Leave It
Have you ever heard the myth about a house cat sucking out a newborn baby's breath and suffocating it?

That's how Sugarmama describes the fallout of her last relationship. She has no interest in dating at the moment. Paul wonders how blind a date could be between Brad Pitt and Jennifer Anniston. Maria wants to avoid her "just sex" date guy who lives in her complex. Maria, at least with that guy there's no guessing involved, right? Tony is thinking about a lost love on her birthday (includes links to photo essays). Kat's got a date with an 18-yr-old. When I had just turned 20, I dated a 23-yr-old ... an older woman, that was the big-time! Bren is controlling birth. And Merv is willing to go the distance for the relationship, but there's no brunch in Mississauga. Ever wonder about places where people don't have brunch ... you can't trust 'em. But, what the world needs now, is kitties, sweet kitties ...

9:44 PM , # , |


Settling In
Alice and Quon'dar moved their stuff in this afternoon. After they finished, Quon'dar went out to find cigarettes and Alice and I had some food.




ALICE: What did you do last night?

BLAMB: I went to a movie. Erica was there but I didn't feel like talking to her or sitting with her, so I sat a few rows back and I don't think she saw me. I bump into her all the time. Talking to her takes work. She's beautiful, looks like Madeline Stowe, but she's really introverted and socially awkward.

ALICE: Did you say 'hi' afterwards?

BLAMB: No, I split right when the end credits rolled. Hey, it's funny ... she and Ed used to be a couple.

ALICE: So?

BLAMB: Well, I bumped into Sara the day before, and Sara and Ed were also a couple ... at a different time and in a different city. Now Erica and Sara lives within a few blocks of one another ... and I bet they pass on the street, unaware of their connection.

ALICE: And you think that means something.

BLAMB: Don't you?

ALICE: No. Not really.


BLAMB: You don't think tracking these little coincidences and connections, like the Samantha Bee thing, gives you a sense of the bigger picture? A glimpse at some larger pattern?

ALICE: Samantha Bee?

BLAMB: Don't you read my blog?

ALICE: I told you, I just skim it and look at the pictures. I don't care about this nonsense you're always rambling on about.

BLAMB: NONSENSE?

ALICE: Listen, guy, I appreciate you as much as anybody, but I really don't care about most of your crap. For example, what the hell are you listening to?

BLAMB: It's Hall & Oates. It's a song called Man on a Mission.

ALICE: It's terrible.

BLAMB: I know! Slow it down to 70% normal speed and it's even better! I found some songs they did after they were famous and they're all really bad. It's the same thrill you get when you find bad, post-peak Atari 2600 games at yard sales.

ALICE: Uh huh ...

BLAMB: Let's listen to it again! You should hear some of Darryl Hall's mid-90s solo stuff!

ALICE: I just told you that I'm not ...

BLAMB: Hey, don't book anything for Monday nights, you and Quon'dar are watching Bachelorette with me. Merv reminded me that the premiere was on last night and it was really funny.

ALICE: I don't watch reality tv.

Quon'dar returned with his cigarettes.

BLAMB: Hey, Quon'dar. We're watching Bachelorette on Mondays. The previews look great, there's going to be a lot of crying and there's a 28-yr-old virgin dude!

QUON'DAR: On my planet, if you haven't mated by the time you're of age, your family is allowed to eat you to reclaim your voogoo energy. [makes a fist] But not the feet.

BLAMB: Voogoo?

QUON'DAR: I am interested in discovering some of the nuances of your species' mating rituals. I agree to the watching of the presentation you've described.

BLAMB: HA! See, Alice? Well, this will be good study for you. It's a very scientifical documentation of typical human mating rituals and habits.

ALICE: It is not!

BLAMB: It'll be a good primer for Quon'dar. It's like studying film, you always start with the horror genre because that's where the conventions are the most obvious.

QUON'DAR: Honestly, to me, this whole planet is horror.

4:07 PM , # , |


Pick a Flick
Ok, a user participation activity for y'all; haven't done one of these in a while.

Vacation
If you could take a two week vacation inside a movie, what movie would you choose? And why? And what would you do while you were in it?

11:23 AM , # , |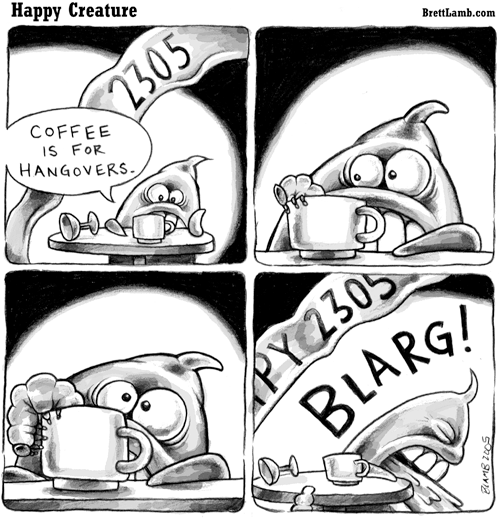 1:10 AM , # , |

Monday, January 10, 2005
Smote & Vote!
There are still five days left to vote on the Canadian Blog Awards. In the "Most Humourous" category, one blog has pulled ahead and has one quarter of the votes. If it's The Meatriarchy and it wins, that's a sign from God that blog awards are silly.

And in true Canadian fashion, even though one of the conservative blogs was punted from the contest for cheating, nobody has reported the incident or spread exciting gossip, rumours and/or lies casuing people to lose friends, lovers, jobs or prominent patronage appointments in crown corporations. Instead, neither steak nor sizzle is being sold and there's just a little note on the awards page and the offending blog ceased posting ... ZZZZzzzzZZZzzzzzzz ...

Meanwhile, the blog that deserves to win in the humour category is covering another Jack van Impe episode:

2:00 - Rexella says that we should pray for George W. Jack then goes on to say that he's not a "mamby-pamby, wishy-washy wimp" Jack likes the fact that he takes a stand! You know who else took a stand? Custer - and he was wiped out by the Indians, but I think Jack was referring to Jesus, who, was, interestingly enough, also 'wiped out'. Hmmm, maybe there's something to be learned here.

3:14 PM , # , |


It's All Relative
Turns out that I'm related to Kevin (who landed the Doc Soup passes) from The View From Up Here after all. Not sure of the particulars yet, but it looks like we have the same great-great grandparents or same great-great-great grandparents.

update: it's official, we have the same great-great-great grandparents. That's great!

Hey, that means I'm related to some of these people, too. And the cats. Here's what Zack likes to see. Chalk up another one for blogging: your blog can connect you with distant relatives.

On the other family blogs: Merv remembers a friend, Dad posts Oz kid pics. There's no back like the outback. Kookaburra sits in the ol' gum tree, merry merry king ...

10:42 AM , # , |


The Nemesis Wore White
Medlab & I were battling ...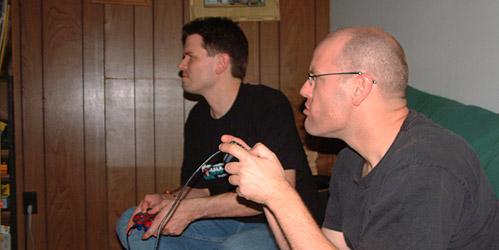 BLAMB: I can't connect with 1990s Godzilla. It's just not my Godzilla.

MEDLAB: You know who I can't connect with? Godzooky.

BLAMB: If Godzooky and Scrappy Doo mated, imagine the kids.

MEDLAB: They wouldn't mate, they'd kill one another. And they'd spend the rest of eternity in Hell with their claws wrapped around one another's throat.

BLAMB: Hey, I finally bumped into Sara today.

MEDLAB: Wow. How was she?

BLAMB: Good. But the bump was anti-climactic.

MEDLAB: Really?

BLAMB: Nobody's seen her in seven or eight years. Then, last year I heard that she was in the city. Then people spotted her in the 'hood and last summer I saw her profile on Lavalife. So there was a whole year of build-up to the inevitable bump. But when we ran into each other, we just said 'hi' quickly and agreed to get a drink sometime.

MEDLAB: What were you expecting? Eight years of stories on the sidewalk?

BLAMB: No, but a quick "hello" wasn't much of a payoff in relation to the pre-bump hype. But she was walking a boxer. Zack liked that.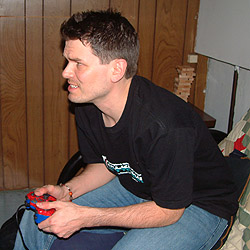 MEDLAB: And you let Alice move in? After what she put you through?

BLAMB: What am I supposed to do? She'd help me out. She's got this boyfriend, Quon'dar. He's an amphibious alien and a complete idiot. But still better than that loser, Aukko ...

MEDLAB: She seems to prefer aquatic lifeforms. How long are you letting them stay?

BLAMB: Only a few weeks. I'm not going to let them horn in on my space over the summer.

MEDLAB: Man, you say that now ... but things change.

BLAMB: Pfffttt. Hey, did you see the weekend Globe? My former nemesis was in the Hatch-Match-Dispatch column; she got married.

MEDLAB: Nemesis?

BLAMB: My gym nemesis, she used to be on that car commercial. Well, she was almost my nemesis. I used to see her from time to time in fitness class but she never showed up enough to become a full-time nemesis.

MEDLAB: She was a 'near-nemesis'. What was the issue between you?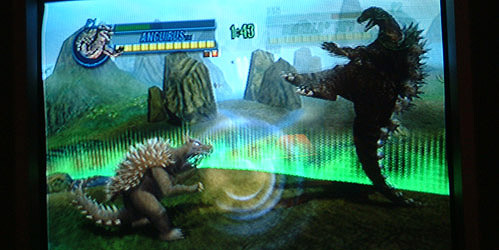 BLAMB: She challenged my position in the hierarchy of the class whenever she showed up. I'm kind of type-A in class and so was she. I guess she could probably argue that she had seniority, because she'd been taking the class longer, but I was there more often. If you subtract some of the other people from the class who fill the role, I'm sort of the alpha of the class.

MEDLAB: What if you don't subtract them?

BLAMB: Then I'm not.

MEDLAB: Was she was a jerk?

BLAMB: Well, she owns a dog and the people in class who know her say she's really nice, but I don't buy it. She's also a friend of Samantha Bee from The Daily Show.

MEDLAB: I know Bee's dad.

BLAMB: Hey, that's a circle! You know Samantha Bee's dad who knows his daughter who knows my former near-nemesis at the gym. And I know you! Anyhow, I haven't seen her at the gym in ages.

MEDLAB: So your near-nemesis is now a never-nemesis!

12:35 AM , # , |

Sunday, January 09, 2005
Get That Blogger Off of My Bridge!
2:02 PM , # , |

Saturday, January 08, 2005
One Week Until ...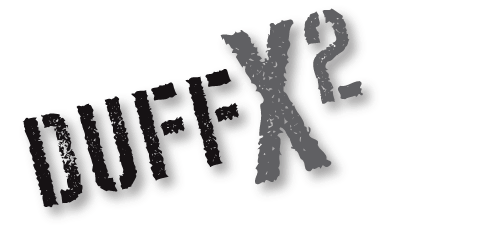 The second Dufferin Mall Experience is one week from today!
Date: Saturday, January 15
Time: 1:30pm
Meet: Second Cup by the food court

Alice will be attending in person. If you have a plastic, metal, fabric or furry friend ... bring 'em!

Also coming up ...

Doc Soup
Expect Libera: An Uncivil War to be packed this Wednesday at the Bloor, so arrive early if you want to get in. Congrats to Kevin (no relation) who landed the passes.

Birthday Night o' Dancing
Normally my birthday night would be the weekend after DUFFX2, but that's the first weekend of the fitness instructor course so the dancing is pushed back to the 29th. Everyone's invited and if you can recommend good places to take a crowd with a wide ranges of ages and income levels, suggest 'em. I skipped the fitness instructor course in the fall to do the half marathon, but now I'm signed up and ready to give 'er ...

9:47 AM , # , |

Friday, January 07, 2005
Online with Apocalypse Fish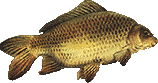 I chatted online with Apocalypse Fish this afternoon ...

FLOPPY FINS OF DEATH: what's doin?
BAAAAAAA!!!!: drawin, watching mr show
BAAAAAAA!!!!: was in walmart this aft
BAAAAAAA!!!!: saw ron
BAAAAAAA!!!!: found b5 episodes
BAAAAAAA!!!!: 2.66 for two eps
BAAAAAAA!!!!: bought five tapes
FLOPPY FINS OF DEATH: LOL!
BAAAAAAA!!!!: gonna make zack watch 'em 2nite
BAAAAAAA!!!!: he's never seen 'em
FLOPPY FINS OF DEATH: watch 'em now
FLOPPY FINS OF DEATH: cause someday the world will end
BAAAAAAA!!!!: LOL! LOL!
FLOPPY FINS OF DEATH: im serious
BAAAAAAA!!!!: neil just sent me an email
BAAAAAAA!!!!: forwarding

Just wanted you to know that I have thoroughly enjoyed your Blog this week.
It made me laugh out loud a couple times.

FLOPPY FINS OF DEATH: he means LOL!!!!!
FLOPPY FINS OF DEATH: have you been reading other blogs
FLOPPY FINS OF DEATH: a lot of misery to kick off the new year
BAAAAAAA!!!!: i know
BAAAAAAA!!!!: crazy
BAAAAAAA!!!!: it's a new year, fresh start and all that
FLOPPY FINS OF DEATH: winters blahs
BAAAAAAA!!!!: not til march
BAAAAAAA!!!!: people should be lookin on the bright side
FLOPPY FINS OF DEATH: might as well
FLOPPY FINS OF DEATH: the whole world's gonna end anyways
BAAAAAAA!!!!: how's that goin
FLOPPY FINS OF DEATH: big project, lot of variables
FLOPPY FINS OF DEATH: think we're makin progress
FLOPPY FINS OF DEATH: trying to get more lasers
BAAAAAAA!!!!: borrow some from pink floyd
BAAAAAAA!!!!: LOL!!!!LOL!!LOL!!!LOL!!!!!
FLOPPY FINS OF DEATH: don't get it
BAAAAAAA!!!!: what
FLOPPY FINS OF DEATH: pink floyd
BAAAAAAA!!!!: pink floyd!
BAAAAAAA!!!!: lasers!!!!!!!
FLOPPY FINS OF DEATH: pink floyd has lasers
BAAAAAAA!!!!: for their light show
FLOPPY FINS OF DEATH: oh
FLOPPY FINS OF NOT GETTING IT: funny
BAAAAAAA!!!!: it is
FLOPPY FINS OF DEATH: not really
BAAAAAAA!!!!: /signing off
BAAAAAAA!!!!: b5 time
BAAAAAAA!!!!: cya
FLOPPY FINS OF DEATH: not if i destroy the world first
BAAAAAAA!!!!: LOL!!!!!!!

5:16 PM , # , |


Research Assistance
Lorraine is researching Col. Thomas Talbot. If you have any information that might be of interest to her, send it along. bonus plug: Her son, Harland, is a voice in the upcoming Pixar flick, Robots, so be sure to check that out, too.

1:46 PM , # , |


Ground Rules
Alice has returned from deep space with her alien lover, Quon'dar, in tow. They are staying at my place.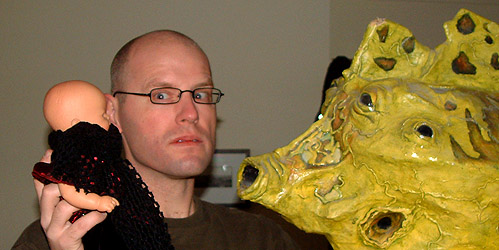 ALICE: I haven't seen you since the summer. What's new in your life?

BLAMB: I have new glasses. And I saw a moose!

QUON'DAR: Primates look funny when they wear corrective lenses.

BLAMB: Shut up, Quon'dar. Okay, if you two are going to stay here, we're going to have to establish some ground rules.

ALICE: That's fair.

BLAMB: Rule #1: NO SEX NOISES. I don't know what kind of freaky alien sex noises Quon'dar makes, but I don't want to hear them. One peep and you're out!

QUON'DAR: Aren't you a little prudish for a chimp?

BLAMB: Shut your suck hole, fly breath!

QUON'DAR: You're just jealous 'cause you're not capable of cutaneous respiration.

ALICE: Come on, let's keep this on track.

BLAMB: Fine. Rule #2: Do no eat all of the bananas! If you want bananas, get your own. I need bananas for my sandwiches.

QUON'DAR: Where the hell are we supposed to get bananas?

BLAMB: At the Duff like everybody else. Or the No Frills on Lansdowne. Rule #3: No hanging around during the day. I work at home, so you two need to find something to do during the day so you're not around distracting me.

ALICE: You do a pretty good job of doing that yourself.

QUON'DAR: By sex noises, do you just mean vocalizations or do you mean any noises, like vibrating dorsal bone sounds?

BLAMB: What?

ALICE: He just wants us to keep it quiet, he doesn't mean ....

QUON'DAR: Are we just going to let this guy dictate our whole lives? I mean, who the hell is he to set terms?

BLAMB: It's my apartment!

QUON'DAR: So that makes you Lord God Emperor? Are you going to keep us from voting, from participating in public life?

BLAMB: You can't vote. You're not from this planet.

QUON'DAR: Well, I'm soooo sorry, Lord God Emperor Blamb. I wouldn't want to disrupt the democratic process on your precious, little planet!

BLAMB: Goddammit ...

WHACK! Alice whacked me.

BLAMB: OW!

ALICE: I warned you!

QUON'DAR: Take that, smart ape!

ALICE: Any other rules?

BLAMB: Rule #4: no hitting!

ALICE: Rule #5: no blasphemy!

QUON'DAR: Rule #6: no presenting, grooming or other irritating primate behaviours.

BLAMB: You're dating a primate, you idiot.

QUON'DAR: Our connection transcends the species boundary.

ALICE: Aw, Quon'dar ...

Alice gave Quon'dar a kiss. They started nuzzling. They kissed again. And again.

BLAMB; Oh, bloody hell, get a room.

11:31 AM , # , |


And Now She's Back from Outer Space
There was a knock on the door. I opened it.

BLAMB: ALICE!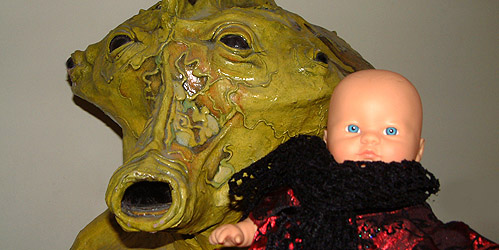 ALICE: Hello, Brett. This is Quon'dar. He is my lover.

Quon'dar shoved past me and walked into the apartment.

BLAMB: ... Nice to meet you, too. [sigh]

ALICE: It's good to see you, guy.

Quon'dar sat on the couch, produced a cigarette and lit it.

BLAMB: Hey! You can't smoke in here!

QUON'DAR: What?

BLAMB: You can't smoke in here. There's no smoking.

QUON'DAR: Are you one of those anti-smoking communist fascists?

BLAMB: If you want to smoke, go outside.

QUON'DAR: I have rights, you know. Alice, I don't know if we can stay here if we're going to have all of these rules and regulations thrust upon us.

BLAMB: Stay here?

ALICE: Um, guy, we need a place to crash. I thought we could stay in your spare room.

BLAMB: I don't have a spare room!

ALICE: The tv room?

BLAMB: That's my tv room!

ALICE: We won't stay long, just a few weeks. It'll be good. You'll have an opportunity to get to know Quon'dar. You're really going to like him. He's an artist. He does amazing work; he's a genius.

Quon'dar was trying to lure the cat by danging some sort of tentacle out of an orifice. He licked his lips.

BLAMB: Don't you freakin' eat my cat.

QUON'DAR: That's a PET?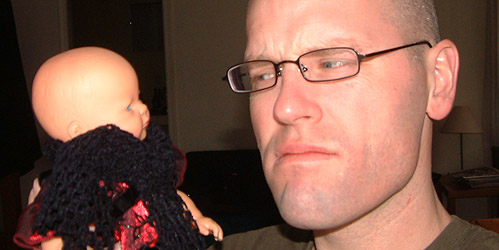 ALICE: So, can we stay? It would really help us out. We've only been back on earth a few days.

BLAMB: Jesus Chri...

WHACK! Alice slapped my face.

BLAMB: OW! What was that for?

ALICE: Don't take our Lord's name in vain!

BLAMB: What? You're not religious!

QUON'DAR: She had an epiphany while we were in deep space and became born again. We've accepted Jesus Christ into our hearts as our own Personal Saviour.

Quon'dar had lit his cigarette and was smoking it.

BLAMB: What? You converted? Quon'dar, you're not even from earth!

QUON'DAR: Listen, a planet dominated by hairless apes kind of freaks me out, but the truth of His Message speaks to me as an individual.

BLAMB: That's ridiculous!

WHACK! Alice hit me again.

BLAMB: OW!

ALICE: Don't judge!

BLAMB: I'm not judging. I'm just ... observing. Critically.

ALICE: Well, cut it out.

BLAMB: Put out that cigarette, Quon'dar!

Quon'dar threw the cigarette on the floor and stomped on it.

QUON'DAR: ALICE! He's like a bloody drill sergeant!

ALICE: What about the room?

BLAMB: Okay, okay. As long as you keep snout-face here from smoking up the joint, you can stay. But only for a few weeks.

ALICE: Thanks, guy!

Quon'dar wandered to the kitchen and ate all of my bananas, peels and all.

QUON'DAR: You got any more of those?

BLAMB: [gritting his teeth] Quooooon'daaaaar!

1:30 AM , # , |

Thursday, January 06, 2005
Happy!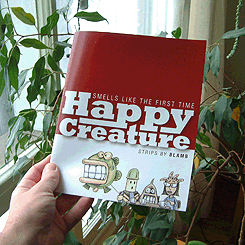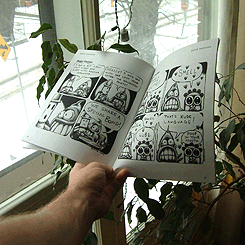 My copy of the 2004 Happy Creature book arrived, making me a happy creature. You can get a copy by shelling out a huge wad of cash here. For every copy sold, I get a buck ... which means I need to sell 200 million to be rich. Pfffffttttt ...

........
update: Kat found a date, but needs another one. You'll need to dress to impress.

3:57 PM , # , |


Featured Performer*
Dickson Coatsworth

Dickson, who appeared in the Canadian History Moment, is heading back to the West Coast. He was our next-door neighbour as kids and the "Bruce Campbell" of our group, appearing in most of our films and videos (he shows up in over 60 flicks from that period).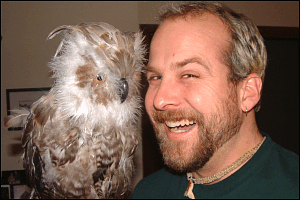 Dickson (pictured here with Professor Otto in 2003) worked as a DJ for several years (most recently as the morning man in Guelph at the same station as DJ Jenn) before giving it all up to work at a swanky wilderness resort out in BC.



In Cobana Jabaca (1987), Dickson (l) and Lou (r) were alien-hunting cowboys. In that flick's horrifying conclusion, Dickson is forced to put Brad Ross' character "out of his misery" after an alien mauling.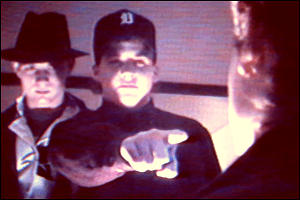 Dickson (with Pete) accuses the Farmer (Brad) of murder in Agent Antropi (1991). This one featured an exciting battle with shovels and at the end, my character gets killed with a crowbar.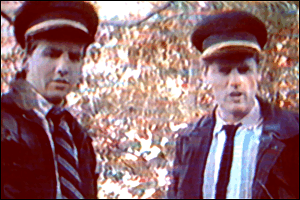 Hunting mutant spores with me (r) in Hell Pickle III (1987). During shooting of this one, Dickson had a board broken over his head and in the final fight scene, Brad kicked him (hard) in the gut. In the final scenes of the video, Dickson is on life support.

* from the '03 archives

10:15 AM , # , |


It's a Blog World After All
Nominations are open for the 2005 Bloggies. They close on January 10th, so go nominate! I'm nominating Australian Brett Lamb for best Aussie blog, even though the bastard only posts once a month. Tony Pierce is up against some pretty tough competition at the BOB Awards, so lend him a vote in the big-time blogger category.

In the real world, Adina wrote that she joined a gym the other day and it sounded a lot like my gym:

No tv's. No music. No one wearing gym clothes more expensive than the average winter coat.

So I wasn't surprised when she and Chris walked into the pub tonight while I was out at fitness class beer night. We pitched running class to her and she said she doesn't do classes ... but spinning is a class. Adina, Saturday spinning at 11:30 is greeeaaaatttt! And yes, everybody does go to our gym ...



Okay, let's look at more of the nominees for the Canadian Blog Awards. Remember, you're allowed to vote once per day. I'm nominated for Most Humourous, so help me get all the glory! I promise to use it for goodish pursuits.

THE BEST CANADIAN BLOG
or Old man, take a look at my life I'm a lot like you!

This is it: the battle to be the best of the best, the big cheese, the all-time greatest, the mega-awesome super-dimensional blogtastic all-star, the ...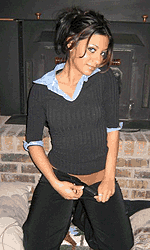 RAVEN RILEY [nsfw]: What the hell are you talking about?

BLAMB: Um, the best Canadian blog?

RAVEN: Did you look at the nominees? Almost all of them are political blogs, even though there are categories for best left-wing and right-wing blogs.

BLAMB: Hey, I just checking the sites, you're right!

RAVEN: Political blogs have become a blight on the internet. They poisoned the list of nominees! The people who write them are all perverts and weirdos.

BLAMB: So many people called 2004 the "Year of the Blog" because of the political blogs, but the genre jumped the shark a long time ago.

RAVEN: On Scrubs, Dr. Cox once said that if you took all of the pron off the internet, there would only be one website left called, "Bring Back the Pron". If you took all of the political blogs off the internet, people would just let out a big sigh of relief! Then they'd masturbate. Or maybe they'd masturbate first and then let out a big sigh of relief.

BLAMB: Political discussions belong on blogs, but blogs that focus soley on partisan, left vs. right, liberal vs. conservative, red vs. blue battles are so damn shallow.

RAVEN: I know, there's more to life than bickering over flimsy ideology. And these political blogs spend so much time hammering away at petty little details, imagined offenses and non-issues, they tend to obfuscate instead of enlighten. I'd rather read a blog that's completely fictional but still manages to seek some sort of truth. Picard said that the duty of every Starfleet officer is to the truth, whether it's scientific truth or historical truth or personal truth! It is the guiding principle on which Starfleet is based! If you can't find it within yourself to stand up and tell the truth about what happened, you don't deserve to wear that uniform!

BLAMB: He said that to Wil Wheaton who is running against Pierce and Zach Braff in those BOB Awards.

RAVEN: Tony? He's my babe, he really is. But even he got carried away with the politics this year.

BLAMB: It was a big election year. I've been carried away with politics at times.

RAVEN: Yeah, but I read him to experience the higher plane ... I hate it when he slums in the mud. But I'm still voting for him on that BOB thing. Who did you vote for on your lame-ass Canadian idiot awards?

BLAMB: Accordian Guy. Joey posts about politics from time to time, but he also posts about fun stuff, personal stuff and he's the one who throws the parties. He understands the need for a good mix and he lives his life in a way that keeps his ratings up. Plus, he's gonna win anyways, so why fight it?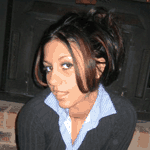 RAVEN: That's cool. Hey, want to hear my impression of Horshack from Welcome Back, Kotter?

BLAMB: Um, ok.

RAVEN: Mista Kotta, Mista Kotta! Ooh! Ooh! Ooh!

BLAMB: Um, er ...

RAVEN: Ok, ok, guess this one! Who am I? Hey there, little buddy! Is that a coconut in your ear or are you just happy to see me?

BLAMB: Skipper from Gilligan's Island.

RAVEN: Yeah! Ok, try this one ...

BLAMB: No, that's ok ...

RAVEN: Come on, one more. I am not a crook! Yabba, yabba, yabba! You won't have ol' Dickie to kick around anymore!

BLAMB: Yabba, yabba?

RAVEN: Who was it?

BLAMB: Nixon.

RAVEN: Yay! Ok, guess one more ...

12:37 AM , # , |

Wednesday, January 05, 2005
Money Sandwich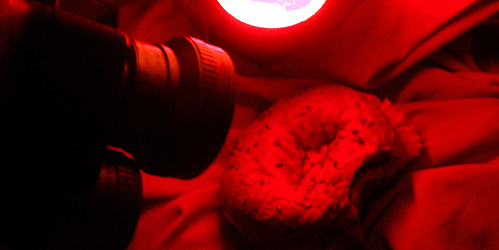 70s-era pronstar sandwich, Chad Spanner.

Look at it while listening to this [at Scenestars via Circadian Shift]

4:30 PM , # , |


The Dufferin Mall Experience 2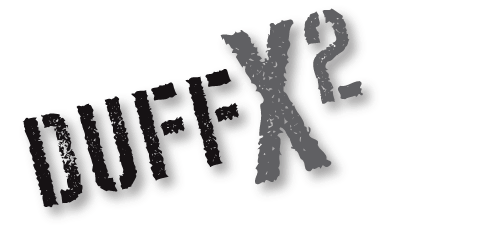 The Duff Project was a dream given form. Its goal, to prevent another war by creating a place where humans and aliens could work out their differences peacefully. It's a port of call -- home away from home for diplomats, hustlers, entrepeneurs and wanderers. Humans and aliens wrapped in two million, five hundred thousand tonnes of concrete, metal and glass. It can be a dangerous place, but it's our last, best hope for peace. This is your chance to experience the most famous of the Toronto indoor shopping plazas ... the name of the place is ... the Dufferin Mall.

The first Dufferin Mall Experience took place two years ago. Participants included Jenv, Medlab and Alice.

The second Dufferin Mall Experience takes place on Saturday, January 15. Meet at the Second Cup by the food court at 1:30pm. More details to follow ...

1:01 PM , # , |


Booze Context
My dad was shocked -- shocked -- to read that I experienced episodes of drunkeness when I was sixteen (in a town where the legal drinking age is eight):

What's with Brett getting drunk, "really drunk" when he was 16. Where were his parents? Where did this happen? Who suppplied the "booze"? What was his excuse for his hang over? All things .. considered I think he should reconsider ..this revelation in big-time blogland.

Of course, looking back on the times I boozed it up that year, it was all quite innocent:

Drunk #1:
A fellow lifeguard invited me over for dinner and cooked me steak and served me a can of Blue to have with my meal. I drank three cans and wound up completely looped. That was the first time I ever got "drunk". The lifeguard took me to the pool so the other lifeguards could see me drunk. Everyone rejoiced.
Lesson learned: I'm a happy drunk.

Drunk #2:
A few days after Drunk #1, the lifeguards decided to celebrate with a sleepover party. We watched some mid-80s horror flicks and Eddie Murphy: Delirious and went swimming at midnight. The girls mixed pina coladas but I didn't even get buzzed.
Lesson learned: You can't plan a good drunk.

Drunk #3:
On the last weekend of the summer, Dickson, Lou & I landed a six-pack of Blue. We were disappointed that we had so few beers, but Dickson was convinced that we'd get drunk if we drank it through straws. I ended up getting sick and haven't been able to drink Blue since.
Lesson learned: Blue sucks

Drunk #4:
Pete's parents went away for Hallowe'en and we had a small party at his place and drank his dad's vodka and rye. I discovered that some people do some pretty weird things when they drink. The next morning I experience my first hangover, but Salvador with James Woods helped me through it.
Lesson learned: if you drink your parents' booze, simply replace it with water!

........

In other news, Kat needs a date for prom. Too bad this guy is taken.

10:29 AM , # , |


No Room for the Loaf
Meat Loaf emailed me the other day:

Dear Brad,



From talking to a mutual acquaintance, I learned that you have a spare room. I require a place to stay; may I rent the spare room? I am very clean and private and do not make a lot of noise. I will be respectful of your space and will not infect your blog. I am handy and helpful.

Please respond at your leisure.

Sincerely,
Meat Loaf

I emailed back:

Dear Mr. Loaf,

Thank you for your email. I'm afraid that while there is a room, it is not "spare". Good luck with your search!

Yours Truly,
Blamb

PS - I Would Do Anything For Love sucked!

Considering my past experience with pop stars, I have a bad feeling about this ...

1:37 AM , # , |

Tuesday, January 04, 2005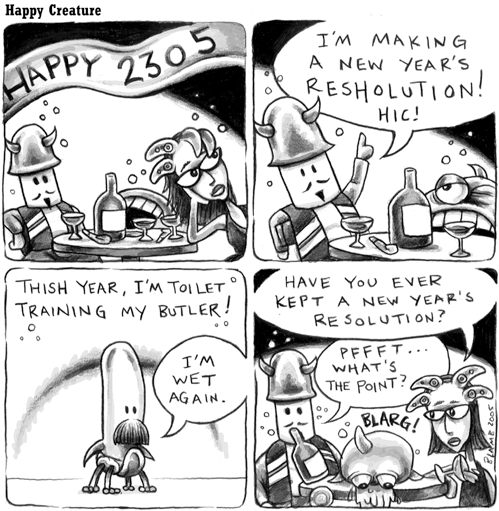 8:27 PM , # , |


DUFFX2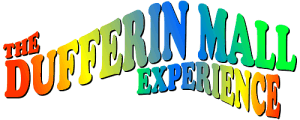 Hey Charley, you don't need a Golden Ticket to participate in this year's Dufferin Mall Experience! That's right, we're doing the grand tour of the mall again this month. You'll never find a more wretched hive of scum and villainy.

DuffX2 is on Saturday, January 15th. Meet time, additional details and instructions to follow, so keep your lids peeled. Everyone is welcome! Get ready!

9:12 AM , # , |

Monday, January 03, 2005
The Year Ahead
I start every year by trying to predict the mood of the coming year using a combination of educated guess and instinct. According to my archives, I've been spot-on for the past two years, so here's a stab at #3.



2005 blew in like a breath of fresh air and when I close my eyes and trust my instincts, I see a bright blue summer sky with bouncy, happy clouds and a blue ocean with lightly rolling waves and the sensation of a warm, fresh ocean breeze. That's the call for my 2005: peaceful, happy & light.

On the Babylon 5 Character Scale of yearly rankings, I'm predicting that 2005 will be: VALEN SINCLAIR. (as opposed to Commander Sinclair) For reference, 2004 was a Garibaldi and 2003 was a Londo.

New Year Bloggers

Meanwhile, on the blogs ... BLC looked at the year in local blogging, Merv reflected on decisions and risk, Sugarmama posted resolutions kept and new ones for this year, Jen is hoping for a smoother ride and posted a tune to ring out the old year, Tony Pierce is reviewing the whole freaking blog year month-by-month, Awwwwwww... isn't that nice, Kitty took a fraction of a vacation from her loss, Chip lives, Burns has stats, and Brent wrote:

Finally, a word of advice to the lunatics, zealots and extremists. This is a good time to just shut up and listen for a while.

As a Mac user, I think he should take his own advice! Heh heh heh, sucker!

Meanwhile, Eva doesn't get pugs, Adina joined the gym, Storm considers living in a different era ... but can't settle on just one, James enjoyed our little DS9 battle, so I'm going to have to find a new way to irk him this year and RobotJohnny wraps it all up with a big freakin' list.

10:09 PM , # , |


1985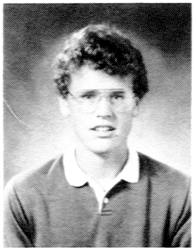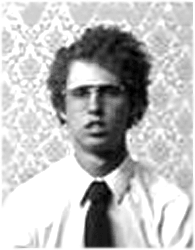 Everyone's taking on these questions (I found them at Marmalade), so I am, too. Except I'm not answering for this year, instead I'm going to provide my answers for 1985:

What did you do in 1985 that you'd never done before? Worked as a lifeguard. Got drunk. Got really drunk. Drew naked people.


Did you keep your new year's resolutions, and will you make more for next year? Nope & nope.


Did anyone close to you give birth? Not while they were close to me.


Did anyone close to you die? An acquaintance was killed by terrorists.


What countries did you visit? I went to Niagara Falls. Is that a country? Could have gone to Spain but didn't.


What would you like to have in 1986 that you lacked in 1985? Nerves of steel.


What dates from 1985 will remain etched upon your memory, and why? Sept 3, the day I started art school. July 30, the night I almost kissed that girl. August 10, the night that 20-yr-old offered to teach me how to make-out.


What was your biggest achievement of the year? Making a bunch of Super8 sci-fi flicks.


What was your biggest failure? Mucking up in the swimming instructor course. Not taking up the 20-yr-old on her offer to teach me how to make-out.


Did you suffer illness or injury? Only my wits.


What was the best thing you bought? My first colour tv to use as a monitor for the C64!


Whose behavior merited celebration? Mine!


Whose behavior made you appalled and depressed? Steve's boasting. Dickson when he said it was okay to drink beer through a straw.


Where did most of your money go? The tv!


What did you get really, really, really excited about? Playing C64 games in colour.


What song will always remind you of 1985? We Don't Need Another Hero, Timebomb Town.


Compared to this time last year, are you:
a) happier or sadder? Happier
b) thinner or fatter? Thinner
c) richer or poorer? Richer


What do you wish you'd done more of? Kissing girls.


What do you wish you'd done less of? Not kissing girls.


How did you spend Christmas? Home drawing and watching Benny Hill


How many one-night stands? None ... I'm sixteen!


What was your favorite TV program? Miami Vice, Family Ties, Night Court


Do you hate anyone now that you didn't hate this time last year? Pelzer.


What was the best book you read? Some crazy 9000-page Lord of the Rings-type fantasy thing. It all ends well.


What was your greatest musical discovery? The Residents


What did you want and get? To go off to art school.


What did you want and not get? To kiss Gina. And Krista. And ...


What was your favorite film of this year? Back to the Future


What did you do on your birthday, and how old were you? I was sixteen, I did nothing remarkable.


What one thing would have made your year immeasurably more satisfying? Having a 1-tonne weight fall on Pelzer's head.


How would you describe your personal fashion concept in 1985? Crazy 80s, esp the ultra-baggy grey pants.


What kept you sane? Drawing


Which celebrity/public figure did you fancy the most? Danielle von Zerneck


What political issue stirred you the most? LiveAid being so overrated. The French sinking the GreenPeace boat.


Who did you miss? The gang at the old school.


Who was the best new person you met? Favro


Tell us a valuable life lesson you learned in 1985. Don't hedge.


Quote a song lyric that sums up your year Just once in his life, a man has his time, and my time is now, I'm coming alive ...
What? I was sixteen!


3:14 PM , # , |



Vote So I Can Win!!!

My Blahg presents the 2004 Canadian Blog Awards and like a bunch of other bloggers, I'm scratching my head over being nominated in the "Most Humourous" category. This isn't supposed to be a humour blog, it's simply my take on things ... but whatever, it's fun being nominated for something. If it's laughs you want, head over to B3TA.

The great thing about blog awards is that they provide cannon fodder. Load 'em up!

THE BEST DESIGN IS NO DESIGN
Crap, if my blog had been nominated in the "Best Design" category, it would have cleaned up against these losers. Look at Dust My Broom and a few of the others -- there's no "design" (but DMB looks fun). Mike Brock was nominated for "Best Design" because they didn't have a "Best Use of a Conservative Persona to Compensate for Unresolved Homosexual Feelings" category. And why do conservative blogs always appropriate phrases from ABBA songs, like "On the Attack"? I need some sort of macho tag like that: I'm going to sizzle your nozzle with my eye lasers!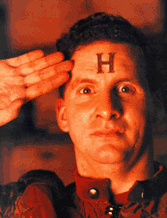 Ummm ...

Speaking of conservative blogs, why do conservative bloggers spend 99% of their time harping on about how "conservative" they are and trying to reinforce their conservative identity with little flag icons and crap like that? Who gives a rat's ass? Whipppdee doo! You're conservative! Here's a badge and a trophy. I guess being recognized for conservative blogging is only fair since so much self-indulgent whining and feigned outrage takes a lot of work. So here's to you, conservative bloggers, keeping the world safe from ... er, fun?

Ok, a couple of better design nominees:

Here's one that looks cool. And another. And this one seems to be dead, Jim.

NO HUMOUR, NO HUMOUR FOR ME
Here's my competition in the "Humour" category. Holy crap, I'm up against Kim! Does that mean I have to start badmouthing her? Ok ... here it goes: Kim smells like poopies. If you read her site, you'll turn into Mike Brock. Ha ha ... kidding ... actually, you'll turn into Kathy Shaidle.

Alrighty, let's check out some of the others: um, this one's in the wrong category 'cause he's ranting about politics, this guy's in the same boat, Paul Wells??? Andrew Firestone is so funny, he made up his own awards. Now this is funny:

The libertarian, then, should be a person who would push the button, if it existed, for the instantaneous abolition of all invasions of liberty. Of course, he knows, too, that such a magic button does not exist, but his fundamental preference colors and shapes his entire strategic perspective

Yeah, this guy's fundamental preference colors and shapes him into being a long-winded blowhard.

I don't know if she's funny, but Sarah is articulate, attractive and single ... but lives in Vancouver, so nuts to that (besides, she only survived two weeks on ye ol' Lavalife). Dating fellow nominees is probably unethical, as well, especially if they believe in the magic button. Knitting is apparently FUNNY! Who knew? And this blog has a campaign team and appears to by the only nominee dedicated to humour, so it's a shoe-in. Congratulations, A Day in the Life! You're Canada's funniest blog!

Trashing nominees is so much fun, I'm going to drag it into another post. Thanks to any and all of you who nominated the Blamblog.

11:01 AM , # , |

Sunday, January 02, 2005
Happy MOOooOooo Year!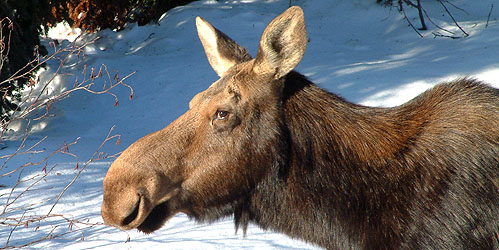 It's the New Year's Moose!

When '05 kicked off, I was standing on a frozen lake holding a sparkler and a bottle of champagne. There were fireworks going off and some people were aiming the fireworks at the ice which created a groovy epic space battle effect. I think I saw Jackie Treehorn in a pair of mukluks ...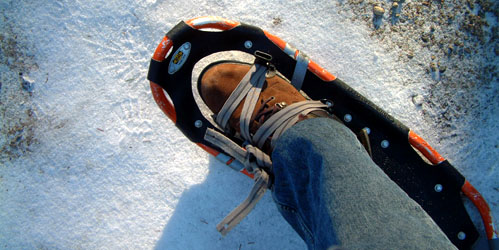 Snowshoes were made for walkin' and that's just what they'll do ...

On New Year's Day we went for a snowshoe hike in Algonquin Park.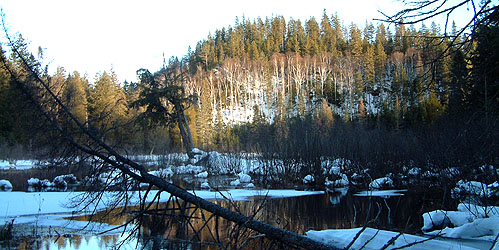 Of course, we had a late start, so the sun was already going down by the time we hit the scenic part of the route.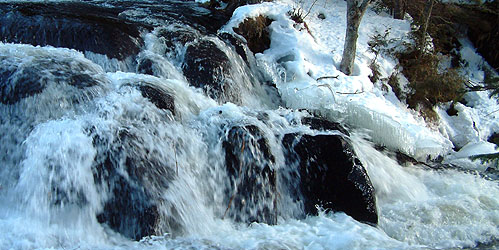 We could have gone in for a dip, but we probably would have wound up covered in tiny worms again.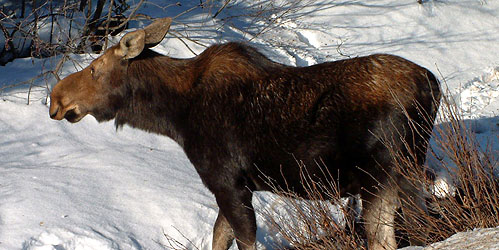 Good news! The New Year's Moose saw her shadow! That means there's only six more weeks of losing at scratch & win lottery tickets!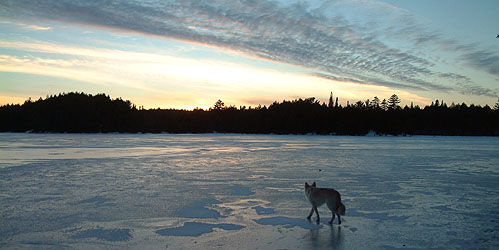 As the sun set over the ice and snow, Holly the dog thought of all the fun friends she met on the first day of the year in Algonquin Park.

1:04 PM , # , |