About
happycreature[at]gmail[dot[com]


Tuesday, November 30, 2004
Parties Past
The annual party is only four days away. Merv describes her experiences at past parties and I need to respond to a few points, since her tales are a little one-sided:

... a birthday party for John I think & this was right after I had moved in with him. So Brett got a cake. Check. But Brett only had ONE FORK!

Ok, there was only one fork. But those were still the early days of being a bachelor and I hadn't restocked on many of life's necessities.

Second party that I remember was that Xmas... whoah again - everyone got quite inebriated & Brett supplied food... yes, he supplied cookies and SMARTIES ... but I made a vow that the *next* party would have FOOD.

There was a huge box of jujubes. That's food.

Merv was trashed at that party and the next morning Dickson & I woke her up and dragged her (a 20-minute walk) to brunch at Mitzi's. At the time, Mennen had just reintroduced my favourite speedstick smell and I was trying it out and while we were having brunch, our really gay waiter said, "I don't know what it is, but someone at this table smells faaaaaabulous!" And Mennen Speedstick was back.

Now lots of people bring food which is even cooler.. just don't bring the fuzz... or better yet, bring 'em cuz they like to hang out too!

I'd prefer that you didn't bring the police or give them reason to show up. I've taken steps to ensure that doesn't happen again.

I *do* want to think about Brett asking me for an extra contact lense case and sleeping in the hallway though - oh man, I can't stop laughing just thinking back to that. And visiting the next day (for the leftover cookies teehee) and watching him try to get up.

I worked for a solid nine weeks (including weekends) that fall and promised myself a bender. Sleeping on the floor wasn't as bad as the sounds coming from the guest room when I woke up ... three times. And Steve said that Zack kept me warm. I won't be sleeping on the floor this year ... I'm thinking of trying the stairs instead! Or the bathtub!

So, as you can probably tell, if you come to the party this weekend you are allowed to have fun just as long as it doesn't bring in the cops, cause the livingroom floor to cave in (don't get me started on that), my bookshelves to topple or any other form of mass destruction. And smokers, I don't much like the smoking but as a good host, I have an intimate, groovy smoking room that's always a popular spot ...

If you'd still like to join us, my hotmail remains craggerz at hotmail dot com

4:25 PM , # , |


Drink & Draw
Tonight is the last Toronto Comic Jam of '04! Starts around 9pm and runs late down at the Cameron House (on Queen, one block west of Spadina). Special guests include TAIS, the Toronto Animated Image Society who will be messing around with an animated jam format.

On a related note, Dave Lapp (Children of the Atom) has a new mini-comic you can pick up at the Beguiling.

Next Jam is January 25, 2005.

11:51 AM , # , |

Monday, November 29, 2004
Set Rex Free ...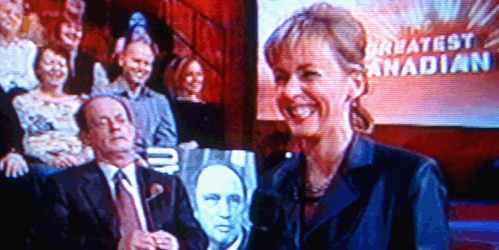 REX MURPHY: ... so I said, "Madam, that is not a lemon you are standing on, it is my head."

WENDY MESLEY: Rex! You're such a card!

REX: If you want someone, call my name. If you need someone, you can do the same.

CHRISTIE: Wait! I want a Rex Murphy of my own!

BLAMB: Hey, Stursberg, dibs on the Rex Murphy!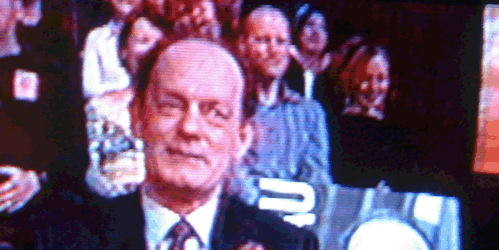 REX: Well, if you want to keep something precious, you got to lock it up and throw away the key.

CHRISTIE: We'll stop off at Home Depot.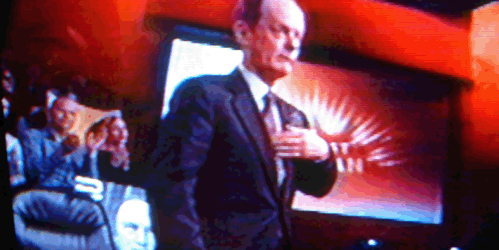 REX: But, my dear, if you want to hold onto your possession, don't even think about me.

BLAMB: He's leaving!

CHRISTIE: NO!!!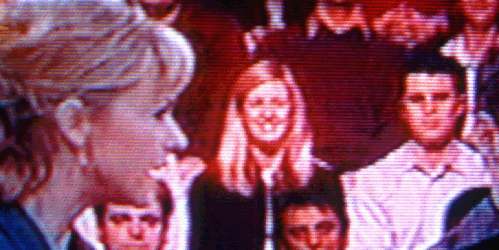 BLAMB: Hey, it's cousin, Nell. Well, if she's not going to say hi to me, I'm sure not going to say hi to her. She thinks she's so good ...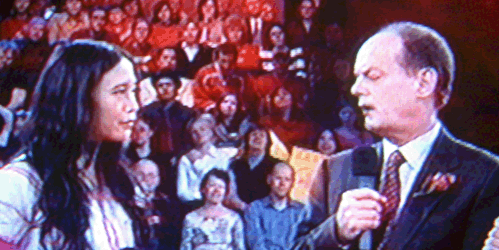 CHRISTIE: Rex is gone!

BLAMB: Sook Yin Lee is totally into him ...

The Greatest Canadian

10:23 PM , # , |


Greatest Canadian Blogger Drinking Game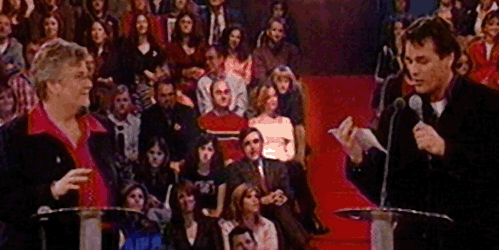 Dave and Christie watch as Grey takes on Gross mano a mano on last night's episode of The Greatest Canadian. The final episode airs live, tonight at 8pm on CBC.

If you watch, here's a game for tonight:
1 drink every time you spot Christie
2 drinks if she gets asked a question
3 drinks if you spot Jason Statham
Every time you spot any other misc. bloggers in the audience, shout out, "Snake Plissken! I thought you were dead!"

2:23 PM , # , |

Sunday, November 28, 2004
Do We Not Run? Are We Not Fit?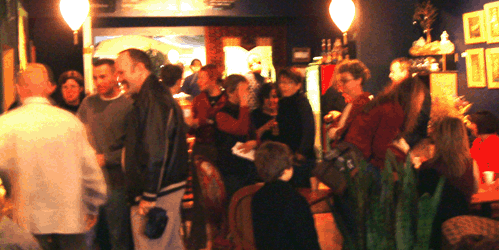 Our fitness class gathered to honour our instructor, Dan, at Kubata on College this afternoon.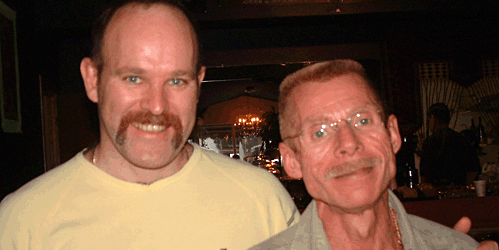 The man of the hour, Dan (right) with class musical director (and now a newly-minted fitness instructor), Mark.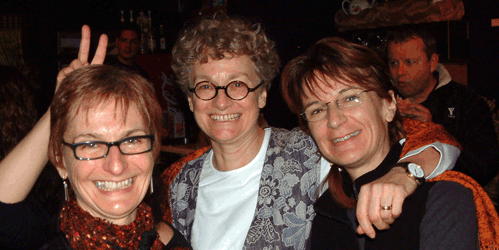 Cathy, Jennifer (don't tell her I said this, but I think she sorta looks like a real-life Ms. Johnson) and fitness instructor, Marni ham it up ... no, really, we had ham sandwiches.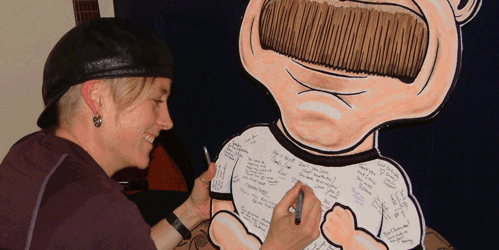 Part of the Toronto music scene since the beginning of time, bassist Jennifer Gillmor (Disco Dyke Divas) has a new band called Altered States and their first gig is on Sat, Dec 4 at the Vatican on Queen West.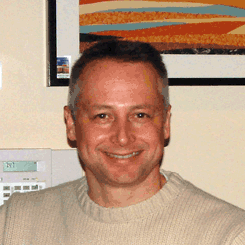 Left: Candace tries to get accounting genius Paul to buy an X-Box, explaining that he can pay for it using ham. Right: Film guy Mark smiles, secure in the knowledge that nobody has been able to track down pictures of him from the 80s when he played in the band, Glamour Cult.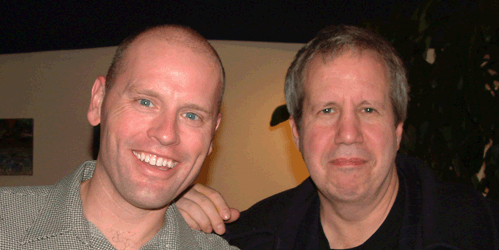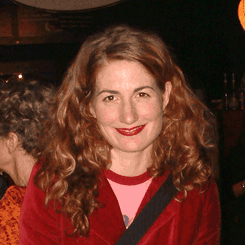 You try getting Alan Zweig (Vinyl) to pose for a photo. It ain't easy. His personal documentary I, Curmudgeon, screened at Hot Docs in the spring and airs on TVO this Wednesday at 10pm. That means you have time to catch Hot Docs' screening of A League of Ordinary Gentlemen at the Bloor at 7pm and then rush home to catch Zweig's doc. The other ham is me.

Left: Illustrator Jennifer Herbert stopped by on the way to the launch of her new book, What Will We Do With the Baby-o? I'm waiting for the exciting sequel, What Do We Do With the Ham-o?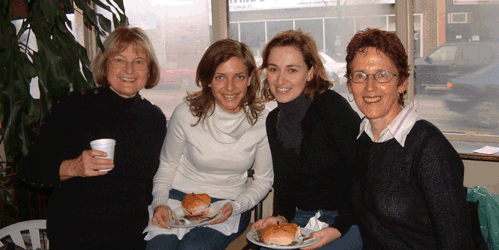 Dr. Elizabeth (left) encourages you to look at the sandwiches Angela and Candace are holding. See? HAM! You think I joke about these things?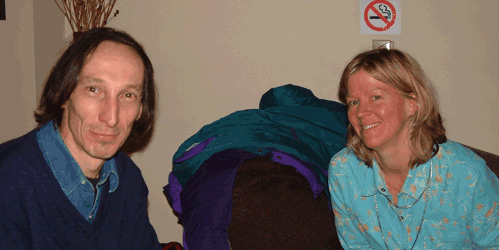 Julian Richings (HardCoreLogo, Kingdom Hospital) with Kelly, one of the excellent sub fitness instructors. Julian is currently in Being Julia with Annette Hamming.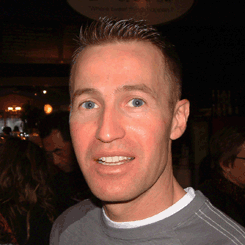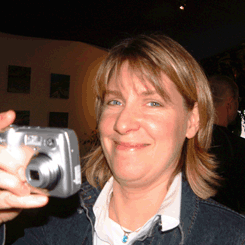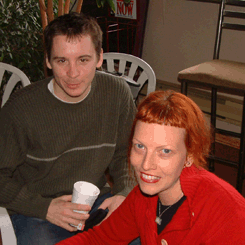 Above: Fitness instructor Ron & partner Jennifer added lots of pix to the mix.

Left: Bonnie moved Heaven & Earth & Ham to organize the afternoon, using her powers of organization!

Below: Anita, also a brand-new fitness instructor, raves about Karim's three-hour brunches. The rest of us are now on his waiting list ...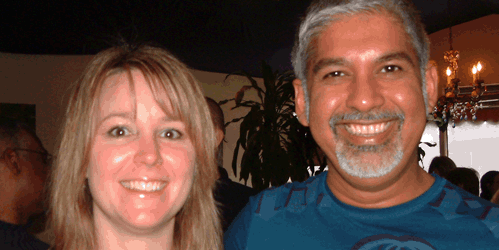 And, of course, no party is complete without The Small World Factor: at one point in the afternoon, Lynda from Borealis Records pulled out a cd called autorickshaw and was recommending it to me. autorickshaw was recorded by Suba Sankaran who is in Retrocity with Jenn & Lanie who organized karaoke last night which was not attended by Kevin Ham ... I mean , Bacon. Ladies & gentlemen, that is your Small World Factor! Go buy the cd.

And that was a party! Expect to see a bunch of these faces again real soon-like ...

10:39 PM , # , |


Thanks, Dan!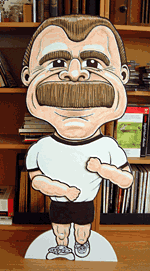 Our fitness class is having a party this afternoon for Dan, the instructor who has been leading it -- as a volunteer, three classes a week -- for almost two decades. Some of the people who take the class (which sometimes seems like a bit of a cult) have been doing the class for fifteen years or more; I've been around a little less than five years.

My job for the party was to create the "card". It's a big, cartoon cut-out on foamcore and everyone is going to sign the white spots.

The class itself is a funky mix of running and aerobic-type stuff in a gym.

The Karaoke Report

Ow, my brain. There was a tonne of full-contact karaoke at the Gladstone last night and by the end of it, casualties littered the floor of the bar. It looked like that scene in The Day After when the atomic bomb blast victims are lying around whimpering. But some emerged victorious: Jenn had the crowd on its feet when she performed Chef's Chocolate Salty Balls.

When in doubt, always pick songs about trains. Christie belted out Sheena Easton's 9to5, Morning Train, Dave sang Sweet Caroline (not many people know it, but it's a song about a train named Caroline). You'll probably see the two of them if you watch the second-last episode of The Greatest Canadian Hero tonight.

I did Crazy Train for my Gladstone debut. And lived to offend again!

11:09 AM , # , |

Saturday, November 27, 2004
Schadurtay Schtuv
ALL IN THE FAMILY
My sister, Merv, started her blog recently and now Dad has a blog which is a sort of travel journal. And Merv's pal, Ontario Long-drive Champion Mandy, is bloggin' as well. Everybody is gettin' a blog. Everybody. Get on it.

SING IT!
It's karaoke at the Gladstone tonight with the Retrocity kids and other karaoke superstars. Level of fun: more than none! Geez, I hope I can do the theme to A View to a Kill ...

MEMORIES
Was looking for something in the archives and found a pic from happier days, back when Paige Davis was here. Those were good times, weren't they Paige Davis?

TODAY IN PAIN

I've started doing a spinning class twice a week and I'm having a mild lower back incident as the body adjusts to the new routine. It doesn't hurt, but I feel like puking every now and then and it brings back memories of more serious back episodes ...

The worst was the terribly tragic trampoline tragedy of 2000, captured in this photo sequence. My cousin knocked me off-balance and I hit the the thing flat on my back as it was rebounding. The injury knocked me off my feet for two weeks.

The following year I faced the trampoline again and won.



1:50 PM , # , |


One Week ...
My annual bash is one week from today My hands are too sore from typing to send out any more invites, so if you want to join us -- and it's an open invite, so JOIN US -- email me at craggerz at hotmail dot com for directions. I haven't had time to track down addresses for all the bloggers out there, so drop me a line!

What sort of things happen at my parties? Well, I remember one time I got to meet Digifox ...

The Time Blamb Met Digifox
- Dramatization-

The role of Blamb will be played by Raban. The role of Digifox will be played by Giant, Floating, Ghostly Digifox Head.

BLAMB: Har, it be Digifox!

DIGIFOX: Don't call me that.

BLAMB: Har, can I call ye', Dibbi-blox?

DIGIFOX: No.

BLAMB: Can I call ye', Frimmi-dox?

DIGIFOX: No.

BLAMB: Jimmi-Page-pox?

DIGIFOX: No.

BLAMB: Rimmi-Dimmi-Zimmi-mox?

DIGIFOX: No.

BLAMB: Har.




BYSTANDER #1: Hey, Blamb, your music SUCKS!

BLAMB: HAR! So, young Jimmini-Kriket-sox, what's your astromonolological sign?

DIGIFOX: Astrological sign.

BLAMB: Har, whatever, har, what it be?

DIGIFOX: You actually believe in that stuff?

BLAMB: Har, OF COURSE NOT! HAR! ......... yes.

DIGIFOX: Scorpio.

BLAMB: FOUL INCUBUS!!! HAR!!!!




BLAMB: Har, ye have the pink hair! [starts flicking her bangs]

DIGIFOX: Uh huh.

BLAMB: Haw haw haw, har har! Pink, young Franki-goes-to-Hollywood-rox! HAR!

DIGIFOX: Don't touch my hair.

BLAMB: Har, but it's so much fun!

DIGIFOX: Stop it.

BLAMB: Har.

DIGIFOX: Alright, I think I've had enough.

BLAMB: Well, it was nice to meet ye', Iggi-pox!

Dontcha' dare miss it! It's gonna be great, right Paige Davis?

9:48 AM , # , |

Friday, November 26, 2004
FOURTH WALL VIOLATION
Eva committed a FOURTH WALL VIOLATION in the comments on that last post:

You should have the franchises running on LiveJournal, that would be even more realistic.

If it's 1987 and you're either Bruce Willis or Cybil Sheppard, there's nothing wrong with breaking the Fourth Wall but in this complex, terrifying, post-9/11 world, breaking the Fourth Wall can have unintended consequences.

For example, Eva's FOURTH WALL VIOLATION caused the storyline about me being upset and posting entries from other Blamblogs to cease to exist. It has been replaced with an alternate storyline ....

EVERYTHING IN THE WORLD IS COVERED IN HAIR

I hate it that everything in the world is covered in hair. This morning I had to shave the keyboard and the monitor so I could get some work done. I can generally tolerate the stubble for two or three days but as soon as I can't read the small type on the monitor, it's time for a trim.

I went over to a friend's house the other day and he'd let the hair on his toilet get completely out-of-control and it was the most disgusting thing I've ever seen. He just got a job mowing sidewalks, but after seeing his place, I'll bet we're wasting tax dollars on the guy.

I was watching Star Wars the other day; not a bad movie, but I think it's kind of lame that they have this character who is supposed to be a "wookie", but the only thing about him that's "alien" is that he's a foot taller than everyone else. Doesn't that just make him a "giant"? I guess it's better than Star Trek, where most of the aliens just look the same as humans (except for the half-blacks and half-whites) ... the producers always argue that if you could see under their hair, they'd look really alien. Bloody excuses ...

2:21 PM , # , |


The Best Blog
I'm still really miffed about not being designated the Greatest, Bestest, Bigger-than-Jesus Blog. So, I'm going to go off and sulk and I don't think I'll be posting any new, original material for quite some time.

Instead, I'm just going to repost crap from other Blamblog franchises ...




I bumped into Claire at White Oaks Mall this afternoon, which is weird, 'cause neither of us go there much anymore. Claire said that she usually goes up to Masonville 'cause that area is booming. I agreed that it sure is booming. It is, too. Booming, that it. Claire said that she wished that they'd fix up the downtown cause it's a hole and she's afraid to go there at night. I said that they should put some stores in the Galleria. That mall is a hole.

And then we touched and smiled.




When the f*ck is someone going to do something about those f*cking belligerent assh*le teenagers who f*cking hang out on the g*ddamn Commons? Someone should shoot the bloody bastards in their bleeding *ssh*les. They're almost as m*therf*cking bad as the f*cking students. This is our f*cking town, we should have a f*cking rev*lution and take it back.

Gonna see Being Julia at Fall Creek tonight.





Greg and I got high at the blowhole last night and we were just sittin' there watching the waves come in and shoot up in the air and we were chewing gum and we threw our gum in it and Greg said that it would be really cool if you were sitting by the blowhole and there were some old people like an old man standing there and it would be neat if a shark swam in and and the shark was shot out of the blowhole and it flew up and bit off the old man's head and I said that it would be so damn cool and we both took another hoot and a big one came in and the water shot up and I swear I saw a shark in it right in front of my face and Greg said that it would be cool if the old man's name was Roy Scheider but he was big and fat and didn't look anything like the real Roy Scheider.

1:36 PM , # , |


Dreaming of a White Sandwich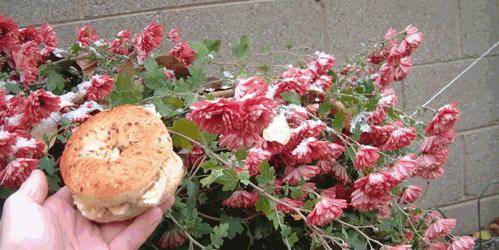 We had our first dusting this morning, here in ol' Toronto town ...
11:02 AM , # , |

Thursday, November 25, 2004
Oooh, I am the Moon!
Here's what people had to say about who they'd haunt:

Christie:
Who? - The Olsen Twins
Why? - Because I would love to make their life a living hell by feeding them donuts in their sleep
Song? - I am 16 going on wh0reteen...I mean 17.

Ice Queen:
For George Bush (and various Republicans if I have time), I will sing The Gentleman Is A Dope from Allegro:
"The gentleman is a dope a man of many faults.
A clumsy Joe who wouldn't know a Rhumba from a Waltz.
The gentleman is a dope and not my cup of tea
(Why do I get in a dither?
He doesn't belong to me!)"

Darren:
Who: [Random celebrity]
Why: They must have a better, more interesting life than me.
Song: Show me the way to go home

All together now!

./~
Show me the way to go home
I'm tired and I want to go to bed
I had a little drink about an hour ago
And it went right to my head
Where ever I may roam
On land or sea or foam
You will always hear me singing this song
Show me the way to go home

Maria:
I would haunt may ex-boyfriend with "who left the dogs out?" just to annoy him every 5 seconds with that "woof, woof, woof, woof".

Clara*:
I would haunt someone who got away with a really heinous crime, like he has 8 women's bodies in his backyard and no one knows about it. Once I've died I'll be privy to all of life's secrets so I'd just pick one of those little bastards and start singing....

This is the song that never ends.
It goes on and on my friends.
Someone started singing it not knowing what it was,
and they'll continue singing it forever just because,
This is the song that never ends....

Chip:
Who - My Celebrity Sex List
Why - So I could see them naked in the shower, hopefully I could haunt them all into the same house so they'd all shower together.
Song - I don't know an Rodgers and Hammerstein songs, so I'd probably just sing "It's A Long Road" by Dan Hill from the First Blood Soundtrack

DaddyG:
I'd haunt Jesus, for giving us 2000 years of hypocritical christians, and George Bush.

Dave:
I'd like to haunt my friends... Not in a mean way or anything, but in a cool way. I'd be dead, but still capable of partying it up... Helping my friends out with my ghostly powers... Maybe staring a few of the cute ones when they're nekkid. Remember the ghost that haunted Cordelia's place in Angel? That'd be me, except not invisible and able to talk.
Or better yet! I'd be like Patrick Swayze in Ghost and totally score while I'm a ghost (figures, because I'm certainly not getting any in this lifetime)
As for the song... hmmm... "A Thousand Miles" by Vanessa Carlton, maybe?

11:04 PM , # , |


Detroit Blog City
Get Tony's new book. Get some advice on cognitive distortions from Sugarmama. Get a load of Christie's Pixies pics. Get a spoon and defend Jenn. Get a look at when your name was popular via Clara. Get your King & Duff on via Daily Dose. Get outta here, that's it!

2:18 PM , # , |

Wednesday, November 24, 2004
BAM!



BLC scored another surprise victory against the Torontoist juggernaut (the first was making eye's list)! Responding to the challenge in this post, they have revised their banner. SUCKERS! The new banner is still the most awkward in the IST chain, not great building choices (except City Hall).

Oh yeah, new Ms. Johnson.

However, do not think that this is victory. It is not. The ISTs are a mighty foe with vast resources at their disposal. But I say, and hear me now, I say that we shall not submit to their imperialist agenda. We shall continue to fight! And if we believe and are strong, then maybe someday we will take back our home!

Since we are small, we must use guerilla tactics. If you so choose, join us! Your task is this: visit Torontoist. Read the posts and leave some comments. Be sincere and give good feedback. But work the word 'poop' into your comment as a calling card to let them know that a true patriot had crossed enemy lines.

If you should reach my land
My most unhappy land
Please speak to all my friends
So they will understand
Tell them how much I wish
That I could be once more
In my beloved land
That I will see no more

11:58 PM , # , |


Simply the Best
eye's Reader's Poll has the results for 'Best Local Blog':

Navigate the Streets
Accordian Guy
Chromewaves
BetterLivingCentre

It should be noted that Navigate the Streets last updated in ... September, so the bronze should go to the BLC by default. You, me and everybody else got beat by a blog that hasn't posted in three months.

I just want to point out that none of the above sites feature inside-scoop Santa stories, weekly sandwich photos or an almost-weekly comic about aliens who make poop jokes. Not one of the blogs listed have taken a two-week submarine trip inside the body of a giant, transdimensional celebrity singer and not one featured posts with photos of children conducting gory alien autopsies. Nor did any of them have close-up photos of otters in the wild, a cool dog or ... um, Scooby Kenobi ... erotic coffee ..or a whole bunch of other things.

Any blog that did that, would be simply the best!

8:47 PM , # , |


Where's Alice?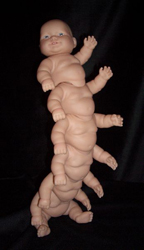 You may remember that Alice was kidnapped by aliens at the end of the summer. I don't know about you, but I was wondering what happened to her, so I was shocked -- shocked -- to see this gallery of images.

[via jwz]



4:52 PM , # , |


After You're Gone
You've had your final three months to live and ended it all with a big bang!

Now you're dead.

Things could be worse ... you could still be alive and working as a dirty carnie.

Here's today's scenario:

You're dead and you get to spend a week haunting someone as a ghost. Who would you haunt? And why? But you're also a Rogers & Hammerstein ghost, so you need a "ghost song" that you sing at the end of every act. What's your song? It can be any song, it doesn't have to be from South Pacific ...

Hit it!

1:00 AM , # , |

Tuesday, November 23, 2004
How to Die
Here's what people had to say about how they'd like to face the end:

Dave:
In battle! Qapla'!!!
/klingon dorkiness...
In truth, I would rather die after a party. Preferably a birthday party just to round up numbers (i'm weird that way). Any party where you're surrounded by friends, smiling, laughing, recalling stories. Afterwards when the party dies down, you're with your closest friends, just relaxing... Finally, everyone goes to sleep and when morning comes you're gone.

Clara:
Some sort of high profile event where I save someone by throwing myself in the way of a bullet.Someone will yell 'Nooo!' and cradles me in their lap. As I drift away I'll tell everyone not to cry for me, I had a great life and everyone should embrace life everyday. Later they'll make it into a movie and I'll be played by Drew Barrymore. And she'll win an Oscar for it and in her speech she'll thank me.

Maria:
I'll die having a magnificent orgasm that makes my heart stop.

Chip:
I think I'd like to go in one of two ways, the GAP explosion detailed in my three month plan. Or by jumping out of a plane or off a high building. Something that would allow me to know what it's like to be able to fly, and which would allow me to make a huge mess.

Eva:
I think I'd prefer to pass out drunk and happy, and just never gain consciousness. It wouldn't look very good in the speeches at the funeral, where everyone would sort of skirt around that fact that I passed out drunk, but that's not my problem anymore, is it?

Ice Queen:
I've decided to fake my death and abscond with the insurance money.
My fake death will involve drowning at sea, but I actually have scuba equipment stowed nearby and swim away to safety on an island somewhere. An island with a five star resort. Where my insurance money will be anonymously deposited. Somehow. Quit looking at me like that, I don't have all the details figured out yet.

Christie:
I would kill myself by eating a room full of bananas (with chocolate and peanut butter) until eventually...I just drop dead.
I would also have mini cameras set up around the room, documenting the whole event. It would be a reality tv show where the viewing public have to guess how many bananas it would take...
Bob Saget will be the host.

Tomorrow: After you're dead!

10:42 PM , # , |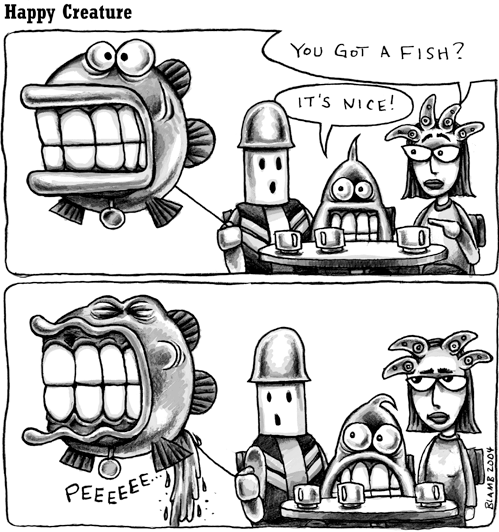 1:28 PM , # , |


This is The End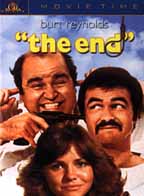 Okay, your three months are up. Now it's time to kick the bucket. But you get to choose the way you check out.

For me, this wouldn't be a bad way to go:

I'd get to do one last cardio fitness class: the grooviest, toughest class with the best instructor, crowd and pumping music. Just as the class reaches it's peak and we're going flat out and the endorphins are flowing -- probably to the Journey song Any Way You Want It -- I would get splatted into oblivion by a giant, iron fly-swatter.

Let's hear it, what's a good way to die?

2:00 AM , # , |

Monday, November 22, 2004
We Built This City 4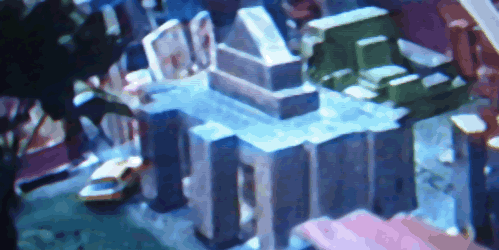 City Hall.

Where are they now?
I tried Googling some of the kids who worked on Plastonia and tracked down Victoria, who was pictured in the newspaper photo. She left a comment on that post:

My name's Vikkie. I'm 22 now, and hoping to land a career in advertising. I'll always remember Plastonia as my first time managing a presidential campaign (and my candidate won!). And also, I have to mention that "The Plastonian Eagle" (typos and all) is probably the earliest surviving example of any graphics or layout design I did as a child (using a Microsoft Publisher design wizard & some cheesy clipart, but still).

But seriously, Brett, this is amazing. Plastonia was an amazing creation that I have so many memories of, and that really had a huge impact on my childhood. Over the past few years, I've been plagued with curiosity over how Plastonia really worked. In hindsight, I remembered it was brilliant, but I'd forgotten all the details. This explanation is what I needed.

Vikkie passed on this info to Jessica, now a student at the University of Ottawa, who appeared in this picture on the School of Gore posts. She emailed:

I have some things that you may be interested in. I have some pictures of the 2nd (outdoor) Plastonia. I also have pictures of the 2nd world you created, the one with the fabric and the plague etc. I also have parts of the investigation game you created. I have all the clues and warrants you gave us. i also have the prize which was a picture of your friend.

For years i had a board game i made with you. I couple years ago I went through a cleansing of clutter and i think i threw it away, I regret that. Anyway, for whats its worth you had a huge impact on who I am. I'm an artist (among other things) partially because of your influence. Hey, I just remembered that you were the first person to teach me how to cross hatch!

And Mike from MIT City also left a note:

I just got off the phone with Victoria Dobbs. She's the girl in that picture and the editor of the Plastonian Eagle. She had told me briefly about this brilliant thing a councilor had once done but after she showed me this link I am truly blown away. It amazes me that you both were able to come up with hours of entertainment for those kids using plaster, and more so that cared enough to do so. You have removed 10% of my cynicism. Thank for an entertaining read and please continue to amaze people.

Don't remove your cynicism! You need cynicism to live!

And what am I doing now? For starters, I write this blog! And then there was the time I worked as both a bounty hunter and a stuntman ... but that's another story.

Ok, there's more Plastonia to come ... sooner or later ... big thanks to Jess and Vikkie for writing!

9:39 PM , # , |


Elf is About to Die
You knew enough to tell Saavik that how we face death is at least as important as how we face life.
- that punk guy from Square Pegs to TJ Hooker in Star Trek II: The Sequel to Some Other Movie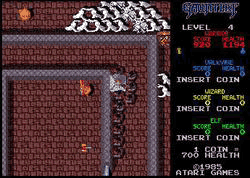 Obviously, how you answered the question on the last post reveals more about your attitude towards life than death, eh?

Dave's answer was interesting because he described his fantasy reaction and a harsher reality:

Interesting you should ask that question... Well first I would actually try to be happy. Wouldn't bother with a relationship because it would be too short and hard to give up. Maybe travel around Europe, ancient sites elsewhere. Tell everyone I know the truth about what I think of them - hurt feelings be damned. Hunt down my childhood tormentors and visit upon them a pain which would be biblical/medieval (whichever I feel like for that day) in nature. Own a kitten, maybe a puppy.

In reality, I would probably be very depressed about dying, probably try to have a relationship only to fail in it because of depression, I'd probably want to be alone most of the time. I guess that's why we never know when our days will end.

I'm not sure why a relationship would be hard to give up, you're just gonna die. How much work is that? NONE! I think falling in love would be on my list of things to do, not in a sappy, sentimental way but like the last scene of the Don McKellar flick, Last Night, when the characters relinquish their desire for control at the last second and accept the inevitable.

Storm would tell people the truth:

I'd tell all the people I know the truth about how I feel about them - only in my version it'd be all squidgy and nice. (I'm much more apt to hide my lovey-dovey feelings... I couldn't be bothered about the evil wretches. I have a handy list for God to refer to if He so chooses...)
I would eat everything fried.
I would take the dog with me... she's kind of old and stringy anyway and I'll need a companion in the afterlife.

I'd have to tell people how much I appreciate them, too, since I find it much easier to grouse ... and in three months, I wouldn't have time to deal with dead wood people.

Eva had a bunch of things to do:

That's easy! I would quit grad school IMMEDIATELY (I could never finish it in three months anyway!), and I would use the rest of my money to visit ALL my family (including extended) and friends ALL OVER THE WORLD.
And I'd write a book! Really fast! I'll just bring the laptop on my trip, and make sure someone determined and reliable will make sure it gets published!
I'd probably also play a lot of Sims2, while I'm waiting at airports with my laptop and bored with writing my book! OH! I'd also buy a GOOD camera and take lots of pictures! And I'd send all my friends handwritten letters!
And I'd stop typing with exclamation marks after every sentence!

Wait, what's the book about?

Christie is gonna go down swingin':

1) Hack the planet
2) Get away with it
3) travel the world (thanks to the money I stole from tonnes of horrible people...ya know, kinda like Robin Hood...stealing from the rich and evil only instead of giving it to other people, I'd just keep it for myself.)
4) Go on National TV and tell people what I think of them.
5) Find Paris Hilton - Punch her in the face
6) Wire stolen money to some tropical island and ship my parents to live off of the money I 'made'.
7) Find Angelina Jolie, tell her I have only 3 months to live and have the greatest sex in my entire life.

Buy a pony (...i shouldn't have to explain this one)
9) Eat only chocolate for one whole week. (Milk/water/fruit allowed) Followed by one week of only junk food (candy/fast food/ anything of pastry form)
10) Give all the money and posessions I have left to my good friends.

Wait, explain the pony?

Speaking of chocolate, here in The Land of Chocolate, this afternoon the chocolate factory was venting drive plasma and the whole neighbourhood smelled like rich, warm chocolate. I got a cavity just from breathing.

Maria isn't sure what's she'd do:

I've been thinking about this and the only thing I can come up with is quit my job. Maybe go to The North with my savings, since I'll have no income after quitting my job.

Maria, you're going to be DEAD and you're worried about not having an income? Run up a credit card or eight!

Ice Queen wouldn't change a thing:

I'd buy outfits, wear them once and throw them away.

I'd definitely eat crap. And drink enough to be not quite hungover. And dance. And sing. And make a fool of myself in public. I wouldn't be nice to people I don't respect. I take taxis if I felt like it. I'd wear my tiara or costumes whenever I felt like it.

Yep. I wouldn't change a thing about how I live. Except I'd travel. But I couldn't afford it, so never mind. Oh, but I'd make a killer mixed CD to be played at my funeral/wake. Oh - and I'd plan my wake to make sure it was fun and an accurate reflection of my sensibilities. Or lack thereof.

That's a good rule of thumb: always plan your wake, 'cause if you don't some idiot is gonna do it for you.

Dallas had the last word:

Hunt down and kill a couple dozen evil people.
Run up my Visa card and have wild sex with a few pros.
Accept Jesus as my Saviour and ask for forgiveness, just in case.

With three months left, I'd do what I've had planned since the third grade: I'd get myself the biggest, most-loaded RV and go on a wild road trip with Zack and anyone else who wanted to tag along. Actually, in grade 3 that was what I planned to do when the Apocalypse arrived, but I updated it to 'personal apocalypse' in later years.

Where? Who cares! We'd just get on the road and see where it led. When I was in high school, at this time of year my friends and I used to hop in the car, drive out into the dark country night with a bunch of 50s music tapes and sing along and see where we wound up and who we'd meet ... which was never where we expected to wind up.

Tomorrow: Death Week continues!

7:14 PM , # , |


3 Months to Live
Last week we discussed SEX, so it's only appropriate (esp. considering it's November) to take on the flip-side of the coin: DEATH.

In high school, I had two friends -- let's call them "Stan" and "Ollie" -- who were super-nerdy science/math/computer geeks. At the start of second semester in grade twelve, Stan started missing chemistry class. On the rare days when he did show up, he would tell us all about how he had decided to dedicate his life to playing Gauntlet in the arcade until he completed the game.

Ollie, the sidekick in the relationship, was especially worried about the way Stan seemed to have given up on life (and basic grooming) and how we saw less and less of him in class.

One day, Stan showed up and declared victory: using a huge bag of quarters, he managed to complete Gauntlet. A few weeks later, Stan was killed in a traffic accident on the 401. Poor Ollie had lost his only pal and spent the rest of high school wandering the halls alone.

Today's question: you find out you have three months to live, what would you do?

1:58 PM , # , |


More Santa Stories
Here are more stories from my days as a shopping mall Santa Claus ...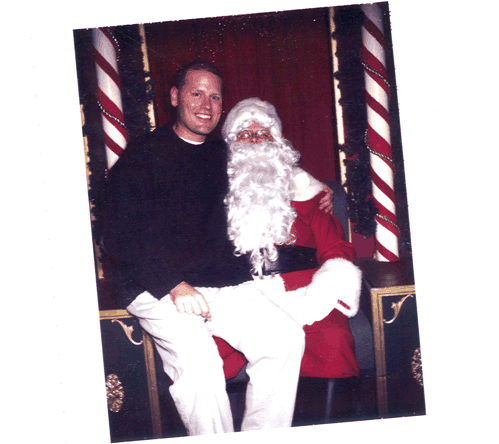 Xmas 1996




Santa vs. Teenagers

Santa has only one natural enemy: the common North American teenager. Santa symbolizes all of their adolescent frustrations and when they see the big, red coat, they react like raging bulls.

For this reason, Santa must be escorted to and from the set by elves or risk a mallrat confrontation. Walking alone is dangerous; one time when I was left on my own at Fairview, some teens shoved me around and yanked my beard down to my ankles. As punishment, the elf who abandoned me has been cursed to work Santa sets for the rest of eternity and I see her just about every year (update: saw her working the Eaton Centre in 2003), working the camera and saying "Baby! Baby! Baby!", to try and get some dribbling infant's attention.

But most teens aren't that brave. Long-distance verbal assaults were more common. Typically, older teenage males would shout down from the second level of the mall, "YOU'RE NOT REAL!" The anger in their voices never seemed to match the pettiness of their cause. Some kids take on globalization or some other issue, the mallrats took on some poor dude working a shit job in a mall.

When angry young teens decided to take on this Santa head-to-head, it became advantage: Santa. The teens thought they were dealing with some sad old guy in a suit, but it was a trap! This Santa wasn't much older than they were; my first year I was 23, my last year I was 27. And I was plenty pissed-off too, packed in that uncomfortable suit, sweating, sucking in strands of my beard and sitting on a deflated cushion on a piece of plywood. Some days my ass would get really sore and I'd become one angry, young Santa.

One evening, a teeny-bopper rocker chick and her entourage came to visit. She sat on my lap while her tough-looking friends stood and watched, knowing that she was about to "shock" Santa and ready to witness the old man's reaction. Here's what went down:

SANTA: So, what would you like this year?

TEEN CHICK: Santa, I want Kurt Cobain's body.

SANTA: Well, I feel a little guilty about that ...

TEEN CHICK: Do you even know who Kurt Cobain is?

SANTA: Well yeah, I do, and I feel bad because I'm the one who gave him the gun!

TEEN CHICK: [leans away] Huh?

SANTA: That was his present!

TEEN CHICK: [long pause] Oh my god, Santa. You're sick!

Thugs

I never worried that much about the teens, I knew mall security had Santa's back. At Fairview, the macho dudes with the shaved heads who kept order were pretty hardcore; nothing like the sad sacks who patrol the Duff. Security used to flirt with the elf girls who then would tell me about the guards' lives. One was a wannabe cop who couldn't get into cop school; another was considering the military as a career option and mall security was something to occupy his time until then. They looked scary enough in their fascist-styled duds and they were always jonesin' for an excuse to spring into action.

One weekday afternoon the mall wasn't busy and one of the security guards was at the front table talking up an elf. I was sitting alone, bored out of my skull and hoping that someone would visit me, just to give me something to do. Sometimes, when people visited during those long stretches of emptiness, they'd get more of a visit than they'd hoped for because bored Santa wouldn't let them leave, "So you're good? Family's good? How's work? Pleeeease talk to meeee!"

Instead of visitors, I was startled by a crash and looked to my left and saw two teenage boys punching one another in the head. They fell through the railing and into the fake snow where they would have kept fighting if it weren't for the security guard who lunged and subdued both of them in a few seconds. I was a little shocked at how fast security guy was able to fly across the set. The two teens were dragged off to be processed into Soylent Green.

Sarcasm and Wit

Being a shopping mall Santa Claus isn't as entertaining as you'd think. For the first four weeks, nothing happens and you pass the time with little games played with the elves, such as 'celebrity', where you sit and try to guess which celebrity people on the escalator resemble.

The mall crowd is as dull as you'd expect them to be and you wind up fielding the same questions from the same types of people, over and over. In that kind of environment, you either find ways to challenge yourself or your brain turns to mush.

One challenge I set in my second year was to try and be just slightly out-of-date, so it would seem like I actually was a jolly old guy underneath the suit and beard. So I starting asking the kids if they wanted stuff from the 80s as presents -- usually Mr. T related. If I wasn't in the mood to talk presents, I'd just engage kids in a conversation about Mr. T, "Hey, are you a big Mr. T fan? Do you watch the A-Team? I pity the fool who doesn't like Mr. T!" The kids had no idea who I was talking about but were usually good sports and would say, "Uh, yeah, Mr. T is great ..." One time, a dad chimed in: Tell Santa that you're not afraid of flying!

Bad jokes were another way of keeping interested and awake. Because I was in my twenties when I played Santa, people would sometimes ask, "Aren't you a little YOUNG to be Santa?" And I'd reply, "Hey, at least I'm not a FREUDIAN!" Nobody ever liked that joke. I must have told it a hundred times. Once in a while, I'd respond to the same question with, "Huh? No, I'm Luke Skywalker, I'm here to rescue you!" Nobody liked that one either.

Other people provided me with challenges as well. One year at an Xmas party, some friends challenged me to play Santa as Hank Kingsley from The Larry Sanders Show for a whole weekend. That meant that I had to greet every kid by saying, "HEY, NOW!" in Hank's voice. I gave it my best shot, but after a few hours of "Hey, now!" I packed it in and lost. You gotta know when to fold 'em and when to run.

Men & Women

If you think Santa gets to hear a wide variety of gift requests, you're damn wrong! People who frequent suburban shopping malls just aren't that original. That makes the job easier when it comes to the kids because by the end of the first week, Santa has a good idea of what the hot items are and He can research them and 'wow' the kids with His vast knowledge of the various versions of Polley Pocket or console video games.

Adult rubes are even easier: 99% of the time, women ask for 'a boyfriend' and men ask for 'a car'. I found the uniformity of the answers so strange, I began prodding the visitors for more information. When women asked for boyfriends, I would point out that the men were all asking for cars instead of girlfriends. That didn't seem to phase many of the women. One or two declared that they were going to 'quit living for a man' but the rest seemed to accept their lot.

When I started asking the men if they'd rather have a girlfriend instead of a car, most would start laughing and say emphatically, "No!" as though I'd just asked the most idiotic question in the history of shopping mall holiday events. I can't identify with anyone who loves cars that much, so I threw a wrench in the works and provided a third option: car, girlfriend or computer. Some of the smarter guys realized the error of their ways and decided that computer trumps car.

No wonder most of the couples who visited Santa always asked for the same thing: world peace.

If you're ever trapped in a loveless marriage, Santa can help. One pretty, older woman used to visit Santa every two or three nights and drop obscene amounts of money on full picture sets so she could sit and unload at length about her rich but very distant, neglectful husband (I could tell you stories, but I'd be violating the client-Santa privilege). Some people have affairs, some people get therapy, this woman visited Santa. I guess it's kind of sweet, like she was regressing to childhood or something. She was only around for one season, so things must have been settled after that. I missed her the following year, not many visitors have the time or money to open up like that. And she smelled nice.

Actually, Santa was full of advice. Most of it worthless. One year my main elf was a really attractive girl and one day while we were hanging and playing 'Celebrity' she asked what she should get her boyfriend for Xmas. Everyone was getting Glamour shots done at the time so I suggested she get gussied up and have her portrait done. And she did and gave her man a framed 8x10. Somewhere out there, there's some dude who hates Santa because one year he got a lame picture for a present instead of a console game or a cell phone ... [2004 update]

Santa's End

When you work as Santa, you're always hearing stories about the other Santas over the season; the guy who got fired for being drunk as Santa, the guy who fondled a teenager while she was on his lap ... and the guys who die ... in fact, every season I was often the only Santa still standing at the end of the five weeks (my first year, no other Santa lasted more than two weeks).

The old guy who was the Santa at Woodbine the year before I was there was in poor health, had to pee in a bucket inside the Santa house and died mid-way through the season.

My third year, I worked the day shift, "Santa George" (names have been changed) worked the evening shift and "Santa Dave" worked all the other shifts. Santa Dave was a tall, funny Scottish engineer who had just turned sixty, was unemployed (it was the mid-90s) and smoked like a chimney. Because of him, the little 'Santa Room' started to look and smell like an ashtray and when we confronted him about his filth one evening, he starting harping on about his 'rights' and never did clean up. Smokers always worry about their rights while being the most inconsiderate bastards.

Santa George was the "Little Santa" and like Dave, that was his first year on the job. All the new Santas got the shaft that year when the company that ran the Santa racket lowered the starting wage from $12 an hour to $10 (I was a vet and my raises meant that I was at $15/hr, which seemed like a load of dough at that time). So, all season long, I felt sorry for the new Santas ... but not that sorry.

One evening, I finished up my shift and went to the room and chatted briefly with Santa George for what would turn out to be the last time that year. The next morning when I reported in, the elves were in a panic, "Santa George had a stroke! On the chair!"

After I left the previous evening, Santa George started his shift and everything went smoothly at first. Then he asked for a glass of water. Then another. And another. Then, with a kid on his lap, he started shouting and swearing and foaming at the mouth. He pushed the kid off, stood up for a moment and seemed to wobble and then collapsed.

A few years later at a former girlfriend's family barbeque, I was using the story to break the ice with her relatives, who I was meeting for the first time and trying to impress, and when I came to the part of the story where Santa falls back into the chair, I acted it out and fell back into a plastic patio chair that shattered like glass when I hit it. I wound up flat on my back on the ground ... see? A good Santa story ages like fine cheese.

The Following Year ...
The following year was my last as Santa. One afternoon, I was sitting on the chair and a strange looking man seemed to be waving to me from the edge of the set. My first thought was, "Crap, why do I get all the freaks?" but I waved the guy in and he hobbled around the path and came up on the set. When he stood in front of me, I could see his face clearly and I blurted out, "Santa! You're back!"

It was Santa George, crumpled and half-paralyzed but still able to get around on his own. We talked for a bit and he explained that when he had the stroke, they didn't expect him to survive the first 24 hours. When he did, they said that if he lived through the week, chances were that he would survive but would be completely paralyzed for the rest of his life. But he pulled through that, too, and there he was standing and walking and talking.

They called me up to do Santa again for a few years after that, but I declined. The wig had started giving me chills and pins & needles in my scalp, even when I wasn't wearing it, and every time that happened, my thoughts turned to Santa George. So I quit while I was ahead and never again donned the beard or the belly.

.............
December 6 is the anniversary of the most horrifying Santa experience of my career. On that day I'll repost the story of that day, co-written by Laura, my girlfriend at the time.


1:30 AM , # , |

Sunday, November 21, 2004

Santa Stories

Another batch of Santa stories tomorrow, but until then, here's a fresh, never-before-posted Santa tale ...



Rudolph jumps over the "Coffee Tip" at this afternoon's Santa Claus parade.

The first year I worked as Santa at Woodbine Centre Mall way out on the northern edge of Etobicoke. Woodbine Centre is a favourite with kids because it features an indoor amusement park.

One Saturday afternoon I was sitting on the throne and had sucked some strands of my beard into my mouth and inadvertently swallowed them ... though they remained attached to the beard. Happened all the time. I never found a way of effectively fishing the hair out; I would wait as long as I could as strand after strand found it's way down my throat and finally, when it became too much, I'd ask an elf to stop the visitors, stick a gloved finger in my mouth and pull out the bile-caked hair, trying to gag quietly. But like a cat clearing hairballs, I always made some noise and had a dry heave or two.

The trouble began as a trickle and became a mob. The line to see Santa filled up with a crowd of bawling kids and angry parents. Their world had been shattered by a startling, unexplainable event: there were TWO SANTAS at the mall.

A company whose name rhymes with "arcadian mire" had rented the mall's amusement park for the staff Xmas party and the event included a Santa Claus who was giving out real presents in full view of everyone else at the mall. When the mall kids asked to see this incredible, present-providing Santa, they were -- obviously -- told to hit the road.

And so they came to me. Discount, 23-year-old, beard-sucking, no-present Santa with his stale candy canes .

I spent an afternoon fielding questions about why there were two Santas and which one was the real Santa. I came up with several, convoluted half-baked pseudo-scientific explanations that involved "trans-dimensional something-or-others". When one older, smart-ass kid confronted me about the two Santa situation, I told him that it was the same Santa, I had just rushed over at the same time that the kid came from the amusement park.

Somehow we got through that afternoon and I'm glad it never happened again. At one point, the mother of a particularly devastated child came up to me and said, "He said that you must be the real Santa, because you were nice and talked to everyone." Damn straight, 99.999% pure Santa.

Tomorrow: More Santa Stories! Dec. 6: Santa hits rock bottom!

3:03 PM , # , |

Saturday, November 20, 2004
TWO WEEKS
Wait a minute, last time I checked my annual late fall par-tay was a month away ... now it's two weeks from tonight! Yikes ...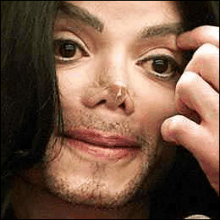 Above: a magical party guest.

I'm sorry to report that both Jett and Sugarmama won't be able to attend. Sugar has school and Jett replied:

Can you GET to Canada on two quarters, one dime and some pocket lint? Wait. I think that I've been banned from Canada.

I'm still sending invites, if you want to come and need directions, email the not-so-hotmail: craggerz at hotmail dot com.

2:34 PM , # , |

Friday, November 19, 2004
This Date in History
Matt, Coffee Guy #1, wrapped up his latest play and is working at the Duff on Saturdays again, so drop and and give him a shout. Here's an encore presentation of ....

Patrick Swayze Visits the Coffee Guys (Nov 19, 2002)

PATRICK: Hey man, wake up!

BLAMB: [snore]

PATRICK: WAKE UP!

BLAMB: Huh, wha? Paige Davis?

PATRICK: The day has begun! It's time to get moving!

BLAMB: Moving ...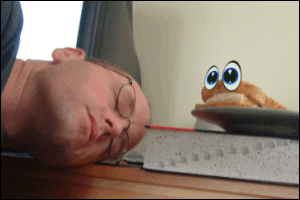 PATRICK: You know what you need?

BLAMB: Need ...

PATRICK: A trip to The Coffee Guys!

BLAMB: Coffee ...

PATRICK: Let's go!

We walk to the mall. Most of the snow has melted. It's comfortably cool.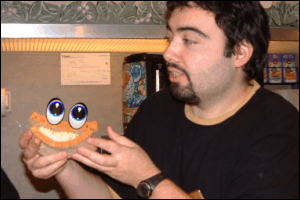 PATRICK: Hey, Coffee Guy #1! How's it going?

COFFEE GUY #1: Great! Good to see you, ol' buddy.

PATRICK: Brett is a grumpy doughboy in the morning; set him up with a big cup 'o joe!

COFFEE GUY #1: No problem! One for yourself?

PATRICK: Oh yeah! Hey, where's you good friend? Coffee Guy #2?

COFFEE GUY #1: Shawn? He's right over there. Hey, Shawn, looks who's here! It's Patrick!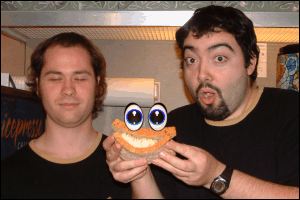 COFFEE GUY #2: Hey, hey.

PATRICK: How are you doing?

COFFEE GUY #2: Want to see my Brando impression?

COFFEE GUY #1: You can't do Brando!

COFFEE GUY #2: What? See Patrick, this guy thinks Brando is all in the voice...

COFFEE GUY #1: ... and someday, I will come to you and ask for a favour ....

COFFEE GUY #2: See? It's not just the voice, it's the whole ...

SECURITY MAN: HEY! WE DON'T SERVE YOUR KIND IN HERE!!!

BLAMB: Wha? Huh? I'm sorry, I'll leave.

SECURITY MAN: Not you. Your sandwich.

PATRICK: Me?

SECURITY MAN: NO OUTSIDE FOOD OR DRINKS.

COFFEE GUYS: That's crazy! What kind of rule is that?

SECURITY MAN: NO OUTSIDE FOOD OR ....

PATRICK: But don't you recognize me? I'm Patrick Swayze, the Tahini & Banana Sandwich! The happiest, flippinest, grooviest, coolest ...

SECURITY MAN: No outside food or drinks. NOW GET OUT!

COFFEE GUYS: Can't you make an exception?

SECURITY MAN: NO EXCEPTIONS!

COFFEE GUYS: Why not?

SECURITY MAN: Because ... because my heart is cold and empty.

PATRICK: Really?

SECURITY MAN: I have no soul.

PATRICK: Aw, everybody has a soul! Even you!

SECURITY MAN: Really?

PATRICK: Sure thing, buddy! Here, have a taste!

SECURITY MAN: I couldn't ...

PATRICK: Go ahead, friend!

SECURITY MAN: Well.... [chomp] ... oh my ...

PATRICK: How do you feel?

SECURITY MAN: It's like the fluffy clouds of Heaven have come to Earth and decided to reside in my mouth. I feel ... young, like when the world was new.

PATRICK: Great!

SECURITY MAN: That's it! Patrick Swayze, I hereby make you an honourary security deputy of the Dufferin Mall!

COFFEE GUYS: YAY!!!

SECURITY MAN: Thank you, Patrick! And thank you, Coffee Guys!

BLAMB: ZzzzzzzZZzzzzzzz ....

11:45 AM , # , |


World of Sandwiches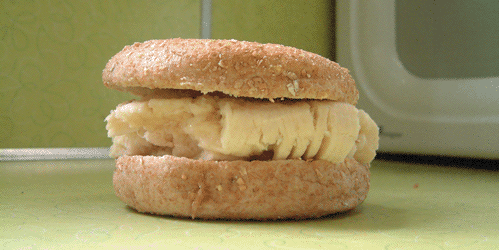 Jefferson Memorial, Washington D.C.

Coming up on Monday: More Santa Stories!

10:00 AM , # , |

Thursday, November 18, 2004
1st Annual Busblog Awards
Tony is accepting nominations for the 1st Annual Busblog Awards. Nominate your favourite blog posts from 2004 ... WHO WILL WIN? WHO WILL LOSE? AND WHO WILL DIE TRYING?

11:35 PM , # , |


Perfect Dirty Words
Today's challenge is to take two relatively innocent words and combine them in a dirty way. A good example of this is:

JUICY SLIT

All entries will be judged. 5 points will be awarded for technical and 5 for style and wit for a grand total of TEN possible points. The winner will receive nothing but the respect and admiration of the galactic citizenry.

Dig in!

SCORES:

IQ: Bouncy Beef
Technical:2 + Style:3 = 5/10
More silly than dirty, alliteration is fine but otherwise structurally unremarkable.

Armchair: Rear-load packer.
Technical: 3 + Style: 2 = 5/10
Gained half a point for hypenation, stylistically awkward.

Maria: Happy Camper
Technical: 0 + Style: 1 = 1/10
Not at all dirty, common phrase lacks technical merit, sympathy style point for showing up.

RobotJohnny: Cockle drippings
Technical: 3 + Style: 1 = 4/10
COCKLE DRIPPINGS?

victor immature: Shacking Up
Technical: 2 + Style: 1 = 3/10
If you've ever shacked up, you know there's very little about it that's "dirty".

Dave: squirting sausages
Technical: 4 + Style: 4 = 8/10
The more I think about it, the worse it gets.

salty milkshake
Technical: 3 + Style: 4 = 7/10
The kind the prophets drank.

fleshy spear
Technical: 4 + Style: 4 = 8/10
Is that your fleshy spear, or are you just happy to see me?

Ok, Dave wins, hands down. As for Maria, I can't even believe that you tried to defend Happy Camper! There is nothing dirty about that phrase in any context. Just for that, you have to be the Blamblog butler for a month. Get to work!

1:12 PM , # , |


Solid!
Merv sent me a link to this dog poop calendar. She also found an Xmas poo ornament.

Don't be afraid
To touch it, babe
Let's be real
There's nothing wrong
With the way you're carrying on
So enjoy and live ...

Because

It's only poo, doin' its thing, baby
It's only poo that you're feeling
It's only poo, doin' its thing, baby
It's only poo that you're givin'

8:20 AM , # , |

Wednesday, November 17, 2004
Celebrity Sex Lists Revisited
That last game was just a warm-up. Here's the main event; an oldie but goodie courtesy of the fantasteriffic Dooce.

Dooce had this rule for committed relationships: You were allowed to pick one celebrity and if the opportunity to have sex with them ever came up, you were allowed to snooker them without sacrificing the relationship. Obviously, those of us who are single can have sex with all the celebrities we want.

But why limit ourselves to one? Who's on your celebrity sex list? (if you're single, these are people who would remain on your list even after you got hooked up)

Mine:




1 . Parker Posey




2. Salma Hayek




3. 90's Kate Beckinsale




4. 90's Irene Jacob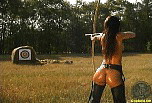 5. Susana Spears (Please include one pron star in your lists. Or don't. I don't really care.)

I sorta considered Rene Zellweger, but as they say, she's the girl you marry, not the one you go out with ... right, Tom Cruise?

So who are your celebs? Give 'er!

12:05 PM , # , |


IT'S WAR!!!
BLC vs. Torontoist

BetterLivingCentre is now locked in a vicious death spiral with the recently-launched, Torontoist. And there's gonna be bloody combat & carnage! Some are already betting on the BLC!

And for good reason, we already made short work of the sloppy, dodgy, lame Toronto Metroblog.

It's the ol' David & Goliath story ... in blog form! Tiny upstart, local, independent operation (us) takes on the giant invader (them); Torontoist is, of course, a franchise of the Gothamist chain of cityblogs, written by some National Posties working for free in exchange for being associated with the IST bandwagon. So go peruse 'em and enjoy 'em, but realize that any ad revenue you generate for them is being sucked off to the ol' US of A ...

... and that feeling of being colonized is apparent from just looking at the Torontoist banner. What are some of those buildings? Is the first skyscraper the Scotiabank Tower or the Madison Building in North York? Why is the CN Tower so top-heavy? Is that the Skydome or someone's testicles? And that streetcar ... it's a streetcar, right? ... it's kinda blocky.

And so, the first battle of the war begins: the BetterLivingCentre challenges Torontist to UPDATE IT'S BANNER! Fix it! It's WRONG!

Also, one thing you won't find on Torontoist: an all-new Ms. Johnson!

I am, on this day, putting Torontoist on notice. Be prepared to experience great pain! Be prepared to face an onslaught of blogging fury the likes of which you have never seen! Torontoist, with Blog as my witness, YOU ARE GOING DOWN!!!!!!!!!!

BRING IT!

1:32 AM , # , |

Tuesday, November 16, 2004
Who Were Your Characters?
Smallville is on in a few minutes and made me think of a wee game for a Tuesday night:

When you were a kid, what did you play with your friends and who were your characters?

Mine:

1. Star Trek TOS: Dr. McCoy
2. Star Wars: Darth Vader
3. Space:1999: Commander John
4. Omega Man: Mathias (and various misc. zombies)
5. Pee Mantis: Not Pee Mantis. Lou was Pee Mantis.

Raise your hands, everyone who first thought of hockey, football or baseball when I asked, "what did you play?" WE'RE GEEKS! Since comments aren't permanent, I'm gonna cut and paste any responses into this post. Go!!! Answer!!!

So far we have:

Wayner:
CHiPS: Ponch & Jon
He had to play alone, so he was both!

LizVang!
Sex Play: Horny Nun or Frisky Librarian

Christie:
1) Sarah ( Labyrinth)
2) Troi (TNG)
3) Eliza Doolittle (My Fair Lady)
4) Princess Leia (duh)
5) Princess Vespa (Spaceballs...lol)
Bonus points for actually doing the activity.

Brenda:
TMNT: April O'Neill

Maria:
Charlie's Angels: Kelly

daddyg:
GI Joe: Snake Eyes
Star Wars: Han Solo
Star Trek : Spock

Ice Queen:
X-Men: Marvel Girl/Phoenix/Dark Phoenix (aka Jean Grey) (depending on the story line)

Dave:
MACE: Long Arm

Dusty:
Battle of the Planets: Mark or Paul

7:34 PM , # , |


Channel 101
Oh yeah, new episodes are up at Channel 101.

It's a very rich, complicated, multi-layered situation.
The 4th episode of Laserfart is must-see internet tv. It's a b&w horror episode with a great vampire vs. fart fight.

The 'Bu episode is excellent as well and Magick Haus is worth a look for the novelty factor. But Goldblatt's & Chernoff's pedophile humour was stale after the first episode of their first show and now with the third ... third! ... episode of Who's Teaching Whom?, it's reached new heights of being 101% irritating. Yeah, there must be something in the water out in L.A. if they're willing to put up with that crap.

But go watch Laserfart (previous episodes are archived), it's gold! Or brown!

2:13 PM , # , |


We Built This City 3
Plastonia - Media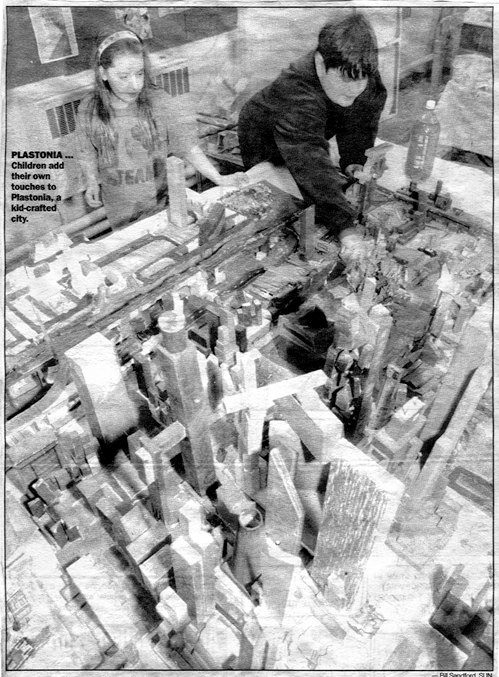 I was always disappointed that our newspaper coverage amounted to a half-page photo in the SUN. It was a good photo and a big photo ... but who reads the SUN? Nobody, that's who.

The television coverage was a bit better, but in the parts where I was being interviewed they put the caption "John Brown" for my name and afterwards I had people saying to me, "I thought your name was Brett!" I always suspected that our boss, who was a bit nuts and like to create drama, did that on purpose.


The kids created their own newspaper for the city called The Plastonion Eagle and printed a few issues. Most of the content dealt with local politics and the performance of a kid named Martin who had run in the first election and formed the government:

Martin is fair but treated unfair. Martins lowers fines but people still refuse to pay them. The price deal is an incredible way for government to lose money to you but you greedy pigs want MORE.

This issue also polled the citizens and found that the government had a 45% approval rating.

Part of the reason Martin was able to snag the Presidential role was because he was good at organizing the other kids and formed the first company that, in the end, wound up swallowing all of the other kids' companies and almost became a monopoly, but we held a hearing and the government blocked the final merger.

Coming up: The Story of Plastonia

1:32 PM , # , |

Monday, November 15, 2004
We Built This City 2
Inspiration

Okay, Plastonia didn't just spring into existence overnight. There were other projects that led to its creation (and I was playing a lot of SimCity 2 at the time).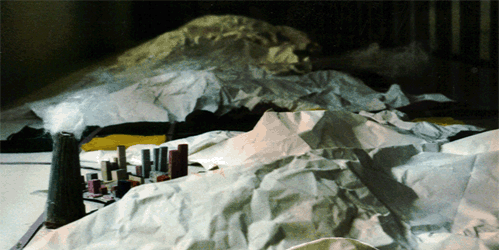 I Believe I Can Flllllllyyyyyiiieeeeee!
Here's one of the first projects I worked on as the "arts specialist". We built a huge landscape on the wall (it's actually tilted 90 degrees in this pic), hung stretched out cotton as clouds and took a video camera and recorded "flight" videos over it. It was our low-tech flight simulator.


Sludge Tank
This project inspired the mining activity. We had bags and bags of plaster at our disposal, so building an underwater landscape seemed like a good idea. The kids & I built this huge basin out of coloured plaster with windows built in the sides so we could fill it with water and look in.

When it was done, we discovered that 1) the plaster made the water murky and we couldn't see anything, and 2) it had lots of cracks and holes, so water leaked out everywhere and made a huge mess. But that's the creative process, right? Clumsy, messy, a bit nuts ... I feel a rant coming on ...

That's one of the things that pisses me off about the Macintosh Computer Cult. One of the tenents of that bizarre religion is that creativity is linked to cleanliness, simplicity and minimalism. Which is a complete load o' the crap -- that sort of thinking implicitly raises design above art and is a bias based on a twisted sales model, not reality.

The reality of the creative process is the Sludge Tank. A sloppy half-disaster. It has to be that way because that's how the happy accidents happen, when different elements accidentally get mixed together to make something new.

Apply these complaints to condo design culture, Saturn car marketing and Indigo books. In the mainstream, clean, dull design has been elevated to the status of being one "the finer things in life" and art, well, it's been sent to the back of the bus.

Um, the following year we broke down the basin and used chunks of it to add mass to the kids' mines.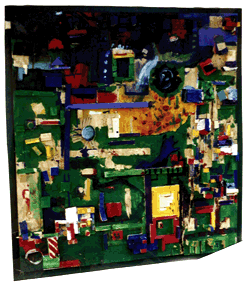 Lumbertown
Logs, logs, logs! At the sounds of the falling tree ...

This city was just a simple sculpture project. We took a sheet of plywood (about 1.5m x 1.5m) and built a city on it with painted wood blocks. It was just for fun, there was no simulation or game.

In fact, we did it in the summer, outdoors in the park sitting under a tree. We might have been listening to Journey. At least that's how I choose to remember it.

Coming up: Tales from Plastonia

9:30 PM , # , |


We Built This City
Last month I wrote about the Alien Autopsy art project I organized when I used to work with kids at Trinity-Bellwoods. The kids & I did all sorts of wacky projects together, but the biggest of them all was ...

PLASTONIA
part 1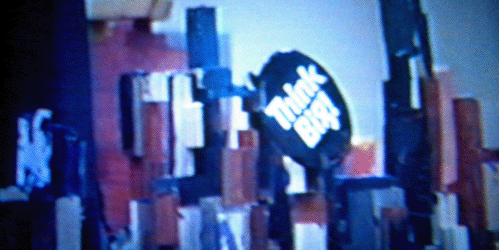 Plastonia was the name the kids gave to a "live" game of SimCity we played 3 afternoons a week for six months (we ended the project on the 50th working day). By the end of the game, we had a model city that filled the art room, a working economy with our own currency, democratic government (even elections and an election scandal) and media. The city wound up in the newspaper and on tv and the following summer we even did a larger-scale sequel built outdoors that earned a visit from Toronto's mayor.


The game started when we tried out an activity called "mining". The kids made "mines" by burying artifacts under layers of multi-coloured plaster. The kids then took tools and drilled their way into the mines and removed the artifacts. Some kids made little towns to excavate ( a village made out of popsicle sticks, when dug out, was completely flattened), some made fossils and dinosaur bones and some filled balloons with paint and drilled for oil. And lots of wood blocks painted gold.

There were a lot of kids and a lot of mines and as we drilled, we discovered that we were collecting loads of plaster tailings, so we stuck it in tubs to be reused. As time went on, we wound up with more and more tubs and we needed to find a way to use them ... and then it hit me: we could make a market and sell and trade the stuff! But, we needed something to buy and the logical step was to create real estate. So we took a board and a marker and drew some "lots" on it and put the properties up for sale. The kids then sold the stuff they mined on the market and bought properties and developed them by putting buildings on them. Of course, we needed currency as well, so I took a trip to the Kinkos in the Annex one night and printed out some cash.


The kids decided to name the town Plastonia as a nod to the primary resource: plaster.

It wasn't long before some kids figured out that it was easier to pay another kid to do work for them, and the first companies started to be formed. We also found that certain jobs, such as paving the roads, needed to be tackled so we set up a government and system of taxation and paid kids to do public works projects. Some of those projects included a central park, city hall, hospital, university and elevated expressway.

The first set of properties filled up quickly and we added more boards with more properties and the city began to fill up most of the art room. Later, we added details such as toy cars and strings of lights so we could turn off the overhead lights and experience the ciy at night.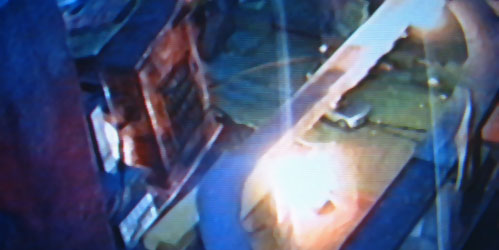 The expressway at night.

To keep track of the story of the city, we put up a big board on the wall where the kids posted artifacts, drawings, stories and anything else related to the city. We also kept a book of records where we tracked the daily activities, the market and the "citizens" who participated in the game each day.

Coming up: More Plastonia!

2:56 PM , # , |

Sunday, November 14, 2004
Nov 15: The Day of Pain
Today a small army of men return to work. They will struggle for low wages at a five-week task that is physically and mentally exhausting. Not all of them will make it: many will quit, some will be fired for showing up drunk or for sexually assaulting someone, a few will become temporarily or permanently disabled and a few will die.

Today is the start of ...

SHOPPING MALL SANTA SEASON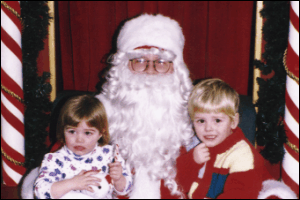 For four seasons, I was Santa Brett. I worked all over, I didn't care. Woodbine Centre in my first year, then sub shifts at Promenade & Gerard Square. But my main beat for three of those seasons was Fairview Mall. After my first year, I vowed never to do the job again and didn't work the following year. The year after that, I wound up at Fairview because the Santas they had, the guys with the real beards, all went insane and pretty much thought that they were Santa so they fired the lot of them (The Great Fairview Santa Purge of '94) and brought in replacements ... including me.

My Santa stories have saved me in so many social settings, they're well worth the years they took off of my life.

Here are a few of my favourite Santa stories from the archive:

Special Magic
People ask what the funniest thing was that a kid said to me. One weekend afternoon, there was a big line-up and I had a kid on my lap and the next kid waiting in line asked his mom, shouting so everyone could hear, "Mommy, can I ask Santa to use his special magic to get Dad out of jail?"

Santa vs. The Salvation Army Band
At Fairview, every Santa had to work a weekend shift. None of us wanted to work weekends, there were usually large crowds and the constant crush of people meant that you wouldn't get much of a breather during your shift. By the end of it you'd feel numb and your ass would be sore because Santa's "throne" was just a piece of plywood with a cheap cushion on it.

On weekends, the Salvation Army Band would play Christmas carols on the second level of the mall, right in front of the Santa set. O Holy Night droning on in the middle of the afternoon made it difficult for Santa to hear many of the kids and he'd be forced to ask them to "Speak louder! I can't hear you!" The other Santas were old guys and just sucked it in (I think they complained to the boss once but nothing was ever done).

I took matters into my own hands. I wasn't going to let a bunch of freaks make my job tougher and get away with it. The solution: when I had a kid on my lap, I'd ask, "Hey, do you like music?" The kid would always say 'yes' and then I'd point up to the band and say, "I sure wish they'd play a song for me! Would you go up and ask them to sing a song for Santa?" And the kid would agree and I'd say, "Tell them to play the song, Proud Mary."

Then I'd sit on my little velvet throne and watch the kid as she/he/it left the set, ran up the escalator and went and talked to the Salvation Army Band. Doing that once is kind of cute, right? Ha ha, Santa requested a song. Doing it twice might seem a bit weird. Okay, Santa, we get the joke. I'd ask every single kid for over an hour to go up, sending a steady stream of requests for Proud Mary. I am Santa, the children are my weapons; tiny little bombs of irritation.

One afternoon when we weren't very busy, I sent a little girl up to request Proud Mary and one of the band members turned and looked down at me. I smiled and gave him a big thumbs up. He sent the little girl back down with a message, "They don't have the sheet music." I sent her back up and told her to tell them to improvise. He sent her back down again, "Some of them don't know how to play the song." So I said to her in my most disappointed, grave Santa voice, "They're not a very good band, are they?"

Santa Love

Actual conversation:

Santa: Oh, she just waved.

Elf: She's flirting with you, man!

Santa: She's gone back in the store.

Elf: Man, she's hot. You should go talk to her.

Santa: Talk to her?

Elf: She digs you man, she's totally into you.

Santa: She digs Santa, she doesn't dig me.

Elf: She digs you as Santa!

Santa: What?

Elf: She doesn't flirt with the other Santas! Go talk to her, man.

Santa: As Santa?

Elf: No. As you, after your shift!

The third year I worked as Santa, there was a Benix store across from the set at Fairview. An attractive, friendly woman worked there and every morning as I walked out to the set as Santa, she'd be at the front of the store setting up the day's displays and she'd say 'hi' and flirt with me ... er, Santa. My main sidekick elf during the day was a young clubber/player-type who was always talking about women he was picking up while out at night and at least once a day he'd encourage Santa to hit on the woman in Benix. Or any women.

One afternoon, after my shift, I went to the Benix and browsed for a bit, looking at dishes and candles and stuff. The woman was working the cash so I grabbed the first thing I could think of, a bunch of spoons, and went to the cash to pay for them. At the cash, I thought there might be some sort of glimmer of recognition or she'd flirt a bit and we'd start chatting and I'd say, "Hey, guess what? I'm Santa!" Instead, she took the spoons, quickly did the sale and sent me on my way because ... I wasn't Santa, I was just another customer. Leaving the store, for a second I considered turning around and introducing myself ... but I didn't.

The next morning, Santa got his usual warm smile.

.....

I will post another batch before the Xmas including the very special episode about the horror of the first year as Santa: Destruction! The emergency room! A homemade biofilter! Don't miss it ...

1:26 PM , # , |


Hey Trudeau, It's a Long Walk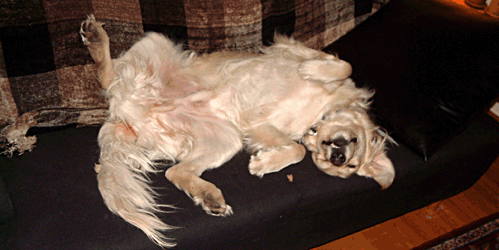 Lucky Zack had an unexpected visit from Lexie this weekend. This morning I took the two of them for a long walk. We walked along the waterfront and were already halfway to Etobicoke when the sun came up and it turned out to be a beautiful, sunny morning.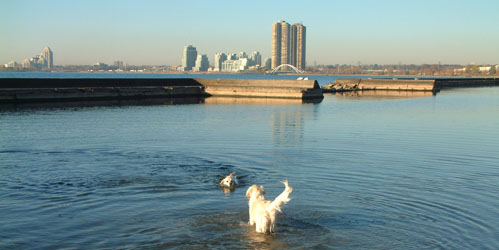 Wrangling the dogs, camera and coffee turned out to be too much, and Lexie bolted into the lake the first chance she had. Shoulda' seen it comin' ...




We walked until the city shrank away and the tower was just a little stick. There were lots of dog walkers and joggers and everyone was smiling and saying, "Good morning" ... and then we walked home.

......

Blamblog Trivia! Can you guess the answer: tomorrow is November 15, an annual day of pain and suffering across the city. Why?

Answer & related stories tomorrow.

11:53 AM , # , |

Saturday, November 13, 2004
Par-tay!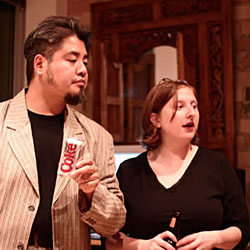 The pics are up from the Accordian Guy/Redhead Birthday/Engagement party.

There's a gallery full of pics and a slideshow version if you're lazy. Hey, I'm lazy! Go slideshow...

Just a reminder, when you see the pic of me singing the karaoke, remember that I scored a perfect 100 points on both of my songs. Next stop: takin' on the Gladstone.







She's a very freaky Christie,
The kind who sings the karaoke ...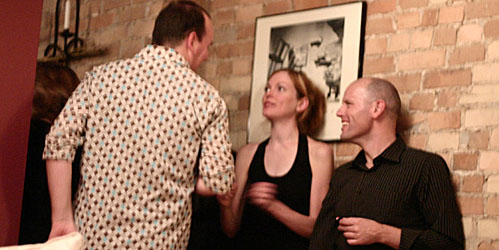 "Blogger? I don't even know 'er!" Nobody ever gets tired of that joke.

And here are some bloggers (l to r, eva, kelly, james, liz):





Look into my eyes. You will come and drink at my pad on December 4th, you will come and drink on December 4th, you will .... oooh, now you're all hypo-motized.

9:59 PM , # , |


They're Back!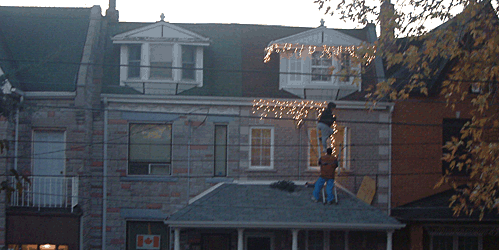 Go neighbours! Put up your lights! Brighten our nights with your blinky love! Warm our hearts with your glow!

I don't even care that you own a micro-dog!

7:15 PM , # , |


Woof!
More from the Funbooks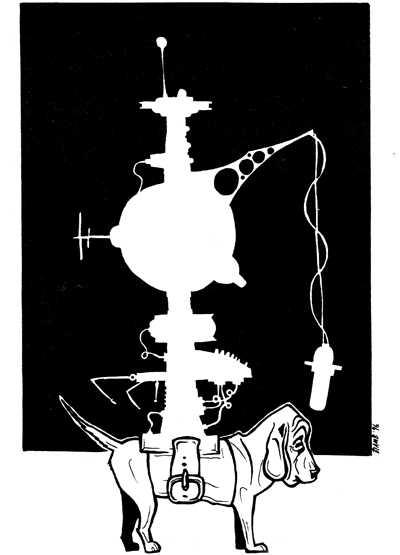 This was an illustration for a short story about a machine that translated 'dog noises' into human speech (yeah, that's a C64 on the bottom section).

2:53 PM , # , |

Friday, November 12, 2004
More Archive Fun
Couple of things from the Funbook archives ...

Hey, it's Trudeau!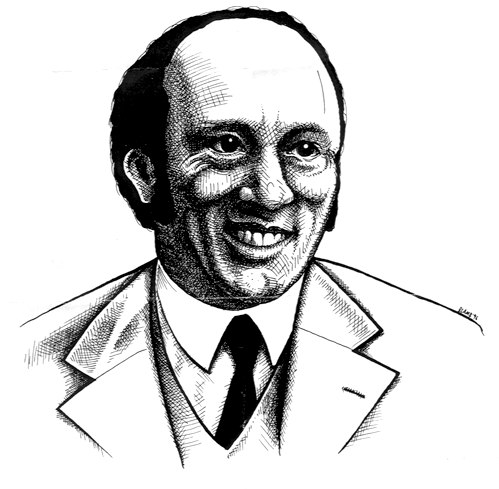 This was an illustration I did for a textbook way back when.

And here's Realms: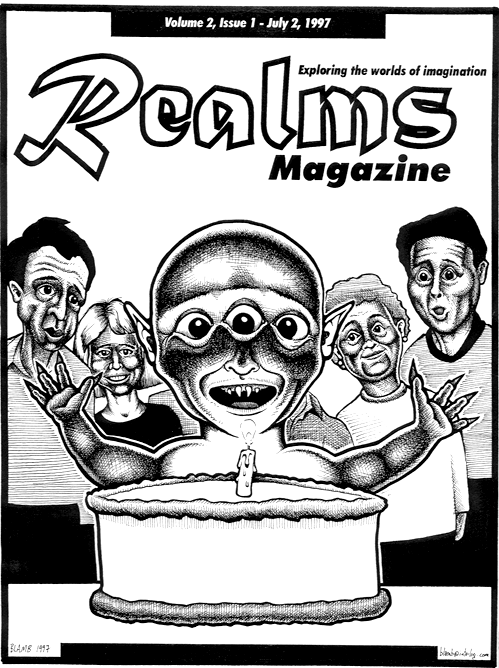 Realms started life as a sci-fi tabloid before trying to make a go of it as a glossy magazine. I did some drawing for it and this was the cover I drew for the first anniversary issue. Everybody loves alien babies ... especially alien mommies ...

2:00 PM , # , |


Funbook Archives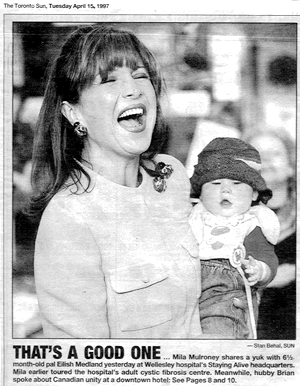 A couple of things Medlab-related items from the Funbooks.

First is this picture of Mila Mulroney posing with his daughter that appeared in the Sun several years ago. That's a good one, indeed, Mila!

Whoops, accidentally overwrote the comic file ...

2:07 AM , # , |


Very Good Wrath, Nelson
Sugarmama let's the ex have it:

Once I asked him to write a song for me (he plays the guitar). He wrong a song FOR me ABOUT another woman that he thinks is attractive in his office building.

She goes on to detail some ... er, all? ... of the reasons why she dumped him. The fact that he looked just like Alec Baldwin is not on the list. Pity.

Meanwhile, Maria is asking readers to vote on her worst date ever (two posted with one to go). If those are her worst dates ever, I'd say she's doing pretty well! But #3 is still to come.

After all that, there's nothing like a little bloodshed to clear the mind: Scream in 30 seconds re-enacted by bunnies. [via Christie]

1:03 AM , # , |

Thursday, November 11, 2004
Zack vs. Filth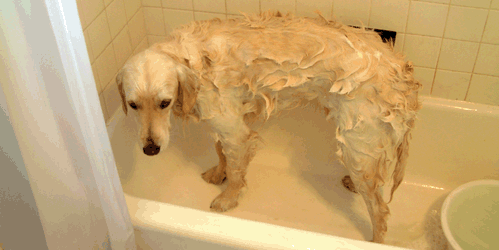 1:32 PM , # , |


Hitler vs. the Sarcastic Irish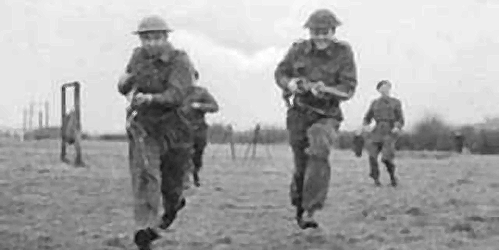 Warriors??? - Grandpa (right) at commando training.

Merv posted some of grandpa's war pics for Remembrance Day. In case you forgot, Hitler (who was the original emo dude) prooved no match for The World's Deadliest Joke.

update: Maria asks: Is your grandpa still alive?

Here's the present-day, Oshawa Sports Hall of Famer:

1:10 PM , # , |


The Monster Mache
More from the FUNBOOK ARCHIVES.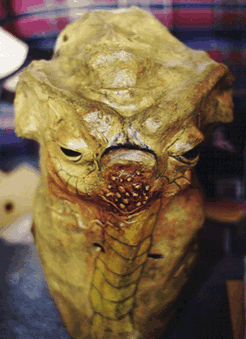 The first summer after school, I started my freelance career -- badly -- working as a papier mache artist. No, really. I made "exploding rocks" for a mall display and got to meet one of the actors from that soap with 'Victor Newman'. I did a beaver and an elk for a restaurant ... and some other things.

But all I cared about were the alien masks. I lived above a store at 711 Mt. Pleasant and had a little rear sun porch studio where I'd work most evenings until 4 or 5am with the cats and racoons as company and music on the ol' 3D Super Woofer, 'cause it was in the days before the internet and MP3s.

They've had a spotty survival rate (at Crawford Street, some vicious mice made short work of several masks), but the one above left and the one below survived.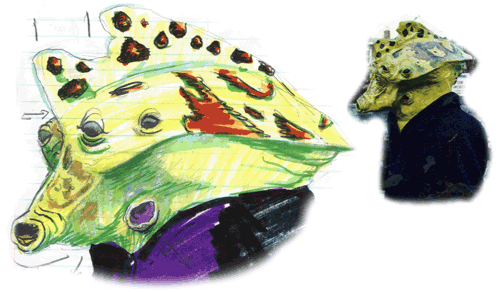 10:45 AM , # , |

Wednesday, November 10, 2004
Before the Blog ...
The creative energy is needed in the real world, so I'm going to mine the archives for a few days ... no, not my blog archives, my archives from before the blog. The Funbook archives.

Technically-speaking, I started "blogging" in 1981. That's when I started stuffing crap -- pretty much the same stuff you get on this site -- into duotangs.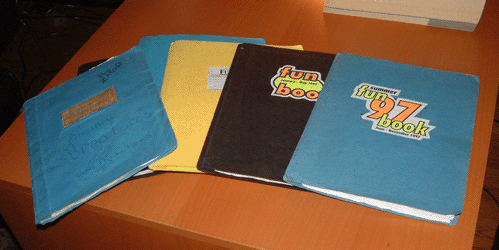 The very first Funbook is above on the far left. It's mostly a sketchbook of aliens and includes the very first drawing of Ms. Johnson. Some of the later Funbooks are also pictured. The name Funbook (also the name of my 2001 proto-blog, check out Medlab's review of Paradocueen) didn't come along until my final year at York: I was managing the college video arcade and the game supplier would bring in pirated games from Asia in generic cases marked "FUN GAME". The name really stuck when he brought in a Tetris rip-off featuring anime pics of women who stripped every time you completed a level. Everyone thought that was a fun game.

Ok, some archive crap.

This first bit is for James. It shows that I'm not a johnny-come-lately to the DS9 bashing game. It's a 1995 chart comparing Babylon 5, DS9 and Space:1999 (not to be confused with the movie Office Space from the year 1999):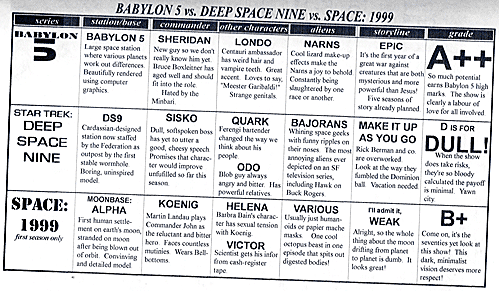 That's right, Space:1999 beat DS9!

Next.

The picture below was done by a kid (pretty sure it was Ralph Benmergui's, actually) in the art program where I used to work: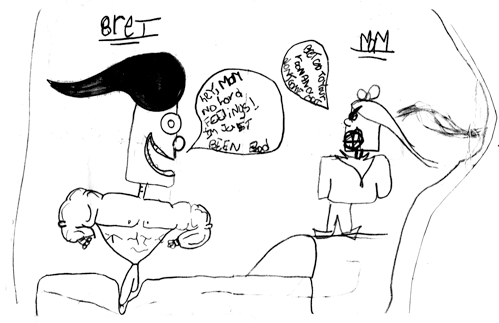 Bret(sic): Hey Mom! No hard feelings! I'm just been bad!

Mom: Bret, go to your room and don't come out!

I kept it 'cause I'm depicted as a crazy-haired, bizarrely-muscled bad-ass. And I'm jumping on the bed. More archive-y fun to come!

10:05 PM , # , |


Blog a Job
Things can tip so quickly.

'Seemed like just the other day that people were still moaning about the threat of being dooced ... now, suddenly, it's the other way around and the buzz is about people getting hired because of their blogs (Accordian Guy's experience is in today's Globe, Storm also landed a gig via her blog).

And it only makes sense, bloggers have two qualities that make them good hires: they're interested and they're motivated. Experienced bloggers also have an intuitive sense of social networking, are comfortable with a certain amount of risk and putting themselves "out there" and can cope with ... even thrive on ... difficult situations. The kinds of people smart companies want ...

..........

DOGS: It's Ruby!

11:24 AM , # , |


World of Sandwiches
9:40 AM , # , |

Tuesday, November 09, 2004
3:14 PM , # , |


Proof of Life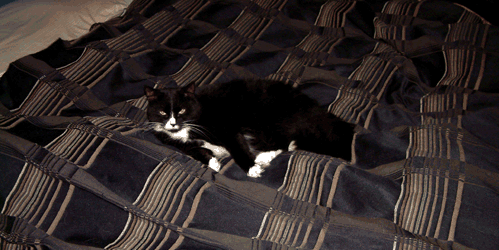 For those of you who complain from time to time that there isn't enough cat love at this web address, here's a pic of the mouse-hunter. See? She's not being neglected or abused. She has a good life. A dog's life. A lazy, easy, breezy life of relaxation.

1:42 PM , # , |

Monday, November 08, 2004
15
7:13 PM , # , |


Brain & Brain! What Is Brain?
In recovery-mode today, so here's some stuff from the archives. btw, greeting cards are on sale ... I'm about to dump that design, so buy now! New stuff on its way ...

From this week in 2002, it's The Ballad of the Coffee Guys: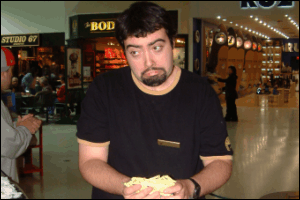 Making the coffee, here at the mall.
Serving it daily, for one and all.
Grinding the beans, boiling the brew,
These are the things I must do.

The lattes are milky,
The coco-choco-mocha-cappachino-mocha-cho-chos are smooth.
It's what customers want,
Caffeine not booze.
The pay is lousy, but we get tips.
And must come to grips, with our sad situation.

Wednesday morning, I will be there.
Offering beverages to those who care.
Coffee for loonies, (but it's not Fair Trade)
Satisfies all those who crave.
All for a morning's crusade.*

*Sung to the tune of that Sting song, you know the one.

From this week, last year ... Spam Poetry!

untitled
If your liberal heart rebels, no worry, it's money back guarantee.
Remember, if the name sounds like a robot,
It surely does a lot of things to you!

- "Colby Ervin"

untitled
Tomorrow might be too late the bond is down
There is still time to get a lower rate.
It's not going to last for ever ...

- "Mark Thomas"

66 percent off any printer supplies
Please see the stores,
feel what
others have already, quality print
cartridge
at a great price

I can offer most
models including,
Canon,
Lexmark Epson, and HP

- "Yropih"



1:05 PM , # , |


Zack vs Dignity
Is Zack as much of a suck-up as he appears here? No! He's worse! The photo makes him look GOOD! At least he appreciates a good blogger when he meets one.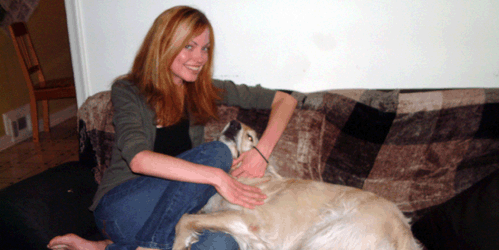 update: Merv thinks he's a traitor.
11:04 AM , # , |


Big Trouble in Little Chinatown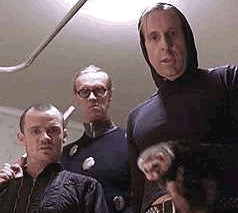 The only thing you really need to know about the Accordian Guy's fun-tacular party is that I scored 100 points, twice, on the karaoke machine using the secret song weapons, All Time High by Rita Coolidge and Dream Police by Cheap Trick.

But how much fun was it? Our groovy group was the last to split -- late -- right after the guys pictured on the left. So yeah, it was a stay-'til-the-end good time.

When we arrived, the place was shoulder-to-shoulder. There was much mixing and mingling, Adina squished over and said 'hi' and told us about what Robot Johnny is like in real life. Liz Vang somehow managed to be everywhere, all at once, all night. I could see James standing on the far side of the other room and talked to him briefly about the running. Out back we found Wiggers and Marc (visit our cityblog, BLC) who filled us in on the details of the previous night's warblogger meet-up . I cut the rug for a good stretch with Christie, Karen, Neil and Lori. Eva did a little chair dancin'. Kelly showed up fashionably late. Rannie was showin' everyone how it's done on the karaoke machine. It grew late, things wound down and the Redhead fell asleep on the couch.

addendum: Right, I bumped into Josie, too, right at the start. Josie's old blog was password protected, now she's out and aboot!

Congrats to the birthday man and the happy couple!

1:08 AM , # , |

Friday, November 05, 2004
Sister Blog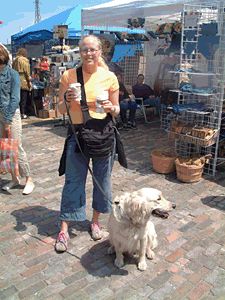 Merv emails:

I started a girly blog ... I find now that I don't watch tv, I am lacking 'breaks', so this is quick ... I don't have to devote a full half hour, etc. I dunno if I'll continue or not, but it's fun so far and it's a chance for me to gab some more.

You and I both know that she'll continue. Blogging is addictive.

Addictive like cracka-cola.

So go visit my sister and give her lots of traffic! Everybody loves the traffic.


3:33 PM , # , |


Life Lessons
On the blogs ...

If one shoelace is loose, you'll need to retie both. — JAMES McCONKEY, Trumansburg, NY

Davezilla has a great Rules of Thumb list. I would add Gord's Law:

You're okay as long as you have the fear. If you lose the fear, you'll get hit.

Jett defends both the Rolling Stones and peanut butter [audio]. English translation not yet available, y'all!

Sugarmama details the differences in breaking up from the female and male perspectives. She also tackles the "being friends" issue. This comic illustrates the timetable for re-establishing contact with a former lover.

Which reminds me of a story I heard this week about 'staying friends'. An acquaintance was once in a serious, six-year relationship but finally decided to end it. She and her ex remained friends and still hung out and because they had one another to rely on, this kept her from dating. After two years of that, she decided that she needed to start dating and, before going on a week-long canoe trip with her ex/buddy, grabbed NOW, found a personal ad she liked and responded to it.

You can see where this is going, right?

The day after the canoe trip, her ex phoned and asked to see her. She went over to his place and he looked very despondent and said, "I got your letter." and she wondered, "What letter?" And he showed her the letter she'd sent in response to his personal ad and he said, "Why can't I get rid of you?" They've been back together for three years ...

Finally, Tony shows that compromise is possible and that it doesn't have to be Red vs. Blue.

11:19 AM , # , |


This Sandwich Has Turned to the Dark Side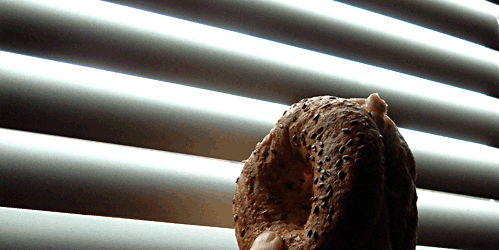 The Episode 3 trailer is out and about [via Christie], whetting appetites both gross and sublime.

10:08 AM , # , |

Thursday, November 04, 2004
The Early Warning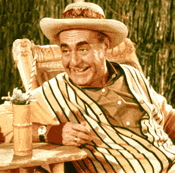 Mark it on your calendars! The annual Fall Party Pre-Holiday Bash Thing is one month from today: December 4th. It's a Saturday. And this year I intend to end the evening in a dignified, standing, upright position! Details to come.

Speaking of the par-tay action, I'll be at the big event this weekend. If you spot me, come on over and say 'howdy!'. This it what I look like [pictured, left].



Updates: The Ms Johnson and Happy Creature archive pages are updated. Dying is easy, updating is hard.


3:49 PM , # , |


Land of the Free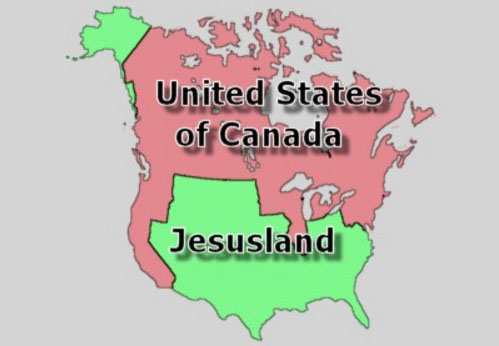 Beer night. After the third pint, I became convinced that I could set up one of the guys with another guy I know. They're both really nice, so I think it could work. I enjoy the challenge of setting people up; not so crazy about being set-up myself ... probably because every set-up I've ever orchestrated has been a total flop. But, you know, if you keep throwing lumps of mud at a brick wall, sooner or later some of those lumps are going to stick. Even if they do eventually dry up and crumble to dust (hey, nothing lasts forever but the earth and sky, man). I'll set you up if you want -- straight, gay, undeclared -- just suspend your disbelief.

... the next morning:

I just want to point out that I have nothing against people who love the Jesus, I just don't understand why they have to be so flamboyant and in-you-face all the time. Why can they just be quiet and keep their Jesus-uality to themselves like everyone else .... holy smokes, it's not even noon and I've got the spirit of the sarcasm in my bones! Get ready for some holy rollin'!

... then later that day:

Here's that other map.

1:12 AM , # , |

Wednesday, November 03, 2004
Spacey
USAF explores teleportation. If it ever goes to market, they should use Jeff Goldblum as the spokesperson.

Jedi DVD alterations. [via Slashdot] Apparently the lightsabres are completely mucked up.

Here's my wish list of additions/changes:

1. Boba Fett avoids giving his head to the anus

2. Harrison Ford injected with a dose of "giving a damn"

3. A Lando & Leia dance number with the red, Imperial Royal Guards ... shazzaaah!

4. Instead of the Tarzan yell, Chewie makes the swinging noise from the old Atari Game, Pitfall

5. Yoda dies and comes back as a brain-thirsty zombie

6. Wedge gets laid

7. Bald Ewoks

8. When C3PO is telling his story to the Ewoks, he admits that he forgot the first half because it wasn't any good.

9. In the final 'ghost' shot, Hayden Christensen replaced with Jake Lloyd

10. The song at the end sung by Bea Arthur

......
As for Bush being president ... well, it's not like I'm the one getting drafted!

1:35 PM , # , |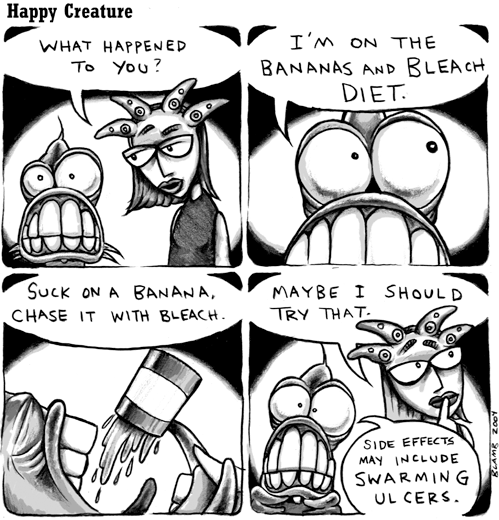 10:46 AM , # , |

Tuesday, November 02, 2004
Meanwhile, in the future ...
Tony Pierce posted his horoscope for today (in anticipation of US election day) and I was curious and followed the link to check out mine and cracked up when I saw the source ... but hey, check this out:

AQUARIUS For November 2: You're a star today – especially this morning. Others follow your lead and imitate your moves; so go ahead and accept a top level position. You receive excellent advice and are likely to score a promising offer or two, possibly from far away. It's transformation time again, largely because your work and qualifications make you an outstanding asset that others want. Travel is likely in the very near future, possibly to attend a conference or participate in an important decision-making process. You're very quotable today, so keep that in mind each time you open your mouth. Nothing you say is likely to be kept secret. P.S.: If you're in the media or communications field, things look scintillating, baby.

Guess who works in the media and communications field, baaaayyy-beee?

The monthly was pretty good, too ... it even knew about my five year plan (currently in year 2 of plan #3):

This is your journey–enjoy it! You're being given another option–so what if it isn't in your five year plan? Open your mind to radical, wonderful change, baby!

Oh yeah, step on it! My confirmation bias is kickin' into overdrive! But don't quote me on that ...

4:01 PM , # , |


September 10th
Last time the Americans voted for a president, in the days before Osama bin Laden was distinguished enough to endorse the Democrat, I was safe and warm on the train to Vancouver, sacked out in the lounge reading my morning paper, trying to forget about some woman back home and leaning on a big cup 'o joe when an old Yank walked in and announced, "Well, I hope the moral man wins!"

I looked up from the paper and snapped at him, "Drunk driving and drugs. How moral is that?" And he shut up for the rest of the trip. He could have said, "I hope the guy on my team wins," and I would have let it slide.

I met a girl on the train. One night at dinner in the middle of a blizzard at the Alberta-BC border, the woman sitting next to me elbowed my ribs and said, "That pretty girl there keeps giving you a long look."

The motel in downtown Vancouver was a scruffy, post-war joint with a courtyard in the middle. The building was being crowded by gleaming new condo and office towers (though, in the case of the tower next door, good sense was trumped and it had the misfortune of having the colour of its window glass changed halfway up) In the afternoons, I looked through the window of the tv at the election mess and started having difficulty distinguishing the pigs from the humans. It only took the Republicans ten years to become the Soviets themselves after Reagan "beat" them.

I was in Cuba when the Soviet Union was collapsing and one sunny afternoon, my brother, a friend and I were out exploring and we met up with the sloppy, local Harbour Master who had just detained the captain of a Norwegian yacht that had accidentally strayed into Cuban waters. They were sitting at a bus stop, sucking back on a bottle of rum together, laughing and enjoying the day before dealing with the paperwork and they joked with us for a bit. I was a little confused by the warmth and friendliness of the Harbour Master. Wasn't he a Communist? He had the uniform. Sometimes you experience the same thing in the US, where everyone is unusually friendly: aren't they Americans?

Earlier the year I went to Vancouver, I saw this movie, YI YI. In that flick, the father character meets up with an old flame who tells him that she always loved him ... but he realizes that the choice he made decades before was the choice he made. And he goes back home. And that's what happened to me in Vancouver.

On the train home, there was a gruff, elderly German man who was a pilot in the Luftwaffe during the Second World War but was now a hippie backpacker in his fading years, travelling the world. Which sort of made sense, 'cause in high school it was always the uniformed Catholic School kids who became mohawk-wearing punk rockers. At dinner, the seniors on the train whispered to one another, "Did you meet the Nazi?" I said to one of them, "Yeah, I think he's smoking dope in the washroom".

Once back home, I found the trip had knocked me off whatever path I thought I was on. Sometimes you smash right into people, sometimes it's a near-miss but the gravity still warps the space-time around you.

I guess having a strict ideology is like wearing a futuristic bionic exoskeleton. Your abilities are improved, but you're locked into a range of limited movement and, because it's a cheat, you eventually lose the ability to function without the exoskeleton and get nasty bedsores.

Being in love, on the other hand, is like being hit by a train. You may go flying for sixty metres and hit a lamp post, but at least you're moving in a new direction.

BLC: Warbloggers & Their Exoskeletons Abroad

9:14 AM , # , |


WCSP 2004
Toronto is hosting this year's World Congress of Science Producers, which started ... today.

This year's WCSP will feature an outstanding program of 25+ workshops and
panels that reveal emerging content trends and highlight important industry
issues. Commissioning editors from around the world will be in attendance,
including ARTE, BBC, CBC, Channel 4, Discovery Channel US, Discovery Channel
Canada, Discovery Science, France 5, National Geographic Int., NDR, NHK, ABC
TV, WGBH/NOVA and WNET.
.....

The World Congress of Science Producers is a member-run organization
dedicated to celebrating the best in science production. Past Congresses have
been held in Paris (2003), Berlin (2002), and Washington, D.C. (2001).
Next year: Tokyo.

And because this year's Congress art director is a really groovy, funky dude, their stuff looks extra-excellent! Now accepting projects for May 2005. Book now!


1:18 AM , # , |

Monday, November 01, 2004

Blogloose and Kenny-free!

And Kenny Rogers vanished, leaving this blog clean and clear! Here's a recap of events for those of you who just come here for the sparkly pictures:

After a terrible Phil Collins infestation, my blog became infected with Kenny Rogers. Here's the recap of the first half.

Once inside Kenny Rogers, we met up with Col. Brenda who escorted our submarine to the hip bone. The exciting battle at the hip included commentary by the director and Regis Philbin. After the battle, we stumbled across a simulated southern plantation where the real Eva (btw, she's at it again) was living with a bunch of simulated people. The Ice Queen and her squid-monkey Ice Wraiths attacked us and kidnapped Dr. Chip.

After escaping from the Ice Queen, we stopped at a small depot where the soldiers were all shell-shocked and bonkers. Then, as we tried to bypass the heart we wound up boarding a ghost ship and, took a trip through the centre of the heart. Emerging at the teeth, we survived a huge battle, inadvertently thanks to the Ice Queen, who we melted anyways. Dr. Chip rejoined the crew, but Captain Christie wanted to keel-haul him for betraying us.

At the end, I was forced to stare deeply into the eyes of Don Henley from the Eagles and realize that the heart of darkness, was indeed, my own. Fortunately, I also had magic shoes and that's how I finally got Kenny off the blog.

I think we all learned a valuable lesson: make sure your blogs get their shots!

Now, a big round of applause for the cast of local bloggers:

AllThingsChristie ... Captain Christie
Armchair Garbageman ... Lt. Armchair
Chip Tijuana ... Dr. Chip
Circadian Shift ... Jen
Easterblog ... Eva
Ice Queen ... Ice Queen
moot point ... Col. Brenda
Robot Johnny ... The Robot
Rusty Robot ... Dave the Imaginary Turtle
Secret Storm ... Secret Storm
Radio Weisblogg ... The Crazy Journalist

and Ultra-Baby as herself!

Yes they've all come to meet me,
In the shade of that ol' oak tree,
It's good, to touch,
The green, green grass of my blog ...


10:28 PM , # , |



KENNY ROGERS: EAGLE

I was placed in a small cage and left alone for days. My only visitor was a journalist who was covering the war. Once he met the Eagle, he abandoned his work to chronicle the greatness of the EAGLE fulltime.

WEISBLOTT: Man, you don't understand, man! In these days, when darkness falls early, in these days, man!

I could only stare at him. I hadn't eaten in days. Some guerilla soldiers came and opened the cage.

WEISBLOTT: You'd better take a fool's advice, man, you'd better take a fool's advice! One day you're here and the next day you're gone! GONE, man!

I was allowed to shower and given clean clothes. Then I was taken to a small hut. It was dark inside. I sat for a few moments and then realized that I was not alone. Someone was sitting in the shadows.

EAGLE: Desperado? Why don't you come to your senses?

BLAMB: What do you mean?

EAGLE: You've been out riding fences for so long now. You are a hard one. And I know that you've got your reasons. But these things that are pleasing you can hurt you somehow.

I couldn't argue with that.

EAGLE: Don't your feet get cold in the wintertime? The sky won't snow and the sun won't shine. It's hard to tell the nighttime from the day.

I could hear his wisdom, yet, at the same time I realized that the man was completely insane.

EAGLE: It may be raining, but there's a rainbow above you. You'd better let somebody love you.

A guerilla soldier stuck his head in the door.

SOLDIER: Let somebody love you.

EAGLE: Before it's too late.

I was taken back to the cage where I spent another night. The journalist visited again.

WEISBLOTT: Man, he respects you man! Don't you see it? Don't you see it, man? He has plans for you! Plans, man!

But I already knew what I had to do. I knew it. The EAGLE knew it.

The next night I escaped from the cage, grabbed the best weapon I could find and confronted the EAGLE in his villa. I entered the room where he slept and turned on the light and saw the face of the man for the first time. It was Don Henley ... from The Eagles.

I attacked! I hit Henley over the head with the Yellow Pages over and over and over.

HENLEY: What are you doing?

BLAMB: I'M KILLING YOU!

HENLEY: Well, you're not doing a very good job!

I stopped. The Yellow Pages were floppy and difficult to manage. Henley wasn't even bruised.

BLAMB: You're right ... you're right ...

At that moment, I felt great peace and warmth wash over my body. A voice spoke to me, a voice I recognized but hadn't heard since ....

SCOOBY KENOBI: Use the force!

BLAMB: Scooby? Scooby Kenobi?

SCOOBY KENOBI: Let go!

And then I knew what I had to do. I went to Don Henley's computer and downloaded Kenny Roger's cover of Desperado ... and I played it for the former Eagle.

HENLEY: What's this?

BLAMB: Listen to it.

HENLEY: Is that Kenny Rogers singing?

BLAMB: Yeah. He does a little falsetto bit here.

HENLEY: You're serious? This is real?

BLAMB: He takes some liberties with the song, eh?

KENNY ROGERS: [recorded]
Now it seems to me some fine things, Have been laid upon your table, But you only want the thiiiiiiiiiiiiiiiiiiiiiinnggggggsss you can't get ...

HENLEY: What the hell?

KENNY ROGERS: [recorded] Deeeeeeeeeeee-speraaado. Why. Don't. You. Come. To. Your. Senses?

BLAMB: The back-up singers are a nice touch.

Henley began to shiver. He put his hand to his head and gasped. His eyes rolled back and he collapsed. He'd suffered a massive stroke. He lay on the floor, shaking and drooling.

HENLEY: [gasps] The horror. The horror.

The guerilla soldier standing at the door leaned in and said, "Mista Henley. He dead."

I walked back to the test ship. The only members of the crew left were Captain Christie, Dr. Chip, Ultra-Baby and the dismantled Robot as well as Eva, who we had rescued. They'd been released from their cages and stood waiting at the ship, battered, bruised and covered in mud.

Nobody said a word. We probably wouldn't make it, but dead or alive, we were going home.

I climbed aboard.

ULTRA-BABY: [via telepathy] Don't you understand?

BLAMB: Understand what?

ULTRA-BABY: You could have gone home any time you wanted. You have the shoes.

BLAMB: The shoes?

I looked down. I was still wearing the New Balance 765s.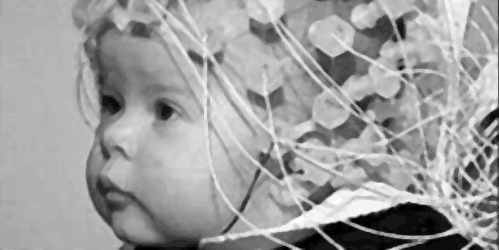 ULTRABABY: Just jump up and down ten times and repeat: Ruby, Ruby, Ruby, don't take your love to town. It will take all of us home and cause Kenny to phase out of existence and off your blog.

BLAMB: Why didn't you tell us this before?

ULTRABABY: You didn't ask!

THE END!



4:20 PM , # , |


Euro-Sandwich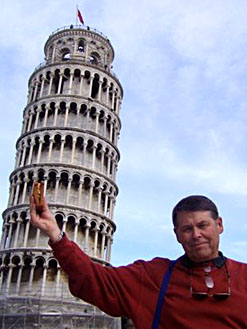 My parents wouldn't dare come back from Europe without photos of banana sandwiches in front of landmarks. Mmmmm ... look at that sandwich, doesn't it look tasty? In an all-cultured-like sort of way?

1:51 AM , # , |