About
happycreature[at]gmail[dot[com]


Wednesday, March 30, 2005
Hot Docs 2005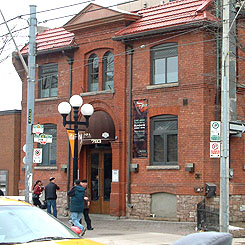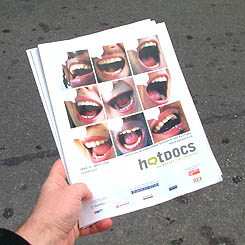 Revival, Little Italy

The press conference announcing this year's Canadian International Documentary Festival was this morning. Hitting the streets, starting today, are a half million copies of the screening schedule [above, right -- cover photos by Richard Koegl, cover design by... er, ME!].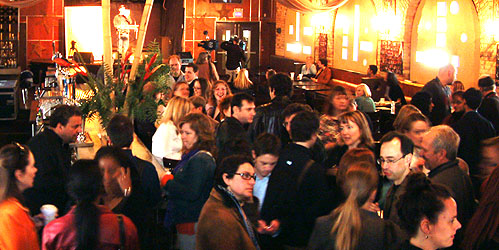 There was a huge crowd of media and docmakers mixin' it up. Can you spot nanmac?


This year's Focus On retrospective looks at the films of Larry Weinstein [left, another graduate of ye olde film programme at YorkU]. The Special Achievement Award Retrospective reviews the work of Errol Morris (A Brief History of Time, Mr. Death: The Rise & Fall of Fred A. Leuchter, Jr.) and he'll be interviewed onstage the evening of Saturday, April 30th.

The full schedule is now online at the Hot Docs website and you can purchase tickets online there.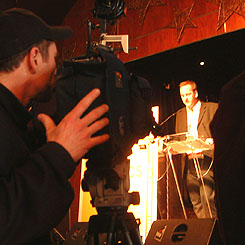 [above, left] Festival Executive Director, Chris MacDonald, welcomes the crowd. [right] Canadian Spectrum programmers, Lynn Fernie and David MacIntosh, announce their slate of docs beside the BIG SIGN.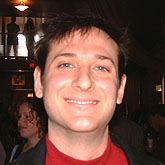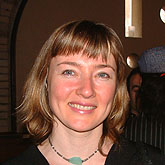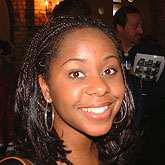 So here's the thing: I walk in and I recognize everybody even though I haven't met anyone because I've been staring at their pictures for two weeks. That means I get to play the fan and say to people, "Hey, you're so and so from Film X!" [above left] Jody Shapiro and [above, centre] Gisele Gordon have a doc called The Tunguska Project. Shapiro and David Best also have a doc called Icebreaker playing Saturday, April 23 at the Isabel Bader Theatre at 4:45pm. You should really go to that one (hint, hint). [above, right] Michelle is one of the subjects of Breakin' In - the Making of a Hip Hop Dancer.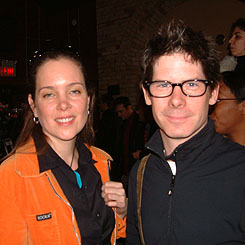 Leslie Thomas and Chris Romeike's [right] 9 Months, 6 Blocks documents the lives of three people living in Parkdale.

Earlier this month, I documented the lives of a plastic doll and shark in Parkdale.

There are some really good flicks in the programme this year. I'm looking forward to The Cross and Bones, which juxtaposes a community of religious fundamentalists with a neighbouring graveyard of dinosaur fossils and a biker convention.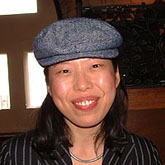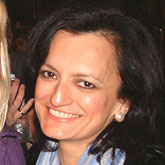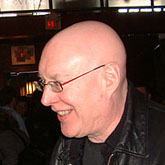 [above, left] Another doc for Andrew Spicer and the rest of you political junkies: Min Sook Lee's Hogtown: The Politics of Policing covers the relations between the police and politicans in Toronto. [above, centre] Globe columnist Heather Mallick is a juror in the Spotlight on Israel programme. [above, right] Last year I shaved my head and spent the whole fest introducing myself, "Hi, I'm Marc Glassman." Only one person bought it. But I'm starting to get the hankering for a shaved head again ...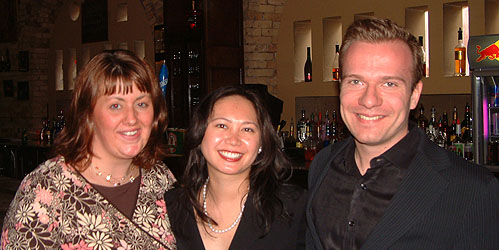 Hot Docs staff, Jenn Rose and Brett take a breather as the morning winds down. The festival begins three weeks from this Friday.
12:33 PM , # , |


Oh, the Guide-anity!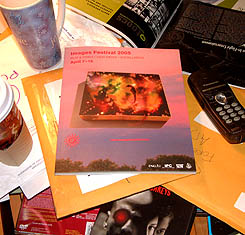 I ventured out into the world tonight -- briefly -- to drop in on the Images Festival Catalogue Launch. Images is the local art festival covering new media, installation and video & film.

Lise introduced the designers, Emily Varty and Sarah Dorkewald, who had just grabbed their copies of the guide and were focused on them. It was an odd sensation seeing someone else in that state of shock you experience when you first see a big print job finished, esp considering I'll be experiencing it in about a week. After spending days and days staring at spreads on a monitor for sixteen hours a day, seeing the work transformed into something physical is a jolt. The first things I always spot when we get the job back are the mistakes and compromises and I always promise myself that the next time ... next time ... if I work even harder and focus more, that I'll be happy with the finished product for once.
3:34 AM , # , |

Tuesday, March 29, 2005
We Had Joy, We Had Fun ...
Something's in the air as the seasons switch. High school pics of Kat and Sugarmama. Christie thinks about what's changed and what hasn't. Adina celebrates her fourth blog birthday.

Today is day 10 of my Work Like an Insane Maniac festival of fun. It's been very intense, dunno if things are going to let up for another week or so .... uh oh, another phone call . ..
5:08 PM , # , |

Saturday, March 26, 2005
Channel 101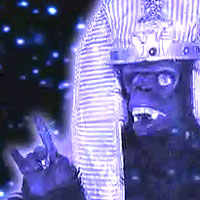 If you haven't been to Channel101 lately, you should click on over and check out episode 5 of LaserFart. It's Trek-inspired battle featuring some great Shatnerian acting, a groovy gorilla-suited alien and a glorious piece of classic rock: the Laserfart Love Theme.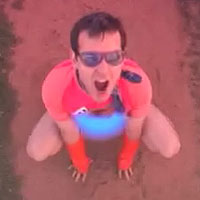 There's also a limited edition DVD of the first five episodes for sale. But if you like happy endings, don't watch episode 6.

There's lots of other shows to view. I liked this.
8:37 PM , # , |

Thursday, March 24, 2005
Oveur Easy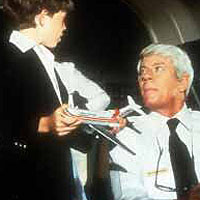 Billy, do you think we're never gonna survive unless we get a little crazy?
1:31 AM , # , |


Tonight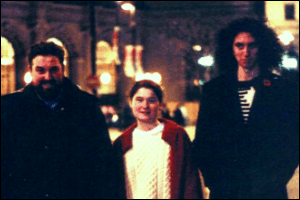 Steve (above, right) is playing with his raggae band tonight ... and every Thursday night ... down at that Indian Motorcycle bar.
1:21 AM , # , |


Over, Oveur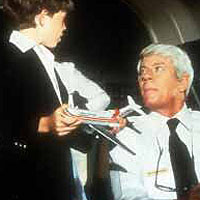 Billy, do you ever watch Freejack,
starring Mick Jagger as Vacendak?
12:51 AM , # , |

Wednesday, March 23, 2005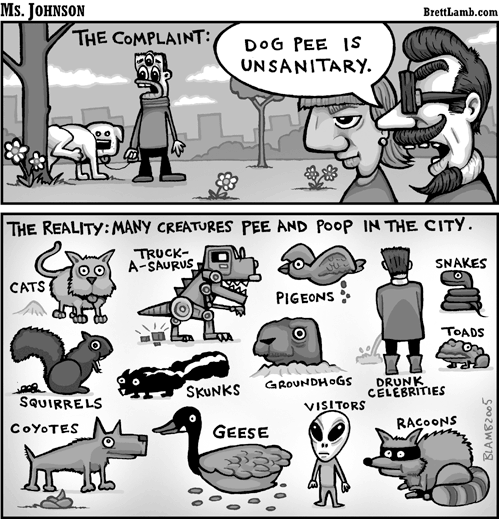 2:09 AM , # , |

Monday, March 21, 2005
Hangin'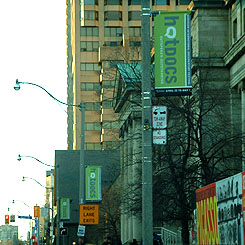 Annex & ROM

Hot Docs has street banners! If you find yourself on Bloor Street in the Annex or south of Bloor, across from the Royal Ontario Museum, look up. Phew, another job off my to-do list ...

The festival's spiffy new look and logo was created by Up*Inc. You'll be seeing a lot more of it in the coming weeks as we get closer to fest time.
9:42 PM , # , |

Saturday, March 19, 2005
Happy Birthday to Lou!
11:11 PM , # , |

Friday, March 18, 2005
Hook Up
11:34 PM , # , |


1:54 AM , # , |

Thursday, March 17, 2005
Things to Eat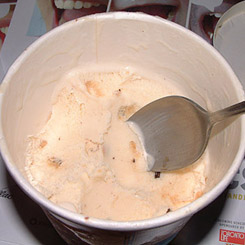 God, thy will is hard,
But you hold every card.
I will eat your cookie dough ice cream,
Nail me to your cross and break me,
Bleed me, beat me,
Kill me.
Take me, now!
Before I change my mind.

yum
yum
yum
yum
yum

3:03 PM , # , |


Blinked & Missed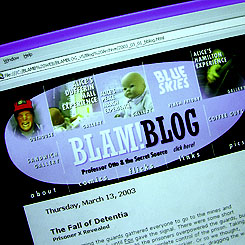 I wanted to do a big post celebrating my blog birthday but it's the busy season and I forgot about the event until Sugarmama mentioned her's. Instead, to celebrate, I added a bunch of links to my blogroll. Exciting, eh? It's been three years. Remember all of those great times? Of course not, I pulled the archives to free up web space.

Also, to celebrate, I'm going to start using the words fuck and shit again instead of f*ck and sh*t. I started doing that last year to try and make the blog a little more worksafe after it was blocked in a few places ... but then I was watching This is Wonderland the other week and CBC is bleeping fuck and shit off that program this season and I thought that if the CBC is starting to bleep fuck and shit, then the world is getting way too uptight and I shouldn't be contributing to it. So, full profanity from now on. You're welcome.

I led a chunk of a class at the gym tonight (if you didn't know, I'm training to become a fitness instructor) and after the class I was in the gym office with some staff and one girl said, "You're the funny one!" And I replied, ME?" How did I get pegged as "the funny one"? So far in class all I've said is "one, two, three, four ..." in the wrong order. I don't want people coming to see me expecting jokes cause they're going to be disappointed. And music trivia, I won't be doling that out either.

Speaking of CBC, Canada's Best Blogger x 2, Rannie was on Stroumboulopolous tonight. I didn't see it but he better have plugged this blog at least a dozen times. Also CBC and 'hood-related, journalist Bill Cameron died last week. Cameron was one of the denizens of the Duff and he will be missed there more than anywhere else. I got my first flu shot a couple of years ago while passing through the Duff because I saw Cameron in line and thought, "Heck, if Bill Cameron is getting his flu shot, what's stopping me?"

Weisblott sent along this blog article from the new eye and a good post about blog cliches. Actually, it's not that good if you take ten seconds to think about it. Some of the points on the list aren't cliched, they're just freakin' irritating. And a bunch of other points aren't cliches, they're best practices. But it's funny enough for now. btw, I'm out there surfing blogs to put on my blogroll and hardly anybody mixes in original pics with their posts. If you find any good blogs that mix lots of original pics in with the writing, please send me links!

Ok, the BLC is on hiatus ... still. Mainly cause we're moving the thing and have to redesign and do all sorts of crap on it and right now there's no time, but we're gonna try and get something new up and running. I just thought I should mention it since BLC is mentioned in the eye article. I cringe every time I see myself referred to as an "illustrator" since I am clearly a cartoonist/blogger/art director/fitness instructor. I don't do much "illustration". Fucking eh!
12:00 AM , # , |

Wednesday, March 16, 2005
Things to Eat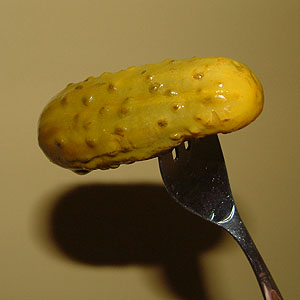 Peter Picklehead put to shame
Governments who would slur his name
Plots and sex scandals failed outright
Peter merely said, "Any kind of love is all right"

Peter Picklehead was too good
Had him nailed to a chunk of wood
He died grinning on live TV
Hanging there he looked a lot like you, and an awful lot like me!

But he made too many enemies
Of the people who would keep us on our knees
Hooray for Peter Picklehead!

Update: Nadia spotted Pickles in Peril!
11:22 AM , # , |

Tuesday, March 15, 2005
Meanwhile, in the Mountains ...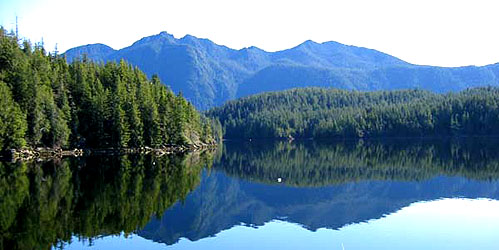 I bumped onto a friend yesterday who said that she's tired of winter and I was reminded of the guy who claimed that January 24 is the worst day of the year. I was skeptical because around that time of the year, I'm still enjoying winter. The worst time of the year for me is right ... about ... NOW.

By mid-late March, I've been sick a couple of times and winter has begun to wear me out. I'm tired of it.

Of course, not everyone is suffering as Dickson (last seen in Canadian History Moment) reminded me in an email from British Columbia the other day: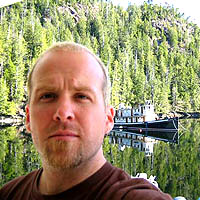 I was looking at the forcast across Canada and noticed how cold it was back home in Ontario. Well cold by the standards I'm used to now. It's beautifull day out here on the west coast of Vancouver Island. Outside Tofino to be more specific. I wanted to share with you the wonder of the west on a day like this. In doing so I don't want to appear a west coast snob saying ha ha look at how beautifull it is where I live, oooh soooo perfect we all are out here in hippy land with our whales and trees and bears and whatever. What I was trying to say was hey, It was great day here ...
9:31 AM , # , |

Monday, March 14, 2005
2005 Bloggies
The winners of the 2005 Bloggies were announced today. Dooce cleaned up in a bunch of categories. Rannie won best Canadian Blogger. Daily Dose won best photoblog. Tony Pierce won best article or essay. And blog of the year was ... boingboing.

There wasn't a Best Impersonation of a Washed-up, Coked-out Rock Star by a Ten-year-old Dork category, but if there had been it would have been won by Zack Allen [via Christie]. If you do one thing this week, go and watch Zack Allen sing Somewhere Out There. Dreams really do come true.
8:27 PM , # , |


Stuck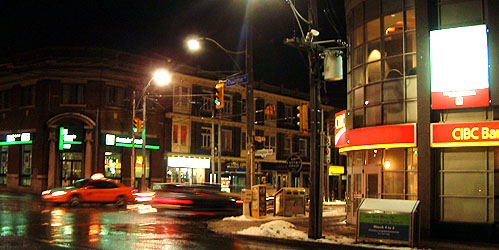 Dundas & Ossington

I was having a drink with Karen & Mike.

KAREN: Yeah, I went to your blog the other day and there was nothin'!

BLAMB: I'm too busy to post! I need some ideas for quick and easy posts for March.

MIKE: How's the fitness course going? You could post about that.

BLAMB: There's not much to say. We've finished basic theory, first aid and CPR and we've started doing the practical stuff.

MIKE: Why don't you post about having a drink at Dundas & Ossington?

BLAMB: Yeah! I could write that I had a drink with you guys at a bar on Ossignton.

KAREN: And maybe we're talking about something. Or maybe something happens!

BLAMB: I could write that we bumped into some other people. I could say it was a blogger so I can throw somebody a link.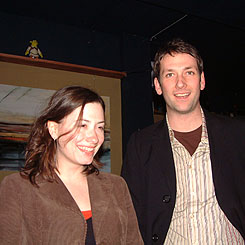 ADINA: Hey! What's up?

BLAMB: We're trying to come up with ideas for easy blog posts. So far, we've discussd ideas for a post and then you guys walked in. That's it. I got nothin'.

ADINA: Maybe we could have a conversation.

BLAMB: Ok, what about?

ADINA: You could be trying to figure out ideas for posts and you ask us for suggestions!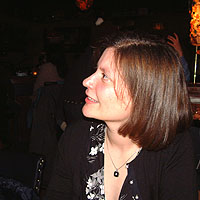 BLAMB: That's a good idea. Got any?

KIFF: What about Anita from the previous post? Did she get any dates?

KAREN: Did you read those comments?

BLAMB: The readers have bad attitudes.

KAREN: Well, it's funny seeing you telling people they have bad attitudes considering what you was like a couple of years ago when you said you weren't going to date anymore.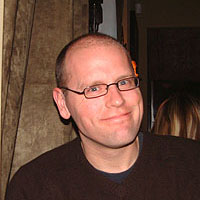 BLAMB: I just took a break!

KAREN: What about your charts?

BLAMB: What about the charts? People like the charts.

KAREN: They were pretty bitter.

BLAMB: They're weren't bitter. They were just descriptive!

KAREN: They were bitter.

BLAMB: Mike?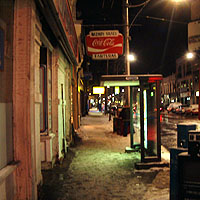 MIKE: I didn't see the charts. That was before I started reading.

ADINA: Maybe you should do a post about the charts. Take a look at them now and see if you still agree with them.

KAREN: The people who leave comments will still agree with them.

ADINA: There! You have a post!

BLAMB: Um, I don't think it works. I'm going to have to come up with something else.
9:39 AM , # , |

Sunday, March 13, 2005
Sith Sandwich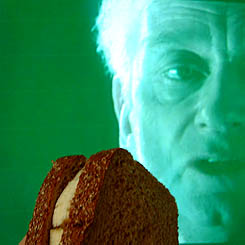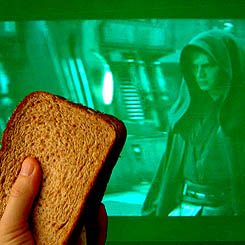 Holy crap! Nute Gunray DIES! Didn't see THAT comin' ... I can't believe they gave it away in the trailer. Now that everybody knows Nute Gunray dies, what's the point of seeing the flick?

Interesting thing about this trailer compared to the trailers for the first two prequels: this trailer actually tells a story instead of being a bunch of bafflegab. I have a theory, want to hear my theory? My theory: thirty years ago when Lucas scribbled the back story for this whole Star Wars thing, he only came up with enough back story for one movie so when he decided to make the prequels, he was stuck with having to come up with two additional movies from scratch. Maybe Episode III has an advantage over the prequels because much of the story was thought out around the time of the first flick, so it might actually make an ounce of sense ...

And maybe I'm the 200 lb Mallard Jesus Duck who lays the eggs for Easter.

While we're on the topic of the sci-fi, I know some of you saps are weepy because Enterprise is being shoved into the tin, but the last few episodes look really promising, especially mirror universe 2-parter, the Peter Weller guest appearance and the series finale which apparently takes place on the Holodeck with Riker and Troi. They're ending with a meta-episode ... good on 'em!

Speaking of cancellations, the B5 flick is dead for now.

And hey, who the hell let Tom Hanks reproduce? Somebody stop Tom Hanks, dammit!

But none of that matters because Battlestar Galactica has turned out to be one of the frakkin' best sci-fi tv series ever made and is getting a second season. How long have we been waiting for a GREAT sci-fi series? Years, right? Well, this is it. If you haven't been watching, get on it ... even if you're not big fan of the sci-fi, you might enjoy it ... it's about as good as tv gets.
2:10 PM , # , |


Forgive Us Our Trespasses
12:19 AM , # , |

Friday, March 11, 2005
Concentrated Linkage
Van Impe. Nukes. Snakey. Wisdom. WWYB? $40 1 2 3.
11:30 AM , # , |

Thursday, March 10, 2005
DRAWR-ED!


RobotJohnny has organized a new blog covering all things comic and illustration related. Live it. Love it. Then .... er, love it again.
10:55 PM , # , |


The Good Attitude

College & Dovercourt

Even though Anita didn't score any dates from The Great Blog Dating Experiment, I managed to convince her to put up profiles on Lavalife and Nerve. Yesterday, we tried to take photos for her profiles ...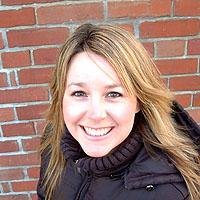 ANITA: IT'S SO DAMN COLD!

BLAMB: ACK! And windy!

ANITA: So you think Lavalife is worth it?

BLAMB: Of course! But not just directly; there are intangible benefits as well. Being on those sites helps you generate "buzz". The more people who know that you're available and fun to date, the more leads you'll get!

ANITA: Like that woman who approached you on the street.

BLAMB: Yeah. I often pick a 1 mile search radius just to see who's single in the neighbourhood on those sites.

ANITA: HA!

BLAMB: When we first tried to get you dates from the blog, I thought the bloggers and readers could help you out. But I think you're here to help them out.

ANITA: How's that?

BLAMB: You're the poster girl for A Good Dating Attitude. A bunch of my readers have very bad attitudes towards dating. You can help them out by modelling good behaviour!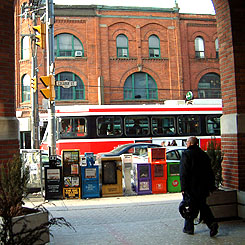 ANITA: For example?

BLAMB: Well, some readers get disheartened when they have bad dates. You laugh and let them roll off ... Crap, I can't feel my freakin' fingers! [removes gloves and rubs hands]

ANITA: Well, those were funny stories! You're just meeting people. It's supposed to be fun. People get too focused on the end result and forget to enjoy themselves.

BLAMB: Some of my readers also think online dating should be a shortcut to a relationship. But I think online dating only complements real-life activity. [stomps feet to try and warm them up] Online dating should be good for you because you already have stuff going on and are looking to expand your opportunties.

ANITA: [teeth chattering] Go out and have fun! People can smell an agenda.

BLAMB: So, if any of my readers are interested in asking you out -- or asking you for advice -- can they still email me at happycreature[at]gmail[dot]com?

ANITA: Only if they have a good attitude towards dating!
8:50 AM , # , |

Tuesday, March 08, 2005
80s vs. 90s vs. 00s
Last week I complained that comedies in the 90s weren't as funny as comedies in the 80s or the current decade. Merv cried foul and posted a rebuttal with a list of 90s movies to prove her point. Darryl came to her assistance and provided his own list of 90s comedies. They though they had won. But my final comment on that thread was:

Be prepared for my wrath!!!

Ok ... it's TIME FOR WRATH!
with your host, me.

First, the methodology of my wrath. I decided to prove my point using statistics, since statistics never lie, especially when it comes to judging the quality of comedic films. Rotten Tomatoes calculates ratings for movies using the Tomatometer:

The Tomatometer measures the percentage of Approved Tomatometer Critics who recommend a certain movie -- or the number of good reviews divided by the total number of reviews.

I took Merv and Darryl's combined list of 38 comedies and checked their Tomatometer ratings and calculated an average rating for the 90s. I did the same with lists of 38 comedies from the 1980s and 2000s:

1980s: 94.4

1990s: 76.4

2000s: 79.6

The numbers speak for themselves. You might argue that the 90s were at a disadvantage because they included some of Merv's awful pics like Empire Records (scored a mere 7% on the Tomatometer) and left out some good comedies like Big Lebowski. But I believe that was balanced by the fact that the 00s are only half a decade at this point. That score will improve over the next five years.

Here are the lists with Tomatometer rankings:

1980s
Sixteen Candles 94
Weird Science 55
Back to the Future 93
Diner 100
Roger Rabbit 100
Spinal Tap 97
Princess Bride 100
Brazil 93
Heathers 100
Harry Met Sally 93
Ghostbusters 100
Raising Arizona 92
Airplane! 100
Fish Called Wanda 100
King of Comedy 95
Naked Gun 92
Roger and Me 100
Blues Brothers 91
Tootsie 90
Pee Wee's Big Adventure 100
Trading Places 95
Real Genius 92
Roxanne 100
Broadcast News 100
Moonstruck 94
Risky Business 100
Arthur 100
Splash 84
Fast Times 85
Caddyshack 81
Bill & Ted 89
Top Secret 82
Eating Raoul 85
Something Wild 88
Stakeout 87
All of Me 88
Back to School 85
Tapeheads 86
Garp 82

1990s
Tommy Boy 60
Clueless 78
Pretty Woman 63
The Wedding Singer 56
There's Something About Mary 78
Dazed & Confused 97
Pump Up the Volume 82
Edward Scissorhands 91
Forrest Gump 78
Home Alone 50
American Pie 61
10 Things I Hate About You 59
Dumb & Dumber 52
Wayne's World 84
Ace Ventura 39
The Truman Show 96
Scream 87
Scary Movie 52
Liar Liar 78
Happy Gilmore 50
Austin Powers 69
Empire Records 7
Private Parts 79
Slacker 86
Waiting For Guffman 94
As Good as It Gets 90
Swingers 77
To Die For 77
Groundhog Day 97
Chasing Amy 93
Defending Your Life 95
Toy Story 100
Fargo 92
House Party 91
L.A. Story 88
My Cousin Vinny 94
The Ref 83
The Player

2000s
Anchorman 64
Old School 59
Road Trip 57
Dodgeball 69
Charlie's Angels 66
Shrek 88
Adaptation 89
School of Rock 90
Incredibles 97
About a Boy 93
Chicken Run 97
High Fidelity 90
Shaun of the Dead 90
American Splendor 95
Elf 84
Mighty Wind 88
State and Main 87
Best in Show 93
Good Bye, Lenin 88
Shoalin Soccer 92
Jesus Christ Vampire Hunter 80
Sideways 96
Nurse Betty 82
Mean girls 87
Lovely and Amazing 85
Bridget Jones 79
Greek Wedding 78
Bad Santa 74
Napoleon Dynamite 71
Harold and Kumar 71
Waydowntown 72
Team America 77
Tennebaums 79
Spongebob 69
Zoolander 62
Made 66
Hukabees 60
Starsky and hutch 62

/wrath
2:38 AM , # , |

Monday, March 07, 2005
Book 'Em, Dano
The first entry in Ice Queen's book thing is posted. No working poll so far, which leads me to wonder ... how hard can it be to set up a poll? And still no word on what she was talking about in the comments re: the Globe's Book Section ...



Myself, I'll be participating in Paul's Book Club instead. This month: Moby Dick!
7:43 PM , # , |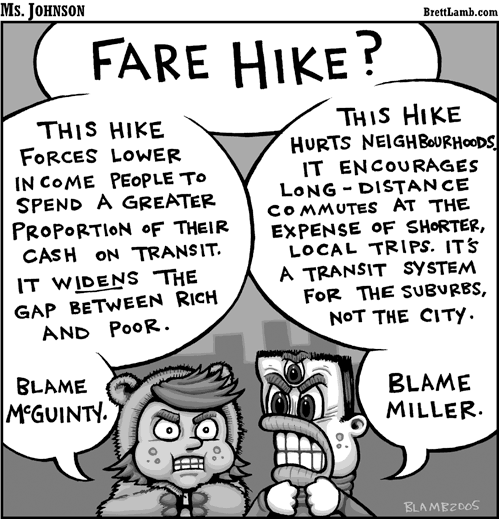 Welcome to the fare hike. Is pumping wads of cash into the FSE a wise investment, while transit gets starved? Probably not [login crap required].
11:50 AM , # , |


Strange Brew 2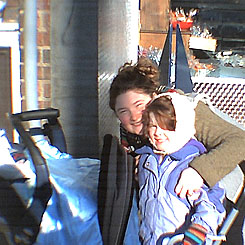 Roncesvalles

Saturday afternoon, Zack & I bumped into Laura and the kids.

LAURA: Hey! What'cha doin'?

BLAMB: Zack spent most of yesterday inside while I was at a photo shoot, so I'm making it up to him with a walk to the waterfront.

I hadn't seen them since their Xmas party, so I explained how Alice, Quon'dar and Mr. Loaf were crashing at my place.

LAURA: My sister was in a tv movie with Mr. Loaf and Charlotte from Sex in the City.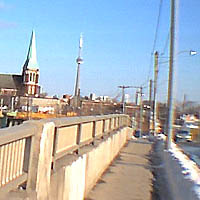 BLAMB: Yeah, Mr. Loaf has a bit of a grudge against your sister because she was cast in the sequel to Strange Brew. He resents everyone connected to that project.

LAURA: But it was never produced! The financing fell through right before shooting was supposed to start.

BLAMB: Mr. Loaf had his own idea for a Strange Brew sequel. It was going to be a remake of Scarface but the story was adapted from Julius Caesar with Mr. Loaf in the Tony Montana/Caesar role and Bob & Doug in the Cassius and Brutus roles. And it was going to be a drama instead of a comedy.

LAURA: A drama?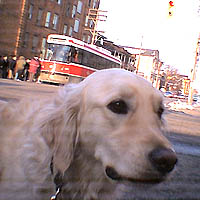 BLAMB: Mr. Loaf is convinced that the sequel would have been produced if they'd gone with his idea. He claims that Dave Thomas was against the pitch because Mr. Loaf wanted to have Geddy Lee do the soundtrack instead of Ian Thomas.

LAURA: The whole thing sounds like a bad idea. Nobody wants to see the McKenzie Brothers in dramatic roles.

BLAMB: Mr. Loaf has a copy of Traffic on DVD and he watches it all the time. He says that's the style he had in mind.

LAURA: Ha!

BLAMB: Sometimes he'll recite dialogue from Traffic and Scarface and throw in "hoser" and "eh?" at the end of sentences, "Say hello to my little friend, hoser!" It's really sad.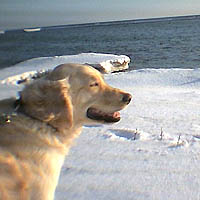 LAURA: Well, it's important to have goals in life. People need to have dreams.

BLAMB: Kenny Rogers contacted me via mental telepathy through a dream one night and told me that he wants to do a Strange Brew sequel with cowboys, set in the old west. The story would be based on King Lear.

LAURA: Now THAT would be worth my hard earned entertainment dollar!

Down at the lake, Zack enjoyed the fresh winter air. The waterfront is his favourite spot.
1:18 AM , # , |

Friday, March 04, 2005
The Real Brad Lamb
Merv's friend Chris met condo-king, Brad Lamb. For those of you who haven't heard my Brad Lamb story from last year's Hot Docs twenty times, here is again:

I was the sponsor of the screening of The President vs. David Hicks on the Sunday night and Eva from the world of blogging joined us. Before the screening a slide was projected with my 'BrettLamb.com' sponsor logo on it and a woman in the row behind me muttered to her husband, "Brett Lamb. He's the guy who sells the condos, right?" I felt the urge to turn around and growl, "No, that's BRAD LAMB! I'M BRETT LAMB!"

People ask me for condo deals all the time. I'm not Brad Lamb, I'm not, I'm not, I'm not ...
7:07 PM , # , |


Sandwich's Maw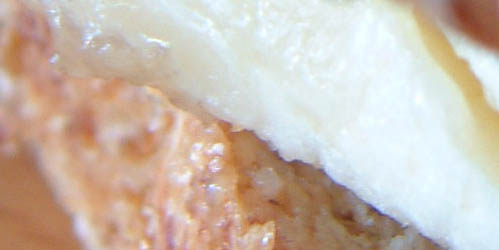 Have you ever been so close?

Great comics to check out, lotsa yuks! [via Christie]
12:12 AM , # , |

Thursday, March 03, 2005
Ugly Bags of Mostly Water
For our American cousins, milk bags explained.
10:18 AM , # , |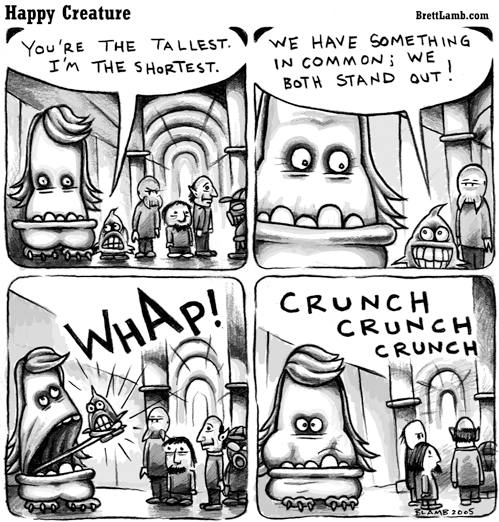 12:55 AM , # , |

Wednesday, March 02, 2005
Nice Not Nice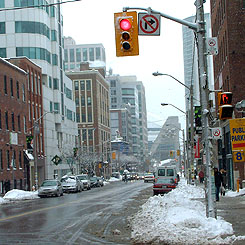 Wellington & Peter

I had lunch with Mariela.

BLAMB: March came in like a lion.

MARIELA: A soggy, wet lion.

BLAMB: The province banned pitbulls today.

MARIELA: Is Zack included?

BLAMB: No. Zack is not included.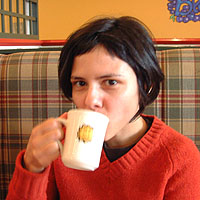 MARIELA: [mocking] That's nice. Did you and the other idiots watch your dating show last night?

BLAMB: The Bachelorette? Yeah, it was our last tv night. What a waste of time. She didn't even get engaged. What's the point? But it was nice having everyone together to watch it as a group again.

MARIELA: How are Alice and Quon'dar? Still together?

BLAMB: They seem ok. They haven't been fighting like before. I really think they've worked out their crap.

MARIELA: Arrrggg! How many times have you said THAT?

BLAMB: I know, I know! I'm not the best at reading couples. Oh, Mr. Loaf is getting on my nerves.


MARIELA: Really?

BLAMB: I know he's a 70s rock icon and all that, but he's just so damn nice. I can't stand it.

MARIELA: What's wrong with that? I like nice people, I always feel sorry for them!

BLAMB: Nice people do far more damage, unintentionally through their niceness, than people who aren't so nice.

MARIELA: Get out, they do not!

BLAMB: It's true. Nice people are the greatest cause of pain and suffering in the world today. Their waffling and indecision and inability to take a position on anything creates all kinds of problems.

MARIELA: I don't think I agree with your definition of "nice". What's nice? What does Meat Loaf do that's nice?

BLAMB: When Raymi wrote those responses to that advice column, Mr. Loaf was really offended. He was too nice to appreciate her humour. He couldn't get past the harshness.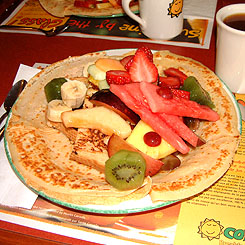 MARIELA: But maybe he's not nice. Maybe he didn't like her advice because he's a jerk and her common sense hit too close to home. It made him feel like the jerk he is instead of the "nice guy" he thinks he is.

BLAMB: I dunno, when we watch This is Wonderland, he sings along with the crappy new theme song and it makes him weepy.

MARIELA: That makes him a sap, it doesn't make him nice.

BLAMB: Ok, here's something he did. Mr. Loaf was seeing this girl and they were dating and he lost interest. But, instead of dumping her, he just went along and made the relationship difficult so she would dump him. Which she eventually did. That's what nice people do. Sensible, not-so-nice people make a decision and communicate it.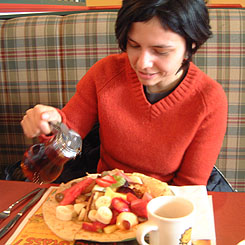 MARIELA: Again, that doesn't make him a nice guy, it makes him a jerk. Nice people are clear about things.

BLAMB: No they're not.

MARIELA: Sure they are.

BLAMB: They're not!

MARIELA: They are!

BLAMB: Ok, look ... one night, for fun, I had Alice and Mr. Loaf take the Myers-Briggs test.

MARIELA: Ok, what were they?

BLAMB: Mr. Loaf was INFP. Alice was ISTJ.

MARIELA: So?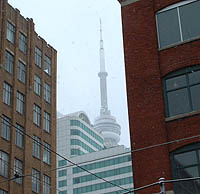 BLAMB: So, one of the questions is, "Which would you choose: justice or mercy?" Mr. Loaf picked mercy, Alice chose justice. That's what nice people do, they just up and grab mercy without considering the consequences. If you have justice, you don't need mercy!

MARIELA: Again, that doesn't proove that he's a nice guy. He could be walking around all day wanting to punch people in the face, but chooses not to out of mercy. Inside, he still wants to punch people.

BLAMB: Nice or not, he's driving me nuts.

MARIELA: It's 'cause he's a jerk!

BLAMB: You know what he did? You know what he DID?

MARIELA: What?

BLAMB: He wrote these lyrics in a song called Everything Louder Than Everything Else:

I know that I will never be politically correct
And I don't give a damn about my lack of ettiquette

MARIELA: That doesn't really rhyme.

BLAMB: But then, in another song he changes 'sex, drugs & rock 'n roll' to 'sex, DRUMS & rock 'n roll. By doing that, he's being politically correct even though he said he will never be politcally correct! He's a hypocrite!

MARIELA: See? He's not a nice guy at all.
1:22 AM , # , |

Tuesday, March 01, 2005
Blogland, Whoa-oh-oh
Nadia saw cartoonist Chester Brown speak on the weekend. Liz points us to this photoblog exhibit. Paul returns with another Impe review:

Jack then goes on about the gas prices. Don't complain too much, they're $5 a gallon in Europe. In Iraq though, only 5 cents/gallon! If you go to a self-service station, it's only 4.9 cents/gallon, but you have to get out of your car.

Sugarmama visited a smoke-free bar. But what are the implications of this chart? IQ dares to poll again. Free Blog Poll worked for me.

Christie has bandwidth:

1) To those of you who emailed me about my site being down....to let me know...that my site was down....thanks for stating the obvious and rubbing it in just a little bit more.

You're welcome! And she returns with this link to a photo gallery that summarizes the entire Star Wars III [spoilers galore & funny captions & obligatory Nute Gunray dig]. Exqueeze meee, but there's no confirmation of evil Jar Jar rumours.

Kim found this blog that is just pictures of celebrities blinking. Merv just blew away my all-time high traffic record, just 'cause she mentioned Jen Sheft.
2:38 PM , # , |