Monday, October 31, 2005
It's Dark Now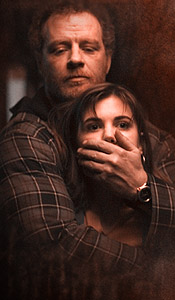 Creepy!

Just in time for Hallowe'en, here's my new website design for The Dark Hours, opening November 11.

If you visited the site earlier, you'll notice a major overhaul. The ad agency's poster art is very red and looked a little extreme onscreen so I toned it down to a rust colour for the site.

Be sure to check out the trailer and meet the characters.

Aidan Devine (left), who plays the psycho in the movie, is also currently appearing as one of the thugs in A History of Violence.

HAPPY HALLOWE'EN!
9:23 AM , # , |

Sunday, October 30, 2005
Everything Looks Perfect from Far Away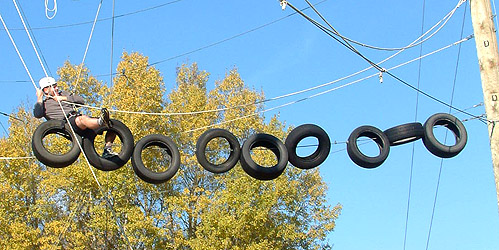 I hate heights.

And I got off to a rough start trying to cross the crazy bridge of tires this afternoon. I was away at a fitness instructor retreat thing this weekend.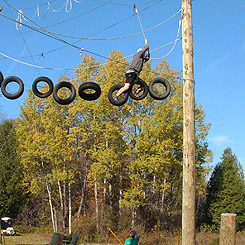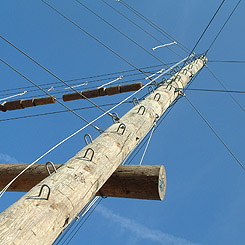 I finally caught my balance and made it across the damn thing. Fear factor: fun!
11:15 PM , # , |

Friday, October 28, 2005
Makeover ...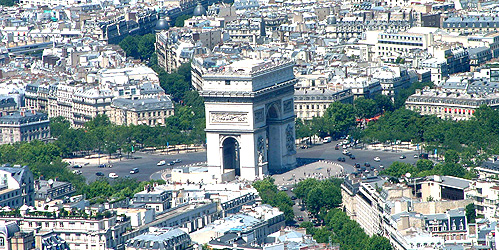 Fix Paris. [ Squiddity ]
10:24 AM , # , |


Why?
10:22 AM , # , |

Thursday, October 27, 2005
Anyone I Ever Met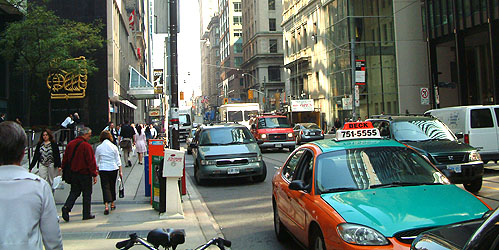 Downtown

I was having lunch with Mariela.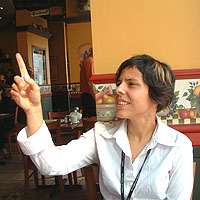 MARIELA: Did you hire an assistant?

BLAMB: She's starts on Monday.

MARIELA: [to waiter] Hey asshole, can we get some of that?

BLAMB: You just called the waiter an asshole!

MARIELA: Listen, asshole. If you're an asshole, everybody's an asshole. Besides, the waiter is an asshole. When was the last time he topped up the coffee?

BLAMB: Good point.

MARIELA: So, Torontoist was named Best Blog in NOW's 'Best Of..." issue. I guess they showed you, asshole.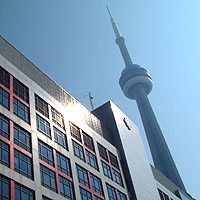 BLAMB: Pfffttttt ... At least NOW gave the nod to the spacing wire. That's a great site.

MARIELA: Yeah, whatever. All you bloggers are assholes.

BLAMB: BlogTO does a better job of the cityblogging, but if you wanted to read local-related news & opinion online, Doskoch and Weisblott's PAVED are great picks. Doskoch is smart and offers a variety of posts (during the CBC lock-out, his site was the place-to-visit) and Weisblott has his crazy, original, sharp wit.

MARIELA: You're an asshole.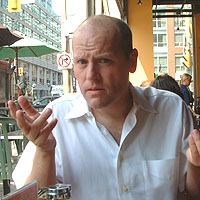 BLAMB: Why?

MARIELA: 'Cause you like some blogs better than others.

BLAMB: I would like Torontoist 20% better if they switched the cold blue background to something a little warmer. I mean, winter is on its way ...

MARIELA: Hey, asshole, don't question THE BEST.

BLAMB: I was downloading music one day, and I found this odd cover of Tina Turner's 'Simply the Best' sung by a woman who changed the lyrics to make it support the Ulster Defense Association. It's ironic that a group that's so racist they don't even like other white people would use a black woman's song.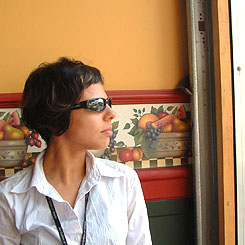 MARIELA: Uh huh ... so what ever happened with your conversation challenge?

BLAMB: It faded.

MARIELA: That's too bad.

BLAMB: Yeah, cause I enjoy reading other people's dialogues. Especially if they're set somewhere other than Toronto. I really liked Merv's Strathroy posts. They give you the flavour of hanging out in smalltown Ontario, more than a post that says, "I hung out in Strathroy tonight, and blah blah blah."

MARIELA: Blah blah blah.

BLAMB: When you do a dialogue or interview, it automatically creates a situation with tension and that's interesting.

MARIELA: When I call you an asshole, does that create tension?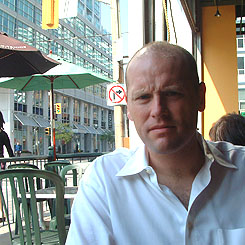 BLAMB: People always compare blogs to diaries and print journalism, but you read blogs on a video screen. Blogs are also TV and radio. TV and radio conventions work on blogs.

MARIELA: You're not going to start writing dialogues where Mr. Furley overhears Jack & Janet talking about a broom handle and thinks they're talking about his penis, are you?

BLAMB: I want the blog to be a little more conversational, so I've started adding comments to posts with little pictures of the people leaving the comments, if I have them available. I want this page to feel more populated.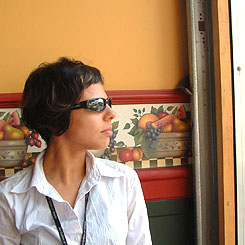 MARIELA: If you're so smart, how come you're not the best, asshole?

BLAMB: Maybe I'm underrated.

MARIELA: Maybe you're overrated.

BLAMB: Maybe I'm freakin awesome!

MARIELA: Maybe you're an asshole!

BLAMB: MAYBE!
2:27 PM , # , |


Chat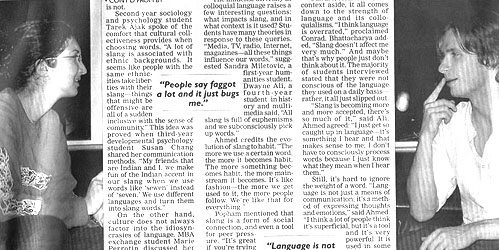 Kat, our favourite Communist sympathizer, claims to have taken the Conversation Posting Challenge to the next level by getting something in print. What do you think, does it count?

This year she's a section editor at the Silhouette, the McMaster newspaper. It's her job to find you, expose you and bring you down, Mr. Cheney.
11:43 AM , # , |

Wednesday, October 26, 2005
Sandwich o' the Week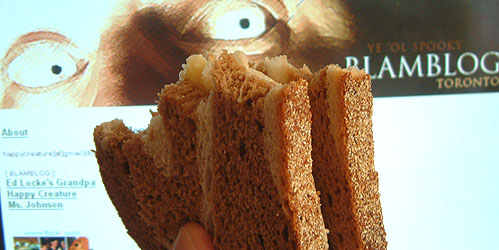 1:12 PM , # , |

Monday, October 24, 2005
CHA-CHING!

My blog is worth $40,082.34.
How much is your blog worth?
9:30 PM , # , |


Don't Be a Schmo
Mendelson Joe has a new book of portraits. [ PAVED ]
7:24 PM , # , |


Bustin'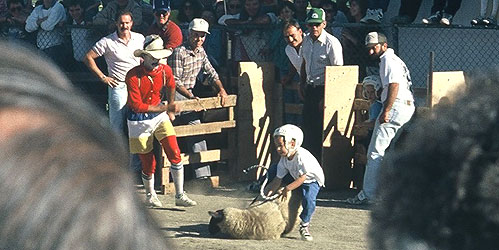 What's more fun than a rodeo? A rodeo with little kids! Riding sheep!

Here's another pic from the archives; it shows a round of 'Mutton Bustin' at the 1988 Fall Fair in my hometown of Glencoe, Ontario. It's a buckin' bronco competition with sheep substituting for wild stallions and five-year-olds in hockey helmets filling in for cowboys.

It's funny when animals and children get hurt.
7:00 AM , # , |

Sunday, October 23, 2005
Link Speed
Jamie continues to explore the back alleys of the city.
See also: Part 1 & Part 2.
[ via PAVED ]


Byck is sick.

Seems like everybody is these days! Something's going 'round. I bumped into Jenn at the Duff yesterday and she's been sick. And the Ice Queen. Er, I'm starting to feel a little woozy ...

If you enjoyed the old streetcar pics, check out a new one [ Daily Dose ].

Awesome Hallowe'en redesign!



Kat on Hell:

Kait: If you managed to get decently-sized property in hell, you could put in a nice pool. That would be relaxing.

Uterus: How would the water not boil?

Kait: No, I mean a sesspool. Of evil. And lava.

Kat: Naturally.

Shesh: Very relaxing.

Kat: They exfoliate very well.



Maria has set an eighth dating requirement. This guy didn't live up to her expectations. Picky!

Wee people at Cityrag.

The Gym Report.

My cousin, Gillian, rides the horses. And posts about it on her blog every eight months or so.

And tomorrow in this space: children ride sheep!
9:23 PM , # , |

Friday, October 21, 2005
Streetcar Graveyard
Update:
The full photo set now has a home at Transit Toronto's PCC Graveyard page.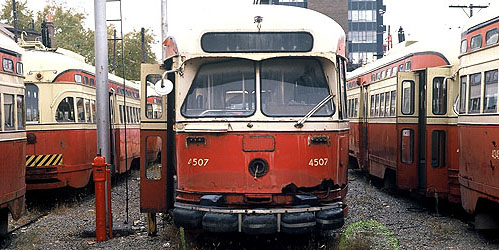 I just had some slides converted to digital including this selection of photos from the 'Streetcar Graveyard' on Wychwood in the fall of 1989. The old streetcars were being used for parts to keep a smaller fleet of the old models running (the refurbished cars were used on the Harbourfront line when it first opened).

Transit Toronto has photo archives with loads of pics of the past generations of streetcars and the current models.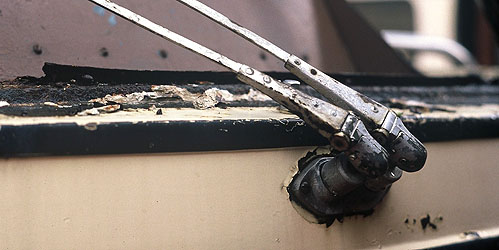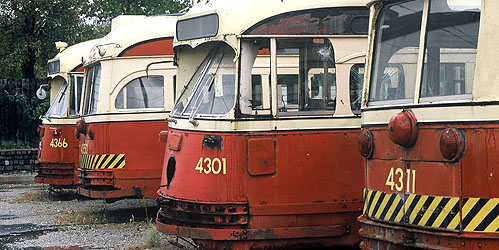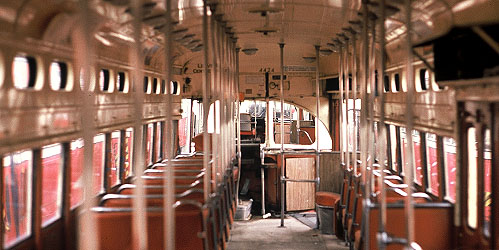 11:53 AM , # , |

Thursday, October 20, 2005
Sandwich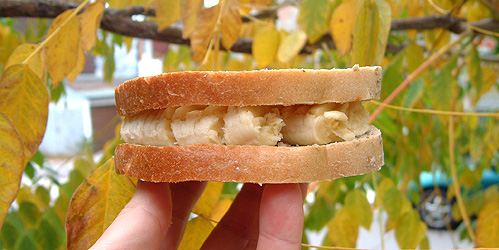 A cheeky little number in fall colour.
2:16 PM , # , |


My Rigid Idea of Blogging
Blog Poll Edition

Another one of those blogger votes from Small Dead Animals [via (also Canadian)]. Vote if you care; it has an unbelievable slant towards right-wing political blogs. Who knows how this blog ended up in the mix. I like to blog politics now and then, but people who only rant about their right-wing political views all the time are kinda boring and sad.

Am I being rigid?
12:49 PM , # , |


Angry Josh-ist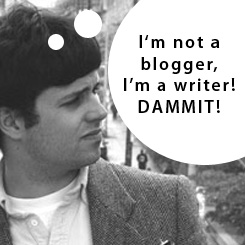 Torontoist Josh is cranky in this interview:

"There are a-holes out there in what they call the 'blogosphere'," he concedes, pointing to name bloggers like "freelance art-director" Brett Lam, who in Errett's words, "has such a rigid idea of who can blog."

In his case, my "rigid idea of blogging" concerned this post where he clearly didn't do any research, completely missed the point of Frank magazine and instead of giving the efrank idea some much-deserved analysis and criticism, gave us a subjective 'it's not funny'.

Don't mock Josh, he's a WRITER, NOT A BLOGGER!!!

Update: comment from 'Jessica' on the TOist post:

Josh, It's funny that you're so quick to bash the Ryersonian profile that YOU approached one of the staffers to write. And even funnier is the fact that you're holding the Toronto Life "profile" which did nothing for your site but expose it as less than interesting. I guess any publicity is good publicity. Next time you SELL yourself to the media - any kind of media - make sure that the reporter, and not YOU, makes the article a piece of full-of-shit-garbage.
10:31 AM , # , |

Wednesday, October 19, 2005
Geek Art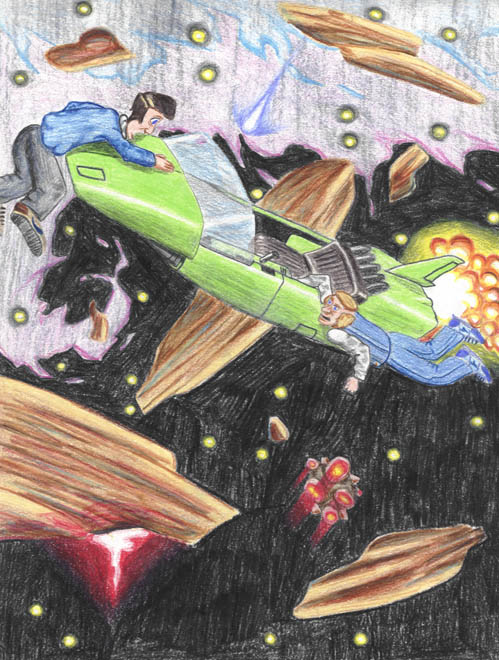 Something from the archives; a picture I drew when I was sixteen. I was into sci-fi and aliens and stuff when I was a kid ... who knew?!
5:56 PM , # , |


Nature's X-treme Wonder Presents ...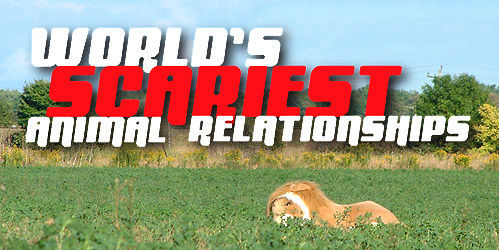 Jennifer Aniston the Bear burst into Angelina Jolie the Bear's trailer ...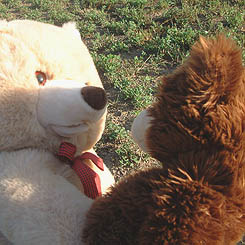 JENN: What the fuck do you have to say for yourself, BITCH?

JOLIE: Who are you calling a 'bitch', WHORE?

JENN: I'm calling you a bitch cause you're a fucking BITCH!

JOLIE: Well I'm not the person yelling. You're the one who sounds like a BITCH.

JENN: So you think this is funny? YOU THINK THIS IS A FUCKING JOKE, SLUT?

JOLIE: Fuck you, little girl.

JENN: Are you calling me a 'little girl'?


JOLIE: I'll call you something different when you grow up.

JENN: Come on, let's go, BITCH.

JOLIE: You want a piece of me?

JENN: I'll tear you apart!

JOLIE: You want a piece of me?

JENN: You're going DOWN!!! ... I'm gonna rip your fucking head off! I"M GONNA FUCKING BEAT THE LIVING SHIT RIGHT OUT OF YOU, YOU FUCKING WHORE!!!! ...

SLAP!

Angelina Jolie slapped Jenn on the cheek. Startled, Jenn held her face in her paw for a moment as tears welled up in her eyes. She began to sob.

JOLIE: Come on, now. You don't have to cry.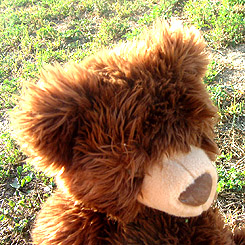 JENN: SOB!

JOLIE: No, no ... don't cry!

JENN: [blubbering] Why are you doing this to me?

JOLIE: I'm not doing anything to you.

JENN: He doesn't even touch me anymore. Every night Brad comes home from working on this movie and he says he's too tired to do anything. He just goes to bed.

JOLIE: It's a difficult shoot. We're all tired. He's tired. I'm tired. Everybody is tired.

JENN: So you're not fucking him?

JOLIE: Oh, tosh! Nooooooo ...

JENN: [teary] Really?

JOLIE: Of course not. Chap's not even my type.

JENN: It's just hard work?

JOLIE: Bloody hard work.

JENN: Oh.

JOLIE: There.

JENN: [sniff, sniff] Um.

JOLIE: Guess you'd best be running along.

JENN: I guess I'd better.

JOLIE: Don't worry your pretty little head, everything will be back to normal when the movie's done.

JENN: Yes. Yes it will!

Beaming, Jennifer Aniston walked away with a joyful spring in her step.

Previously:
1 - Brad & Jenn
2 - The Pitch
3 - Angelina
1:30 AM , # , |

Tuesday, October 18, 2005
Stock
An article about my latest addiction.
12:50 PM , # , |


You're So Lame, You Probably Think This Song ...

Via PAVED:

The Lamest Canadian.

Can you believe it? Evan Soloman can't even place against the Canadian Tire guy ... now that's freakin' lame. Ben Mulroney is winning, but he's not very smart to begin with, so it hardly seems fair.
12:47 AM , # , |

Monday, October 17, 2005
Coffee Guy Memories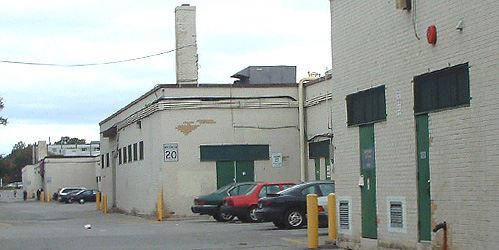 Dufferin Mall

When Matt the Coffee Guy isn't acting in a play, he comes back and picks up a few shifts at the Duff.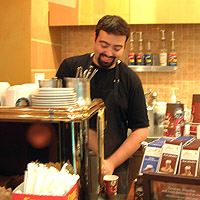 COFFEE GUY: Fall is here. It's getting colder.

BLAMB: This is the time of year when I really appreciate hot coffee.

COFFEE GUY: Hey, remember the time your friend was kicked out of the mall?

BLAMB: Uh, no.





COFFEE GUY: Yeah, you were here in your morning stupor when things went down ...

A Visit with Patrick Swayze (the sandwich)
originally posted
Tuesday, November 19, 2002

PATRICK: Hey man, wake up!

BLAMB: [snore]

PATRICK: WAKE UP!

BLAMB: Huh, wha? Paige Davis?

PATRICK: The day has begun! It's time to get moving!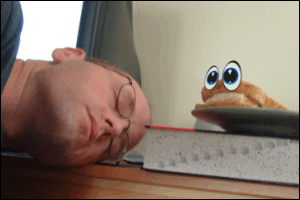 BLAMB: Moving ...

PATRICK: You know what you need?

BLAMB: Need ...

PATRICK: A trip to The Coffee Guys!

BLAMB: Coffee ...

PATRICK: Let's go!

We walk to the mall. Most of the snow has melted. It's comfortably cool.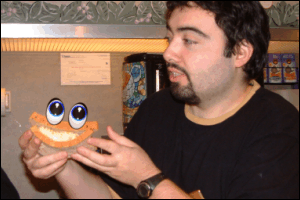 PATRICK: Hey, Coffee Guy #1! How's it going?

COFFEE GUY #1: Great! Good to see you, ol' buddy.

PATRICK: Brett is a grumpy doughboy in the morning; set him up with a big cup 'o joe!

COFFEE GUY #1: No problem! One for yourself?

PATRICK: Oh yeah! Hey, where's you good friend? Coffee Guy #2?

COFFEE GUY #1: Shawn? He's right over there. Hey, Shawn, looks who's here! It's Patrick!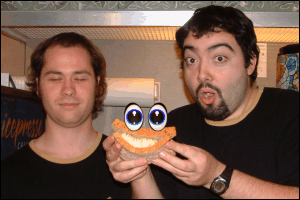 COFFEE GUY #2: Hey, hey.

PATRICK: How are you doing?

COFFEE GUY #2: Want to see my Brando impression?

COFFEE GUY #1: You can't do Brando!

COFFEE GUY #2: What? See Patrick, this guy thinks Brando is all in the voice...

COFFEE GUY #1: ... and someday, I will come to you and ask for a favour ....

COFFEE GUY #2: See? It's not just the voice, it's the whole ...

SECURITY MAN: HEY! WE DON'T SERVE YOUR KIND IN HERE!!!

BLAMB: Wha? Huh? I'm sorry, I'll leave.

SECURITY MAN: Not you. Your sandwich.

PATRICK: Me?

SECURITY MAN: NO OUTSIDE FOOD OR DRINKS.

COFFEE GUYS: That's crazy! What kind of rule is that?

SECURITY MAN: NO OUTSIDE FOOD OR ....

PATRICK: But don't you recognize me? I'm Patrick Swayze, the Tahini & Banana Sandwich! The happiest, flippinest, grooviest, coolest ...

SECURITY MAN: No outside food or drinks. NOW GET OUT!

COFFEE GUYS: Can't you make an exception?

SECURITY MAN: NO EXCEPTIONS!

COFFEE GUYS: Why not?

SECURITY MAN: Because ... because my heart is cold and empty.

PATRICK: Really?

SECURITY MAN: I have no soul.

PATRICK: Aw, everybody has a soul! Even you!

SECURITY MAN: I do?

PATRICK: Sure thing, buddy! Here, have a taste!

SECURITY MAN: I couldn't ...

PATRICK: Go ahead, friend!

SECURITY MAN: Well.... [chomp] ... oh my ...

PATRICK: How do you feel?

SECURITY MAN: It's like the fluffy clouds of Heaven have come to Earth and decided to reside in my mouth. I feel ... young.

PATRICK: Great!

SECURITY MAN: That's it! Patrick Swayze, I hereby make you an honourary security deputy of the mall!

COFFEE GUYS: YAY!!!

SECURITY MAN: Thank you, Patrick! And thank you, Coffee Guys!

BLAMB: ZzzzzzzZZzzzzzzz ....
1:24 PM , # , |

Sunday, October 16, 2005
Reprise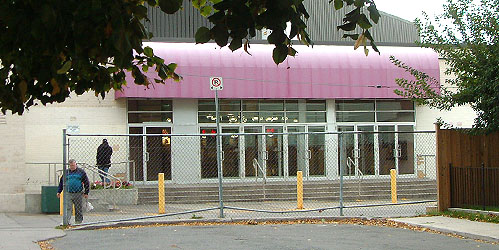 Dufferin Mall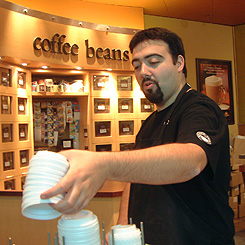 COFFEE GUY #1: I like it when a character returns to a show after a prolonged absence. That's always fun.

BLAMB: If you appeared on my blog today, longtime readers would remember your character from three years ago. New readers would get a sense that there's history to much of the action. Everybody wins.

COFFEE GUY: The art of the reprise, my friend.

BLAMB: One of my favourite instances of a character returning is when Sinclair returns in the third season of Babylon 5 ...

LAURA: Holy smokes! You're still going on about Babylon 5?




BLAMB: Hey, it's Laura, my former girlfriend from years ago!

COFFEE GUY: It's a dream taking form, a returning character!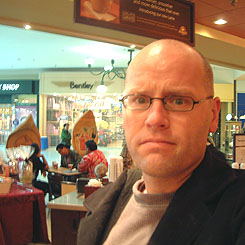 BLAMB: Have you met Matt, the world-famous Coffee Guy and Shakespearean actor?

LAURA: Wow, no.

BLAMB: When I start my blog the first dialogues were with the Coffee Guys, here at the Duff.

COFFEE GUY: Those crazy, wild times. I remember them well.

BLAMB: Hamlet!

COFFEE GUY: Huh?

BLAMB: You just quoted Hamlet.

COFFEE GUY: No, it's just my own observation ....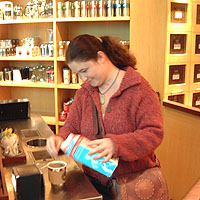 LAURA: Didn't the Coffee Guys used to have a song?

COFFEE GUY: A song of sadness. A mournful dirge. A sallow, sweet hymn of agony.

BLAMB: Twelth Night!

COFFEE GUY: No, still my own observations.

LAURA: Well, come on! Let's hear it! Belt out the Ballad of the Coffee Guys [reprise]!


Ballad of the Coffee Guys
originally posted Tuesday, November 11, 2002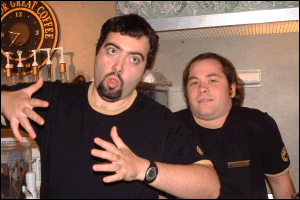 Making the coffee, here at the mall.
Serving it daily, for one and all.
Grinding the beans, boiling the brew,
These are the things I must do.

The lattes are milky,
The coco-choco-mocha-cappachino-mocha-cho-chos are smooth.
It's what customers want,
Caffeine not booze.
The pay is lousy, but we get tips.
And must come to grips, with our sad situation.

Wednesday morning, I will be there.
Offering beverages to those who care.
Coffee for loonies, (but it's not Fair Trade)
Satisfies all those who crave.
All for a morning's crusade.*

*Sung to the tune of that Sting song, you know the one.
10:34 PM , # , |


Butta? Betta!
Via Circadian Shift:

Become a Better Blogger.
2:49 PM , # , |

Saturday, October 15, 2005
Awesome!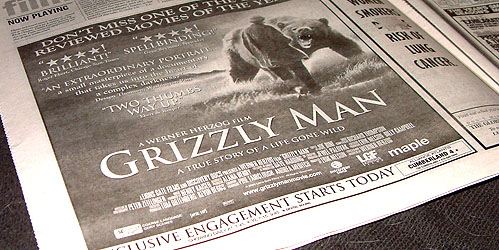 The reviews don't lie, we caught a screening of Grizzly Man last night and it's an incredible film, probably the best of the year. Don't wait to see it on video; if you can get to a theatre, this is one for the big screen. It's startling, funny, sad and beautiful. You haven't seen anything like it ...
1:45 PM , # , |

Friday, October 14, 2005
Friday Dialogues
A couple of new dialogues for your Friday reading:



Paul is visited by the Holy Spirit.

Jack gets to talk to his biggest fan and more:

Paul: Are you really going to say, "Come up hither?" I mean, "Hither"? Kids aren't going to know what you're talking about.

Jesus: Well, eventually I'll say that, Dad didn't write that into the Bible for nothing you know. I figure I'll say, "Come up....thither" or maybe, "Come on hither", just to mess with people. Wouldn't it be funny if people started looting? Christ...I mean, Damn, that'd be funny.

Meanwhile, On the Left Side considers a more serious matter: what if you threw a conversation and nobody came?

KM: Hey, anybody out there?

[Silence]

KM: [clears throat] Hello? [a little louder] HELLO?

[More silence]

It's all so dialog-eriffic! The challenge continues ...
10:10 AM , # , |

Thursday, October 13, 2005
Spin Me Right Round
I finally assembled a fall mix for indoor cycling and it debuted in this evening's class (I was the sub for the regular instructor). Holy crap, you shoulda' seen the sweat. You can catch an encore tomorrow in my regular 6:15pm class. As promised, here's the list of tracks (two or more song listed indicates a mashup):

1. Somebody Told Me/Killers & Rock the Casbah/Clash

2. Comfortably Numb (ridiculous disco cover of the Pink Floyd song)

3. Is It a Sin/Deepest Blue (remix)

4. My Friend Dario/Vitalic

5. Blue Highway/Billy Idol (live)

6. Mr. Roboto/Arcade2600

7. Should Be Dancin'/Bee Gees & Playing in the Distance/Grand National

8. ??/?? & Maniac/Michael Sembello

9. Don't Cha/Pussyat Girls & Banquet/Bloc Party

10. Good Times/Chic & Triple Trouble/Beastie Boys & Take Me Out/Franz Ferdinand

11. Get Down On It/Kool and ??/??

12. Dare/Gorillas (remix)

13. It's My Life/Talk Talk & Heard It Through the Grapevine/Marvin Gaye

14. Simply the Best/Tina Turner (a bit sped up)

15. Pacific Theme/Broken Social Scene

16. All at Sea/Jamie Cullum

I'm using these for the rest of the fall although I might tweak it and switch a song or two. Overall, it strikes a good balance between hard, goofy and fun. Actually, I wish it was a bit goofier; the Pink Floyd cover is sweet because I'm from a small town and I know a lot of people who would find it completely blasphemous.

BIG THANKS to Medlab who saved my ass by recommending the Sixx Mixx, Christie for recommending the Bloc Party song and everybody else who sent in suggestions.
10:00 PM , # , |


Pop-up Culprit
Ok, I found the source of the annoying pop-ups that have been appearing: NEDSTAT -- now called 'Webstats4u'. Changes to that free service included the addition of pop-ups, though this change was not widely or explicitly advertised. Frankly, it pisses me off because before the change the claimed that they were going to "improve" the service yet the only noticeable change is the pop-ups. Gee, thanks a lot.

I sent them this email:

Visitors to my site (http://brettlamb.com/blamblog) have been vigorously complaining about pop-ups ads on my site. It took me a bit of searching to find out where they were coming from since you did not clearly note this change to you service. I have always preferred nedstat to other stat services because of the clear, useful graphs, but if the use of pop-up advertising is going to continue, then I will no longer be using your service. I already have a comprehensive stats system with my hosting package, the nedstat counter was just a quick, fun way to check up on stats.

I am very disappointed in the recent changes and the deceptive manner in which they were implemented.

I'll let y'all know what the response is. If there pop-ups aren't off this site, their service will be.

Of course, Jen has a solution, which is why she's on the 'A' List:


JENV: You may want to give StatCounter a try -- they've got nice graphs, and more extensive stats (for the free version) than SiteMeter's free offering.

They also provide code for your page that actually validates (if you care about that sort of thing), and you can make it invisible to your visitors.
3:02 PM , # , |


BlogStock
This month I signed up as a contributor at istockphoto. That service offers low-cost stock photos and illustrations -- you'll pay between $1 - $5 per image. The big downside of being a freelancer is the unpredictable schedule of work and payments, so this service seems like it might be a method of generating a small buffer fund to help pay the bills during light months.

I'm just getting my galleries started and brainstorming lots of ideas; my goal is to come up with images that can't be found on the site yet. My first somewhat complete series -- Trucker Fight -- is a bunch of sillouettes of a trucker in fighting poses (featuring Brother Lou as the model):





As you know, I'm always complaining about blogs that don't have pics and this service could be a good solution. It's priced for bloggers: an 800x600 image costs $1. For $50, a blogger could have one pic per week for an entire year or an image per day for less than the price of your coffee. Holy crap, what's your excuse now?

I'll report more once I've had some experience and have experimented a bit more with the service. I've passed on the site to a couple of biz clients as well and it'll be interesting to get their feedback.
12:13 PM , # , |

Wednesday, October 12, 2005
Canuck Flick Action



REEL Canada is a new program promoting Canadian film in the classrooms of the nation's high schools. It was one of my summer projects (see logo, above). The first school screened their picks today. There's a full list of selected films -- any thoughts? Which ones are missing?

From the comments:


PATRICK:
Waydowntown by Gary Burns (2000).
Why is Don McKellar in EVERYTHING?



DARRYL:
Un Zoo La Nuit (Night Zoo) is, in my opinion, one of the all-time greats from this country

Pouvoir intime (Blind Trust) should also be considered.

Most of that list is filled with obvious, pretentious stuff, that is more likely to repel then attract. That's why I like to recommend some good character-driven films and thrillers (like the French films above).

Gotta list Porky's! One of the all-time greats.

If you insist on being pompous, how about Jesus of Montreal and/or Decline of the American Empire? At least they have some humour, sex and nudity.

By the way, Dead Zone is not Canadian. Not technically anyway. Neither is Videodrome, The Fly, Naked Lunch and so on. Rabid and Shivers are.



ICE QUEEN:
The Company of Strangers
Beautiful and thoughtful.
4:55 PM , # , |

Tuesday, October 11, 2005
The Continuing Adventures of the Idle Chatter
Two more conversations to check out: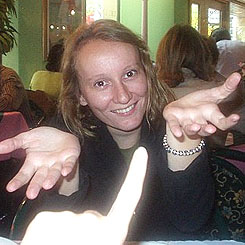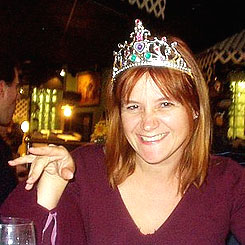 First, Eva took on the Ice Queen in a new dialogue:

Eva: Okay. Speaking of ice, did you hear about the ice caps melting for real this time... I know they've been saying it for a while, but it's really happening now! It's all happening! And now the probe they launched to look into things crashed in sea!

IQ: I heard that! How am I supposed to rule the ice world if it's disappearing?

Eva: What do you think would happen to the polar bears? They'll have less and less space to move around. And could they survive the increasing temperatures? And what about Santa? Truly, this is a threat to the winter holidays, not just nature!

Next, Patrick landed dialogue #3, this time with Barry Lachapelle:

Patrick: Not to get too self-reflexive here, but I think we may be over-gesturing at this point.

Barry: Contorting your face is always a good distraction from the standard reaction shot.

Patrick: There is certainly an art to it. Emoting, believably, while gesturing is always effective. It masks the fact that you really don't need to say much of anything.

Go read both posts.

I think it's time to update the chart. Here it is, recent additions are marked in green: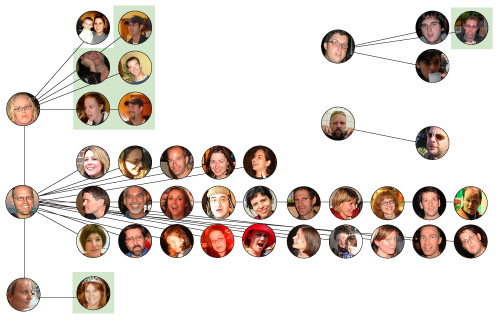 But we need more! The challenge continues: try out a dialogue post and send along the results.
11:19 PM , # , |


Upstaged
Witness Merv taking the dialogues to the next level: multiple characters! She juggles six people in that post. Ambitious or what? Also: weekend pics.
4:54 PM , # , |

Monday, October 10, 2005
Thanks for the Sandwich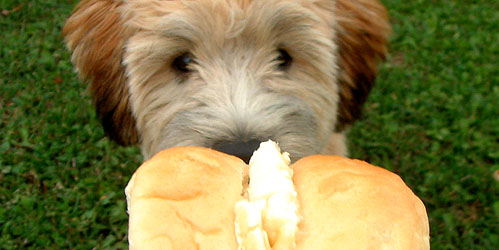 Molly, recovered from her hiking injury, eyes a rare bun sandwich.
10:36 PM , # , |

Sunday, October 09, 2005
Recommended
Star Wreck: In the Pirkinning is one of the best feature-length movies in Finnish ever made in someone's livingroom. It's entertaining (better than 88% of the Hollywood dreck on the video rental shelves) and you can download the whole thing for free from the movie site or order the DVD. The flick would have been even better if they hadn't pilfered ships from Star Trek and Babylon 5, which was a distraction.

Some sites have said that the special effects are the highlight of the film, but I thought Samuli Torssonen's performance as the evil Emperor Pirk was hilarious. He really carries the film and gets full marks for hamming it up. Also notable is the guy who played Fukov (no cast list on the site) and the people cast as Pirk's long-suffering crew.

Check out the trailer and donwload the flick.
2:01 AM , # , |

Friday, October 07, 2005
Endorsement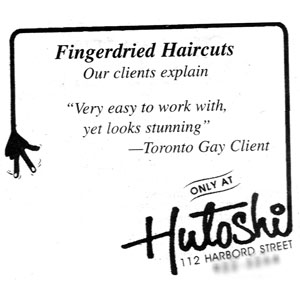 This powersaw rocks!
- Oshawa Straight Client
12:01 PM , # , |


Epilogue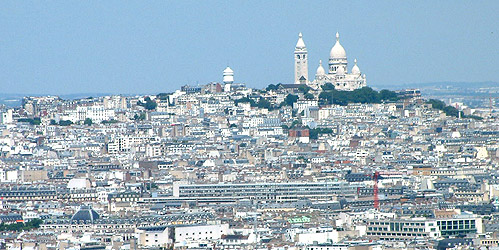 Paris, France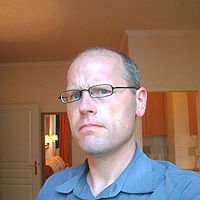 On my last day in Paris, I slept in late and woke up with a huge headache. I relaxed for a bit in the hotel room before heading out and having a dessert crepe. Something was still nagging me ... a feeling. I went for a walk down the Champs Eleysee, past the Arche de Triomphe and towards La Defence.

I didn't need the final clue to guess where the Ark was located. I had all the pieces I needed ... it was right there, in the movies. The movies of that master storyteller, George Lucas.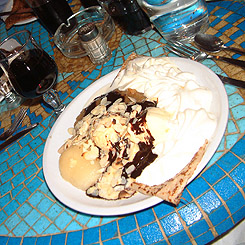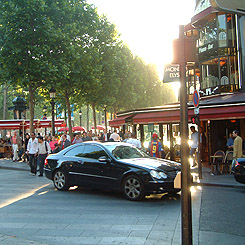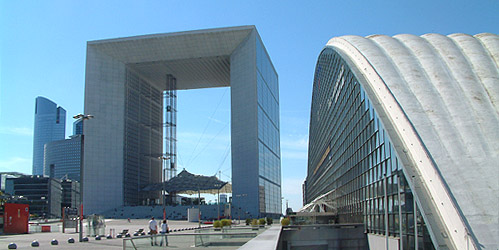 La Defense

And that's where I spotted him, the monk from Notre Dame.

BLAMB: I just wanted to thank you again for helping us out the other ...

I stopped. Beneath the hood was a face I didn't expect.

BLAMB: George Lucas?

LUCAS: Yeah.

BLAMB: Gadzooks! You're the caretaker of the Ark! That's why all that crap is in your movies. You're one of the Jedis ... er, Knights Templar.

Lucas just stood there silently.

BLAMB: I still don't get it. What is the Ark? Why does everybody want it?

LUCAS: During World War II, Montana Franks worked on the Manahattan Project. His job was excavating historical blast sights, like Tunguska in Siberia, where he visited in 1937.

BLAMB: I see. He was gathering blast data so the scientists could study the effects and estimate the potential of the atomic weapons they were developing.

LUCAS: He was.

BLAMB: Hold on .... there's more, isn't there? He was also working with Glume ...

LUCAS: He worked closely with the Doctor.

BLAMB: And they were exploring time travel ...

LUCAS: You've got it.

BLAMB: That's it! Glume built a time machine. The Philadelphia Experiment was a success!

LUCAS: Not a complete success. The results were unpredictable and dangerous. However machines ... including weapons ... could be safely sent through time.

BLAMB: The atomic bomb researchers were sending their weapons back in time to test them! That was the only way to keep the tests secret from both the Nazis and the Soviets. They would send a bomb into the distant past where it was detonated and then Montana Franks would find the test sites and excavate them to get the results. That's why there are so many cases of mutants showing up throughout history! Wait ... how does this connect to the Ark of the Covenant

LUCAS: In 1953, there was a massive accident at a nuclear testing range and the time machine appeared to be destroyed.

BLAMB: But it wasn't, was it? That's what the Ark is, it's Dr. Glume's time machine! It was sent back in time by the blast. Now everybody wants it so they can benefit from time travel!

LUCAS: The events depicted in Raiders of the Lost Ark actually happened ... roughly. Montana Franks did retrieve the Ark from the Nazis and when he discovered that it was the same time machine Doctor Glume had invented, he hid it here in Paris and vowed to keep it from ever falling into the wrong hands.

BLAMB: And he passed that responsibility on to you?

LUCAS: That's why the Star Wars prequels were so bad, I have so many other things to worry about.

BLAMB: Then why didn't you hire another writer, dumbass?

LUCAS: Anyways ... here in Paris it shall remain. I am the only one who knows its location.

BLAMB: Oh come on, it's right there under that giant bronze thumb.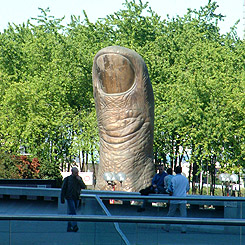 Lucas gasped.

BLAMB: Don't worry, I ain't telling.

LUCAS: But how did you know?

BLAMB: I just seems like the sort of cheap comical gesture you'd make.

And so the time machine sits tucked away, safe from all those who would use it for no good.
3:42 AM , # , |

Thursday, October 06, 2005
Mashed Up
Some groovy mashups at Mark Vidler's GoHomeProductions.
11:01 PM , # , |


Tossed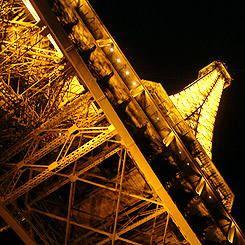 And now, the exciting conlclusion ...

I twisted the vial without entering a code. Then I tossed it over the railing. It disappeared into the night.

Everyone gasped.

QUON'DAR: IDIOT! WHAT HAVE YOU DONE?

There was the distant sound of the vial shattering.

BLAMB: That's detente, comrades. You don't have it, I don't have it.

Sharky began laughing. Glume released Quon'dar, clenched his fists and shot upwards and vanished. Quondar sighed and shook his big, flat head. The figures were gone.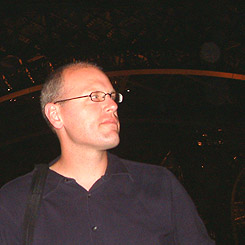 QUON'DAR: You fool ...

As Sharky & I walked away from the tower, I wasn't curious or filled with any regret about not learning the final location of the artifact. I felt relief.

SHARKY: Perhaps we should get away from Paris for a while. I still have the cash I received during the sponsorship scandal. We could use that to pay our expenses back to North America.

BLAMB: Our expenses? Sharky, I think this is the beginning of a beautiful friendship.

THE END!
9:38 PM , # , |


!!! JUMP ALERT !!!
This morning I suffered through another computer incident, the third this year. It looks like Dell has jumped the shark. I've read anecdotes about similar experiences on blogs like Jeff Jarvis' and Maria's. Those combined with my own experience seem to confirm a trend.

From now on, buy Dell at your own risk.

Here's a bit of my history with their machines. My current box is at least the sixth Dell machine I've worked on and the third I've owned as you can see in the pic below: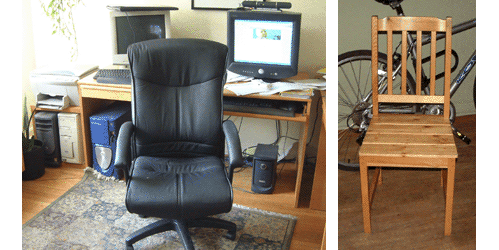 Several years ago, I worked for a client who used to buy cheap PC clones and those machines were always messing up and having issues. There was a Dell in the office and I started using it and found it extremely reliable in comparison to the others (and what a machine, it had two hard drives with a combined 1Gb of memory!).

After an incident when the Dell survived some serious abuse from a rogue tech guy, I was impressed enough to get one for home. Then a second one a couple of years later. I worked on two other Dells at the client site. My first two machines -- both work just fine today -- took a lot of abuse and but were/are very reliable. I started recommending Dell to clients and when they'd ask me about their tech support, I would tell them that I bought those machines so it would be less likely that I'd need tech support, 'cause they were so tough. And reliable. All I care about is reliable.

This third machine is a different story. From the very start, something about it seemed off but I couldn't put my finger on it. Keyboards would stop working ... then start again, the cd drives seemed unstable ... the computer just 'felt' shakey. Last February (less than a year since the machine arrived) I had my first major incident when the computer went through some sort of frenzied self-repair routine that lasted a couple of days (this was preceded by a keyboard failure and the sound card becoming disabled). At the end, the system seemed to fix itself but I lost a huge whack of files.

I was heading into a busy season and needed my machine, so I did a full back up and worked through it and everything seemed relatively back to normal. Then, in August the same thing, only this time the hard drive was fried and I lost all my data after the February backup. I know, I know, I should have been backing up regularly ... but before this I had 6 incident-free years on multiple machines!

Over the past week, the warning signs have returned ... the keyboard stopped and started, the monitor cut out and today the whole machine went wacky. It seems to have calmed down now, but I spent the afternoon backing up everything in anticipation of another collapse. And this isn't one of their discount machines, this is a top-of-the-line XPS Dimension thingama-bobber. I bought the premium machine because I wanted it to be reliable like the others. If reliable is the bright centre of the universe, this machine is the farthest thing from it.

So that's my story. And I'm stuck with this junk for another two years. I've really enjoyed my old computers but I have no love for this one. Consider yourselves warned!
3:43 PM , # , |


PAVED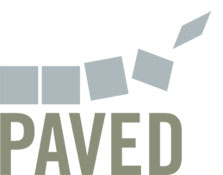 Last year Marc & I tested out the cityblogging with the BetterLivingCentre. Now, Marc's back with a new blog about the city and surrounding regions: PAVED.

And he's off to a good start with plety of posts including a round-up of the latest about the recent city hall scandal.

So give a hoot, link this sucka!
10:14 AM , # , |

Wednesday, October 05, 2005
Dark & Spooky
I just posted a new teaser page for The Dark Hours [ original campaign graphics, Jodie Hebert Publicite ] which opens November 11. In the press notes, director Paul Fox says:

... the intent behind THE DARK HOURS was to make a horror movie for cinephiles. The writer, Wil Zmak and I spent an evening in a Calgary bar, drinking whiskey, talking movies, and lamenting the lack of horror flicks like the ones we grew up on - smart, stylish thrillers with real characters, real ideas, and real chills. These were scary stories told straight - not saturated with irony and not afraid to be challenging.

Check out the trailer while you're there! Capri Films is also distributing the film Nadia's brother wrote, Pretty Persuasion.
2:49 PM , # , |


The Tower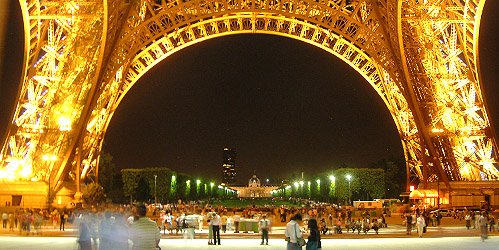 The Eiffel Tower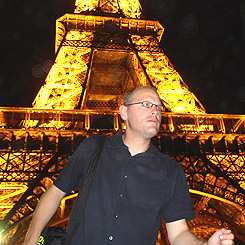 I arrived back at the tower, hopped a fence and snuck up the staircase. I climbed and climbed and my lungs burned and my legs wobbled, but I kept going. Winded and sore, I reached the top level. There, I smashed the window to the small lounge Eiffel had reserved for entertainging guests. There, behind a panel, I found the vial that contained the location of the Ark in Paris.

The vial was marked THX 1138.

QUON'DAR: Excellent. I didn't think you'd get this far.

BLAMB: Damn you, Quon'dar! You knew the location of this thing the whole time!

SHARKY: Hell, everybody knew. I did.

BLAMB: Sharky! You're alive!

SHARKY: No thanks to this jerk.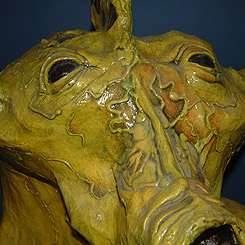 He nodded backwards towards the railing. Dr. Glume was perched there.

BLAMB: Well if everybody knew where this was the whole time, why all the shenanigans?

QUON'DAR: Nobody knows the code. I thought the answer would be revealed as you figured out the clues.

BLAMB: Bloody hell ... do you know what I've been through? And what the hell happened to Alice?

QUON'DAR: She knew the risks.

BLAMB: Damn you and yoru risks, you slimey alien freak!

QUON'DAR: You know the code, don't you? If you guess wrong, that vial is designed to destroy the contents.

BLAMB: I know it.

SHAKRY: Whatever you're gonna do, you'd better do it quicky.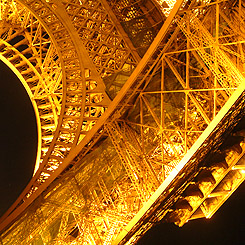 I looked over the railing. A swarm of dark figures were climbing up the tower's exterior. These were the ones who killed Alice ...

BLAMB: Who are they?

SHARKY: Aw, crap! Open it.

QUON'DAR: Quickly!

GLUME: It is mine, whatever is revealed belongs to me!

QUON'DAR: My mission is to retrieve the machine. You will not be able to stop me.

SHARKY: Fellas, fella! Let's talk cash on the barrel. My investors are prepared to pony up a lotta dough to ...

GLUME: Shut up, you!

Everyone argued. The dark figures closed in. Quon'dar and Glume started shoving and Sharky started shrieking. The secret was there, waiting to be opened. Quon'dar started squeezing Glume's shoulders, crushing his bones. The figures appeared at the railing ... I saw their faces and my brain seized up with fear.

I did the only thing I could ...
1:27 AM , # , |

Tuesday, October 04, 2005
Race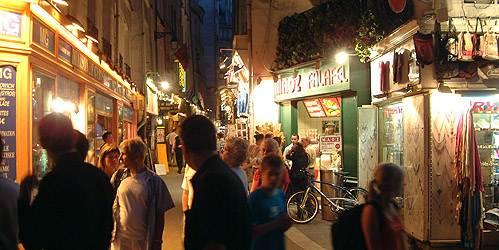 Paris, France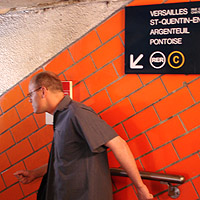 I figured it out. I knew where the final clue was. Finally, everything made sense.

I ran through crowds of tourists and caught a train. If I'd solved the riddle, it was possible that someone else had and I had to make sure. The secret revealed on Montana Frank's memorial was too obvious.

I emerged back where I started. There wasn't much time ...
12:24 PM , # , |


Montana Franks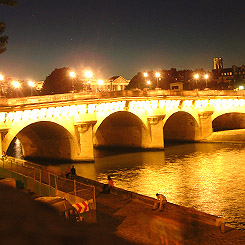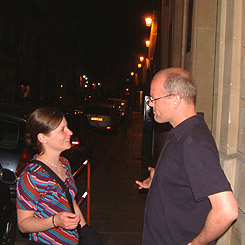 Paris, France

Karen and Mike had done some investigating and had come up with the name of an archeologist who had once worked with Dr. Glume.

BLAMB: I bet the character of Indiana Jones is based on Montana Franks.

KAREN: Who knows?

MIKE: Franks spent much of his time on overseas expeditions ... but his work was entirely funded by the US government.

BLAMB: Maybe he found the Ark of the Covenant, just like in the movie.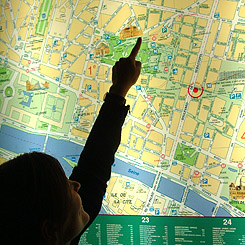 KAREN: Here's the weird part. Franks spent the rest of his life after the war living in Paris and there's a memorial to him a few blocks from here.

BLAMB: You're kidding? I wonder why he stayed here ...

We walked over to the memorial. It was a small metal pedestal covered in bolts with a plaque mounted on it.

I read the inscription and suddenly it all made sense.

BLAMB: Wait, I suddenly get it! Holy crap!

I started to run.

KAREN: Where are you going?

BLAMB: To end this!
2:01 AM , # , |

Monday, October 03, 2005
Channel 101
New shows up at Channel 101. In Yacht Rock Ep. 4, Michael McDonald's slide continues when he gives the band Toto the cold shoulder, only to be upstaged. It's a great episode (also, the cast is featured in the so-so 101:The Musical bit) ...

Most Extraordinary Space Investigations latest episode is ... different.

The other shows are bland, and the top failed pilot shows how rough life can get after your Star Trek series is cancelled.
6:00 PM , # , |


The Challenge
And they're off! The challenge begins! DeadRobot is the second taker and invites you to join SharkBoy and himself on a lazy Sunday afternoon:

B: How's this?

DR: Sure. That's good!

SB: That's my "manboyant" look.

DR: Manboyant? Is that like the hyper-masculine opposite of flamboyant?

SB: No I was thinking it described those 50-something guys who try to dress like 20-somethings. You know...lowrider faded heroin user jeans, crop tops, meshback hats, and drives a jeep, oblivious to how rediculous they look.

To increase the fun factor, we can use this graphic to track everyone's conversational posts.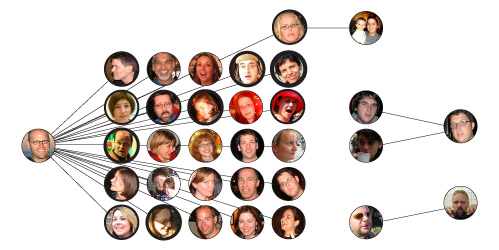 By plotting these, over time we might see a pattern or some overlap. Hats off to Patrick and DeadRobot for keeping the fire burning.

UPDATE: Merv visits Strathroy. Hey, a branch ...

The challenge continues: post your own conversational post. DO IT!
12:56 PM , # , |


Help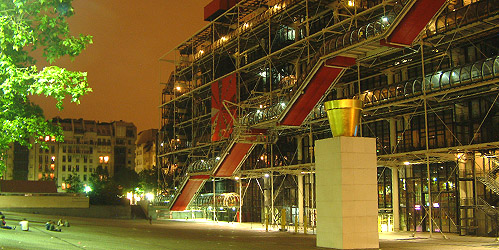 Paris, France

When Sharky and I dropped into the internet cafe earlier in the day, I snuck off an email to Karen & Mike who happened to be vacationing in London. I asked them to meet me at Nortre Dame and I'd figure out a way to get there.

In the cathedral, I told them about how Alice had died, how Quon'dar sent me to Paris and how Sharky and I wound up meeting Doctor Glume ...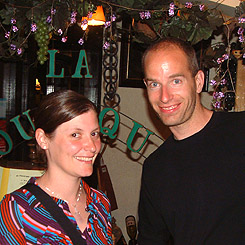 KAREN: So what are you going to do? What do you want us to do?

BLAMB: I dunno, it's all so crazy. I don't even know who half of these freaks are.

MIKE: Well, everybody knows about Dr. Glume.

BLAMB: I know he's trouble, but what do you know about him?

MIKE: He was responsible for the Philadelphia Experiment. Or so they say. And he was quite a musician when he was younger. He played with Hank Williams.

KAREN: Uh oh, here we go ...

BLAMB: The Philadelphia Experiment? I didn't know about that.

MIKE: Do you know about Montana Franks?

BLAMB: Who?

MIKE: The archeologist. He was connected to all sort of Second World War projects. There were rumours that he was involved with the Manhattan Project.

BLAMB: Never heard of the guy.

KAREN: Well, guess what we found out ...
12:39 AM , # , |

Sunday, October 02, 2005
The Game
Tetris as Life. [ blagg blogg ]
10:14 PM , # , |