Friday, December 30, 2005
Retail & Urbanism
Check out The Boxtank: A Big-box Web Presence. [ via Spacing Wire ] Lots of great posts; a tonne of excellent reading!
11:47 AM , # , |

Thursday, December 29, 2005
Eva Knows You're Gay ...
... because you like Coldplay.
4:13 PM , # , |

Wednesday, December 28, 2005
Mike's Kids
My editor and the publisher were mildly pissed when I submitted this cartoon in the spring of 2001 and complained that it was 'extreme', but they're good eggs and ran it:




At that time the provincial Tories, led by Mike Harris, had been at war with the public education system, the poor and other "special interests" (read: the disabled, new immigrants, etc. etc.) for more than half a decade and they'd just provided a tax break for parents whose kids attended private schools and had launched a lawsuit against the federal government's gun registry. This cartoon came from my disgust at the sum of their policies and imagined the results ...

It's only as extreme as today's headlines.

See also: Weisblott, BlogTO, Daily Dose, Armchair
9:10 PM , # , |


CHOMP!
Also, JenV points us towards a site that should be a daily read for everyone:
CUTE OVERLOAD
8:52 PM , # , |

Tuesday, December 27, 2005
Blah
Here's how Miller, McGuinty & Martin will address the continuing gun violence in Toronto:

"Blah blah blah blah blah blah. Blah blah, blah blah blah. Blah. Blah blah blah blah blah."

Just watch them.
2:07 AM , # , |

Monday, December 26, 2005
Sci-fi Geekout Holiday Spectacular
We just watched the end of Jumanji. Jumanji ... what the hell was that? If you're going to watch a Baby Boomer midlife crisis movie, take Saving Private Ryan, PLEASE! But Jumanji reminds me that a sci-fi geekout is long overdue. And Robin Williams reminds me that Tom Hanks has a new flick coming up ...

Right now I'm on the couch with Merv's laptop watching Baldrick talk about 'the real da Vinci Code' on the tube. They expect us to believe Baldrick? There's a new trailer for Opie's movie version of Dan Brown's page-turner in which Tom Hanks goes to Paris and learns that Mary Magdeleine wasn't a 'ho. Oops, spoiler.

A new season of Doctor Who starts tonight on the CBC. In the first episode, aliens declare war on Xmas and Bill O'Reilly stops them. Ha ha, I made that up. They have FauxNews on the satellite now and I watched a full episode of O'Reilly for the first time this weekend ... wow, what an incredible, fatuous gasbag. I had no idea. I really has NO idea. The man is an annoying, whining idiot.

Also starting the first week of January is the next batch of Battlestar Galactica episodes (named the #1 show on tv by TIME magazine). I enjoyed the first season but found the second season a bit wearing. They spend a whack of episodes with the fleet divided and then, just as they get back together they bump into the Battlestar Pegasus and we're thrown right back into another 'humans divided' storyline. It's like the first season of Lost when they split and one group stays on the beach; after a big disaster, would a wee group of survivors be so quick to split up?

Anyhow, there are BSG season 2 spoilers here.

Smallville is back to normal this season after a dismal fourth season. The show is watchable because it contains equal portions of great stuff and utter rubbish. The equation became unbalanced during the uniformly mediocre fourth season. The new season reverted to form, featuring some excellent Luthor moments offset by some of the worst episodes of network television -- the Hallowe'en vampire episode and the Aquaman episode -- since Spock's Brain.

Brando narrates the Superman Returns teaser trailer. Did his digital recreation lose digital weight before digitally recreating the role of Jor-El? And Nimoy narrates Civ IV ... but doesn't sing. It would have been even better if a digital Nimoy had played one of the world leaders. And Shatner, Shatner could have played Caesar and maybe rapped or something.

Re-review!
I rented Revenge of the Sith on the weekend for a second viewing. It's a movie best seen in the theatre, because it doesn't hold up on video. I stand by my original review except the performances seemed even worse on second viewing. Natalie Portman is now seriously challenging Gwenyth Paltrow for the Most Irritating Acting Personality in the Galaxy title. And yes, compared to the other prequels it is certainly the best, but compared to most movies, it's a piece of junk. Hell, Mothman Prophecies is easier to sit through ... and it's terrible! When in doubt, cast Laura Linney.

And now, here's a summary list:

Biggest Disappointment: Hitchhiker's Guide to the Galaxy

Worst Acting: Natalie Portman

Best Misguided Flop: Serenity

What? They made a sequel to that?: Underworld II

Ben Sisko Worst Star Trek Captain Award: Jonathon Archer

Best Danish Sci-fi Parody: Star Wreck: In the Pirkinning

Best Attempt to Revive a Flop on DVD: The Island

Most Annoying Thing to Uninstal from Your Computer: that crappy Valve online thing that came with Halflife II

Biggest Potential for Making Your Brain Explode: Star Wars tv series

Biggest Loser: Enterprise, the first Star Trek series to get cancelled in three decades.

Most Imaginative Sci-fi Character: Tom Cruise
12:25 AM , # , |

Saturday, December 24, 2005
Trash80
TRS-80 memories at Panopticist. Read the speech, it's funny.
3:41 PM , # , |

Thursday, December 22, 2005
The Sound of Crunching Metal
'Tis the Season

Speaking of music, I can't stand that 'People Are All the Same' song and what's worse is that I can't get the bloody thing out of my head. The fact of the matter is, people aren't all the same: some people can write songs that aren't complete crap.

It's raining, it's grey and you need a bit of cheering up, right? Why not spend some time with the story of the time I played Santa Claus at that mall and caused that huge traffic accident. See? Could be worse.

Some stuff on the blogs:

Let's get caught up ...



Maria is now a Canadian citizen. You know what that means? FREE MAPLE SYRUP FOR LIFE!!! Gee, who would ever want to live in Utah?




Paul saw King Kong:
How can a movie that has dinosaurs fighting a giant ape while an attractive woman prances around in rags be hard to sit through?

But Matt at BlogTO liked it.

Also, Kelly has more penguin. Rannie has '06 calendars. Adina went to the Solstice Parade in Kensington. So did Nadia. Happy Solstice.

And that's that.
9:11 PM , # , |


Chop Chop
I was out getting gift-like items and every store was playing gawd-awful covers of every Xmas tune you can imagine. Which leads me to ask: on those Canadian Idol shows, when do they remove the contestants' genitals? When they first sign up to audition? When they make some sort of shortlist? Or do they chop off the goods when they're on the verge of final jeopardy?

On the shelf at HMV there was a DVD called, 'A Clay Aikin Christmas'. He was wearing a Mister Rogers sweater. Bing Crosby may have performed the same sort of dozy crap music, but at least he beat his kids.

When I caught the streetcar at College & Yonge about half an hour ago, there was a busker dude in a Santa suit shaking a tambourine and singing some 'Santa Claus is Coming to Town' and it was groovy and fun and better than any of that over-produced slop they play in the shops, so I dropped five bucks in his tin.

I hope he's not saving up to get castrated.
8:58 PM , # , |

Wednesday, December 21, 2005
Dell Hell
Some friends recently told me they'd bought a new Dell despite reading about my bad experience. If you are still thinking of buying a Dell out of habit, this review of a new machine may encourage you to rethink your decision (they give it a 4/10):

It comes down to this: Most people who buy a computer from Dell instead of a lesser-known builder do so specifically because they just want something that works out of the box, and the Dell XPS 400 doesn't.

Our experience with the Dell, overall, was unpleasant and unsatisfactory. We cannot with good conscience recommend this computer to anyone.

When Dell computers were reliable and worth buying, I recommended them to clients and friends and now that they've turned to crap, I'm responsible for warning people away. Avoid, avoid!
4:30 PM , # , |


The Assistant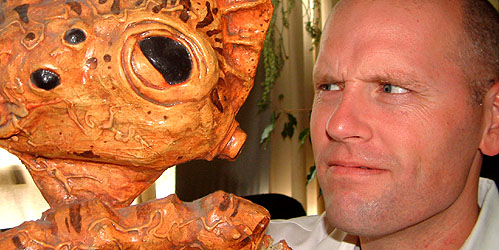 While I was on break, I hired a personal assistant to help me get organized. Her name is Lily Smitson.

LILY: Hey, Mr. Blamb. Merry Christmas.

BLAMB: Huh? Yeah. You too.

LILY: I said, Merry Christmas.

BLAMB: It doesn't count if you issue it as a challenge.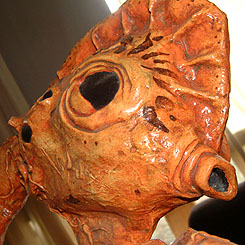 LILY: It's not a challenge. It's my right to wish you a Merry Christmas. It doesn't hurt you if I wish you a Merry Christmas.

BLAMB: When you say it in a provocative way like that, you obliterate the spirit of the greeting. And you're the eighth person to do that to me this week.

LILY: There's a War on Christmas going on, Mr. Blamb. We've got to take a stand and defend our rights.

BLAMB: If there's a War on Christmas, how come I get assaulted by religious hymns every time I walk into the Duff? Besides, the phrase 'Happy Holidays' is used and promoted mostly by business because they don't want to alienate customers. It's an attempt to make customers -- including non-Christians -- feel included. And everybody in the Northern Hemisphere has something to celebrate together: the daylight hours are going to start getting longer again after today.

LILY: 'Happy Holidays' is an insult! It dilutes out traditions and advances the secular agenda in society.

BLAMB: Oh god ... and what's wrong with the so-called 'secular agenda'.

LILY: It undermines society. Look at how they took away marriage and gave it to the gays ...

BLAMB: They took it away? So if you met a guy and wanted to get married, you wouldn't be able to? That right was taken away from you?

LILY: They took away the symbolism. They turned marriage into a joke; it's not real marriage for anyone. They're doing the same thing to Christmas, they're turning it into a generic celebration.

BLAMB: Give me a break ...

LILY: [ sob ]

BLAMB: Huh?

LILY: [ sob, sob ]

BLAMB: Are you crying?

LILY: [ weep ] I love Christmas.

BLAMB: Me, too. I enjoy this time of year.

LILY: Then why do you want to destroy it?

BLAMB: Nobody is destroying Christmas!

LILY: [ sob ] I don't want to think of a world without Christmas ...

BLAMB: You know, I don't think this is going to work out ...

LILY: You can't fire me!

BLAMB: I'm not firing you, I just think ...

LILY: You can't fire me for religious reasons. That's discrimination!

BLAMB: Bloody fucking hell.

LILY: LANGUAGE!
11:23 AM , # , |

Sunday, December 04, 2005
Blog Break
This blog returns on December 21st!
11:03 PM , # , |


Thick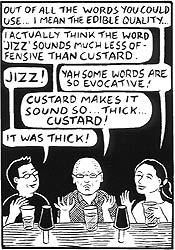 If you're in a book or magazine shop and spot the latest issue of Taddle Creek, flip to the last page and check out Dave Lapp's Condom Tree episode of his People Around Here docu-comic (the conversation also inspired this blog post).

As you can see in the pic at the left, not only do Nadia (right) and I (centre) appear as characters, we're also using hand gestures!

Also, be sure to plunk down a few bucks for the latest issue of Spacing, a really full read. It includes an article about Rannie's Portraits in the Park, pics from the Daily Dose and writing by Ryan Bigge. And, of course, the excellent design is by cartoonist, Matt Blackett.
3:23 PM , # , |

Thursday, December 01, 2005
Not Recommended by Corpo Blog Seminar Leaders
Via email:

So some people from here went to a seminar about blogging last night. I thought you'd get a kick out of it. It just seems so wrong. They brought back notes and a list of recommended blogs and yours wasn't on it! I couldn't believe it.
10:43 AM , # , |


Bright Lights, Big Sandwich


At night, this sandwich likes to get coked up and act like the 'big man'.
2:12 AM , # , |