Tuesday, February 28, 2006
Mystery History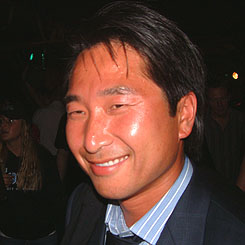 Former newscaster, Ben Chin (pictured left, sober), is running in an east-end byelection. I was in that neighbourhood last weekend and saw this ad [ rabble forum thread here ], which states:

I moved to East York as a 13 year old. I left my parents behind in Korea, where they faced political persecution. I didn't know if I'd ever see them again."

At the time, Mariela said that she thought the story sounded a little light on the details ... and no wonder, compare it to this interview:

Q: As the son of a South Korean diplomat, you travelled the world. Did you notice the different cars in each place you lived?

A: I have always loved cars. I had toy cars and pedal cars as a kid. I used to have a steering wheel with a suction cup. You'd slap it on the dash, sit by the driver and pretend to drive. Because of my dad's position we always had a chauffeur. The first job I wanted growing up was to be a chauffeur. It's freaky in retrospect. Everybody's father had a driver.

Q: Your Dad retired from government service when you were 16 ...

A: Yes. We moved to Canada. In Europe the diplomat's car was the Mercedes. In North America it was the Cadillac. The first car we bought when we moved to Canada was a Chevette and then an Oldsmobile Delta 88. After a life of limos all I saw on the road were cars like these. I was shocked. I didn't know that such things existed. I was seven years old when I realized my Dad could drive. I gained a whole new respect for him. I thought the car belonged to the guy in the uniform.

Is the ad trying to make it sound like he grew up 'poor' by leaving out the details?
7:35 AM , # , |



Dance!

February is done, so Jen thinks you should DANCE!
7:20 AM , # , |

Monday, February 27, 2006

If Treeware Falls in a Forest and Nobody Hears It ...

Leah McLaren's weekend noise about bloggers muffled. [ PAVED ]
9:45 PM , # , |



Never Alone When You're a Clone

Cloning gone wrong. [ emailed in by Nan-C! ]
1:51 PM , # , |



Video

The Great Secret of Scientology!
10:04 AM , # , |



Unexpected Meeting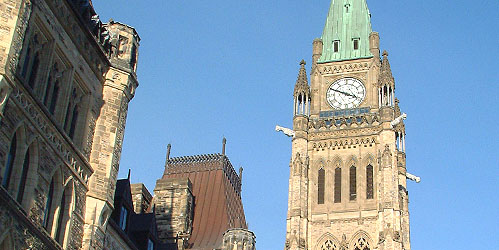 Ottawa

Sharky jabbered into his cell as he crossed the frozen ground at Parliament Hill.


SHARKY: I'm late for my meeting. I gotta go.

LILY SMITSON: Buy me some flowers!

SHARKY: I'm in Ottawa. It's winter. Where the hell am I going to find flowers?

SMITSON: Sharky! I want flowers!

SHARKY: Who am I? The flower-buying shark guy? I'll get you chocolate.

SMITSON: Flowers!

SHARKY: I'll get you some tea.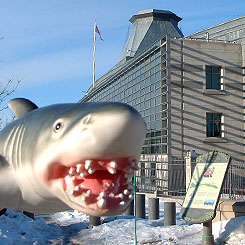 SMITSON: Sharky? Do you love me?

SHARKY: WHAT?

SMITSON: I love you.

SHARKY: We've only had two dates.

SMITSON: I just know.

SHARKY: Um. Right. We can discuss it when I get back.

SMITSON: When you get back with flowers, right?

SHARKY: We'll see.

SMITSON: Sharky, say you love me.

SHARKY: I ... er ... oh, I'm here, gotta go! [ click ]

Sharky entered the American Embassy. He was taken to an office where a familiar face greeted him.

SHARKY: Well, I never thought I'd see you again.
8:45 AM , # , |



Can't You Read the Siiiign?

Which way to Hooters? (look on the left) [ BlogTO ]
7:56 AM , # , |

Sunday, February 26, 2006

Facelift

I gave the main page a facelift after Merv complained bitterly about it:

seriously... if you just made your background on your work site white, i bet people would enjoy visiting it more - the red sucks SEVERE.

I was having a hard time living with it as well, so I appreciated the motivating comments. There's a lighter, brighter design up now!
9:46 PM , # , |

Friday, February 24, 2006

Weekend Blogging ...

... continues at BrettLamb.com. Why? Because I want to make millions of dollars!!! Or ... maybe fifty cents. Don't hate me because I'm not beautiful.
12:39 PM , # , |

Thursday, February 23, 2006

Movie Experience - Clip Action

No, seriously, there's "action"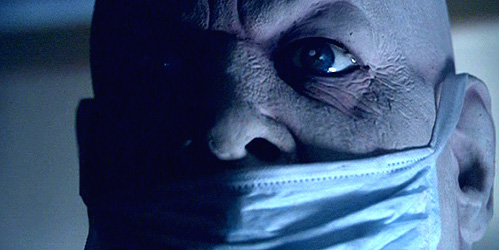 Here's a preview clip from Rhinoceros Eyes [ NSFW ], the flick we're going to see next Thursday. Get on the list, RSVP to rhinoeyes.rsvp@rogers.com. The clip shows Chep robbing the set of a pron flick.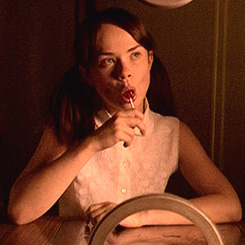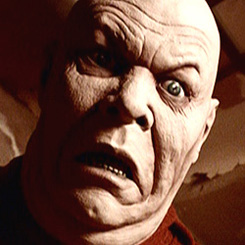 entertainment, movies, film
8:39 PM , # , |



Pure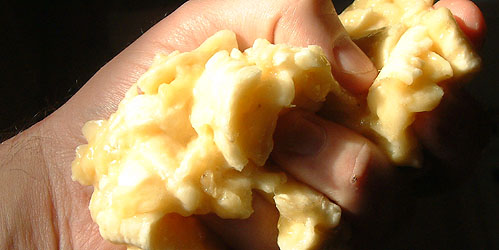 Burning at the heart of every sandwich is the fiery mashed banana.
10:53 AM , # , |



He Can Fly ... I Can Sing!

Floating dog. [ via Coverville ]
8:10 AM , # , |

Tuesday, February 21, 2006

Warm & Safe, Think of the Fun Friends You'll Meet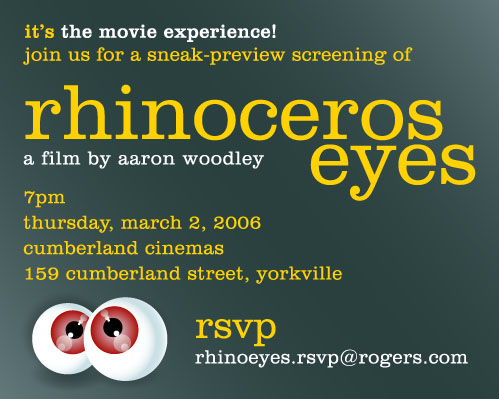 That's right, instead of the Dufferin Mall Experience, this year I've organized The Movie Experience! RVSP to the email address above and get yourself (and a guest, of course) on the list for this evening of fun. If you have any questions, email me at happycreature[at]gmail[dot]com. I will post any relevant answers.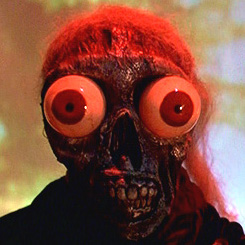 Holy crap, it's gonna be fun city ...

It's a Prop Party!
Rhinocerous Eyes is set in an old prop house where awkward Chep works and lives. It's the first feature by Aaron Woodley ... who is Cronenberg's nephew and gre up on his film sets. Expect wackiness.

So, load up your digital cameras and, just like DuffX2, bring along your favourite prop. Sharky will be there ... and maybe a few other characters. Practice those hand gestures and come on out for a fun, free flick!

And now, a quick flick synopsis: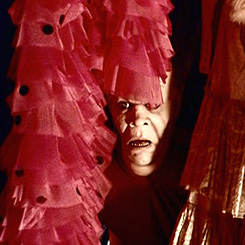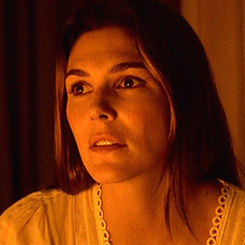 Obsessed with Fran (above, right), prop house-employee Chep (above, left) goes on a crime spree (including robbing the set of some sort of art porn flick - NSFW) to get her the props she needs to finish a film. Then things get wacky (below).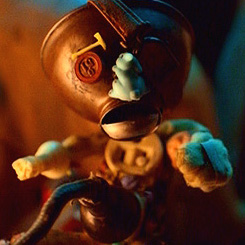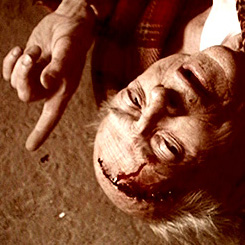 8:22 PM , # , |



Lost

Maria lost her mitts. The ones she knit [ see pics ].

Now she's trying to find them using her blog. Help her or she will go off into the jungle screaming, "Mitts! MITTS! MIIIIITTTTSSS!" all on her own and Jack, Sawyer & Locke will be forced to go after her and who knows what will happen ...

MITTS! MIIIIIIITTTTTSSSSSSS!!!!!
10:11 AM , # , |



An All-New Happy Creature

Whoops. This Happy Creature strip should have been posted last week for Valentine's Day ...
6:07 AM , # , |

Monday, February 20, 2006

Video Fun

Computerman auditions. [ Channel101 ]

Oprah hates liars. [ BWE ]
9:21 PM , # , |



Icebreaker - Television Premiere

on CBC NEWS: THE LENS
Tuesday February 21 at 10pm
repeating Saturday February 25 at 10pm on CBC Newsworld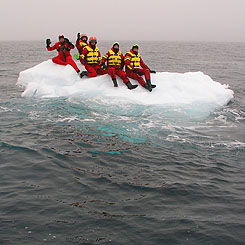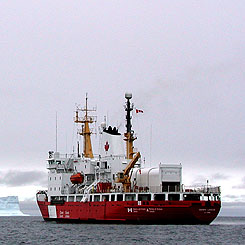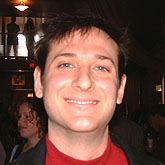 Jody Shapiro (pictured, left) and Dave Best's documentary, Icebreaker, premiered at Hot Docs 2005 and is being broadcast tomorrow tonight on CBC.

And the reviews are in:

The Toronto Star called it the pick of the day:

"Directors Jody Shapiro and David Best beautifully capture the loneliness of the expedition, its voyage through tranquil waters piled high with ice. One cadet, Jennifer, has never been so nervous when the grinding starts. But the captain has the whole voyage in his mind's eye, it's his resolution that will get the Henry Larsen there and back. Hours stretch into days into weeks and what emerges is a kind of elegiac poetry of the rhythms of the sea and the determination of this tiny crew."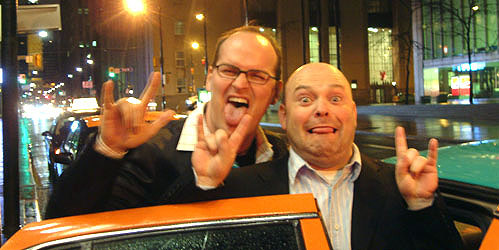 [ above ] Neil and Dave at Hot Docs' Opening Night.

It was also the Globe's Pick:

"Jody Shapiro and David Best have created a captivating portrait of a mariner's life including an archaic bit of nautical upstairs/downstairs as the officers never dine or socialize with the crew. And while there's at least one real character among the first-timers and old hands on the lower decks, it's the rarely seen coastlines and vast seascape that best convey the allure and isolation of a life at sea."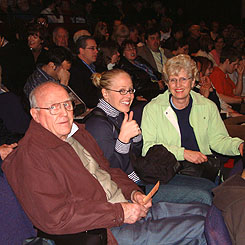 [ above] Everybody at the April premiere.

And finally, Metro News gave it a 4/5:

"Ice Breaker is art all on its own, an immersive look at the Canadian Coast Guard icebreaker Henry Larsen as it makes a six-week trip from Newfoundland to the North Pole."
11:48 AM , # , |

Friday, February 17, 2006

Windy Weekend

Posting continues all weekend at BrettLamb.com. It's a desperate attempt to generate traffic on my ad-supported site. Can't you smell the desperation? It's desper-antastic!
8:31 PM , # , |



Lazy Friday Blog Action Post

City. Spotted. Wings. School movie. Focus Group.
8:41 AM , # , |

Thursday, February 16, 2006

Life is a Hangover, I Want to Ride it All Night Long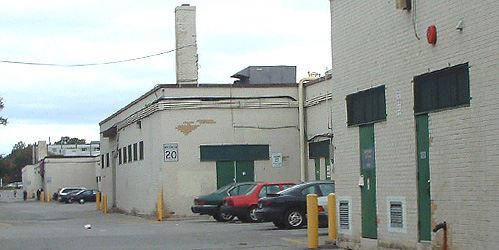 Dufferin Mall

Sharky limped to the Duff for a morning coffee ...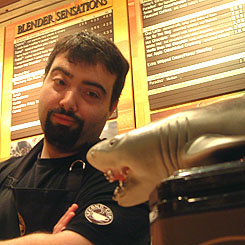 COFFEE GUY: Hey, did you catch LOST last night?

SHARKY: I was out.

COFFEE GUY: You look terrible.

SHARKY: I feel terrible.

COFFEE GUY: Hungover again?

SHARKY: Just give me my goddamn coffee.

COFFEE GUY: That's the third time this week.

SHARKY: Shut up.

COFFEE GUY: Wow, you're really bad, eh?

SHARKY: Hey! What's that?

COFFEE GUY: Coffee.

SHARKY: I don't want medium. Make it extra large. I need the juice.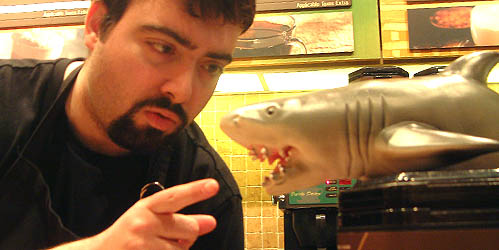 COFFEE GUY: As your bartender, I gotta tell you that this doesn't look good.

SHARKY: I just got caught in a party cycle. It'll pass.

COFFEE GUY: More like a party spiral.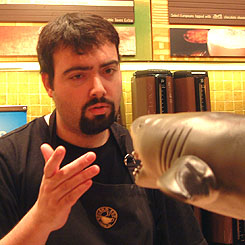 SHARKY: I'm on top of it. I'm not paying you to be my shrink.

COFFEE GUY: You're not paying me at all.

SHARKY: I leave tips.

COFFEE GUY: You dropped a nickel in the cup!

SHARKY:Fine. Complain.

COFFEE GUY: Whatever ... do what you want.

SHARKY: You're advice sucks. Stick to Shakespeare, buddy ...
12:31 PM , # , |



Smart Sandwich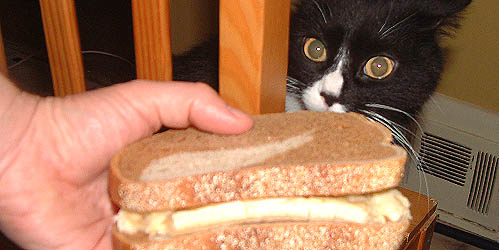 RobotJohnny's fifth life lesson: Don't make sandwiches dumb,; make sandwiches smart.
6:23 AM , # , |



Bad Mama

Britney Spears is a bad mother. [ Day in the Life ]
5:53 AM , # , |

Wednesday, February 15, 2006

Are You Experienced?

No Dufferin Mall Experience this year ...

That's because there's going to be something better. What could be better than the Duff? Stay tuned; this winter's awesome experience will be announced in the coming days!
9:38 AM , # , |



Naps Are Good!

Jen has links, including How to Take a Caffeine Nap.
7:09 AM , # , |

Tuesday, February 14, 2006

A Drinking Box Too Far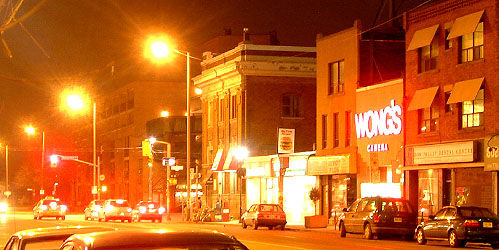 The Danforth

We were supposed to be reviewing chicken wings for Maria's blog ...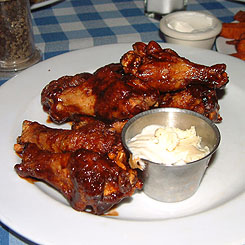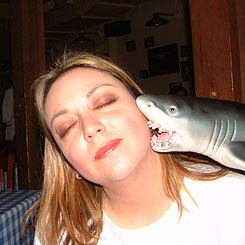 SHARKY: Oh yeah, oh baby, oh yeah, oh baby ...

ANTONIA: Has he been drinking?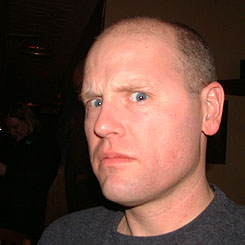 BLAMB: Yeah. He's drunk again.

SHARKY: I had a little wine.

BLAMB: From a drinking box.

ANTONIA: Drinking box wine? Ew.

SHARKY: Big deal.

BLAMB: It was a litre-sized drinking box. He drank the whole thing on the subway.

SHARKY: So what? You've got a pint in front of you.

BLAMB: I've had two sips.

SHARKY: You don't think I can handle my booze?

MARIA: This isn't a party. We're just checking out the wings.

SHARKY: I'll drink you under the table, buddy. Right now! Set 'em up!


MARIA: Mr. Sharky. Just relax.

SHARKY: I'm cool. Don't worry, I'm not drunk. It's good.

ANTONIA: Great ... So 'This is Wonderland' was cancelled and ...

SHARKY: Hold on! I want Blamb to put up or shut up. Vodka!

MARIA: What?

BLAMB: I'm not doing shots with you.

ANTONIA: You're making a scene.

SHARKY: I'm not drunk, I'm just buzzin'.

ANTONIA: Then calm down and enjoy it.

SHARKY: I am calm. None of you freakin' understand me! You don't GET me!

ANTONIA: We "get" that you're being loud and annoying.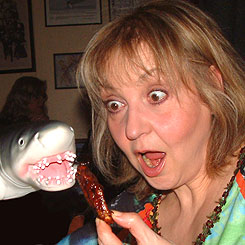 SHARKY: [ hork! spit! ] There! If I spit on your food, is that annoying?

ANTONIA: What the ... ?

BLAMB: You just spit on her wings!

SHARKY: I spit on your small minds. You don't have my perspective on life, you don't do meditation!

MARIA: What are you talking about?!

SHARKY: You're all freakin' blind! Blind to the world ...

ANTONIA: This is your boyfriend?

MARIA: He's not like this.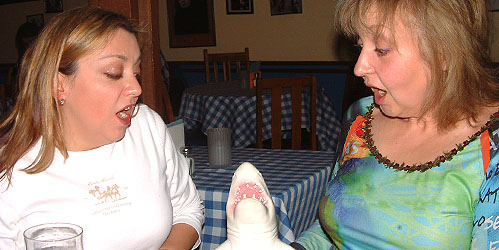 SHARKY: Boyfriend? You don't know me! None of you know me!


MARIA: I didn't know that you were such a hot-head.

SHARKY: You think I need you? There are plenty of fish in the sea. You're smothering me!

ANTONIA: You should leave.

MARIA: Sharky, cut it out!

SHARKY: Enjoy your wings. I'm gonna find my own party.

MARIA: Don't bother calling me.

SHARKY: Whatever ... I'm sick of this scene. I'm outta here!

Sharky left the pub.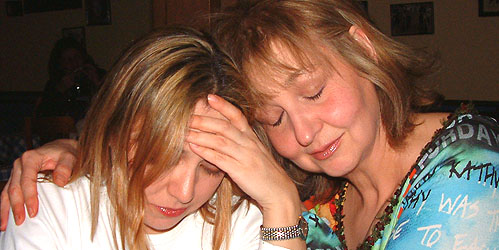 11:50 AM , # , |



Media Linkage

Crooks and Liars has the Daily Show bit about the Cheney shooting.

Dithering at the CBC.

And ... Leah McLaren gets reviewed.
7:10 AM , # , |

Monday, February 13, 2006

Haiku Review

Robot Johnny is now offering a haiku review of every flick he sees:

Capote
Too bad it won't get
The Oscar for Best Picture.
Stupid gay cowboys.
5:01 PM , # , |



Ms. Johnson

That didn't last long.

Last month's Ms. Johnson strip is already dated.
1:37 PM , # , |



More, More, More

The Dark Hours is now available on DVD ... and more news on the main page.
12:27 PM , # , |



Sharky's Wild Night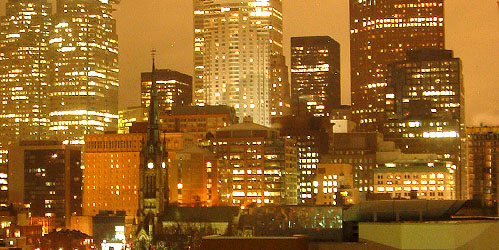 Downtown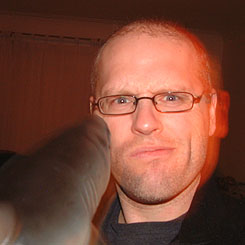 BLAMB: You're already drunk? We're not even there yet.

SHARKY: I'm not drunk.

BLAMB: You stink like vodka.

SHARKY: Just warming up.

BLAMB: If you embarass yoruself, you're on your own.

SHARKY: Yeah. Listen to you. You're not my mom.

BLAMB: Ok, we're here.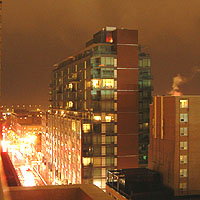 When Sharky and I arrived at Maria's party last week, he was already half-way completely soused. And I was getting tired of his drunken antics ...

SHARKY: Where's Maria?

BLAMB: That's why you wanted to tag along! You want to hit on her again!

SHARKY: We got a thing goin' on. You can't stop it, it's like a runaway train!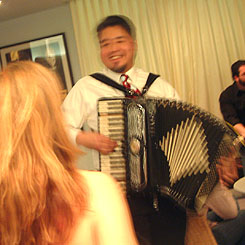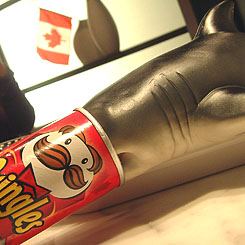 SHARKY: Hey dude, play 'Band on the Run'! Holy crap, who ate all the freakin' chips?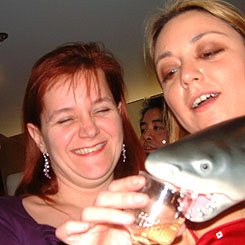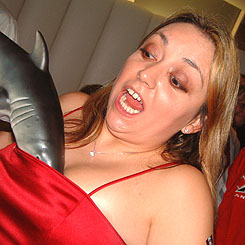 SHARKY: LADIES! Come on, pour me another. Oh yeah! That's the stuff!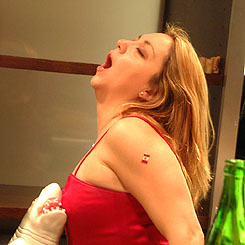 SHARKY: Hey Rannie, is it me or is this room freakin' spinning right round like a record, baby? Oh, there's Maria ... aaaaggggghhhttt ....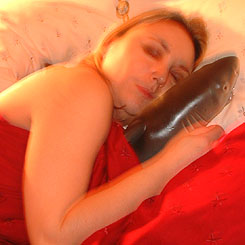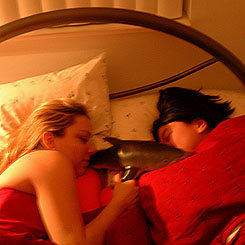 Warm and safe, Sharky thought of all the fun friends he made at ... whaaaa? .... OH MY GOD!
1:25 AM , # , |

Thursday, February 09, 2006

Behind the Scenes Sandwich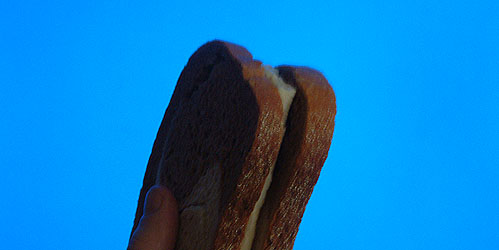 Each sandwich is shot in front of a 'blue screen'. The background will be digitally created in post-production.

Here's how the final composited shots appear: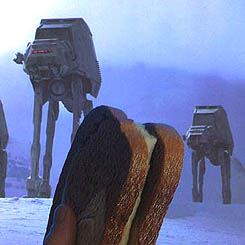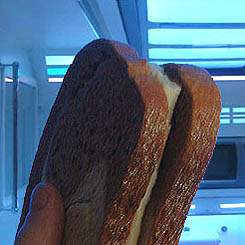 FX courtesy Dead Robot (l) and Barry (r). Both have new site designs to check out!
11:57 AM , # , |

Wednesday, February 08, 2006

Nature's Most Glorious Splendour Presents ...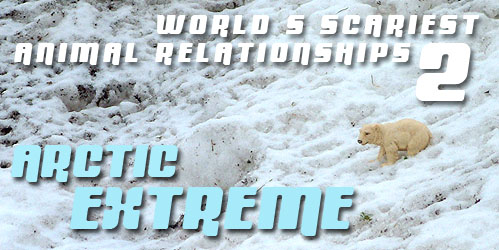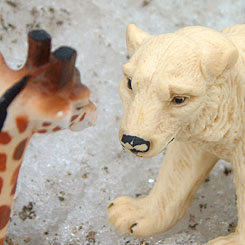 Peter MacKay the Bear was smitten with Belinda Stronach the Giraffe.

MACKAY: Shucks! There's nobody else for her! There's nobody else for me!

STRONACH: Oh, Peter ...

MACKAY: I like books! And she likes books!

STRONACH: We both like reading books!

MACKAY: Yeeeee haw! We're the same!

STRONACH: Did you read the Da Vinci Code?

MACKAY: Um, well ... I only read non-fiction.

STRONACH: I prefer fiction.

MACKAY: Okay.


STRONACH: But we both like books.

MACKAY: Some people don't even read books! We're so alike! How else are we alike?

STRONACH: We're both Red Tories.

MACKAY: Yeah!

STRONACH: And we both like each other!

MACKAY: YAY!

STRONACH: You said it.

MACKAY: Hey, who is that?

STRONACH: Oh, a friend ...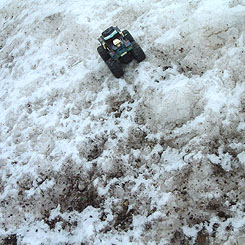 A monster truck with dark, tinted windows bounced towards them ...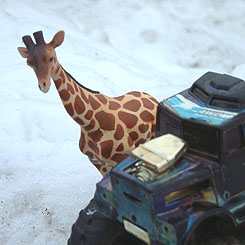 EMISSARY: It's done?

STRONACH: I haven't asked him yet.

MACKAY: Asked what?

EMISSARY: You haven't asked him? You don't think he's got the stuff?

MACKAY: What are y'all talking about?

STRONACH: Peter, do you remember what we talked about? I wanted you to meet some people.

MACKAY: Yeah?

STRONACH: We want you to meet with Stephen Harper.

MACKAY: HARPER? I ain't gonna meet with no gosh-dang Stephen Harper!

EMISSARY: I told you we should have stuck with Orchard. He was bought and sold ...

STRONACH: Peter, it's the only way.

MACKAY: But I said ... I promised that I wouldn't!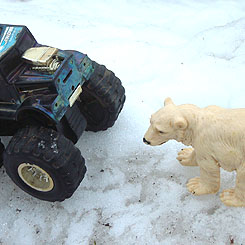 EMISSARY: Baby bear wants his mommy.

MACKAY: Shush, you! I ... I ... wait, that voice sounds familiar...

STRONACH: Peter, it doesn't hurt to talk. Just hear what Harper has to say.

MACKAY: Why are you asking me to do this? I though you loved me ... why are you trying to hurt me?

STRONACH: Talking won't hurt. Peter, trust me.

MACKAY: What else can I do?
10:14 PM , # , |

Tuesday, February 07, 2006

Flying Kitties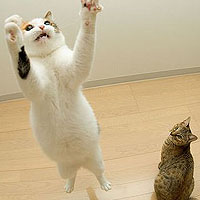 Here's a great Flickr set of flying kitty photos. Go download the theme song from 'Titanic' and then play it while viewing the set as a slide show.

It takes the emotion to a whole other level.

[ via Squiddity ]
7:53 PM , # , |



... To the Extreme!

In today's Star, Antonia Zerbisias explores the cartoon controversy a bit more and how it's extremists on both sides trying to drag moderates into a 'clash of civilizations':

Follow their politics and you'll understand why they're on this particular blogwagon: they hate Muslims. In fact, if they were to write about Jews the way they sometimes do about followers of the Prophet Muhammad, they'd be denounced as anti-Semites or Holocaust deniers.

She used Kathy Shaidle as an example and Shaidle posted her typical, selective response on her blog ... so Zerbisias reposted the column on her blog highlighting the chunks her critics were eager to overlook.
11:57 AM , # , |



Rappin' Reformer Rides Again

There are three -- three! -- Harris-era Tories sitting in Stephen Harper's new cabinet. How horrifying is it that Tony Clement, one of the instigators of the Common Sense Revolution, is now the federal Minister of Health? And he only won his seat by 28 votes! Crap, now I really regret not snapping a pic of him when we were standing next to him at Sneaky Dee's ...

But hey, here's something just as good. This strip is from 1999, when Clement, then Ontario Minister of Transportation, said that Toronto was "too dependent" on public transit:





Get ready for the refrain: Canadians are too dependent on health care!

Also: The centre. [ MacKay Cartoons ]
6:39 AM , # , |

Monday, February 06, 2006

Clash! Aaaa-ahhhh!

But even people who hold fast to the bedrock principles of liberal democracy may feel the exasperating hand of a darker manipulation here. Because when forced to an impasse, the cartoon battle becomes exactly what ideologues in both worlds would like it to be: a proxy for the Clash of Civilizations.

[via Cursor ]
5:57 PM , # , |



Citizen Maria

Maria celebrated gaining her Canadian citzenship with a party on the weekend. More pics here, here and .... BIG HAT!!!
12:29 PM , # , |



Further Reading

Doskoch has a good selection of posts linked to the cartoon situation.
9:55 AM , # , |

Sunday, February 05, 2006

Freedom of Screech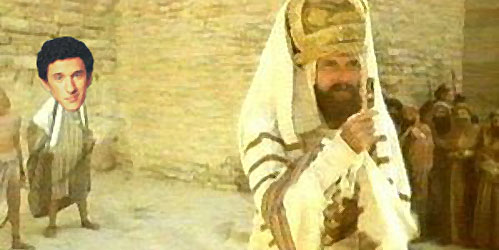 And all I said to Slater was, 'that piece of halibut was good enough for Zack'.

... And lo' and behold, the right-wing blog-mongers discovered freedom of speech.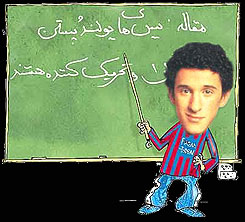 Briefly, that is; just as long as it suited them. Just long enough to thumb their noses at all Muslims and not just the extremists whose reactions to the Danish editorial cartoons were predictably extreme (and, it turns out, fueled further by at least three cartoons not published in the papers but circulated when the original cartoons failed to make an impression). Obviously, those three were not included in the batch of cartoons reposted by right-leaning bloggers in a declaration of solidarity with the cartoonists.

But as we know, 'freedom of speech' is hardly a core value of the hard right and last week Tom Toles wasn't granted the same support as the Danish cartoonists. Criticism of his Donald Rumsfeld cartoon included implicit accusations of treason, typically in this manner: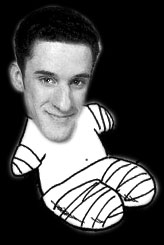 ... the Toles cartoon was so vicious, so tasteless, so intolerable, that a calm, objective and patriotic American could only be repulsed. Imagine: Toles depicted the likeness of a member of the United States Armed Services who had lost his arms and legs defending the Toles of the world from terrorists as the basis for a political assault ...

Imagine! Toles had the audacity to "depict the likeness" of a soldier who'd been wounded. Likeness of Mohammed, likeness of a soldier ... apparently, likenesses are a problem. Toles' cartoon was clearly drawn to show Rumsfeld's callousness but the right only accepted the narrow interpretation of it as an attack on injured soldiers. Was reaction to this particular cartoon, while not as loud, as irrational as reactions to the Danish cartoons? Or more?

Obviously, any row over religion is going to be soaked with hypocrisy and 'mutual ignorance'.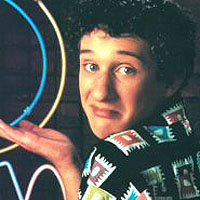 But locally, it was particularly amusing seeing Kathy Shaidle taking up the cause of free speech when she often bends over backwards to find offense every time a nun ( that is, likeness of a nun) wears a crop top. And while she doesn't burn any embassies in response, applying the most literal interpretations to define issues differs only in degree from those who have been rabidly criticised this week.

It was dragged down to the middle-school-level when David Warren emailed Shaidle, encouraging the faithful not to pre-complain about the show Will & Grace for scheduling Britney Spears to appear as a Christian fundamentalist cooking-show host in an upcoming episode:


My advice is: don't take action. Ignore the whole thing. Do not work to improve NBC's ratings, which will only encourage them to try it again.

And that's one to grow on!

Hey, it's the perfect non-reaction reaction. Normally they'd complain about such a thing; they shouldn't this time because then they'll just look like the Muslims! At least Muslim rioters managed to react only after they saw the offending cartoons. Until the Will & Grace episode airs, who even knows what to be offended by?

Some right-wing bloggers have been wondering why the "left" hasn't responded to the cartoon issue the way they have. Despite the declared intent, reposting the offensive cartoons on blogs took the form of a knee-jerk, online mob. Supporting freedom of expression through a consistent position accomplishes more than deepening an insult.
7:00 PM , # , |

Friday, February 03, 2006

delay

The Anne of Green Gables video scheduled for today has been postposed because of illness. Expect it next week!
2:16 PM , # , |

Thursday, February 02, 2006

Cartoon Controversy, US Edition

Bombs don't hurt people, cartoons do. [ via Cursor ]
12:37 PM , # , |



Weekly Sandwich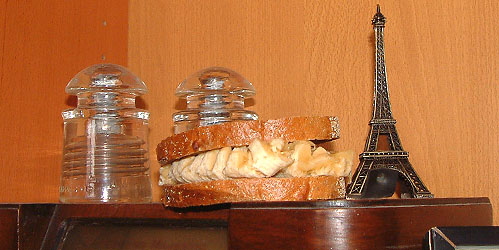 11:29 AM , # , |



Update

The school superintendent emailed back and said she would pass on my complaint to the school and something she mentioned made me realize that I might have fingered the wrong site ... so I checked and replied:

Hi,
Whoops, sorry, I got the school wrong ... it's actually St. Helen at College & Brock.
BL

I bet the other school's yard is spotless and everybody's scratching their heads!

Speaking of littering, here's the latest in the continuing Motorist vs. Courier saga. [ via Spacing Wire ]
7:01 AM , # , |

Wednesday, February 01, 2006

Litter

People were talking about picking up trash in the comments of an earlier post, so here's a Ms. Johnson cartoon on the topic from late last year.

When I'm walking Zack, we pick up trash and this cartoon was inspired by the disgusting state of a local schoolyard. There are two main sources of trash in our neighbourhood: The Dufferin Mall and St. Sebastian St. Helen (the school, not the saint).

The Duff is a source of trash because there's a food court and people -- mostly students from the high school on Lansdowne -- leave trails of fast food litter along the streets and back alleys. The elementary school generates trash in three ways: kids leave junk food litter at recess, people who use the yard for hockey on weekends leave their trash and parents drop a lot of litter in the planters at the front of the school while they wait for their kids (Tim Horton's has a slight edge on Coffee Time).

You're probably wondering: doesn't the school have a janitor? I was wondering that for a few weeks until one day, someone "cleaned" the yard .... by pushing the kids' litter under the fence and on to the sidewalk where people from the neighbourhood, like myself, picked it up. In fact, the state of that yard would be much worse if it weren't for the neighbours.

I think I will email the superintendent and local trustee to complain:

to: barbara.poplawski@tcdsb.org;angela.gauthier@tcdsb.org
subject: litter

Hello,

The litter around the St. Sebastian school inspired the attached cartoon which appeared in the December issue of the Liberty Gleaner. (it can also be viewed here http://brettlamb.com/msjohnson/) Myself and other neighbours frequently pick up trash left by the children at recess ... but perhaps it would be more appropriate to encourage the children and their parents not to litter.

Sincerely,
BL

I will report back and let you know if things get cleaned up!
10:17 PM , # , |



Cartoon Controversy
A post at Muslim Wakeup! argues that over-reaction to the Danish editorial cartoons has drawn attention away from issues of substance for Muslims and notes:

Muslims seem to forget that just because they are prohibited from representing the prophet in any way, this does not apply to everybody else.

It seems odd that the controversy is peaking now, several months after the pics were printed. What will the reaction be when an Islamic pop band becomes really famous and claims that they're "bigger than the Prophet"? Watch for it.
1:44 PM , # , |



Nature's Awesome-tastical Fury Presents ...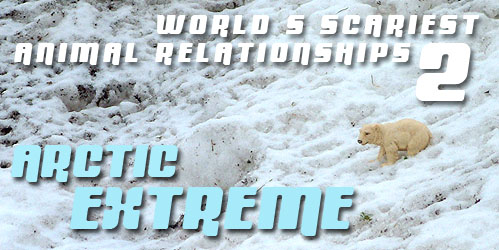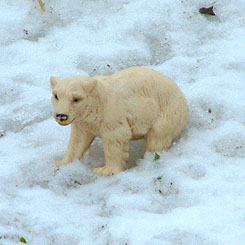 Peter MacKay the Polar Bear was wandering alone in the wilderness.

MACKAY: [ singing ] Sun's up for 24 hours, I got seal on the griddle ... life ain't nuthin' but a funny, funny riddle! Thank god I'm a tundra boy!

Just then, he noticed a stranger.

MACKAY: Whoa? Who be that purdy little thang?

STRONACH: Peter MacKay, why the hell are you wandering in the fucking wilderness?

MACKAY: Why if it ain't little Miss Belinda Stronach the Giraffe! Shucks!

STRONACH: You just sit out here all day, dickin' around?

MACKAY: What's a bear to do, doll?

STRONACH: Buddy, times are changing, politics are changing, music's changing. Are you happy living near-extinction? Global warming is going to fry your ass.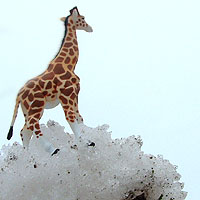 MACKAY: The simple life is the only life I know.

STRONACH: Listen, I'm so tall that I can see into the future and there are two roads ahead of you. One leads to getting fucked by reality, the other leads to certain glory.

MACKAY: Them sure is some harsh language comin' from such a purdy, little ...

STRONACH: Are you fucking listening to me?

MACKAY: [ shamed ] I'm listening.

STRONACH: I've got friends. You should come talk to them.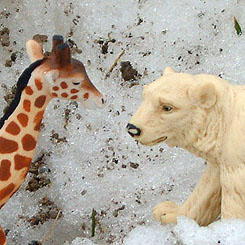 MACKAY: Friends?

STRONACH: Yeah ... people who have something in common with you: fear of the future.

MACKAY: I'm a bear, I'm not afraid of anything! ROAR!

STRONACH: Yeah, yeah; you're a big strong bear. But how much fish did you catch today?

MACKAY: Not much.

STRONACH: And without fish, you're going to get weaker.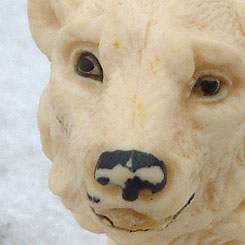 MACKAY: I reckon that's a fact.

STRONACH: You want to keep on being a big, tough, good-looking bear, right?

MACKAY: You think I'm good-looking?

STRONACH: You're fucking hot.

MACKAY: So are you.

STRONACH: I'm rich, too.

MACKAY: Huzzah!

Previously:
World's Scariest Animal Relationships: Brad & Jenn
[ EMAIL ]
happycreature
[at]gmail[dot]com

[ MY SITES ]
BRETTLAMB.COM
HAPPY CREATURE
MS. JOHNSON
ED LOCKE

[ NEW ]
DeadThingsonSticks
Hollywood North Report
Parkdale Pictures
Searching for Tao
Sooey

[ DAILY ]
Accordion Guy
AllThingsChristie & BWE
Bill Doskoch
Circadian Shift
Daily Dose
Davezilla
PAVED
Tony Pierce

[ FRESH ]

[ NEWS & ISSUES ]
boingboing
Cursor
Drawn!
FoodNews
Fark
Fleshbot
Garlicster
MetaFilter
The Register
Slashdot
Space.com

[ TORONTO ]
Regular Reads:
Apt. 606
Day in the Life
Dead Robot
Easternblog
Ice Queen
Luminescent
Marmalade
Naked KnitGirl
Photojunkie
Pony
Pshaw
Robot Johnny
Rusty Robot
Squiddity

City & Issues:
Andrew Spicer
Azerbic
BlogTO
Corrigan
GTABloggers
MacKay
Spacing Wire
Torontoist
Warren Kinsella

Music & Arts:
Alan Hunt
Children of the Atom
Chromewaves
Pezgirl
Sally McKay
Secret Lair
Toronto Comic Jam
Zoilus

Local Colour:
Armchair Garbageman
Bacon and Eh's
Consolation Champs
Crazy Biker Chick
Daily Muse
Enter the Chapel
estrojenn
Free Clara
Help! I'm a Postmodernist!
JB Warehouse & Emporium
John Gushue
moot point
Nug
Raymi the Minx
Riri's Braindump
Secret Storm
Patrick Byck
TBIT
United Bingdom
Wainbows

[ CANADA ]
Ontario:
James Bow
Simple Spendor

East:
Digifox

West:
Comic Strip
Confessions of a Monkey
Dust My Broom
Grrl Meets World
Matthew Good
Jennifer Good
Ian King
Jeff Merrit

Family:
Merv
Dad
Gillian
Kevin

[ USA ]
Regular Reads:
Dooce
Jen Collins
Jett Superior
Maakies
MegaBeth

New York:
Blaggblog
Cityrag
Explananda
Lindsayism
My Blog is Poop
Panopticist
Rocketboom
Yoon Choi

East:
democraticSPACE


Central:
Blogumentary
Fred the Blog
Indigoblog

South:
72HrChick
Bunny McIntosh
Skillzy
SKSmith

[ INTERNATIONAL ]
Australia:
Brett Lamb: OZ
Little Lioness

New Zealand:
Penguin Says Yes

UK:
B3TA
Liz Vang
Rathergood

A R C H I V E S
[ 2006 ]
JANUARY - 1
JANUARY - 2
FEBRUARY
MARCH



[ 2005 ]
JANUARY
FEBRUARY
MARCH
APRIL
MAY
JUNE
JULY
AUGUST
SEPTEMBER
OCTOBER
NOVEMBER
DECEMBER



[ 2004 ]
MAY
JUNE
JULY
AUGUST
SEPTEMBER
OCTOBER
NOVEMBER
DECEMBER

[ 2002 ]

[ 2003 ]