Sunday, April 30, 2006
Food!
Inspired by this morning's brunch, Amber finally started her food blog: Amber Delicious!

And, of course, she runs FoodNews, which covers global food policy issues.
12:04 PM , # , |

Saturday, April 29, 2006

Opening Night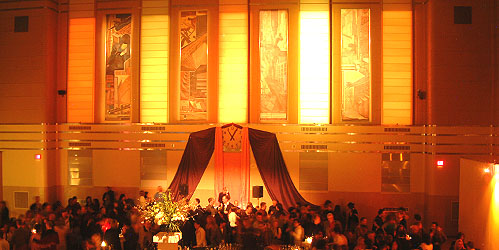 There's a quick post about the Hot Docs Opening Night Screening & Party on my other page. For regular updates, check out the Hot Docs Daily.
10:58 AM , # , |

Thursday, April 27, 2006

Hot Dogs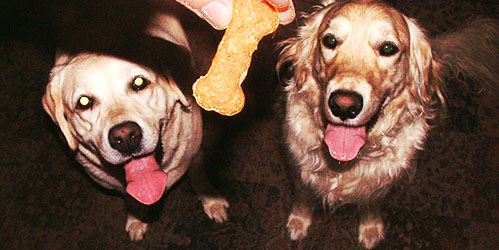 In the weeks leading up to Hot Docs there's so much work, it puts a dent in the routines of several dogs. To make up for that, Jenn creates a batch of special, homemade dog cookies every year that make the dogs go wild.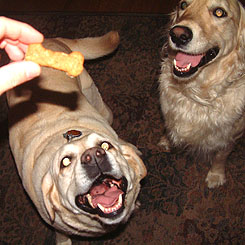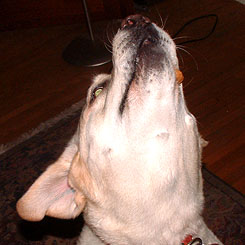 Above you can see Lexie demonstrate her patented lunge-for-the-cookie-and-chomp. Again.
10:03 PM , # , |



You're a Strange Animal, That's What I Know

Walking home through the alley this evening, I saw an odd animal I've never seen in the city before: POSSUM! The only time I've ever seen possum are as roadkill in Michigan.

The Toronto Wildlife Centre FAQ notes:

Opossum numbers are increasing in Ontario as a result of a lack of natural predators and warmer winters in recent years. If you see an Opossum in your area, consider yourself lucky that you have just seen North America 's only marsupial (the females carry their babies in a pouch)!
....
When they feel threatened, Opossums try to appear intimidating, but their behaviour is largely for show. They will stand still and open their mouth wide, showing you their many teeth in hopes you will run away; if this doesn't work, they will try to turn and get away; if the Opossum feels it has no chance for escape, its last line of defense is to go into a coma-like state, drooling and emitting a foul odour in hopes of convincing the predator that it is dead, and therefore unattractive prey.
8:17 PM , # , |

Wednesday, April 26, 2006

No Relation

Now his massive genitals refuse to co-operate
And no amount of therapy can hope to save his marriage.

Weisblott just emailed me this post about a song about local condo real estate poster boy, Brad J. Lamb.

For the record -- again -- I am not Brad J. Lamb. I am clearly C. J. Horace Lambthwistle XVIII.

Owen Pallett, the composer of the song (listen to it here, it's quite good) isn't the only only who has it in for Lamb; turns out Tony also wants everyone to boycott the guy. Oh, wait, that post is four years old ... DAMN! I MISSED THE BOYCOTT!
8:43 PM , # , |



Just When You Thought Nature Was Safe ...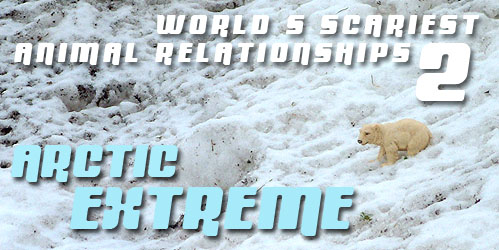 Previously:
1 - They Meet
2 - Orders

Belinda Stronach the Giraffe convinced Peter MacKay the Polar Bear to cross the tundra to meet Stephen Harper the Elephant ...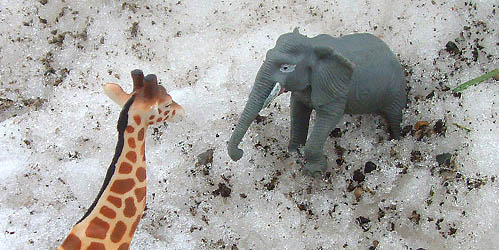 STRONACH: Okay, buddy. I brought him ... go easy on him. He's just a boy.

HARPER: Whoa ... Who's a boy? Who are you? Who am I? What is I? Did you know that 'i' is the only letter in I?

STRONACH: Oh crap, he's on another 'soul journey'.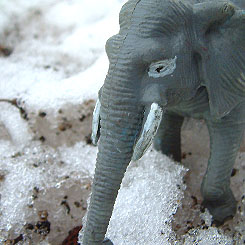 HARPER: I can see the aura of your soul crackling like lightning across the surface of your body. I can see the colour of your smell.

STRONACH: ... great.

HARPER: I can hear the future. I can taste the past.

MACKAY: He's sounds different ...

HARPER: Peter? Is that you?

STRONACH: It's him, Stephen.

HARPER: Why are you so afraid, Peter?

MACKAY: The world is getting warmer and I ain't got no fish!

HARPER: No, man. The world isn't getting warmer, it's staying the same while the universe grows colder.

MACKAY: Huh?

HARPER: It's all part of the great, intelligent design.

STRONACH: Peter is thinking about joining us.


HARPER: Peter already joined us. He's always joined us, he always will. He just hasn't embraced the union, man.

MACKAY: Wow, he's so deep.

HARPER: I'm so thin I'm transparent, I have no mass, I am energy shaped and crafted by the Creator.

STRONACH: You're stoned.

MACKAY: Something has really changed, this is not the man I hated.

HARPER: Hate is arbitrary, man.

MACKAY: Tell me more!
2:00 PM , # , |



Jane Jacobs

Jane Jacobs passed away this week. Taddle Creek has an essay about her by Alfred Holden.
8:20 AM , # , |

Monday, April 24, 2006

24 Hours

New RadioClash Ep. 72 is very good, featuring an interview with Eric from the Kleptones. Download the Kleptones mash-up album 24 Hours ... really good stuff.
9:51 PM , # , |



The TTC Marketing Horror, Ep. 2761

Accordion Guy compares TTC marketing with fan-created efforts. Be sure to check out the dismal, "official" TTC merchandise. Hello, crap!
8:01 PM , # , |

Sunday, April 23, 2006

Sell Dell

After the Dell Hell I've been through over the past year, this isn't a shock.
11:43 PM , # , |

Saturday, April 22, 2006

Hot Docs 2006: Recommended!

Beyond Beats - Sat Apr 29, Sat May 6
Shadow Company - Mon May 1, Fri May 5

There's a very strong selection of films at theis year's Hot Docs and here are two worth checking out, Beyond Beats: A Hip-Hop Head Weighs in on Manhood in Hip-Hop Culture and Shadow Company. Both docs offer a complete examination of their subjects and you'll leave the theatre feeling like you've had the full course.

Beyond Beats
Not only does Byron Hurt's doc critically consider every -- EVERY -- aspect of hip-hop culture, it's full of revealing moments when the people on camera unwittingly expose themselves or help Hurt make his case. In one scene, when asked why he doesn't rap about positive things, a young rapper immediately unleashes some uplifting, positive poetry and then gives the camera a withering look and asks 'who the hell is going to buy that'. Hurt manages to take all the loose threads and make the connections between the negative stereotypes and the money and power.

Beyond Beats also screens with Heavy Metal Jr., which is just like Metallica: Some Kind of Monster except with pre-teens. A group of rocker kids prepare for the big concert and it doesn't seem like they're going to make it. Features my favourite pain-inducing scene of any of the docs I've screened so far this year.

Shadow Company
Mixes humour and horror as it examines the role of the mercenary in contemporary armed conflicts. Even though the screening note refers to Iraq, this is not another 'Iraq film'; it looks at several conflicts where mercenaries or private security firms played different roles with different results. Again, you'll leave the theatre feeling like you got the whole story.

Speaking of Iraq docs, there is one in the fest, White Platoon Baghdad 2004, and it's quite good but it seems like once you've seen one embedded-with-soldiers-in-Iraq doc, you've seen them all. The subtle shift in this one compared to earlier Iraq conflict docs is the obvious growing frustration and boredom of the soldiers who just wish that someone would shoot at them to relieve the monotony.

More reviews and recommendations to come!
11:30 AM , # , |

Friday, April 21, 2006

Freedom of the Pressed

Stephen Harper thinks he's Dick Cheney and is using US Republican-style strategy [via Cursor ] to deal with reporters, such as having aides approve a list of reporters who are allowed to ask questions. Listen here to hear the confrontation that happened when reporters came up with a plan to thwart Harper.
4:51 PM , # , |

Thursday, April 20, 2006

Juicy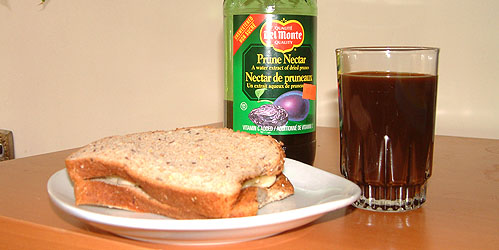 Peter Cetera once sang about the glory of love for the soundtrack of a Karate Kid sequel. If he were alive today, he'd sing about the glory of enjoying a sandwich with a strong shot of prune juice. Prune juice is glorious, it's like drinking the blood of god.
11:10 AM , # , |

Wednesday, April 19, 2006

Epilogue

"(CRIA is) looking out for their best interest, and their best interest is multinationals that are not Canadian," said Ric Arboit, president of Vancouver-based Nettwerk Records.

6 big indie labels quit the CRIA; Sam Bulte remains unelected.
10:00 AM , # , |

Tuesday, April 18, 2006

Recommended #2 ...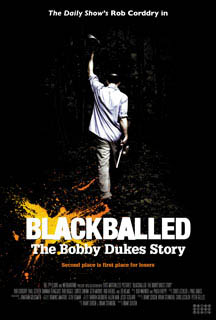 The other night I watched the mockumentary, Blackballed: The Bobby Dukes Story, [ trailer here ] which opens for a week-long run at the Royal Cinema this Friday (and Vancouver, Winnipeg & Edmonton in May) and it's damn funny. It stars Rob Corddry from the Daily Show. Check it out, it's a lot of fun ... like Saving Private Ryan, but with paint:

In the heat of the 1993 Hudson Valley Classic, Paintball's greatest legend, Bobby Dukes, gets caught wiping (cheating) and is banned from the sport. Humiliated and disgraced, Bobby Dukes disappears.

Ten years have passed and an older, wiser Bobby returns to compete in the tournament from which he was banished ...

There's a great supporting cast of wacky characters including a Canadian paintball team who are the world's biggest jerks. Worth seeing!
10:06 PM , # , |



Recommended #1

This week's RADIOCLASH has a couple of wacky Sgt. Pepper's covers and plenty of other good stuff.
8:50 AM , # , |

Thursday, April 13, 2006

Two Weeks to Go!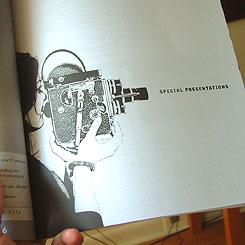 Hot Docs starts two weeks from tomorrow. This year's Programme Guide just came back from the printer and you can get a copy for $2 cheap at the Fest Box Office at Sonic Boom Records on Bloor. It's 160 pages of documentary film action and you can see how I used Rannie's photography.

Also, Images Festival kicks off tonight with their gala and opening night party.
11:23 AM , # , |

Tuesday, April 11, 2006

b-DAY ACTION TIMe


Happy Birthday to Merv! 28 years ago today, I had pneumonia! And a new Darth Vader action figure!
2:19 PM , # , |

Thursday, April 06, 2006

It Seems Like Years Since It's Been Here
7:59 AM , # , |

Wednesday, April 05, 2006

The String Instrument Dream #45067

Last night I dreamt that I had to go play the violin at a recital even though I don't know how to play the violin. But even the closer to performance time, the less I seemed to care. I mucked around with the instrument a bit and it was clear in my mind that I was as capable of operating a violin as I am able to pilot the space shuttle.

Fortunately, I woke up before the concert!
11:15 PM , # , |

Tuesday, April 04, 2006

Nuts! Rats! Beans!

Wasn't that last post a great, rockin' return to the bloggin'? You wouldn't think that anyone could do a worse rendition of 'We Didn't Start the Fire', but there it is. I love the little rock sub-genres like Christian rock that slather a drippy layer of ideology over their music; it puts the musicians in a very submissive position instead of being provocative, which is what you expect from "rock". Watch that video and then listen to Andy Williams pwn MacArthur Park for a good comparison.

I've seen two -- TWO! -- rats in the past five days. Rats. [ shiver ] I hate rats. That's the problem with a mild winter, you end up with a vermin festival the following spring. You know what's next ...

Adina celebrated her fifth blog birthday. Andrew is back. Blookers have been announced. [ via boingboing ]

Did you see that new condo planned for Mississauga? Someone should slap the next person who calls it 'Marilyn Monroe'. I hate it when news people try to force a nickname, like CNN did with that 'Chemical Ali' guy.

Okay, spotty blogging begins ...... NOW!
10:13 AM , # , |

Monday, April 03, 2006

InstaKitsch

It's so bad, it's .... er ... "Bush Was Right" music video [via Instapundit] :



Democracy is on the way, hitting like a tidal wave
All over the middle east, dictators walk with shaky knees
Don't know what they're gonna do,
their worst nightmare is coming true
They fear the domino effect, they're all wondering who's next

Domino effect? Funny they should mention Vietnam ...
[ EMAIL ]
happycreature
[at]gmail[dot]com

[ MY SITES ]
BRETTLAMB.COM
HAPPY CREATURE
MS. JOHNSON
ED LOCKE

[ NEW ]
DeadThingsonSticks
Hollywood North Report
Parkdale Pictures
Searching for Tao
Sooey

[ DAILY ]
Accordion Guy
AllThingsChristie & BWE
Bill Doskoch
Circadian Shift
Daily Dose
Davezilla
PAVED
Tony Pierce

[ FRESH ]

[ NEWS & ISSUES ]
boingboing
Cursor
Drawn!
FoodNews
Fark
Fleshbot
Garlicster
MetaFilter
The Register
Slashdot
Space.com

[ TORONTO ]
Regular Reads:
Apt. 606
Day in the Life
Dead Robot
Easternblog
Ice Queen
Luminescent
Marmalade
Naked KnitGirl
Photojunkie
Pony
Pshaw
Robot Johnny
Rusty Robot
Squiddity

City & Issues:
Andrew Spicer
Azerbic
BlogTO
Corrigan
GTABloggers
MacKay
Spacing Wire
Torontoist
Warren Kinsella

Music & Arts:
Alan Hunt
Children of the Atom
Chromewaves
Pezgirl
Sally McKay
Secret Lair
Toronto Comic Jam
Zoilus

Local Colour:
Armchair Garbageman
Bacon and Eh's
Consolation Champs
Crazy Biker Chick
Daily Muse
Enter the Chapel
estrojenn
Free Clara
Help! I'm a Postmodernist!
JB Warehouse & Emporium
John Gushue
moot point
Nug
Raymi the Minx
Riri's Braindump
Secret Storm
Patrick Byck
TBIT
United Bingdom
Wainbows

[ CANADA ]
Ontario:
James Bow
Simple Spendor

East:
Digifox

West:
Comic Strip
Confessions of a Monkey
Dust My Broom
Grrl Meets World
Matthew Good
Jennifer Good
Ian King
Jeff Merrit

Family:
Merv
Dad
Gillian
Kevin

[ USA ]
Regular Reads:
Dooce
Jen Collins
Jett Superior
Maakies
MegaBeth

New York:
Blaggblog
Cityrag
Explananda
Lindsayism
My Blog is Poop
Panopticist
Rocketboom
Yoon Choi

East:
democraticSPACE


Central:
Blogumentary
Fred the Blog
Indigoblog

South:
72HrChick
Bunny McIntosh
Skillzy
SKSmith

[ INTERNATIONAL ]
Australia:
Brett Lamb: OZ
Little Lioness

New Zealand:
Penguin Says Yes

UK:
B3TA
Liz Vang
Rathergood

A R C H I V E S
[ 2006 ]
JANUARY - 1
JANUARY - 2
FEBRUARY
MARCH



[ 2005 ]
JANUARY
FEBRUARY
MARCH
APRIL
MAY
JUNE
JULY
AUGUST
SEPTEMBER
OCTOBER
NOVEMBER
DECEMBER



[ 2004 ]
MAY
JUNE
JULY
AUGUST
SEPTEMBER
OCTOBER
NOVEMBER
DECEMBER

[ 2002 ]

[ 2003 ]