Thursday, August 31, 2006
More IKEA Wee Wees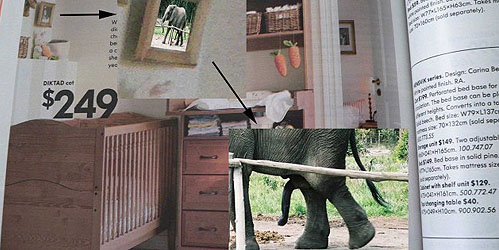 Over at A Day in the Life, more from IKEA's Big Book of Penises!
6:02 PM , # , |

Wednesday, August 30, 2006

Pothead Activist Anne of Green Gables

PREMIERES AT TIFF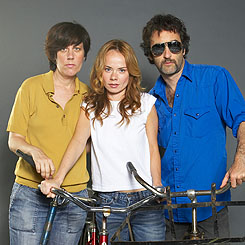 Monkey Warfare is on the cover of EYE WEEKLY today. The flick premieres at TIFF on Sept. 10th. There's also a website up and running.

I made some festival swag for the film (and wrote about it earlier). I wish I'd been credited on the film as the 'Jolly Swagman'. I would have waltzed that title right to the bank, Matilda.

Best of all, I really like this flick and highly recommend it. It's not often that you can do that! See it when it hits the theatres ...
10:28 PM , # , |

Tuesday, August 29, 2006

Because You Need to Know

SpoilerFix has the details on the new tv season.
8:33 PM , # , |

Sunday, August 27, 2006

Free & Easy

I've got the Free Image of the Week up at iStock. Grab yourself a copy! It's free!
2:01 PM , # , |

Friday, August 25, 2006

Maintenance Dudes

Do you ever see characters from your life long after they're relevant?

Two examples:

1) Way back in 1990 I was a lifeguard at the Douglas Snow Aquatic Centre in North York. At that time, whenever a woman in a bikini enetered the pool area, the old maintenance guys would all mumble to one another, "Ahhh, California girls, California girls ..." I still spot one of those guys in my neighbourhood on a regular basis (in fact, just a few minutes ago on the way home from the gym).

2) A couple of years later, I was working at the GAP at First Canadian Place. In the bowels of that building worked a tiny, sad old hump-backed maintenance man. One day I was down in the stockroom unloading holiday merchandise and the room was packed so I was piling the empty packing boxes out in the hallway. The old maintenance man saw what I was doing, but he couldn't speak English, so he just pointed at the boxes and made that honking noise geese make when they're upset. All I could do was reply, THERE'S NO ROOM and ignore him ... which only made him honk louder. I see that guy around from time to time, too.
4:20 PM , # , |



IKEA Penis Dog


Update: My scan of the IKEA doggie penis made the Swedish news!
8:35 AM , # , |

Wednesday, August 23, 2006

Small Town

Read what's it's like growing up in my hometown:

The funny thing is, is that as soon as people hear that you grew up in rural setting, they often assume that your under-educated, ill-mannered and probably have a book about about Tonya Harding's tragic life story sitting on your coffee table. And to be completely honest with you - in many cases - they'd be right!
9:19 PM , # , |

Monday, August 21, 2006

Panography

Photo collages by TBIT.
9:26 PM , # , |

Friday, August 18, 2006

Owen!


Merv's new pup.
4:49 PM , # , |



Or Will You Catch It on the Rebound?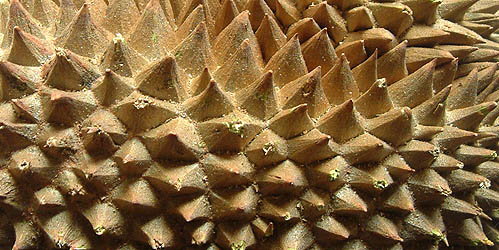 Durian, don't you think you're falling?
If everybody wants you,
Why isn't anybody calling?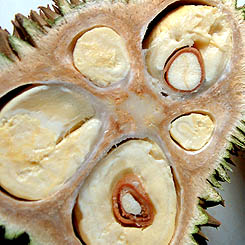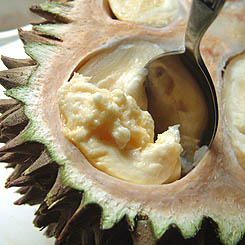 Durian, I think they got your number!
I think they got the alias,
You been living under!
But you really don't remember,
Was it something that they said?
All the voices in your head,
Calling Duuuuurriiiiaaaaan!
4:12 PM , # , |

Monday, August 14, 2006

Don't Be Afraid

"The government's responsibility is to make sure that fear and terror are not disproportionate to the reality of the situation."
6:15 PM , # , |

Wednesday, August 09, 2006

Together at Last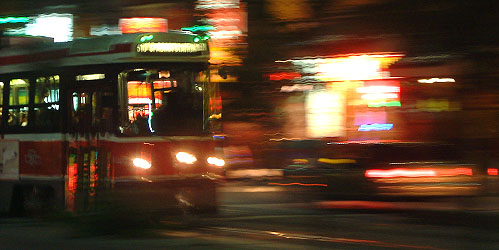 Spadina Avenue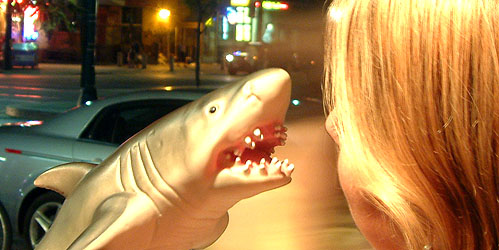 SHARKY: [sings] Together at last!

MARIA: [also sings] Together forever!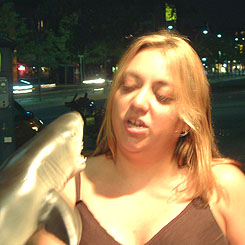 SHARKY: We're tying a knot!

MARIA: They never can sever!

SHARKY: I don't need sunshine now to turn my skies to blue!

BOTH: I don't need anything but YOU!

BOTH LAUGH: Ha ha ha ha ha ha ha!

MARIA: [speaking] Sharky, why did we ever break up in the first place?

SHARKY: Baby, we were never a couple. We were just hanging out.

MARIA: Well, that's all changed!

SHARKY: It sure has ... [sings] Yesterday was plain awful!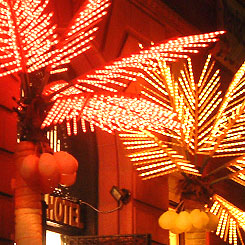 MARIA: You can say that again.

SHARKY: Yesterday was plain awful!

BOTH: But that's not now! That's then!

SHARKY: [talking] Hey, isn't this a fine, fine summer evening here on Spadina Avenue in Toronto town?

MARIA: I'll say.

SHARKY: Look at where we are. Standing in front of the ol' Rivoli.

MARIA: Remember the nights we used to spend there, sneaking sips of liquor because of the Prohibition?

SHARKY: And how! Whadya say, baby? You want to head on up ... for old time's sake?

MARIA: Let's go!

They walk up and are greeted by Nadia.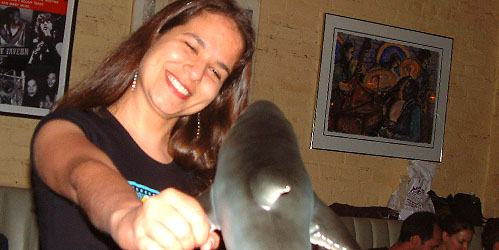 NADIA: Ah, Sharky, old friend ... it's been a long time.

SHARKY: How's it goin', toots?

NADIA: Do you ever have blue days? Days when it seems like the sun will never shine?

SHARKY: I did before I met Maria.

NADIA: Well, if you ever have them again, just remember this little ditty ...

MARIA: Oh my gosh, she's going to sing us a song!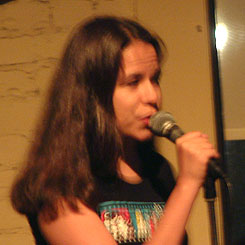 NADIA: [Shatner-esque spoken word] When I'm stuck ... with a day, that's grey and lonely.

MARIA: That's sad. I might cry.

SHARKY: Cry, baby, cry.

NADIA: I just stick .. up ... my chin and grin and say!

SHARKY: She's gonnna belt it outta the park!

NADIA: OOOOOoooohhhh!

SHARKY: Woooo!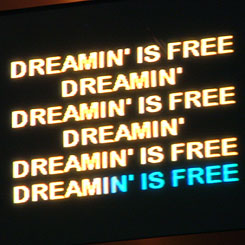 NADIA: [sings] The sun will come out, tomorrow, so you gotta hang on 'til tomorrow .... come what may ...

MARIA: Here it comes ...

NADIA: TOMORROW, TOMORROW, I'LL LOVE YA', TOMORROW! YOU'RE ONLY A DAAAAAYYY ... AAAAA ... WAAAAAAAAAYYYYY!

[ HUGE APPLAUSE ]

NADIA: And remember kids, winners don't use drugs!

[ CURTAIN ]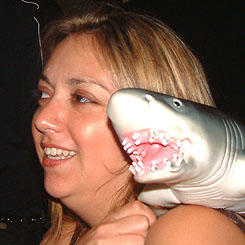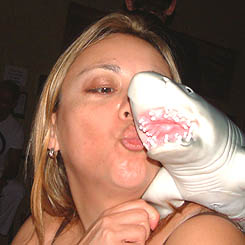 4:53 PM , # , |

Tuesday, August 08, 2006

Fun & Games

A few more days, a few more posts and then I'm taking a blog break until after Labour Day. This blog will return with a new design and some new stuff to make things interesting again.

Meanwhile ...

You know Rick McGinnis, he comes here to call me a 'lightweight' from time to time, hoping it will stick. He loves the right-wing tactic of agressive repetition but it isn't especially effective at the personal level ... or when it's so transparent ... or when the target of the insult prefers to be called "oblivious bimbo". Rick wound up looking like a stooge over the weekend in the comments attached to this post at Accordion Guy:

RICK: Actually, he got his MBA from Harvard. Nothing to crow about, I guess. How many Harvard degrees do you have, Martey?

MARTEY: Only one. How many do you have?

At that point the thread is just kind of funny; Rick took a poke at the guy and it turned out that he does have a Harvard degree. Good zinger but no big deal .... until Rick, obviously feeling caught, panics and blurts out:

RICK'S CAFE: Well, that's wonderful, Martey. Was it a walkover - could you have done it with one hand tied behind your back? Is it a completely valueless piece of paper? I hope not.

Or was the crack about a Yale undergraduate degree just a bit of Ivy League rivalry? I'd hate to think it was a knee-jerk crack at a president who rubs you the wrong way, contradicting everything you personally know about high-priced degrees.

I wish I had a Harvard degree, Martey. I'd settle for one from Yale. Alas, I'm one of those poor unpapered unfortunates who've had to get by without academic credentials. I do, on the other hand, have some respect for the work required to get one, which for some reason you seem happy to pretend you don't, personal experience notwithstanding.

Remember, this whole thing was sparked by a tame billboard joke poking fun at George W. Bush but Rick turns it into a self-pitying lecture about the value of "academic credentials". And look at that last sentence:

I do, on the other hand, have some respect for the work required to get one, which for some reason you seem happy to pretend you don't, personal experience notwithstanding.

Really? The Martey person had enough respect for the work to actually do it. And Rick's lecturing him? I guess his 'respect for the work' doesn't extend to the person who actually did the work.

There was also a dust up between Doskoch and Kinsella this weekend and Bill responds fully here. Warren ended his post on the subject with a threat:

I concluded by telling him I may do a column on this subject: I think Torstar and BellGlobe shareholders need to know that the "F*** the Jews" guy is being promoted by Doscock and his pal, she-who-shall-not-be-named, don't you?

Is that necessary? Doskoch's integrity is solid and lobbing a threat against him because of a little blog sparring is unreasonable. Even worse, it's an obviously empty threat, making it seem all the more childish. There's no meat for such a column.

Kinsella hates the bloggers I love!
8:39 AM , # , |

Thursday, August 03, 2006

Closet Case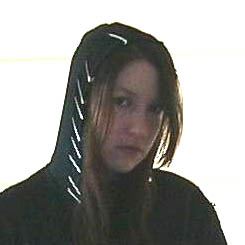 Everybody's got a play on these days. Kat just emailed and ordered me to attend her play, Closet Case, in London, Ontario (Aug 5-13th). Oh wow, it starts the day after tomorrow. If you're in London, you should catch a performance. Kat is both writer and star ...

... and look at the pic; there she is in character.

If you can't make the London run, it will also be playing in Hamilton and Crystal Jonasson from Lost in Translation will be playing Kat's role for one performance! That's A-list celebrity power!
7:58 PM , # , |



Sandwich Breathe the Air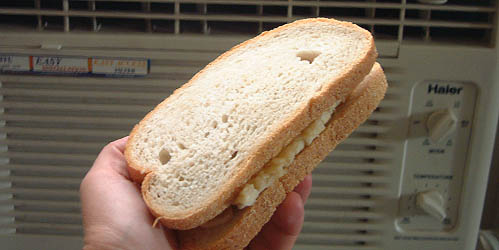 Now that its life feels so pre-arranged, this sandwich knows that it's time for a cool change.
9:47 AM , # , |

Wednesday, August 02, 2006

Too Damn Hot ...

All my energy has been sapped away by the heat .... it's too hot to post. If you don't have air conditioning, Kelly has a post for you. I found a few of those tips unreasonable. They might help Paul, who only has two damn fans. He read the Da Vinci Code and observes:

I think it's only common sense to think that Jesus would have carnal knowledge of the ladies.

And finally, be prepared ... 2007 is going to be a really crappy year for movies.
5:55 PM , # , |

Tuesday, August 01, 2006

Hottest. Night. Ever.

And Leon's getting laaaaaaarger.
[ EMAIL ]
happycreature
[at]gmail[dot]com

[ MY SITES ]
BRETTLAMB.COM
HAPPY CREATURE
MS. JOHNSON
ED LOCKE

[ NEW ]
DeadThingsonSticks
Hollywood North Report
Parkdale Pictures
Searching for Tao
Sooey

[ DAILY ]
Accordion Guy
Bill Doskoch
Circadian Shift
Daily Dose
Davezilla
Tony Pierce

[ MUSIC ] Coverville
Radio Clash


[ NEWS & ISSUES ]
boingboing
Cursor
DIGG
Drawn!
FoodNews
Fark
Fleshbot
Garlicster
MetaFilter
Reddit
The Register
Slashdot
Space.com

[ TORONTO ]
Regular Reads:
Apt. 606
Day in the Life
Dead Robot
Easternblot
Ice Queen
Luminescent
Marmalade
Naked KnitGirl
Photojunkie
Pony
Pshaw
Robot Johnny
Rusty Robot
Squiddity

City & Issues:
Andrew Spicer
Azerbic
BlogTO
Corrigan
GTABloggers
MacKay
PAVED
Spacing Wire
Torontoist
Warren Kinsella

Music & Arts:
Alan Hunt
Children of the Atom
Chromewaves
Pezgirl
Sally McKay
Secret Lair
Toronto Comic Jam
Zoilus

Local Colour:
Armchair Garbageman
Bacon and Eh's
Consolation Champs
Crazy Biker Chick
Daily Muse
Enter the Chapel
estrojenn
Free Clara
Help! I'm a Postmodernist!
JB Warehouse & Emporium
John Gushue
Know Ourselves
moot point
Nug
Raymi the Minx
RoninKengo
Riri's Braindump
Secret Storm
Patrick Byck
TBIT
United Bingdom
Wainbows

[ CANADA ]
Ontario:
James Bow
Simple Spendor

East:
Digifox

West:
Comic Strip
Confessions of a Monkey
Dust My Broom
Grrl Meets World
Matthew Good
Jennifer Good
Ian King
Jeff Merrit

Family:
Merv
Dad
Gillian
Kevin

[ USA ]
Regular Reads:
Dooce
Jen Collins
Jett Superior
Maakies
MegaBeth

New York:
Cityrag
Explananda
Lindsayism
Panopticist
Rocketboom
Yoon Choi

East:
democraticSPACE


Central:
Blogumentary
Fred the Blog
Indigoblog

South:
72HrChick
Bunny McIntosh
Skillzy
SKSmith

[ INTERNATIONAL ]
Australia:
Brett Lamb: OZ
Little Lioness

New Zealand:
Penguin Says Yes

UK:
B3TA
Liz Vang
Rathergood

A R C H I V E S
[ 2006 ]
JANUARY - 1
JANUARY - 2
FEBRUARY
MARCH



[ 2005 ]
JANUARY
FEBRUARY
MARCH
APRIL
MAY
JUNE
JULY
AUGUST
SEPTEMBER
OCTOBER
NOVEMBER
DECEMBER



[ 2004 ]
MAY
JUNE
JULY
AUGUST
SEPTEMBER
OCTOBER
NOVEMBER
DECEMBER

[ 2002 ]

[ 2003 ]