Saturday, March 31, 2007

Maria, Don't Read the Globe!

The Globe had a really weak article on the facebook today:

And older doesn't mean better behaved. If anything, Facebook brings back behaviour that went out with plaid shirts, Tuffs boots and Nirvana. From competing over who has the most friends to sending snide notes to "check out so-and-so's 'friends,' " it's Grade 11 all over again.
...


Zevi Rosenzweig, a Toronto-based lawyer who is married with three kids, gave Facebook a try, but quickly changed his mind. The 30-year-old says he signed up and then took down his profile "30 seconds later" after he realized how much personal information people post.

"It's too scary," he says. "I just don't want my personal stuff up there. Sure, there's controls and you have say over who can access your stuff, but I don't know which of my friends is putting my stuff where."

It's one of those typical "the internet is scary and for teenagers!" articles. Its funny that media bias persists, considering that we're at the point when even most 40-year-olds grew up with computers. Heck, 'computers' was one of my classes when I was in grade 9 ... in 1983! So don't give me that tired 'only kids 'get' computers' crap.

As for the lawyer who doesn't want his personal stuff on the internet ... well, what's he hiding, eh? Ha! If privacy is your preference, that's fine but calling it "scary" is a bit dramatic.

Now, the good stuff the article neglects. For me, the site is working out because it's a great way to keep track of events. I can find out what's coming up simple by clicking one link. If I had the time -- and I don't -- there's a full roster of interesting stuff to keep me busy. For me, that's what's making it worthwhile. That and showing off my Tuffs boots.

2:07 PM , # , |


Thursday, March 29, 2007

A Banner Day

The Annex

I took Zack over to the Annex and Yorkville to check out the first splashes of spring colour ... the new Hot Docs street banners. Zack was glad that I learned a lesson from the first time and came up with a higher contrast, more eye-catching design this year. [ more on my flickr page ]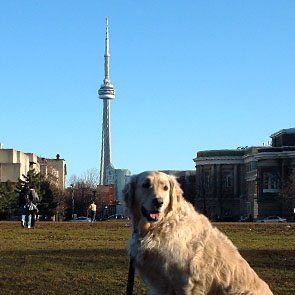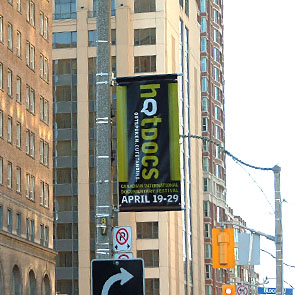 10:12 PM , # , |




Where Is She?
Eva started a new group on facebook called Where's Maria? Maria, it's so weird that you haven't joined yet because that site is MADE FOR YOU and all your internet friends are already there. Waiting. All of us. Every. Single. One. It's a big party. And you're missing it.
12:29 AM , # , |


Tuesday, March 27, 2007

Slamming. Naked.
OK, I grabbed a copy of the rough cut of Naked Slam, the documentary about Carmen's Electra's naked women wrestlers. I'll post a review after I watch it. I'm expecting two things from this film:

Thing #1: Nakedness.
Thing #2: Slamming.

I'll let you know how it goes ...
6:59 PM , # , |




... I Tell Myself, Before I Go to Sleep.
How could anyone think that a society that mimicked the Nazis down to the last detail -- the swastikas, uniforms, SS, the "sieg heil" salute, technology, fascism, the obsession with order and a leader call "The Fuhrer" -- would not end up duplicating the brutal, threatening and hateful aspects as well? Where did this guy get his history degree? [ Accordion Guy ]
12:01 PM , # , |


Sunday, March 25, 2007

Here Come the Hot Docs!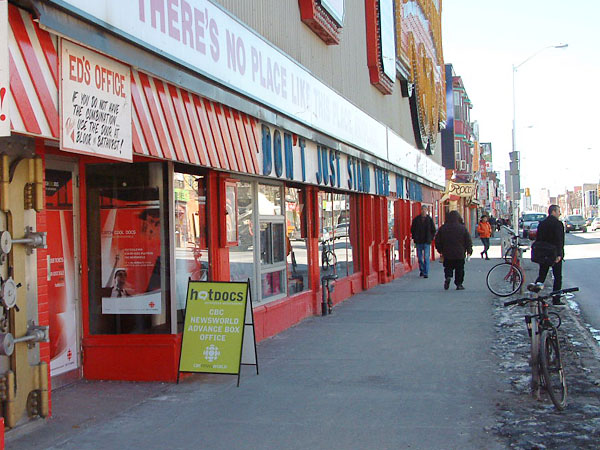 Honest Ed's

I dropped in to the Hot Docs CBC Newsworld Advance Box Office (at Honest Ed's, on Bloor) and found Alan Black (Strongman, Beautiful & Deranged: The Song of the Yukon) hard at work.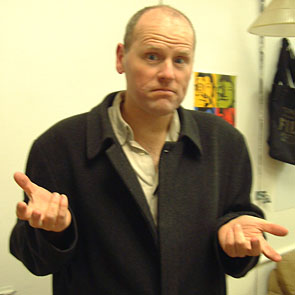 BLAMB: Did you see the screening schedule? It's in the current issue of NOW.

BLACK: Yeah. Looks good!

BLAMB: The printer went the extra mile to get the cover image printed properly. I owe Nicolas a bottle of pop.

BLACK: Or a beer.

BLAMB: Or some French onion soup!

BLACK: So, what do you think of the docs that were selected?

BLAMB: I don't know what the programmers were thinking. How do they decide which films to accept and which ones to reject?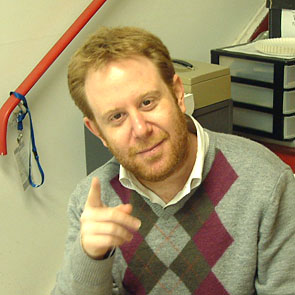 BLACK: Did you submit a film?

BLAMB: No, but Todd, the boxfit instructor at my gym worked on a film that was submitted ... AND REJECTED!

BLACK: There are more than ten films submitted for every one that's selected. What was his film?

BLAMB: Naked Slam.

BLACK: Naked Slam?

BLAMB: It's about Carmen Electra's Naked Women's Wrestling League. They're women.

And they wrestle. Naked.



BLACK: That's taking the "hot" in Hot Docs a little too literally.

BLAMB: I'll say. There are just these tiny, little useless thumbnails on the NWWL website, so who knows how hot anybody really is ... oh, and pictures of Carmen Electra smoking a cigar.

BLACK: And sometimes a cigar is just a cigar.

BLAMB: I certainly hope so. From the pics on the NWWL myspace page, it looks like Todd plays some kind of Gimp.

BLACK: Did you go to the press conference?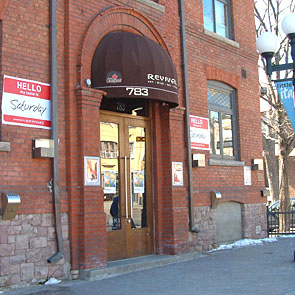 BLAMB: Yeah, it was at Revival, again. It was a chilly morning, so it was good to be warm inside with a big cup of coffee.

BLACK: It was busy?

BLAMB: Packed! The place was crawling with media looking for filmmakers to interview.

BLACK: Did anyone interview you?

BLAMB: Pardon?

BLACK: Did anyone interview you?

BLAMB: .... [ blinks ] NUTS! Nobody ever interviews me! I've got something to say. I've got thoughts and ideas. Some of them are my own!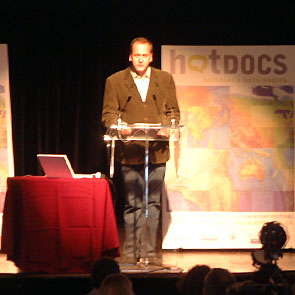 BLACK: Do any films stand out for you?

BLAMB: Zoo is very good. It's a film about women who wrestle horses, naked.

BLACK: No it's not.

BLAMB: Well, it almost is. A any rate, it's an excellent film. The subject of King Corn also interests me. It examines the overproduction of corn. My first summer job was detasseling corn.

BLACK: You detasseled corn?

BLAMB: Sometimes I think the corn detasseled me.

BLACK: Ok, what else?

BLAMB: Of course, I'm excited about Alan's film, Lovable. Maria and Anita are in it. You wouldn't know them, they're not on facebook.

BLACK: So, are you going to get some work done for me? Or are you going to go and write on your blog?

BLAMB: Oh, come on. What do you think?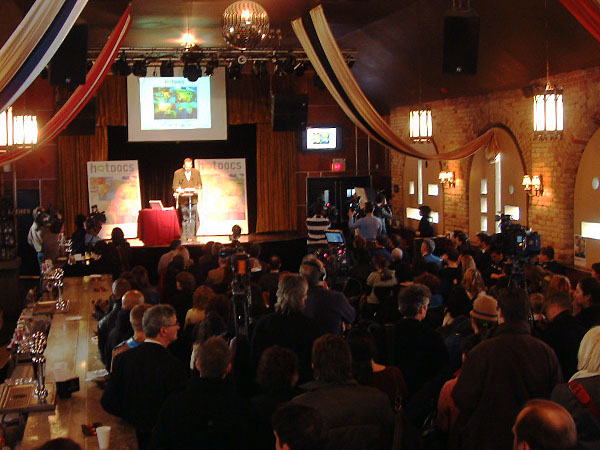 Hot Docs starts April 19, 2007!
2:09 AM , # , |


Saturday, March 24, 2007

Ah HA!
Hone could go on for half an hour about the problems she'd had with the Vista PC. Her web camera won't install and most of her old computer games won't run."I think I have maybe one game from XP that I can get onto the system," said Hone.
....
Microsoft says it is resolving all the issues.
4:48 PM , # , |


Thursday, March 22, 2007

Can You See the Vista?
I'm getting first-hand reports on Vista, so I'm going to relay them to you.

Vista Tale #1: Webcam? What Webcam?

New Vista, new webcam. Vista doesn't recognize webcam. Vista is made by MicroSoft. Webcam is made by ... MicroSoft.
2:01 PM , # , |


Tuesday, March 20, 2007

Happy Iraqi-versary
CBC Fifth Estate documentary detailing the lies that led to the invasion of Iraq.
12:51 AM , # , |


Sunday, March 18, 2007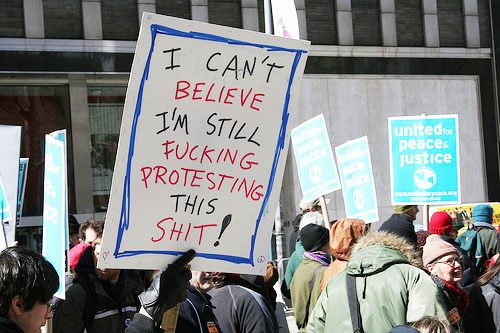 Alice's Peace March Experience was four years ago.
10:58 PM , # , |




Much Anticipated!
Don't people remember that the LAST Indiana Jones movie really sucked?
9:52 PM , # , |




Sunday Lesson
12:03 PM , # , |


Friday, March 16, 2007

Pix
Sample of one of my istock pics being used in a design.
11:19 PM , # , |


Thursday, March 15, 2007

Hey, Sports Racers!
The Show with zefrank is ending! The fabulosos say good-bye, here. From here on in, it's just a bleak future of cheap zefrank imitators ranting about atheism on Google Video. Or worse, Rocketboom.

Oh well, the internet giveth, the internet taketh away (like when you get a computer virus from a porn site).
8:41 PM , # , |




Hot Docs
The ad campaign for Hot Docs kicked off today with a full-page, colour ad in NOW.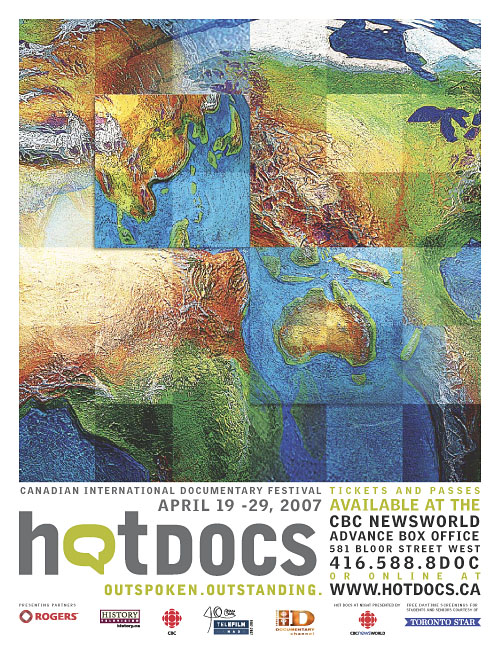 Last year's artwork was very clean, so the goal this year was to create something grungier. Last year's artwork also had a local focus (we used local filmmakers as models), so this year we ran with an international theme. I built a globe out of papier mache and had Bloggie-Hall-of-Famer Rannie photograph it, then created the above photo collage out of the pics.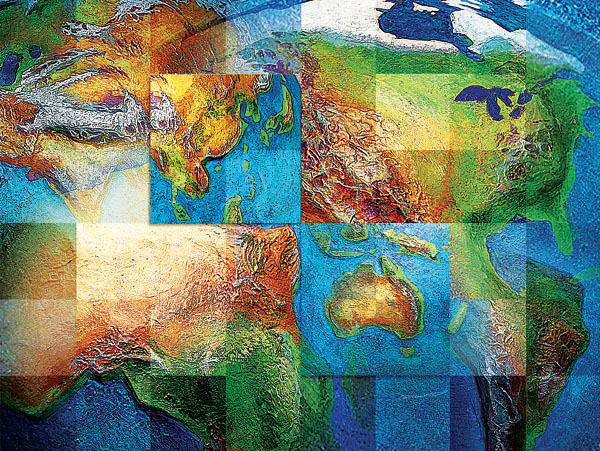 I'll post more pics from the process on a later date ...
11:19 AM , # , |


Wednesday, March 14, 2007





I started this blog five years ago! I'm continuing it today!
11:49 PM , # , |




Swindle Swindle
If you saw the climate change documentary, The Great Climate Swindle, on reddit (and I'm sure Grandpa Rick will be quoting from it liberally from now on) you can follow up by reading a couple of posts that expose the filmmakers as having a history of being deliberately deceptive. One of the scientists featured in the doc is feeling swindled because he was told that the film was going to examine the complexity and misconceptions of the issue and found his views, instead, being misrepresented.
1:08 PM , # , |




False Advertising
A new "spa" opened up across the street from our notorious, neighbourhood strip club, The House of Lancaster II. It's called the 'Comfrey Spa' ... but the signs say it costs $10!
12:44 AM , # , |


Tuesday, March 13, 2007


2:01 AM , # , |


Sunday, March 11, 2007

Space Junk
Zack & I were out for a walk about an hour ago and at one point I looked up and saw what looked like a huge meteor streaking through the sky (we were around Dovercourt, looking west). I figured it was probably space junk rather than a rock because it was BIG and bright, was glowing bright yellow-orange and was breaking apart and had a streak of bright green streaking behind it.

If you hear anything about what it was, leave a comment or send a link.

Fun video: Meteor Compilation
9:07 PM , # , |




More Mexico
Here are a few more pics from the second half of my second trip to visit Amber in Mexico last month: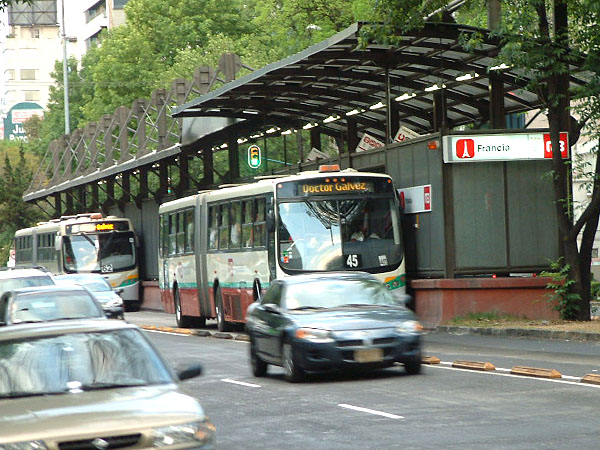 The MetroBus (dedicated bus lane) on Avenida Insurgentes. Mexico City seems like it would be the perfect place to cycle .... but nobody rides bikes. They don't walk much either, even though the walking is quite nice. Also, in Mexico, Scotiabank & HSBC are in love! If you see a Scotiabank (they're everywhere in Mexico), HSBC is either right next door, across the street or around the corner. If you see HSBC but there's no Scotiabank ... check your map, you're in Texas!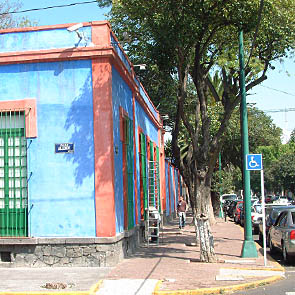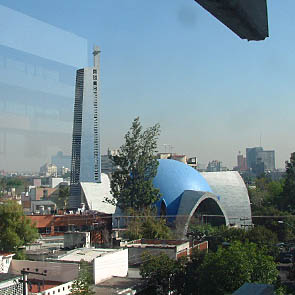 (above, left) Frida Kahlo's blue house has been transformed into a so-so museum and gallery. (above, right) On the other hand, Trotsky's house has been preserved in much the same state as when he was assassinated and is worth a visit.

(left) The view from the apartment where we were staying, looking towards the city's historic centre (way, way off in the distance). One thing that's really hard to find in Mexico: a decent cup of coffee. It's really easy to end up with some really bad coffee ... but the fresh-squeezed orange juice makes up for it.

Also, watch out for cold hot dogs cut up and mixed with ketchup. They might be listed as 'sausages' on the menu ...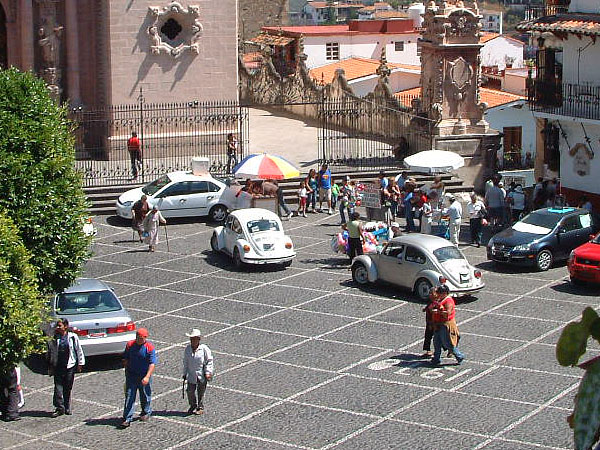 (above) Later in the week, we went to Taxco, a touristy -- but not too-touristy -- mountain town.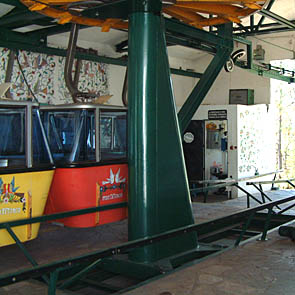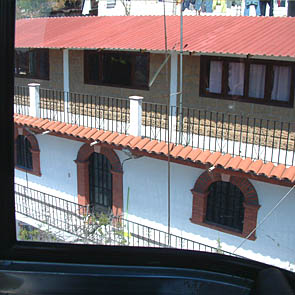 Taxco has a cable car imported from Europe. You can ride it to the top of one of the hills. We went up even though heights scare me and I worry about jets.

(above, right) On the way up, you pass right by some houses but we didn't see anybody watching telenovelas through the windows.

We did see dogs sitting in piles of their own filth on the tops of houses. That's always nice but if it were me, I would worry about the poo and pee seeping through the ceiling. Especially if it was a big dog because they can poop a lot.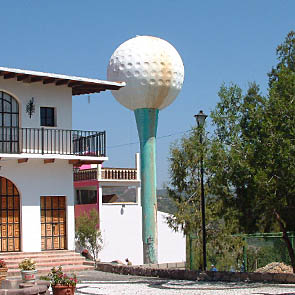 (above, right) The reward! When you get to the top of the hill, you get to see the giant golf ball!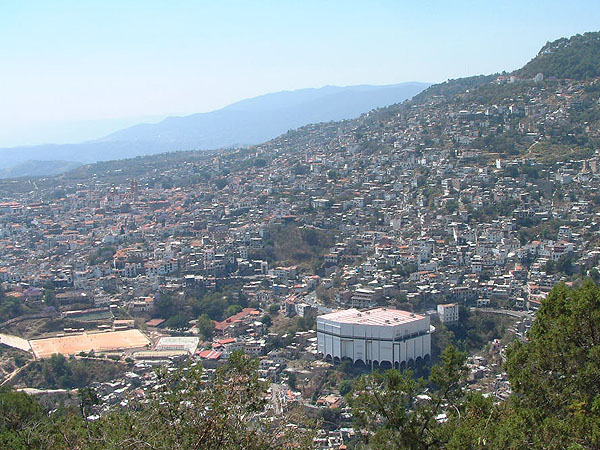 There's also a great view of the town and surrounding valley. Our hotel is somewhere in the middle of all that. The big, white building on stilts in the foreground is a new-ish grocery store.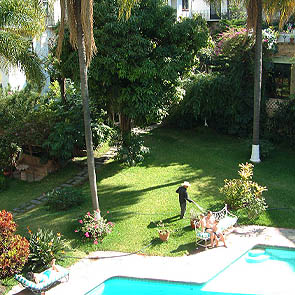 (above, left) There was a Chupacabra at the hotel. We had to tip him constantly. (above, right) The pool and courtyard in th hotel was really comfortable ... if you could navigate the crazy streets and get to it.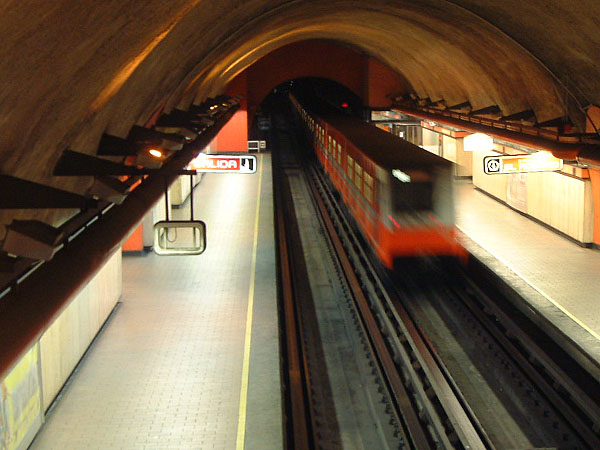 After Taxco, we had a few more days in Mexico City. We took the subway several times during the trip and their trains are the same ones used in Montreal, right down to the rubber tires. Once you've seen the crowds in the Mexico City subway, you'll never complain about the TTC again.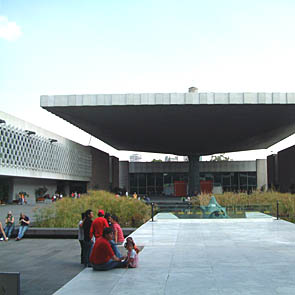 Our last trip was to the Antropological Museum which has extensive exhibits about Mexican history and culture. Everyone recommended it to us and so I'm recommending it to you. It's worth the visit for the turtle pond alone!

And that's it. My flight back was cancelled and I spent and extra night in a hotel and had to get up at 2:30 am to fly out the following morning (which was late departing). Then I got back here and it was winter again.
5:48 PM , # , |


Saturday, March 10, 2007

Excuse Me, Your Oil is Crashing
Oil Crash (now titled, 'A Crude Awakening: The Oil Crash') just opened for a run at the Royal. It was one of the more compelling docs at last year's Hot Docs (I watched it three times) and frankly, Peter Howell was on crack when he gave it a 2/4 rating. He complained that it doesn't have a happy ending (and the happy end is what rings hollow in 'An Inconvenient Truth') ... but we had drinks with the filmmakers at the festival and they explained that when they talked to the experts, none of them had much to say that was positive.

But the best thing about the movie? No Al Gore!

Anyhow ... Hot Docs is coming up: April 19-29. The list of films -- lots of films! -- is coming in a couple of weeks. Until then, I have ... no ... life ...
2:00 PM , # , |


Friday, March 09, 2007

Long Time, No Sandwich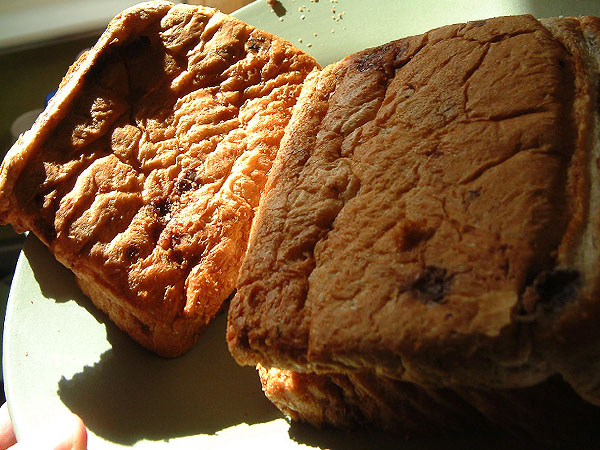 Banana and apricot marmalade on cinnamon raisin bread. I know what you're thinking. "It's not possible! He couldn't have done that! No, it's not true!"

Yet there it sits, slouching towards Bethlehem. Or something.
5:25 AM , # , |


Tuesday, March 06, 2007

Important Workout Notice
If you go to my gym, I'm leading the runfit class on Friday. So you'd better be there. It's gonna be fun, I'm gonna have new music and there will be maze-like hallway running action.
10:03 PM , # , |


Monday, March 05, 2007

Poster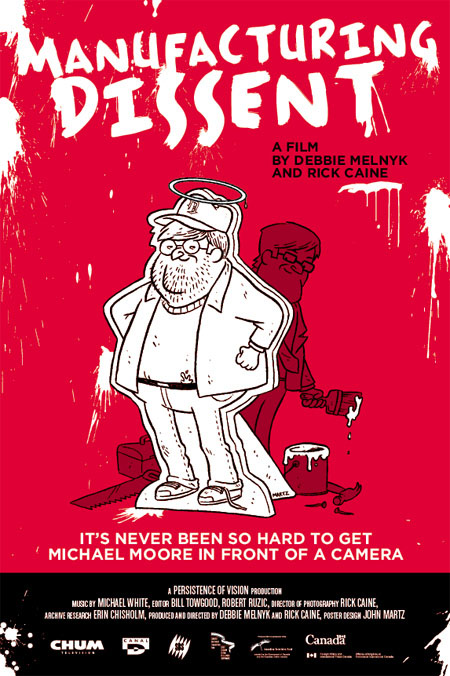 I really want to, but wasn't able to do the poster for Manufacturing Dissent, a new documentary about Michael Moore, so I passed the project on to Robot Johnny who did the smashing artwork above. The film will be at Hot Docs in April.

Also:
SXSW page.
Article on the doc.
Trailer.
9:00 PM , # , |




They Just Work
Maddox on Mac Users:

If everything on a Mac just works, then why does a website called "Mac fix it" exist, assholes? Here are a few choice topics on macfixitforums.com:

-Login window stuck!
-lower caSe "S" key not working!!
-Menu bar keeps flashing
-I can't drag and drop!

Waaaah, boo hoo! I can't drag and drop! Dumbass. Looks like your Macs aren't perfect after all ...
7:38 PM , # , |


Sunday, March 04, 2007

Web 2.Oh No, Not Again
Merv MSN'd me and said ...

MERV: Why don't you quit being old-fashioned and get on facebook?

And, I replied some like ...

BLAMB: Is it going to be Orkut all over again.

MERV: No.

BLAMB: Is it going to be Linked In all over again?

MERV: No.

BLAMB: Is it going to be MySpace all over again?

MERV: No.

BLAMB: Is it going to be like PreciousMoments all over again?

MERV: No.

BLAMB: Ok, what's it going to be like?

MERV: Fun.

BLAMB: Really? I'm gonna join right now!!!

And they all lived happily ever after.
10:58 PM , # , |




Flash Crack
Much too addictive flash game. [ via reddit ]
4:48 PM , # , |


Saturday, March 03, 2007

Comic
Freelancer's Guide to Working From Home. [ via Accordion Guy ]

... and related: weight gain.
2:13 PM , # , |


Thursday, March 01, 2007

It's Not the Heat, It's the Humidity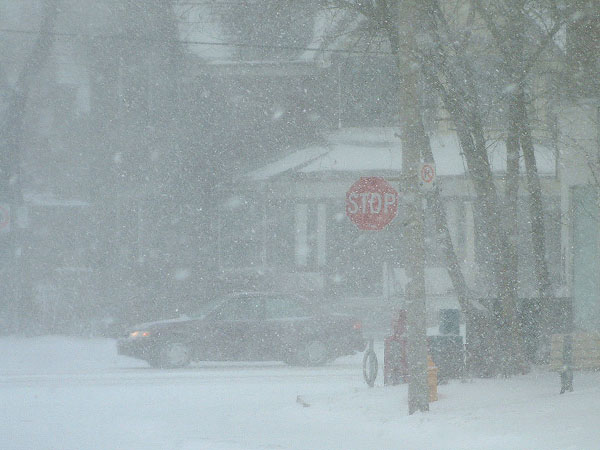 Here in Toronto, it's snowin' & blowin'.

More here, here and here.

Friday update: Then it rained and all melted. Now it's freezing again.
3:10 PM , # , |




Amen!
1:19 PM , # , |