Tuesday, September 30, 2008
Cartoon Rally 100
Word On The Street was my last big festival project for the year, so blogging can resume again.

I'm going to bring the year to a close with a cartoon rally: 1 cartoon per day for 100 days. No breaks. Every single day. Can you handle that? Because I don't think you can. I don't think you're ready for it. Doesn't matter ... 'cause here it comes ...
11:43 PM , # , |


Saturday, September 27, 2008

Sunday!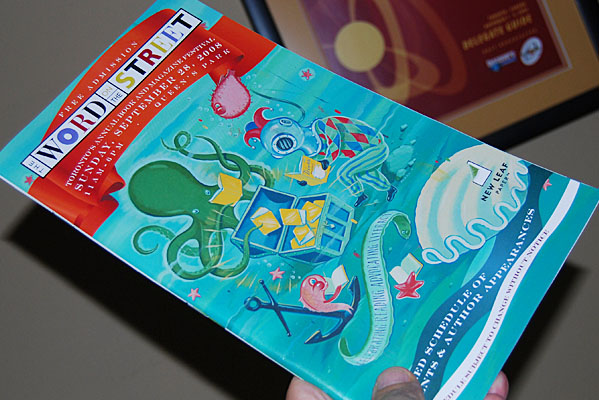 The Word On The Street returns to Queen's Park tomorrow from 11am to 6pm. The day will be loaded with events and author appearances ... all the details are provided in the programme guide I helped put together for you.

I gripe about companies and groups claiming to adopt environmentally-friendly practices that aren't, such as those heavy "recycled" bags that are made in China. But this year's guides are the real deal.

The rain is supposed to pass today and tomorrow is looking like a great day to get out to the park!
1:26 PM , # , |


Wednesday, September 24, 2008

Division 101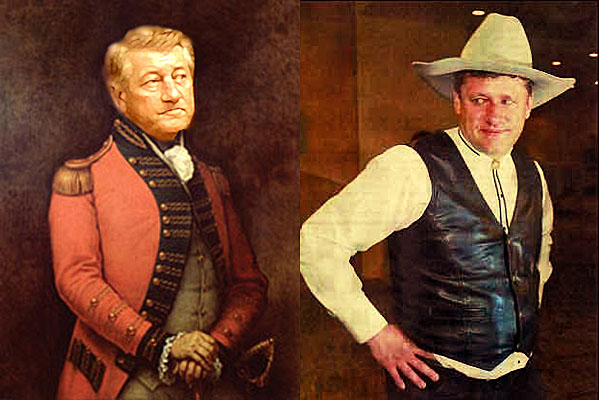 Harris via Harper Valley.

It's become pretty clear that Harper's arts cuts are a divide & conquer strategy in the ol' Mike Harris style. And it works by playing to common prejudices, even if reality is somewhat different:

"I think when ordinary working people come home, turn on the TV and see a gala of a bunch of people at, you know, a rich gala all subsidized by taxpayers claiming their subsidies aren't high enough, when they know those subsidies have actually gone up -- I'm not sure that's something that resonates with ordinary people,"

See? There are two types of people in the world: "ordinary" people and "rich" artist "elites". The "elites" are blowing taxpayer money on galas and the "ordinary" people need someone like Harper to put a stop to it. Kinsella spotted it:

Did they kick at this hornet's nest deliberately, or did they merely trip on it? The next few days will tell. At the risk of sounding like a Philistine, I can assure you that if the denizens of Deepest Annex leave their million-dollar homes and take to the airwaves to bray and shriek about the cuts, and liken them to an apocalypse and whatnot, they will lose Middle Canada -- and play right into Stephen Harper's hands. If, however, the artistic community plays it smart -- by cooling the rhetoric, speaking in French, and detailing the significant economic benefits of a thriving culture -- they might just win, and thereby do some serious damage to the Conservatives' lusted-after majority. Art is the triumph over chaos -- but can it triumph over politics?

To further inflame the issue, the conservatives cut funding quietly by redirecting funds through Canadian Heritage (the Globe crunched the numbers and exposed this last weekend) so that they could accuse the arts community of getting upset over nothing, making them seem even more like spoiled brats in the eyes of so-called "ordinary" people.

Here's a test you can perform yourself when the weekend papers come out (or Toronto Life or whatever): look up the society pages and check out the pictures from any recent galas. Do you see lots of artists or do you see rich people who aren't artists? If you're unsure of who's who, the artists are the awkward minority, looking out of place in the corner because they don't often get out of their basement studios to attend galas in their Value Village sneakers. And note how many of the wealthy people in those photos are Tories (for example: William Thorsell? Tory.).

The fact of the matter is, almost everybody who works in the arts in Canada is really, really poor. I'm sure there's someone, somewhere who is swaddled in government cash for life ... but I've never met them. Even the few who make a decent living could make far more money doing other things. I split my work between corporate projects and arts projects and the budgets of mundane, low-level corporate projects (ones that, when completed, get tossed out because the VP gets shuffled) would be viewed by most people in the arts as vast mountains of wealth.

I think there are people who wish there was an artistic elite because it sounds very romantic. Galen Weston Jr. -- son of a billionaire businessman, not an artist -- created the Spoke Club to help foster such a thing. But most of the people I've known who work in the arts are ordinary people who inhabit their communities ... they're not separate from other people. Look at some "big" names as examples: Alice Munroe lives in Clinton, not Rosedale. Timothy Findley lived outside of Cannington. Colm Feore lives in Stratford. Greg Curnoe not only lived in scrappy London, the region consumed his work.

Harper's division strategy also works because people who work in the arts don't agree with one another on how the arts should be funded (for example, lots of people think money spent on that mega-fest, Luminato, would be better spent directly supporting artists). So, the issue also gets people within the arts sniping at each other. It worked the same when when Harris went after the teachers. Everybody against everybody.

As a strategy, it's a cynical play on people's emotions ... but the Harris gang made it work for them and Harper's having luck with it so far.
10:22 AM , # , |


Tuesday, September 23, 2008

Cats & Dogs
Pretend that the cat is Stephen Harper and the dog is Stephane Dion:



Ok, now pretend this one is Jack Layton:



And this one I'm just including to make you cry:


1:11 AM , # , |


Monday, September 22, 2008

Amy Winehouse!
It's been hectic around here and I forgot to post that Kinsella has added ACTING to his blog:



Let's hope that NDP pothead candidate is the first of a long line of characters on his blog. Oh yeah, and it's election time so Kinsella's blog has 73% extra zing right now.
2:19 AM , # , |


Saturday, September 20, 2008

"That's a Little Harsh."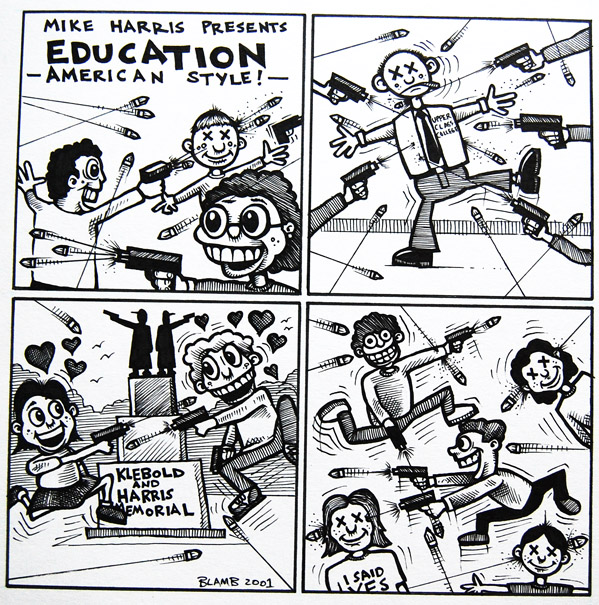 When this cartoon ran in the Annex Gleaner back in 2001, some people -- including the newspaper staff -- said, "It's a little harsh." And at that time it was, compared to, say, last night.

I am not blessed with remarkable psychic powers; you could see where things were heading. The provincial government under Mike Harris did the following things:

- challenged the federal government's gun registry
- manufactured a public education "crisis"
- provided tax breaks to private schools
- implemented tax cuts that mainly benefited wealthier citizens
- removed supports for lower-income citizens

But, on top of all that, the worst thing they did was to promote a climate of division and reinforce it with policy: everybody against everybody else in a dog-eat-dog world. Are we supposed to be surprised when the most vulnerable members of society take it to heart?

Fortunately, the Harris Tories are no more and some of their members now sit in Stephen Harper's caucus where they can't cause any trouble .... awwww, crap. What kind of idiot country elects the same type of people as the ones who just trashed the country next door?
2:43 PM , # , |




All Your Oprah Belongs to OVER 9000 Penises
Oprah gets spoofed:



Where the line originated:

1:30 AM , # , |


Friday, September 19, 2008

Sometimes Waiting is the Best Part
Sarah at Hollywood North Report revisits some old story ideas:

Short story idea #3
Title: The Second Coming of Christ (or Jesus Gets a Haircut)

Jesus comes back to earth.
But decides this time, humanity is not worth saving.
Chooses not to die for us.
Turns his back on God.
Becomes one of us.
Gets a haircut.
3:03 PM , # , |


Thursday, September 18, 2008

Sometimes Comments Are the Best Part
Woman gives up dogs, blames economy, gets trashed in comments.
8:31 PM , # , |




Downside
Crap, I just realized a downside to turning 40. After you turn 40, if you travel back in time, you'll be the oldest person in most past civilizations you visit.

And, oddly, you'd also be one of the healthiest. Unless you eat McDonald's every day ...
1:25 AM , # , |


Wednesday, September 17, 2008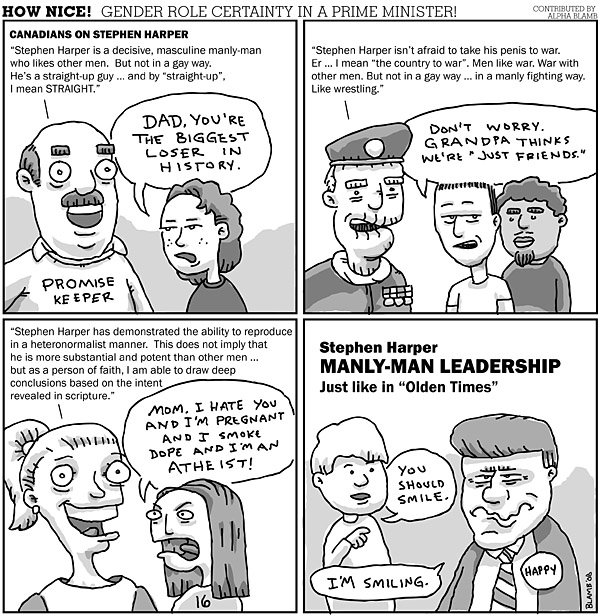 Conceptually, the Conservative's ad campaign was a good idea: compare and contrast. Their pre-election ads tried to establish the notion that Harper is decisive and solid; the current election ads position Dion as "risky".

But dock marks for execution. The comic gambling ads are so annoying, they're unwatchable by the third viewing and the pre-elections ads were like a Wal*Mart commercial put together by Freud.

Thing is, even television advertising can't turn Harper into a true alpha male. If Stephen Harper was an alpha, nobody would have laughed when George Bush called him, "Steve". And everybody laughed.

Besides, a manly-man would have stuck to his fixed election date and not run to the polls just because his government is teetering on the brink of a deficit ...
12:24 AM , # , |


Tuesday, September 16, 2008

Something New, Too


My first animation file -- in 1080 high definition -- is available over at iStock. Lots of animations to come ...
2:35 PM , # , |




Something New
You'll be able to find my images at Getty Images soon ... my first pic just became available.
1:47 AM , # , |


Sunday, September 14, 2008

Fun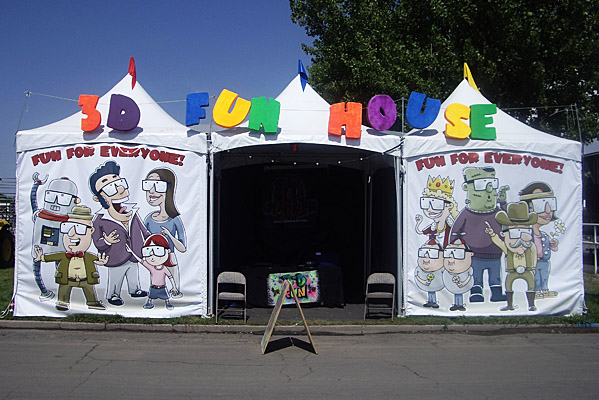 I know I'm a grim, horrible person ... but sometimes even I like to have fun, which is why I did the illustrations for this 3D funhouse in the US. Inside the funhouse, you wear special glasses so the 3D illustrations JUMP OUT AT YOU. All sorts of other crazy things happen to you as well; I think one guy spits on you. No, really ... water squirts out of a hole in his mouth. Dr. Tongue would be proud.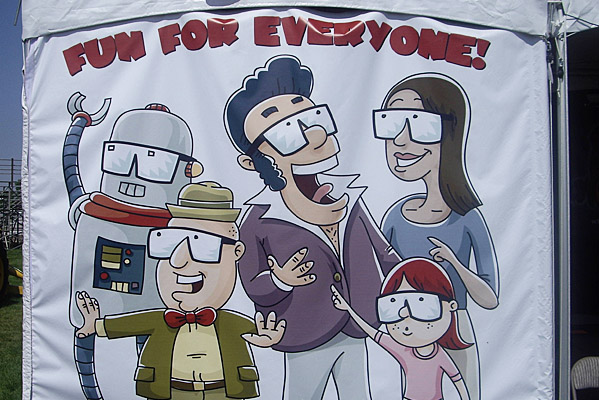 See? Everybody loves 3D. Especially robots and Elvis impersonators. Other people who enjoy 3D include queens, monsters, cowboys, hippies and creepy little chubby twins.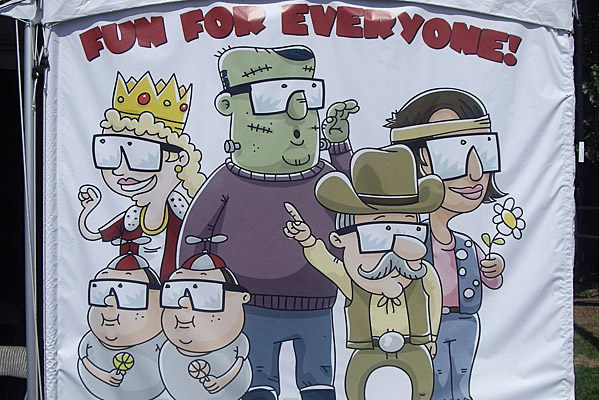 3D fun was so much fun, I'm doing another one. Work is just about to begin on a Hallowe'en 3D funhouse. You may think that's TOO MUCH fun ... but i say nuts to that! bring on the fun!
11:20 PM , # , |


Thursday, September 11, 2008

I Knew That It Was True!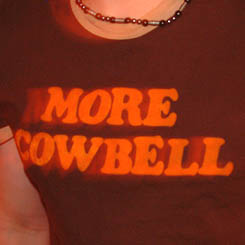 This website let's you add more cowbell to any song. Good thing, too, because it seemed like this song was missing something ...

[ via FunnyPages 2.0 ]
11:10 PM , # , |


Wednesday, September 10, 2008

Matt Damon is Scared of Dinosaurs
11:58 PM , # , |




Toronto Stories Party @ Union Station
The party to celebrate the premiere of Toronto Stories was tonight in the Great Hall at Union Station.



No matter what you do, someone else seems to come up with a similar approach at the same time. Still, I think Atom Egoyan is the one who needs to be jealous, because clearly the Toronto Stories poster is 2 inches taller. Wait, is that Scott Speedman with a beard ... ?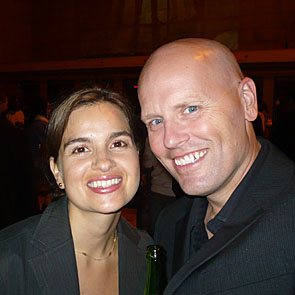 But there's envy for all. I think the poster for Blindness, a new flick written by Don McKellar, is a damn fine poster. Amber said that if I took rubber gloves and glued them to my head, I could live with that effect all day long.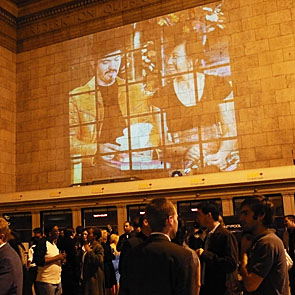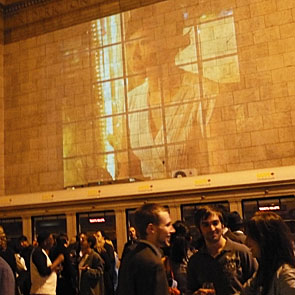 I created an animated video loop in After Effects using the poster concept. It was projected on the wall of the station. Look up, sheeple! Look. Up ... aww, they can't even see it! I walked all the way to the Dufferin Mall to buy those DVDs.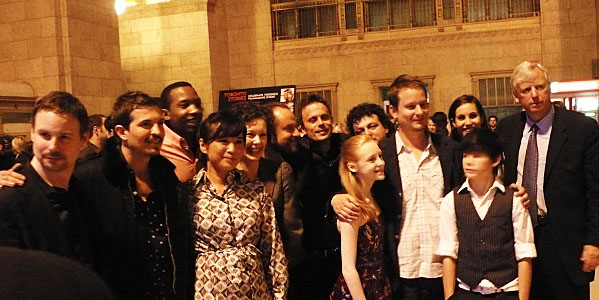 The cast and directors had their picture taken with the Mayor. Everyone had a great time ... and waited until they got home to use the washroom!
1:52 AM , # , |


Tuesday, September 09, 2008

Stick a Spork In It
I dunno if the anti-Spore-DRM rampage will make a dent in Spore's sales, but despite claims that all's alright, as long as SecuROM is still involved, I'm going to avoid the game even though I was planning on buying it on day 1. My harddrives face enough risks already without being subjected to something already proven to be dodgy.

Instead, I'm gonna pick up a copy of Sins of a Solar Empire. It's received strong reviews, has low system requirements, doesn't come bogged down with DRM and, as a result, has been selling like hotcakes.
11:57 AM , # , |


Sunday, September 07, 2008

It's Fine in Moderation!




You know what's also fine in moderation? Eating poop.
2:34 AM , # , |


Friday, September 05, 2008

Haaa ...
2:28 AM , # , |


Wednesday, September 03, 2008

Chrome
10:25 PM , # , |




Stock Action
The only thing more fun than spotting celebrities is finding examples of my stock illustrations in use. I found one in the latest issue of EYE Weekly. It's this cartoon image of Toronto.

I converted that image to a night scene for one of the Toronto Stories poster mock-ups -- and it looked damn good -- but we went with the photo grid instead. Obviously, we wouldn't have used that image for final art ... we would have created a new illustration that better fit with the film.
1:22 PM , # , |




Toronto Stories Screening
We went to the cast & crew screening of Toronto Stories last night and it was like local celebrity-spotting Xmas. There was a lot of celeb-spotting and I like to spot. It was great finally seeing the film on the big screen and I learned that there's a blog connection: Sam Javanrough from Daily Dose of Imagery created the animated titles for the flick.
11:18 AM , # , |


Monday, September 01, 2008

Toronto Stories at TIFF08
The Toronto International Film Festival starts Thursday and Toronto Stories is an official selection. Here's the promo poster I created for the film using the Toronto Subway font that everyone except the TTC seems to enjoy: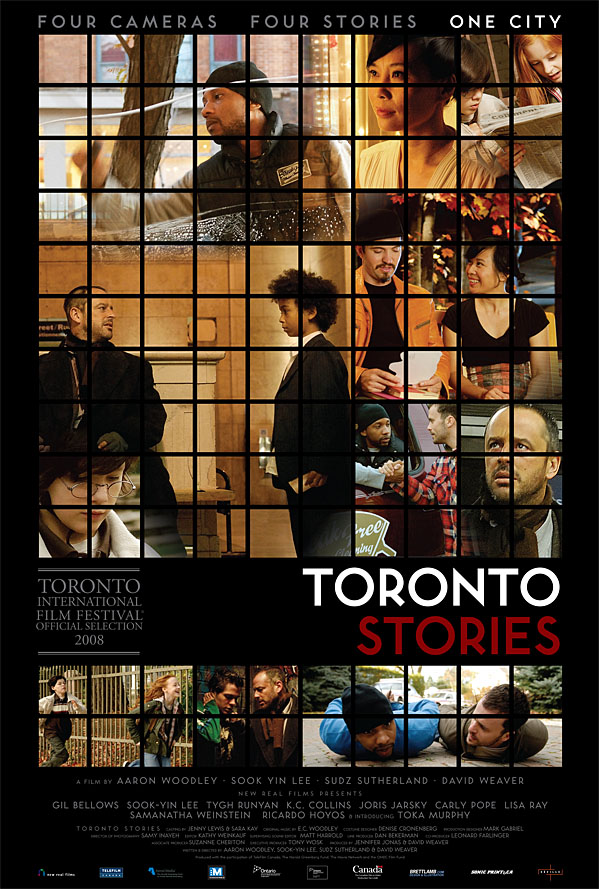 There's a website on the way at mytorontostories.com and it'll be live any second now. Or maybe in a couple of days.

On the subject of 'movies about Toronto' ... I've heard people say that Goin' Down the Road is the quintessential Toronto movie and you do get to see a lot of the city circa 1970. But the movie is really about the Maritimers and Toronto, as depicted in the flick, is just a hostile place.

For me, the film that best captures the tone of the city is Dead Ringers (Cronenberg's nephew, Aaron Woodley, directed one of the Toronto Stories). Part of the reason for that is because the film came out the first year I lived in Toronto and that winter I did volunteer ushering for the Genie Awards screenings and went to the Dead Ringers screening. I was just discovering the city at the time and much of the city's raw flavour was right there in the film.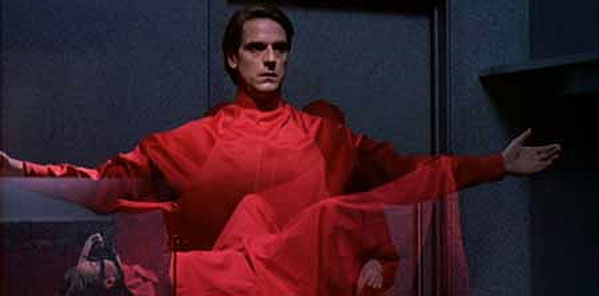 The orginal title of Dead Ringers was Goth Yuppies on Smack but an Arnold Schwarzenegger/Danny Devito film swiped the name.

For me, the Toronto of my imagination is not the sunny, leafy place you see if you look out your window right now but the dark, Gothic mess of rails and wires that manifests from October to April and the interior social events we use to forget about the weather. Dead Ringers captures that better than any other movie.

The one thing I could never understand is how Jeremy Irons' characters grow up with English accents even though they were born and raised in Canada. Does that happen? I know it happened to Christopher Plummer ... but I always thought he faked it.

Anyhow, more about Toronto Stories coming up ...
10:43 PM , # , |




Empty New Orleans
We had a great trip to New Orleans less than three months ago, so it's hard to imagine the entire city deserted (cams) and bracing for another hurricane tonight (blogger who is staying put).

Here are some pics from our June trip: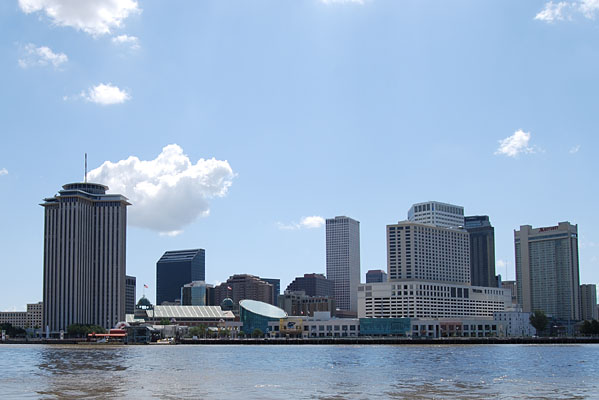 New Orleans riverfront.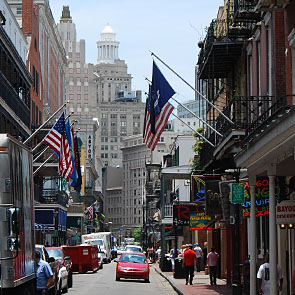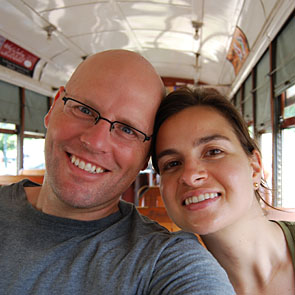 (above, left) Bourbon Street: sober, unsexy daytime shot. (above, right) Riding the streetcar: sober, unsexy daytime shot.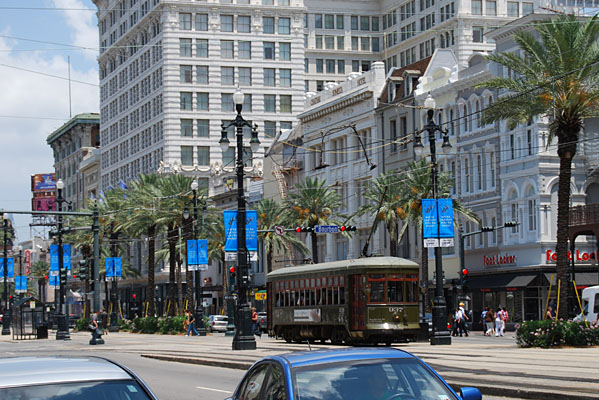 Streetcar at intersection of Bourbon & Canal Streets.



French Quarter balconies.
12:52 AM , # , |