Wednesday, November 28, 2007
Spacing #10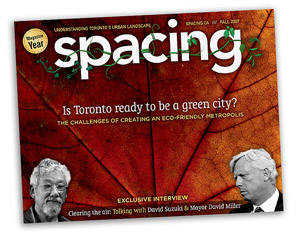 Just received my copy of the 10th Spacing mag and it's one jam-packed issue. I contributed the plant pics on page 42 ... you should go to the magazine shop and buy an issue to seem them. Also, Eva contributed an article about the air quality index on page 31 and check out the cool photo by Sam Javanrouh of the Daily Dose as soon as you open the magazine.

One good article to check out is the one about the Embarcadero Freeway [deceased] in San Fransisco. The former freeway site was one of the most interesting things we saw in that city earlier this year, as it showed how much better Toronto's downtown would be if the Gardiner Expressway was levelled.

The launch party is Monday night at The Berkeley Church on Queen East. Spacing 10 is a whopper; don'tcha dare miss it!

Also: Conan's Taddle Creek turns 10 with a launch party tonight at the Gladstone! You can view my previous Taddle Creek contribution online on their archives page. Scroll down to 'Illustrated Fiction' and look for "Sunset Eckler".
2:49 PM , # , |


Tuesday, November 27, 2007

Tune Your Attitiude In
Gord, Garth, Fiona & Alice in 2 parts:




11:31 PM , # , |




Atheism For Kids
The US Catholic League is hoping that a new "atheist" Hollywood blockbuster [trailer] does not meet box office expectations ... so they immediately launched a 2-month-long protest campaign to ensure that it does:

The Catholic League also called for a boycott of the film adaptation of The Da Vinci Code but it went on to become one of the highest-grossing movies of 2006.

Remember the Da Vinci Code? That film introduced ten new flavours of CRAP (I think there was a cross-promotion with Baskin Robbins). If that film could cash in, imagine what a little controversy will do for The Golden Compass, which early reviews are calling "a jolly ol' atheist romp in the tradition of a CGI-enhanced Christopher Hitchens drinking binge."

'Cause let's face facts, moderate Christians like the Archbishop of Canterbury do not move product:

Although he is a self-professed atheist and a supporter of the British Humanist Association, Pullman has found support from some Christians – most notably Archbishop of Canterbury Dr. Rowan Williams. They point out that the English writer's negative portrayal of the "Church" in "His Dark Materials" amounts to an attack on dogmatism and the use of religion to oppress, not on Christianity itself. Williams has gone so far as to propose that "His Dark Materials" be taught as part of religious education in schools.


Williams is NEVER going to get on Entertainment Tonight. But what I really want to know is, where the hell was The Catholic League when Babylon 5 was almost cancelled in its fourth season? If they'd boycotted that show for its atheism during its third season, they could have boosted the ratings enough to guarantee a solid fourth season and then we wouldn't have had to endure all that lame "Remember Byron" stuff from the cobbled-together fifth season ...

... you don't even know what I'm talking about, do you?
12:06 AM , # , |


Monday, November 26, 2007

New Load of Pix
There are lots of new pics in my iStock portfolio ... I've been picking away at my thumbs page as well. Some new stuff: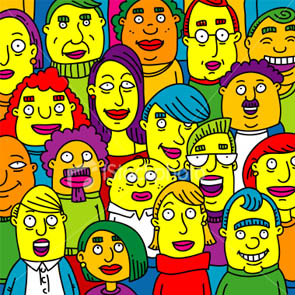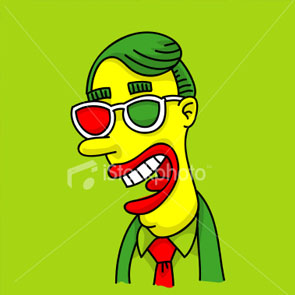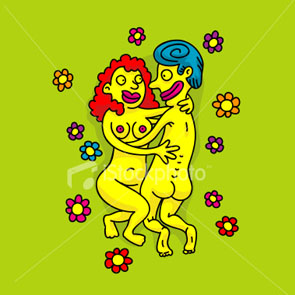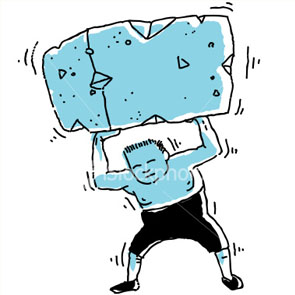 12:45 PM , # , |


Sunday, November 25, 2007

Get Your Dick Out of Your Heart
And watch these Hall & Oates machinima Sims2 re-edit thingys:



Bonus: this one's a Mike Oldfield cover:


11:50 PM , # , |


Saturday, November 24, 2007

More 80s Than You Can Handle
8:10 PM , # , |


Friday, November 23, 2007

Singing Pirates
11:14 PM , # , |




The Internets Are a Series of Tubes
1:00 PM , # , |


Thursday, November 22, 2007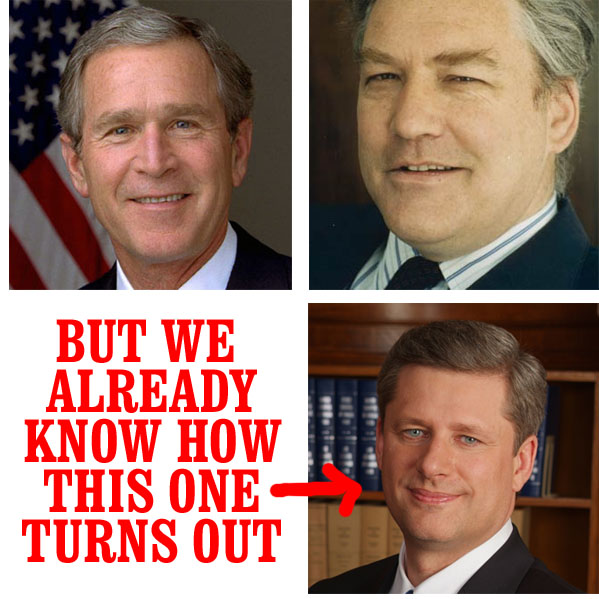 8:44 PM , # , |


Wednesday, November 21, 2007

The Internet's Back Again, for the Very Third Time
Christie is blogging again at Exhausticated.com. I was wondering when she was going to get sick of posting to the unappreciative facebook audience. I don't think Becky from Grade 3 wants to debate a list of Star Trek's 10 Cheesiest Creatures. This is her third attempt at restarting her site; maybe the third time's the charm? It better be so we can enjoy loads of stuff like this:



Finally, a geeky refuge from the daily Ron Paul posts at reddit and the corporate whoredom that is digg. I think we've all learned a very important lesson from visiting those sites over the past couple of years: social media bites the wang.

Social media sites have proved that there's no substitute for a good editor or blogger. When you have a crowd voting posts up and down, anything truly original or relevant gets filtered out. On reddit, crap such as endless posts about Ron Paul, fringe conspiracy posts sourced from sites with racist connections and other dodgy stuff constantly rises to the top.

And repeat posts. Every two or three months, one of 5-10 common links rises to the top -- again -- as someone discovers it again for the first time and describes it as "THE MOST AMAZING IMAGE YOU HAVE EVER SEEN, EVAR, REALLY." And then it turns out it's that scrolling photoshop of space you've seen twenty times already. Or a picture of "bigfoot" that's very clearly a bear.

While the number of distraction on the internets grow and evolve, a damn good blog is still a good thing when you find one.
10:56 AM , # , |


Monday, November 19, 2007

Religious McNutty
Right-wing quackery seems to be the inevitable conclusion for 80s action stars:




4:49 PM , # , |


Sunday, November 18, 2007

Side Effects May Include ...
INCREASED GAMBLING, SEXUAL OR OTHER INTENSE URGES.



Ok, I have Restless Leg Syndrome. Had no idea what it was for years; as a kid, I was told it was "growing pains" but that explanation didn't make as much sense once I was in my 30s. One day I asked a doctor and he said, Restless Leg Syndrome. It's not something I would ever consider treating with drugs.
1:23 AM , # , |


Friday, November 16, 2007

Finally, A Cut


It's been more than a decade since I've seen it in the theatre, so tonight is a treat!
7:00 PM , # , |


Tuesday, November 13, 2007

Pronfolio
I've started a little experiment. I've borrowed an online porn convention -- the thumbs gallery -- and have started an online gallery linking to my pics over at istock. Let's see if it directs any additional traffic my way. The porn industry loves these things, so they must be worthwhile, eh? And, in keeping with the spirit of those things, I've loaded it with ads and referral links.

I'll update regularly, so check back.
11:10 PM , # , |


Monday, November 12, 2007

Tuesdays Are a Bit Better
3:05 AM , # , |


Friday, November 09, 2007

Half-life TO
Here are some screenshots from a TO mod for Half-life 2: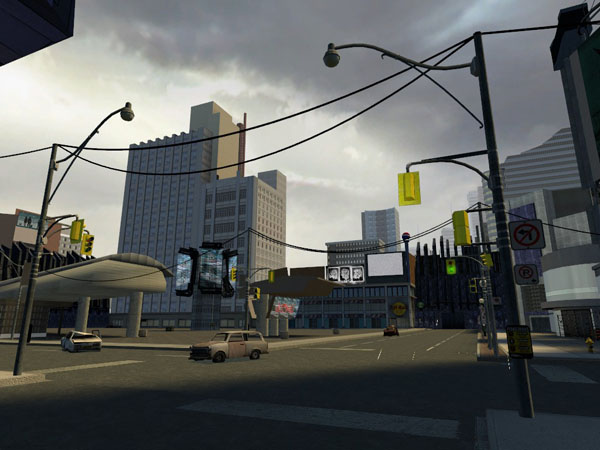 This isn't really a screenshot; it's how Dundas Square looked yesterday ... minus Silver Guy.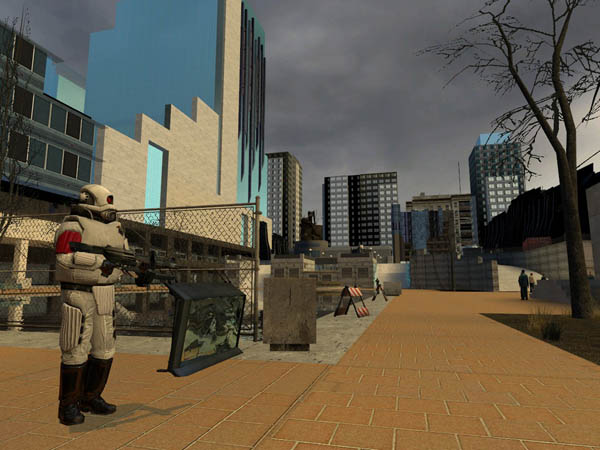 Wow, you know it's a serious commitment when they include Mel Lastman Square. They should make Mel Lastman himself the level boss.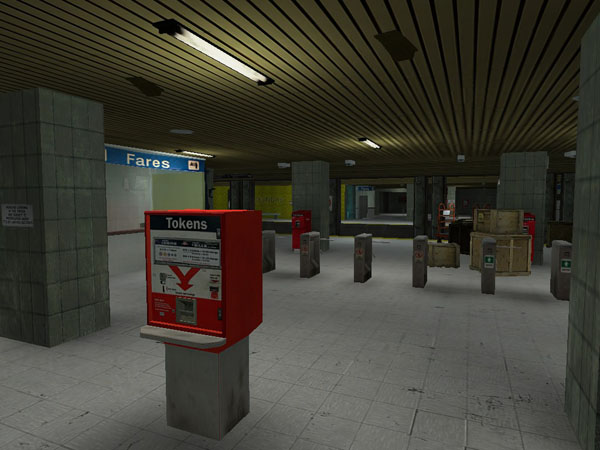 James Bow is going to have a mega-spooge when he sees the detail given to the transit elements. Above is Dundas Subway Station. Below is a subway car interior.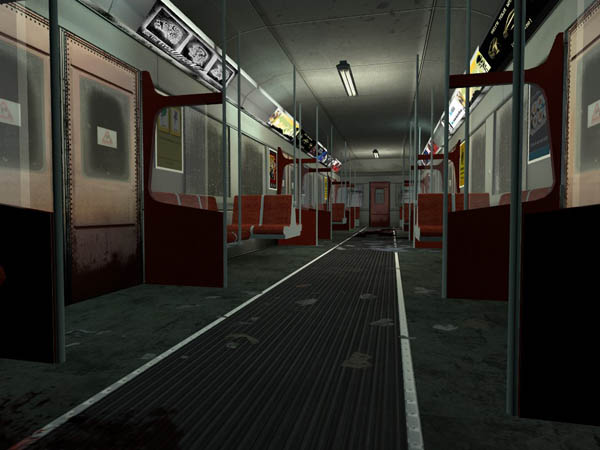 [ via Tbit ]
12:11 PM , # , |


Thursday, November 08, 2007

Reliable!
Some people say that wikipedia is unreliable, but I found an entry that said that if you play Kylie Minogue at 50% normal speed, she sounds just like Rick Astley. So I tried it and it's true.
11:30 PM , # , |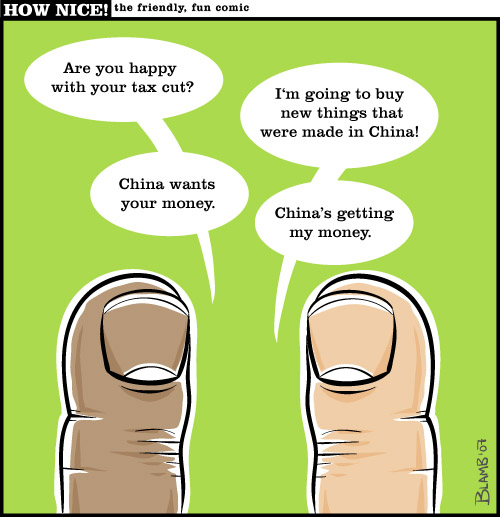 9:46 PM , # , |




Rimmerworld

1:47 AM , # , |


Tuesday, November 06, 2007

This Guy Isn't Over His Ex

1:33 PM , # , |


Monday, November 05, 2007

Understatement

Heroes Season 2 officially sucks:

For the life of me, I cannot explain why I just don't tune out. The best I can come up with is that (1) I hang on for the slim hope it will get better, and/or (2) the fear that it will get better once I stop tuning in. The truth is that, in season 2, I get less entertainment from the show itself and more fun out of figuring out why it's gotten so bad.

10:22 PM , # , |


Sunday, November 04, 2007

Oh, Those Stats


Poodwaddle.com

Hey, Earthclock! How much oil is left?

There is enough oil left for 430 years. Give or take 400 years.

11:48 AM , # , |


Friday, November 02, 2007

Vote

Cast your vote for Raymi and keep the Small Dead Animals smear site from gaining undeserved publicity.

1:17 PM , # , |




Drug Names Explained

Do you know why the drug is called Celebrex? Because it celebrates.

Do you know why the drug is called Gardasil? Because it guards.

Aren't drugs names fascinating?

12:52 PM , # , |


Thursday, November 01, 2007

Transit Rag Proselytizing

Grumpy Rick is trying to convert his readers to The Lord in today's Metro column, holding up Hugh Laurie as an example of heathen failure and confusion:

What comes next is the sort of logical paradox that so many self-professed atheists admit to when they try to explain their attempts to cobble together their own Rube Goldberg machinery to explain guilt, pride and hubris on their newly leveled secular playing field:


"I don't believe in God," Laurie says, "but I have this idea that if there were a God, or destiny of some kind looking down on us, that if he saw you taking anything for granted he'd take it away ... So he'll be like: 'You think this is going pretty well?' Then he'll go and send down some big disaster."

Does the Rube Goldberg machinery of religion and ideology really give Rick license to write ridiculous things like that? Rick's not peeved by some "logical paradox"; Rick is peeved because someone who doesn't believe in god used a religious metaphor. He's mad because a comedian used a religious metaphor. But religion is a mix of culture and faith in the supernatural. Does Laurie have to cut himself off from the culture just because he doesn't buy the supernatural? Laurie was describing an impression about balance in a casual conversation and used the word, IF.

Rick seems to think so and recommends Laurie as a candidate for the Tom Cruise School of Depression Therapy:

So there's no God, but even in his absence, Laurie feels the capricious presence of some Old Testament version of Himself, scrutinizing everyone's life - or perhaps just Laurie's - and reserving the right to cast Laurie as Job and lay waste to his life. Superstitious is the right word for it, and frankly, there's a chance that Laurie would be a little less depressed if, instead of living in fear of what he professes disbelief in, he had a deity to worship who could be a lightning rod for all that anxiety.

Of course, when Rick says "a diety" what he means is "MY diety". Rick would still pull Laurie over and give him a ticket if Laurie said the same things while professing a belief in Scruggles, The Omnipotent Cosmic Wonder Dog.

****

Mr Carlson: I had one of my disc jockeys, Dr Johnny Fever, give me the lyrics to a song. He wants to know if you'd let him play that song on the air.

Dr Bob [reading]: "Imagine there's no heaven, it's easy if you try. No hell below us, above us only sky. Nothing to kill or die for, and no religion too. Imagine no possessions? Imagine all the peple sharing all the world?" That sounds like communism to me, if there's no heaven, no religion and, I assume, no God.

Mr Carlson: There's not an obscene word in here.

Dr Bob: Not the way I see it.

Mr Carlson: Does it go on your list?

Dr Bob: Arthur, this is typical of the kind of secular, liberal humanist point of view that gluts our airwaves.

Mr Carlson: Yeah, but we're not talking obscenities here anymore, Bob, we're talking about ideas - political, philosophical ideas! First you censor a word, and then you censor the ideas.

Dr Bob: The idea is man-centered, not God-centered. Man is an animal. The Bible tells us to put our reliance in God, not in our fellow mortals. Arthur, this song says there's no heaven.

Mr Carlson: Ah. No, it says just imagine there's no heaven.

Dr Bob: That's blasphemy.

Mr Carlson: On the list or not?

Dr Bob: I have no choice but to say on.

Mr Carlson: That decision was made by one man.

5:22 PM , # , |




Previously Enjoyed

10:07 AM , # , |




Imagine There's No Springsteen



Clear Channel is keeping Bruce Sprinsteen's new album off radio ... supposedly because of his "age" Yet their website promotes the Eagles new album. The difference? Springsteen's new music contain anti-war lyrics while the Eagles sing songs like 'Get Over It'.

Here in Toronto, one of Clear Channel's finest moments was when they threatened to sue the Toronto Public Space Committee earlier this year.

Here's a song the company hates:



12:49 AM , # , |