Tuesday, August 28, 2007
Some People Don't Have Maps


Miss Teen USA 2007 - South Carolina answers a question
9:24 AM , # , |


Sunday, August 26, 2007

Walk Score
How walkable is your neighbourhood? Get a rating at Walk Score.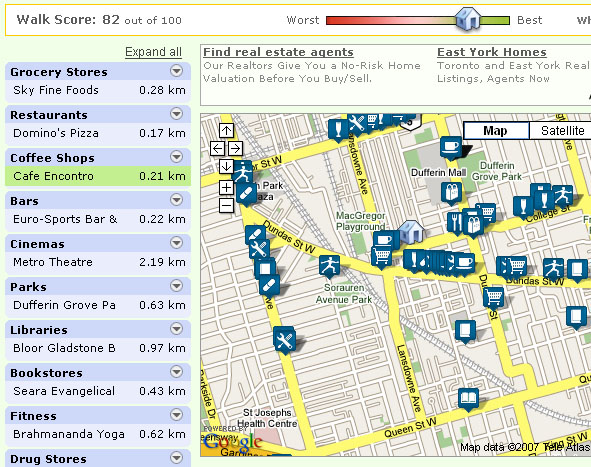 We scored 82. There were a few odd things: my gym -- the area's main gym -- wasn't included and didn't contribute to the score but the Metro Theatre -- a porn theatre -- did. [via The Oil Drum ]
9:11 PM , # , |


Thursday, August 23, 2007

Les Agents Provocateurs ... Busted


Hey, I like Steve Fischer's shirt.
10:35 AM , # , |




Free Party
Maria had a free party:

Surprisingly enough, the free snacks were enough for everyone, so there was no need to order more food.

We went and had dinner afterwards because the free snacks weren't enough.
3:41 AM , # , |


Tuesday, August 21, 2007

Atari 2600
Sports Game of the Year:

The better your football team does, the more money you make which will allow you to buy better dogs. Don't spend too much time on the dog fighting though, or you'll lose focus and your play on the field will suffer.
10:06 PM , # , |


Monday, August 20, 2007


8:08 PM , # , |


Sunday, August 19, 2007

How Shawn Aga Feels About Facebook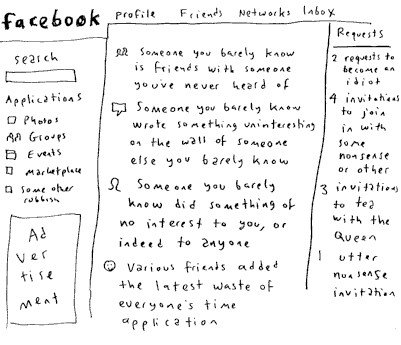 Shawn Aga posted this image on Facebook ... wait a minute, who the hell is Shawn Aga?

update: link to original

12:52 AM , # , |


Wednesday, August 15, 2007

How to Procrastinate
Wondering how to label those home-brew Atari 2600 games you've been making? Of course you have. Try out the Atari 2600 label maker.

Here's what I've been working on: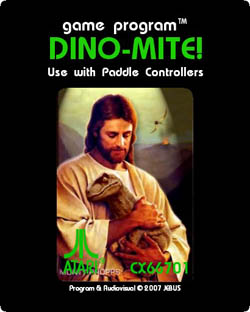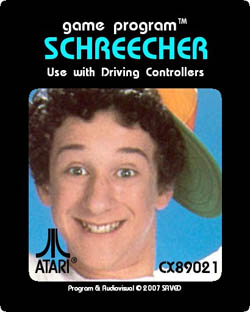 In Dino-Mite!, you control Jebus and have him save all the baby T-Rex's who are being hunted to extinction by wayward Roman Centurions. In Schreecher, based on the E.T. 2600 game, you wander around pointlessly, trying to befriend characters at your high school who either ignore you or shoo you away. If you complete the game, you become the principal's admin assistant.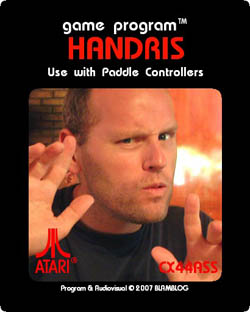 Handris is one of my favourites! Using the paddle controllers, it's like playing Tetris using hand gestures. Lou's Revenge is much like Yar's Revenge, except it stars Lou.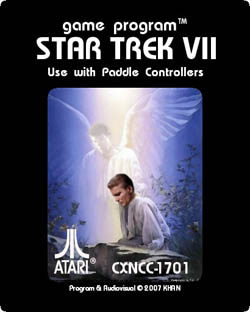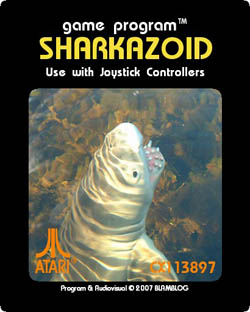 Star Trek VII is a reimaging of the franchise. Subtited, It's a Wonderful Spock!, your goal is to lead Spock through the events of his life in an effort to convince his spirit to return to his body and be regenerated on the Genesis plant. Finally, in SHARKAZOID you have to get the Shark character as drunk as possible without scaring off potential dates at a bar. It's a delicate balancing act ...
5:04 PM , # , |


Tuesday, August 14, 2007

FLASHback
BLUESKIES

A goofy old Flash thing from the early days of this blog (hint: roll your mouse over the birds). You can imagine you're Cheney.
10:46 PM , # , |


Monday, August 13, 2007

Nothing New Under the (Cartoon) Sun

Saw the Simpsons movie last week. I smiled several times and I think I chuckled once or twice. It's a pleasant movie. Yes, it's ... lame.

If you watched the Simpsons before it jumped the shark during the horrible 97/98 season, you probably remember that the show once had an edge and a wacky bent, especially during the seasons when Conan O'Brien was involved. There's nothing edgy about The Simpsons Movie; it's as weak as a kitten and tame as Mountain Dew.

And there's nothing new in the movie, either. It's full of recycled jokes we've seen done -- better -- dozens of times. Homer adopts a pig. Not as funny as the time he adopted Hans Moleman. Homer and Marge's marriage is tested ... only this time it's just a sappy storyline, there's no country singer involved. Lisa has a crush on a boy. But they don't even bother to joke about it, unlike the time she had a crush on teen pop cupcake, Corey. Former bad-boy Bart spends the film pining for a real father figure and figures it's Flanders. Except ... wasn't there an episode when he actually went and lived with the Flanders? Wasn't it actually funny? And Maggie's "first words" are a cheap gag, especially since we supposedly heard her talk twenty-seven thousand seasons ago.

The first half of the movie is better than the second half. The first half is more like the tv show. During the second half, the jokes are jettisoned for sap, an earnest 'environmental' theme and a predictable Hollywood happy ending.

Some people might argue that The Simpsons defined a generation ... but that's crap. It was just a 90s show that worked best when it lampooned 80s excess. The worst parts of the film are when they try to lampoon 'post 9/11' America. If the show had stayed true to it's original spirit, they would have quit while they were ahead. In 1996.

SUCKTEST: If you want to gauge how tame The Simpsons Movie really is, trying watching the South Park movie first, the watch the Simpsons flick. The South Park movie was in theatres eight years ago.

8:32 PM , # , |


Friday, August 03, 2007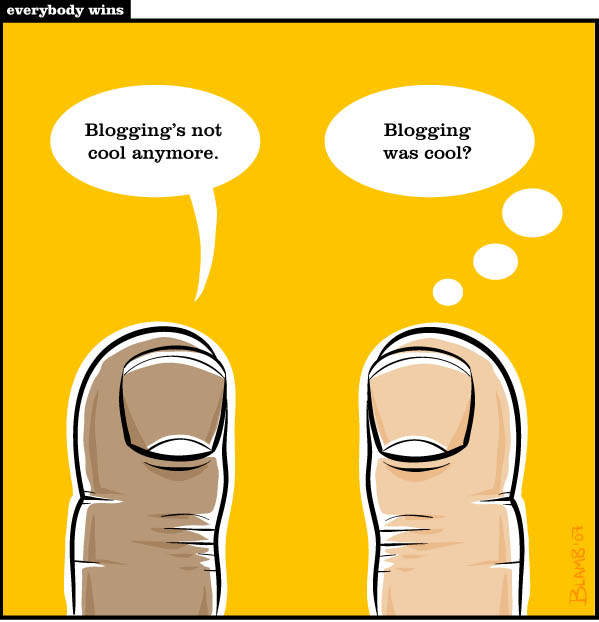 It's not a blog break, but things will be a bit slower here over August.
12:02 PM , # , |


Thursday, August 02, 2007

Previously Enjoyed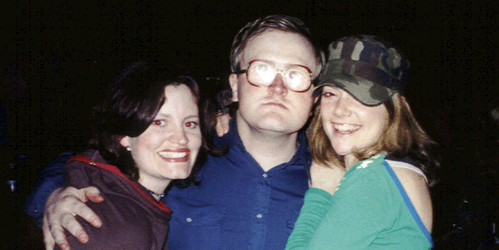 Back in 2004, Janet & Jenn met the Trailer Park Boys.
11:21 PM , # , |




Here's Comes TIFF '07
International Man of Mystery ... er, International Press agent, Stephen Lan, just launched his new website. That must mean the Toronto International Film Festival is right around the corner!

Here are a few to consider: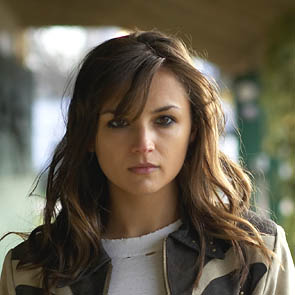 Lisa Ray and Rachael Leigh Cook do not get makeovers in All Hat.

Right now, we're puttin' together the artwork for the modern-day western heist movie, All Hat. Yeehaw! [ trailer-ish promo ] The flick also stars Keith Carradine, Luke Kirby and Ghostbuster, Ernie Hudson. I wonder if Ernie Hudson ever gets tired of the novelty of being the fourth Ghostbuster? If it were me, I never would. Speaking of novelty, Noam Jenkins -- who played the fourth 9/11 hijacker in that strange Path to 9/11 miniseries -- is great as the baddie.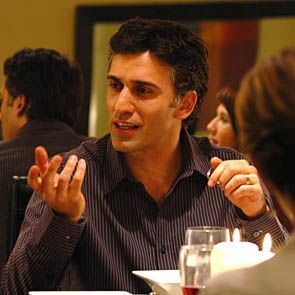 I just did a press kit (but not the website) for This Beautiful City -- also in the fest -- and Jenkins is in that, too. Maybe he's the new Don McKellar and there will be a new rule saying that he has to appear in every Canadian film ever made. In which case, they could digitally insert he and McKellar in Goin' Down the Road at the same time. If they ever get to A Married Couple, they should insert them as the hipster guys at the party.

The This Beautiful City director's blog is here:

Adapted from a play I wrote years ago called DESCENT, the film is cataclysmic weaving through five lives that connect when a woman plummets from her balcony in Queen West. Not exactly the most marketable fare, but we felt there was an uncompromising truth to the voices of the characters and a unique style and structure that separated from some it's peers.

What was I writing about? ... 9/11! Right!

Ok, here's how buzz works in Canadian entertainment: last fall I was back in my hometown (a tiny rural village) and I bumped into Sean at church. Sean said that he was leaving Toronto, and heading off to LA. A couple of months later, my sister landed a new job and her new boss mentioned that he's seen Sean's play about the married couple who have to deal with everyone in their town being killed at their wedding reception ... some inspiration for the play coming from 9/11. Anyhow, the boss loved it. It's a funny play, go see it next time it's playing somewhere. Anyhow, a couple of weeks ago I bumped into Sean at the coffee joiny across from the gym (double-bumped the next day) and he says that he's back from LA and they did a film called Breakfast With Scott and he was hoping that it would get into TIFF. And it did. So I told him the story about my sister's new boss and he said,

"Yeah, your mom told my mom."

You actually have to go through up to six people's moms just to get Telefilm funding.

I've heard positive things about the movie so far, but not so many good vibes from the more extreme religious folk:

As a work of homosexual propaganda, the film is clearly meant to target the last vestiges of resistance to normalized homosexuality among Canadians. In the book, the homosexual couple live in Cambridge, Massachusetts and are a chiropractor and magazine editor; hockey does not figure at all.
....
The homosexualist ideology asserts that the condition is natural and unchangeable and therefore that children can be born with it and have it be part of their normal sexual development. The depiction of an eleven year-old boy as a homosexual might be more than audiences are willing to accept.

I guess the people at 'LifeSite' aren't Ugly Betty fans. Besides, I think audiences are willing to accept a lot, which is why I'm busy penning my treatment for the biopic about the gay 9/11 priest!

TIFF starts Sept. 6.
12:44 AM , # , |