Tuesday, June 26, 2007
Watch Docs Online
Visit the Hot Docs website to view films online from this year's young filmmaker showcase:

A complementary initiative to the highly successful Docs for Schools programme, Doc It! stimulates non-fiction filmmaking among youth, and provides a forum for their perspectives on their experiences and understandings of their world. All selected works are eligible to win juried prizes and the Doc It! Audience Award, determined by an audience ballot.
4:44 PM , # , |




Mr. Curious & the Chart Machine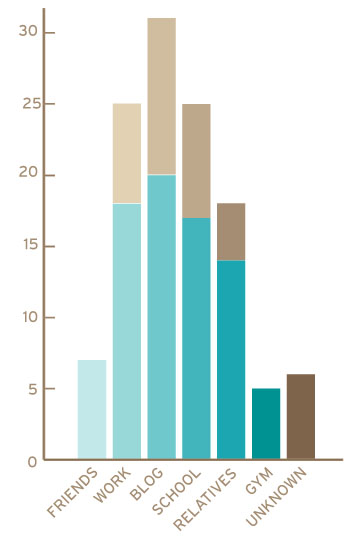 I was wondering how the people on my facebook list are connected to me, so I broke it down into categories. The blue portion of the bar represents people I have some connection with in real life, the brown represents people I've never met in person.

There were several cases of overlap, so I chose the most direct connection instead of representing it on the graph.

The result looks sensible. As usual, blogging leads because it is the internet, after all. I'm a little disappointed that I'm connected with more elementary and secondary school people than university people, because I'd really like to know what some of those people are up to.

I suspect that the unknowns are mostly blog-related, but I can't be sure because I have no idea who those people are. Usually I decline unknowns unless they have celebrities on their friends list. The more, the better.

If I can think of any other ways of wasting time, I'll let you know.
11:59 AM , # , |


Sunday, June 24, 2007

'Toon Trek
Bad Spock Drawings.

The Shatner Show.

via DRAWN!
2:27 PM , # , |


Saturday, June 23, 2007

Canadian Flick Action
Love is Work - buy online
Here's a new flick you can buy online for $5; well worth the price of admission. It's a raw, unscripted Dogme95 video, so it's ideal for watching on your laptop.

Pink - watch it now
I've been putting together a press kit for Ed Gass-Donnelly's new film, This Beautiful City:

This Beautiful City is a sharp-eyed, character–driven story about five disparate characters who become intrinsically connected after a woman plummets from the balcony of her downtown condo and is discovered by a drug-addicted prostitute, her newly clean boyfriend, and a cop.

Pink is an earlier short film by Gass-Donnelly, you can watch it right now.

All Hat - and a bag of chips
Is in post-production. I'll have stuff to show you from this one, later ...

Ecstacy - and a bag of ... er ... chips
Is in pre-production. It stars Lois from Smallville who's also been cast as Barbarella in the remake of that film. Ok, look at this:



... now, how the hell do you remake THAT? Is there even a contemporary filmmaker who can rise to that level of complete ridiculousness? One of the co-stars is a freakin' MIME. And another thing: what's the point? Back then, the film's titillation factor had some merit because the mainstream was pretty tame ... but now that we live in an online porn paradise, all that's going to seem kinda' lame. I think the only way it could work is by taking the Shortbus route and throw in some real sex. And have 70s-era Queen do the soundtrack.

At least they're not remaking MegaForce. Yet.
1:19 PM , # , |


Friday, June 22, 2007

More Rogers Rot
If you're a Rogers customer, you already know that the company is a pain in the ass. Now, it turns out they're "shaping" the flow of data on their customers' connections to limit the use of P2P programs and torrents:

This has led to a technical "cat and mouse" game, with Rogers now one of the only ISPs in the world to simply degrade encrypted traffic.

While P2P and torrents are still used to trade copyrighted material, more and more they're being used to distribute perfectly legit stuff like Star Trek New Voyages episodes and movies like Star Wreck (and the upcoming Nazis on the Moon flick, Iron Sky) as Geist points out in his article:

... not only is BitTorrent legal in Canada, but a growing percentage of the file swapping on BitTorrent clients is authorized. This includes a substantial amount of open source software development, independent films, and other large files. By reducing the bandwidth available for this application, Rogers is impairing the ability for Canadian artists to distribute their work and hampering the development of open source software in Canada. Moreover, this could lead to a situation where Rogers' own content is unfairly advantaged over competing content.
11:54 PM , # , |




Stuff
Games
You can watch the trailer for StarCraft II at the official site. There are screenshots up of the new SimCity sequel, SimCity Societies.

Flicks
I Am Legend trailer looks like the film probably should be called I Am Waiting for the Inevitable Happy Ending. No hint of how the Luddite Hippie Vampires are going to be depicted. I'm imagining 28 Days Later meets I, Robot: they'll be able to run really fast but will act like hammy theatre students. Unlike the earlier adaptation which featured all ham and no running:



Meanwhile, an update from the Department of Really Bad Ideas: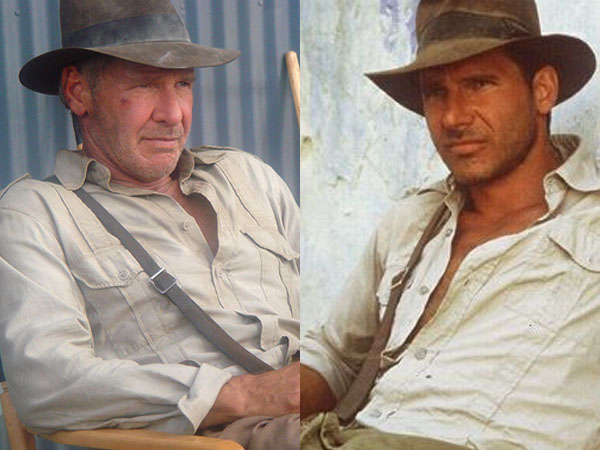 George Lucas co-wrote the script as part of his continuing quest to ruin every childhood memory you ever had.

Tube
The new season of Doctor Who just started up on CBC. The new companion will make you forget all about Billie er 'wassername ...
2:29 PM , # , |


Thursday, June 21, 2007

I Do My Best and I Do Good Sandwich
My parents got this mime to pose with a sandwich last week in Paris:




I was a free mime in Paris
I felt unfettered and alive
There was nobody calling me up for a sandwich
And no one's future to decide
You know I'd go back there tomorrow
But for the work I've taken on
Stoking the banana-maker machinery
Between the slices of bread!
10:04 PM , # , |




Rerun: Happy Creature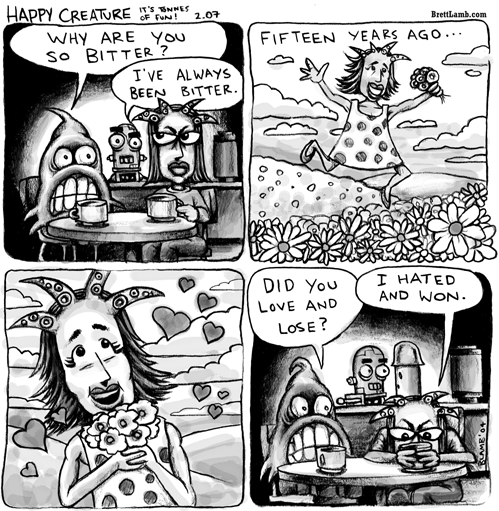 From June, 2004.

Happy Creature archive page.
3:36 PM , # , |




Pix
Recent additions to my iStock portfolio: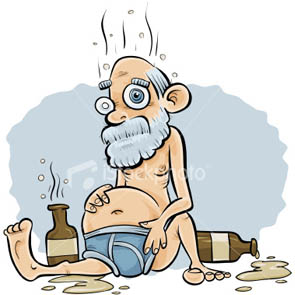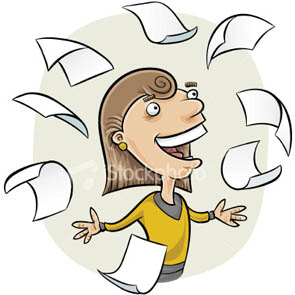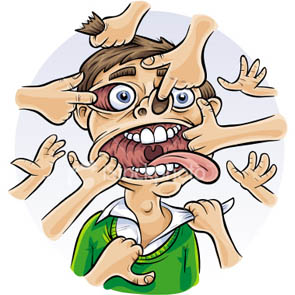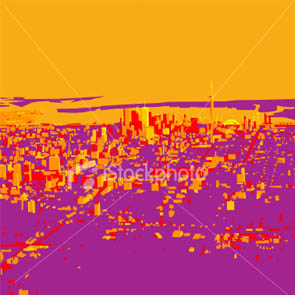 12:47 PM , # , |




Sandwich Cam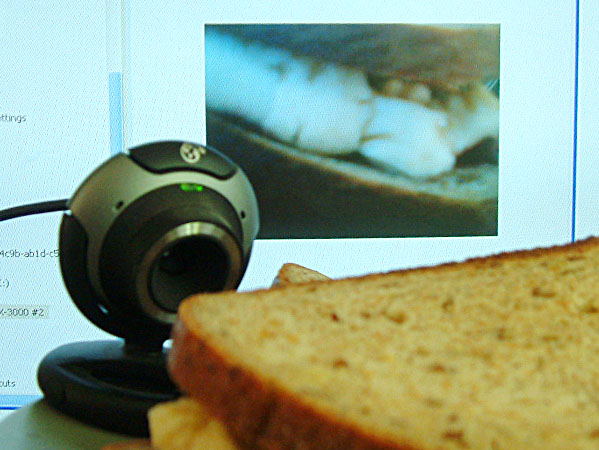 It'll be $10 if you want another five minutes.
11:28 AM , # , |


Wednesday, June 20, 2007

The Winner


It was a tie between 'Everybody Wins' and 'Ugly People, Stupid Too'. I'm going to stick with Everybody Wins because it better suits the quality of my sarcasm.
8:49 PM , # , |


Tuesday, June 19, 2007

VOTE!
The new comic strip needs a name. Now's the time to weigh in ... vote for the name that works for you. Or write in your own. Voting closes in 24 hours, then I'll post a strip with the new name.


6:49 PM , # , |




And the Rain Came Down
I was up at Dufferin & Lawrence when today's storm hit. There was so much water, it overwhelmed the water mains and geysers shot up and blew the manhole covers off.

It felt dirty writing that.
5:52 PM , # , |


Monday, June 18, 2007

Dog Bloggin'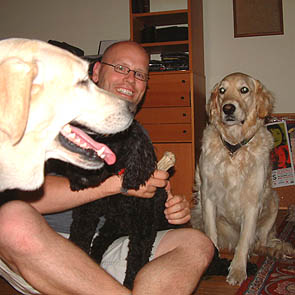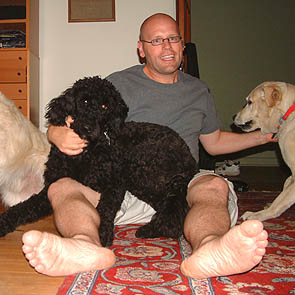 Before our guests left, I tried to get a group photo to commemorate their visit.

Tried. And failed.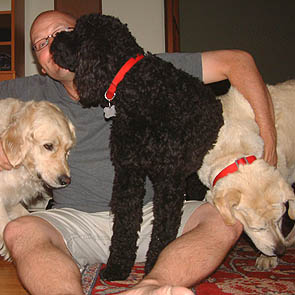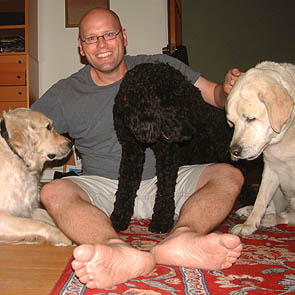 9:09 PM , # , |




... New Look
Here's the redesign!

There were complaints when I stopped posting the rotating banner image, so it's back. The layout's been adjusted a bit for widescreen monitors ... that will be an ongoing task as people continue to switch over. Will work out the bugs over the next few days ...
4:23 PM , # , |


Sunday, June 17, 2007

Profit Motivation
I've decided to stick ads on this blog. Over the past year, the blog has really withered, posting has stalled and the readership evaporated as other offline and online pursuits have grabbed my attention. The ads are going to be stuck on for a few months trial to see if some cashflow helps motivate me to post more than once every three weeks. If it works and I'm able to post more often, I'll keep them. If not, I will dump them and return to the status quo.

Several times, I've said that I would never put ads on the main page of my blog. My plan was to keep the main page as an ad-free fun spot and stick the ads on a bunch of other pages. But that project bombed because I just don't have time to maintain five pages ... I can't even keep one going.

Fortunately, because all the readers have left, Maria and Eva are the only two people I have to worry about complaining. There will be a few other changes as well over the summer ... get ready!
7:52 PM , # , |


Saturday, June 16, 2007

Pointless Protest Follow-up
I did a little follow-up on the protest against the proposal to narrow Lansdowne Avenue in my neighbourhood and this BikeTO post does a good job at debunking (also, good post here) the claims of the locals who object to the plan.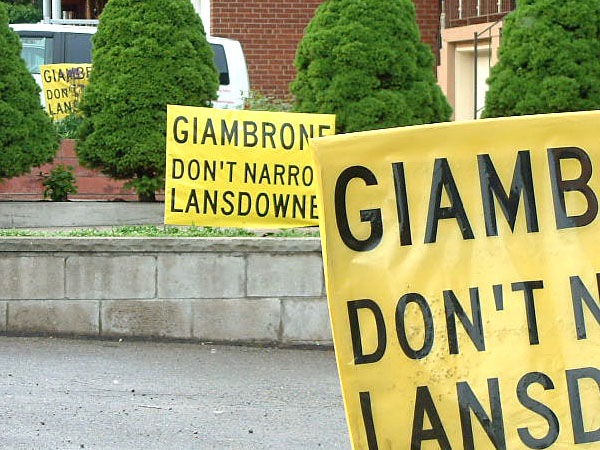 Like I said earlier, it's a dumb protest against a good idea and a waste of time and energy. However I was wrong about the lack of consultation. It turns out that there was much more than the required amount of consulation (er ... apparently none is required for a project like this), including a public meeting. The opponents of the plan are now saying it wasn't enough ... Pfffffffftttttt. Right. Things gotta get done and you can consult for freaking ever on a small road project. Let's get those shovels in the ground ...
6:12 PM , # , |


Thursday, June 14, 2007

That Sucking Sound
On Facebook, I get sent links to posts arguing that people should organize against high gas prices. One called for a boycott against Petro Canada, suggesting that forcing one company to lower its prices would force the others to follow suit. In the forums threads that follow, many people don't seem to realize that gas prices might be as good as they're ever going to get:

"Dr Campbell, is a former chief geologist and vice-president at a string of oil majors including BP, Shell, Fina, Exxon and ChevronTexaco. He explains that the peak of regular oil - the cheap and easy to extract stuff - has already come and gone in 2005. Even when you factor in the more difficult to extract heavy oil, deep sea reserves, polar regions and liquid taken from gas, the peak will come as soon as 2011, he says."

"In recent years the once-considerable gap between demand and supply has narrowed. Last year that gap all but disappeared. The consequences of a shortfall would be immense. If consumption begins to exceed production by even the smallest amount, the price of oil could soar above $100 a barrel. A global recession would follow."

(emphasis mine)

Graphs are fun, too.
2:48 PM , # , |


Wednesday, June 13, 2007

It's Fun to Compare Things!
Two videos to compare & contrast with the benefit of a few years of hindsight:





Who the hell was Zev Miller and why was he right?
5:45 PM , # , |


Tuesday, June 12, 2007

Fellas, Can You Play Something Different?
Police Squad episode, part 1:



part 2:



part 3:


8:17 PM , # , |




Bible-style!


Wait for the part with the monkey ... the real thing actually has dinosaurs! Lots of them! I feel a road trip comin' on ...
12:57 AM , # , |


Monday, June 11, 2007

O-Mazing!
4:22 PM , # , |


Sunday, June 10, 2007

If You Wanna Know the Real Deal About the Three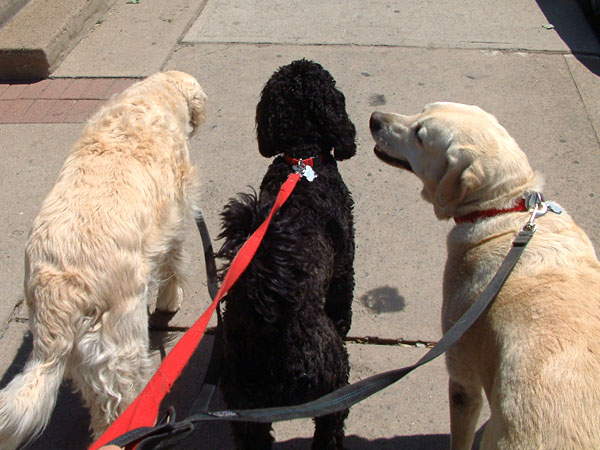 Mesmerizing, tantalizing, captivating, devastating.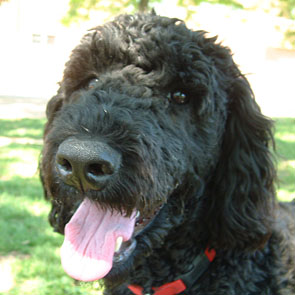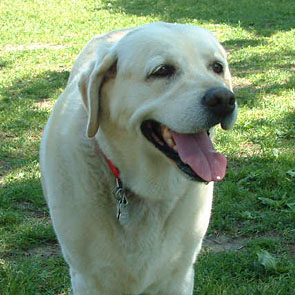 Owen & Lex are here for a visit ... that's three big dogs hanging out here. That's three times the fun, three times the poop, three times the smell, three times the big dog action. For a whole week!


9:37 PM , # , |


Friday, June 08, 2007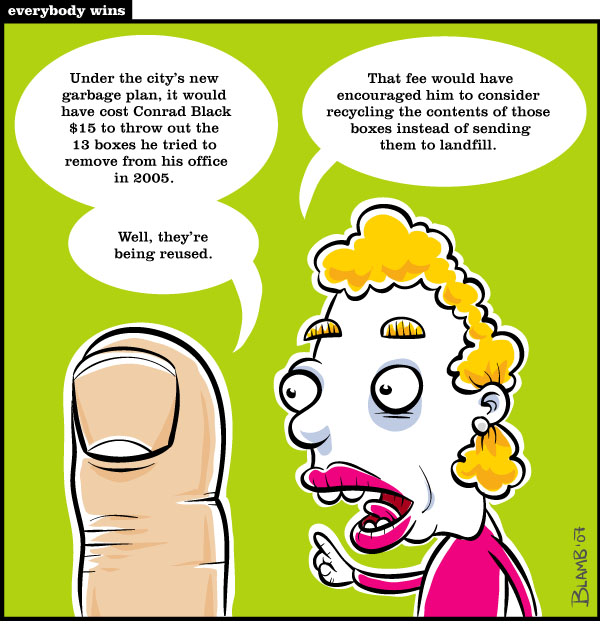 I'm going to post the web version of the editorial cartoon in colour from now on. I'm also testing out a name for the new strip. I have a bunch of contenders ... maybe I will set up a poll and let Eva and Maria pick the name.
1:10 PM , # , |


Thursday, June 07, 2007

UNFREE PARIS!
Oh, come on:

"The judicial process may have been improperly circumvented in this case," said City Attorney Rocky Delgadillo. "This explanation is puzzling. Los Angeles County jail medical facilities are well-equipped to deal with medical situations involving inmates."
6:45 PM , # , |


Sunday, June 03, 2007

Biofuel vs. Beer


The current demand for biofuel has resulted in farmers making the market decision to grow corn rather than other crops. In Germany, this has resulted in a sharp increase in the price of barley, a key ingredient in beer according to the Reinheitsgebot or "German Purity Law" of 1516. [foodnews]
12:22 AM , # , |


Friday, June 01, 2007

Sandwich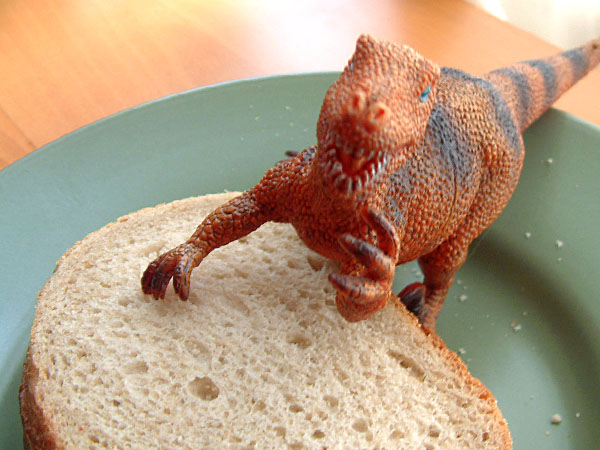 Dinosaur sandwich ... shake it!
So fine, so young
Tell me I'm the only one
4:21 PM , # , |