Sunday, September 27, 2009
Sagan Sings
11:26 PM , # , |


Wednesday, September 23, 2009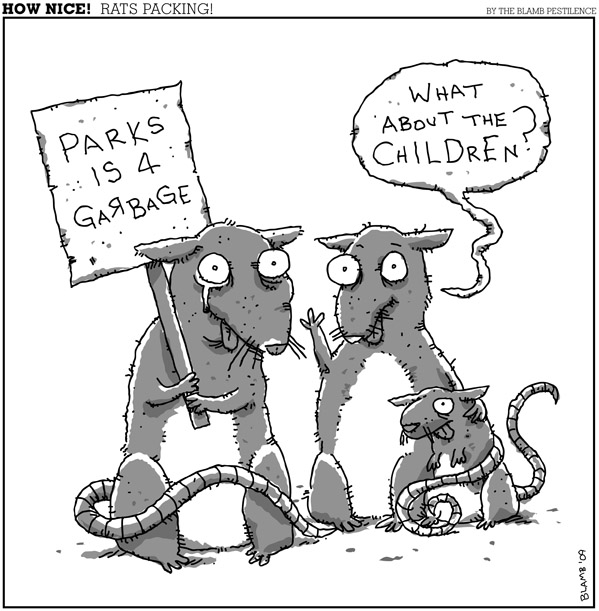 Summer is officially done. I think the rodents will miss this summer the most ...
2:05 AM , # , |


Tuesday, September 22, 2009

Maps
TTC finds a way to combine 20 kinds of ugly.
1:35 PM , # , |


Monday, September 21, 2009

Mondoville
It's Mondoville ... now fully-functioning with a Twitter feed:

Mondoville is an digital information service that serves up a mix of business, culture, entertainment, media, technology and Toronto news through web-based, social media and mobile online services.

Super-sharp writing, covering things you might actually care about.
2:04 PM , # , |




Drysdales @ Rebecca Gallery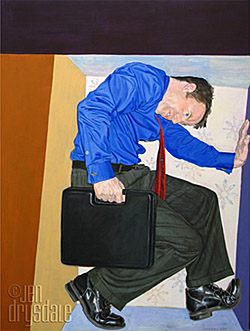 Poor Ron, he'll never get those renovations done ...

Jen's paintings are up for viewing at the Rebecca Gallery (at Grace & Harbord) until October 17 in a group show with her mom and her sister.
12:07 AM , # , |


Friday, September 18, 2009

Timing


This one was relevant when it was published, but a week after it hit the stands the feds announced $200 million for the city.
2:34 PM , # , |




Mr. Angry

I think this should become the Royal Canadian Official Cartoon Representation of the Right Honourable Stephen Harper! (via Kinsella)
12:02 AM , # , |


Thursday, September 17, 2009

The Religious Right
4:01 PM , # , |


Wednesday, September 16, 2009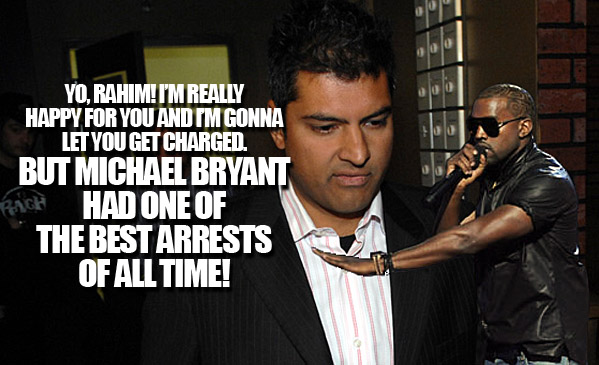 I know, it's already tired ... but just this one ...
11:27 PM , # , |




Leslie Party
Toronto Life noted the models hired to be 'Manson Girls' at the Leslie, My Name is Evil party:

The girls told us their dresses were supposed to be '60s themed to go along with the Manson cult-like plot of Leslie. We must have looked confused because one of the models responded: "He doesn't get it either. We didn't think they looked that '60s." We're not sure, but we don't think hippie flower children wore four-inch spike heels.

When I first arrived, I thought they were all wannabe actors trolling for auditions ...

There are more press links on the Leslie press page.
10:57 PM , # , |




Uh oh ...
4:58 PM , # , |


Thursday, September 10, 2009

Leslie, My Poster is Evil
They're up and all around the town: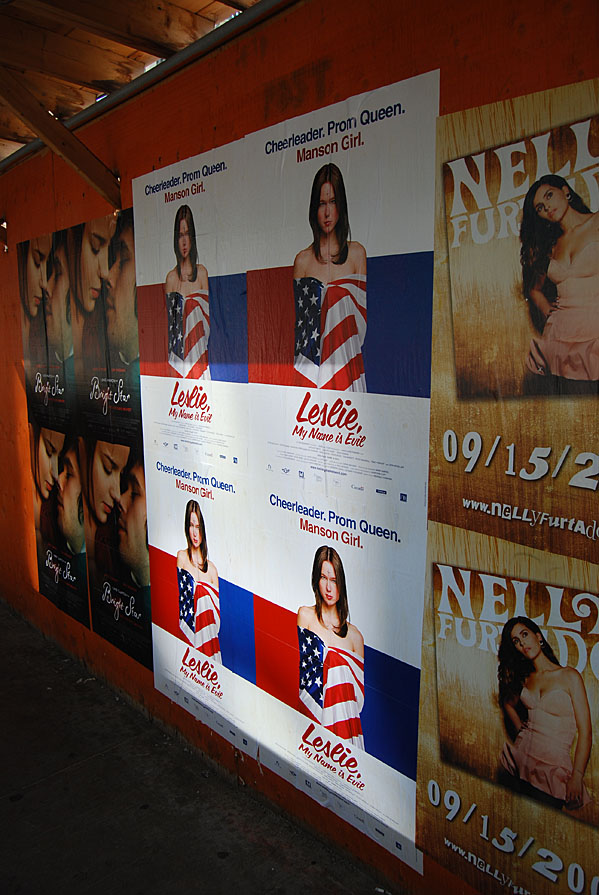 11:49 PM , # , |




New Leslie Reviews
Just in time for TIFF, EYE gives Leslie, My Name is Evil four stars:

Deeply weird and deeply hostile, the result is the most gleefully gonzo Canadian feature in recent memory.

Collider.com also gives it a good notice:

It's hard to resist the fun, John Waters-esque feel, the beautiful lead, and another look into one of the most infamous cult murderers of all time. But this film is not just some slice of camp horror like the media suggests. Believe it or not, Leslie, My Name is Evil is a biting social and political satire that you may or may not be ready for.
12:36 AM , # , |


Wednesday, September 09, 2009

Descent
Good post looking back at the classic game -- and my favourite FPS from back in the day -- Descent:

This allowed Interplay's developers to open a lot of new options to the player that weren't seen in any other FPS. You could do your standard shooter turn left and right, look up and down, but the real 360 degrees came from the ability to slide left, right, up and down as well as complete and sometimes nauseating barrel rolls.
3:51 PM , # , |


Tuesday, September 08, 2009

Glenn Beck vs. The Internet
If Glenn Beck were Glenn Beck -- which he is -- he would demand that Glenn Beck deny that he, Glenn Beck, raped and murdered a girl in 1990. He hasn't been accused of doing such a thing, but the question has been asked over and over again on the internet over the past week. Beck, as Beck himself would say, has nothing to hide, so it only makes sense that he should come clean and deny the allegations ... if there were any (there aren't, it's just an interesting question).

But instead, Beck has made further news by trying to shut down the main website about the controversy:

As for why it's not particularly smart -- whether he wins or loses -- is because he just called a whole bunch of attention to some silly internet meme that clearly wants attention. Beck would have been better off just ignoring it. Instead, in legitimizing it by trying to take it down, many more people become aware of the meme -- and may start calling attention to situations where Beck (and others) make use of such tactics.
11:24 PM , # , |


Saturday, September 05, 2009

TIFF Stuff
It's done! If you're passing through Pearson Terminal 3 on your way into town, check out the Toronto on Film display (curated by Steve Gravestock and Amy Butoiske) I helped create for TIFF: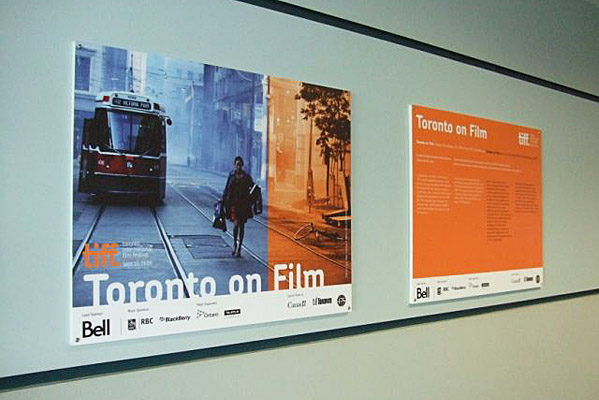 Meanwhile, some years you're up and some years you're down. This is looking like an 'up' year at TIFF. The two films I worked on this year are generating some serious pre-fest buzz:


A panel in today's Toronto Star ranked Leslie, My Name is Evil as one of the top 10 buzzworthy flicks at this year's festival.

NOW also gave the film a positive review:

Uninterested in subtlety, Harkema draws a bold and provocative comparison between proud, Bible-thumping Americans during the Vietnam War and the Charles Manson family. ...
With his usual graphics-laden and montage-happy visual flair, Harkema gleefully pokes holes in the obsessive beliefs of middle-class Americans and their hippie counterparts, not in an insensitive way.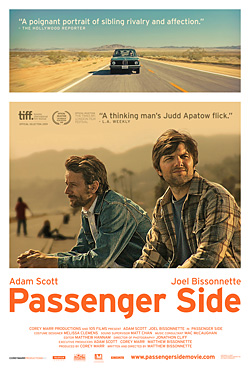 Passenger Side continues its run as 'the little movie that could' and the good reviews continue to pile up.

NOW gave it a glowing notice:

It's like a Richard Linklater movie from the mid-1990s: very little happens, and that's sort of the point. The conversation is engaging, the two leads snap instantly into the relaxed but guarded vibe of lifelong adversaries, and the script parcels out little bits of information as needed.
1:23 PM , # , |


Thursday, September 03, 2009

Leslie, My Name is Evil - New Trailer
Just in time for TIFF, there's a new trailer for Leslie, My Name is Evil up on the Apple trailers site. Go watch it ... you can catch a glimpse of the retro-styled newspaper covers I created for the flick!

You can read more about the film on its TIFF listing page:

Leslie, My Name Is Evil poses two central questions: will Perry's experience change or affect him, and how can a society engaged in massive slaughter in Vietnam (an effort that involved many people other than soldiers) justify its judgement of individuals' crimes?

It screens on September 14 & 16.
4:36 PM , # , |




animated Short - Buildings
11:25 AM , # , |


Tuesday, September 01, 2009

New Art
Just complete the poster for another film appearing at TIFF ... be sure to see Passenger Side: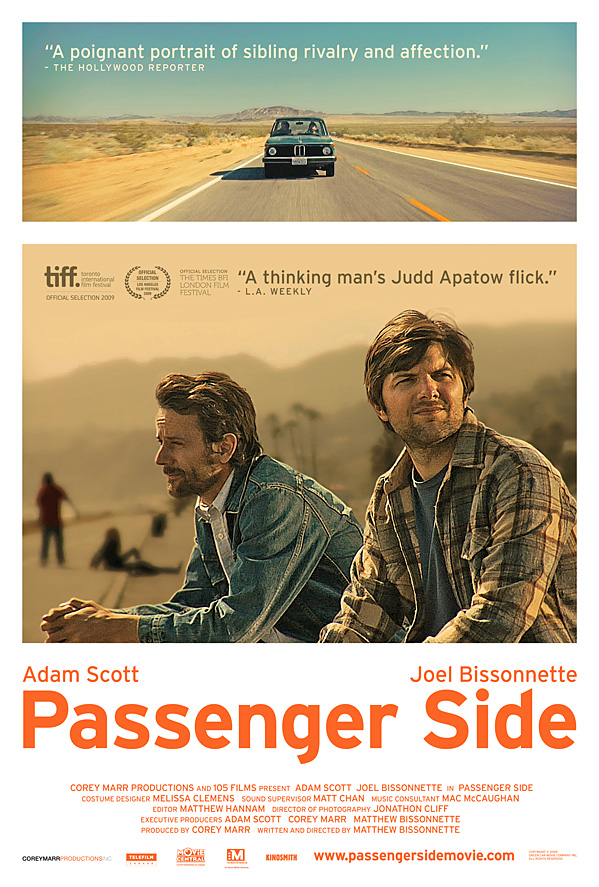 Trailer:


1:21 PM , # , |




Pop
It's from earlier in the year, but Marc's take on Ben Mulroney -- and radio music countdowns -- is fantastic:

The debut episode offered no surprises whatsoever — including all the misappropriated inflections associated with Mulroney's script reading. Would you be expecting any more, or less?
1:36 AM , # , |