Sunday, March 30, 2008
Interview
Tony Pierce interviews Christie about Funny Pages 2.0:

me: So if a guy tried to pick you up while speaking Klingon, would that work?

Christie: ...well for starters, I would die of laughter and buy him a drink, and probably wind up in some sort of 3 hour conversation/arguement and then probably decide that we could never be because he enjoyed Voyager. And not in a ironic way.

Also: take the Heaven Admissions Test.
11:49 AM , # , |


Saturday, March 29, 2008

And Finally ...
The last word on the whole silly thing:

Earth Hour is a brand owned jointly by WWF Australia, Fairfax Media and the advertising company Leo Burnett Worldwide. And the event is great publicity for all three organisations. As part of the campaign, Leo Burnett created a 30-second advertising spot showing lights being doused across the city, as well as print executions, radio ads, web, posters, postcards, press packs, brand partnerships and merchandise. Leo executive creative director Mark Collis described the event as a "little hippyish". Of course, it is nothing of the sort. Over 600 very unhippyish businesses and corporations, such as McDonald's, Qantas, Coca-Cola and HSBC have supported the event seeing the benefit of wrapping themselves in the green flag.
9:32 PM , # , |




Earth Sour

Eva notes: You'll enjoy this list of alternative things to do at Earth Hour. My favourites: "Get drunk alone in the dark, like every Saturday." and "Go for a long drive with the headlights off."

Actually, I'll be doing #3:

Proclaim self-righteously to partner that turning off all the lights for an hour doesn't really accomplish anything and is just a red herring so corporations and governments can distract people from the real issues.

As the google example in the last post shows, the corporate world has pretty much jumped on this thing and neutered it. And since I've been sick for a week and feeling especially grumpy, I'd going to address #1:

Hold a candlelight Al Gore impression contest. Award a paper-mache Nobel prize to the winner.

You know what? Al Gore is a bit of a jerk (and so is his wife; remember the PMRC?). At the end of his movie, he lists a bunch of "solutions" to climate change and suggests that none of them are difficult. But Gore seems to always support "change" that comforts the wealthy and puts the burden on the poor ... which makes sense, because Gore is wealthy and views the world from that perspective.

Some of the things he's recommended:

Carbon credits - if you have the money, you can continue your lifestyle and buy out your guilt.

Compact Flourescent Bulbs - flickering, buzzing & ugly, they turn modest dwellings into ugly zones. Oh, and they're TOXIC.
Biofuels - which are fine ... unless you like to eat.

And that's the thing about Gore and this ongoing parade of environmental awareness events: the hesitation to take on suburbia. For example, what about lawns? Lawns are everywhere in North America and terrible for the environment. And in most municipalities, they're legislated. If you try to naturalize your yard, there's probably a bylaw to stop you.

Lawns are an example of a significant issue you never hear about in the current "green" frenzy that's surging through the mainstream. There are lots more. But they'd require real change and actual work ... and who wants that when you can go to a concert?

3:57 PM , # , |


Friday, March 28, 2008

Earth Hour

Never before have so many people cared and talked so much about the environment while doing absolutely nothing substantial to address the problems and, in fact, by buying so many consumer electronics recently, have actually made things worse. Congratulations. Let's turn off the lights for one episode of CSI.

update: Google joins in by darkening their site ... oh, wait ...

1:36 PM , # , |




New Junk

12:51 AM , # , |


Wednesday, March 26, 2008

Winners Don't Use Drugs

Remember, don't get involved with street gangs:



2:51 AM , # , |


Monday, March 24, 2008

TT-Cheese

The TTC seeking permission to tart up Toronto's subway stations. But Joe Clark is on top of it:

And now they want approval from the TTC to do anything they want with 63 out of those 69 stations. Four stations on the Bloor line would be left as museum pieces. (A similar approach was dismissed by Adam Giambrone's political operative as "kitsch.") All other stations could be made over with fake materials, using signage in a fake typeface arranged in a layout that is a clone of another city's design from 30 years ago. Or some other "distinctive" design could be imposed.

As he points out, the current renovation of Pape station is cheap. One comment at Spacing sums it up best:

Does anyone really think we're going to get Moscow-like stations? Stop dreaming. You think they look bad when they're filthy now, wait until they're made over with hard-to-keep clean touchy-feely materials and public art that will be left to be covered with brake dust, grime and graffiti. That will look REALLY nice! The tile look was chosen for specific reasons: durable, easy to clean and the station names and signage would be easy to read and recongizable. The Spadina line stations were supposed to be a big improvement in diversity, look at how they have stood up to decades of dirt and neglect. They can't clean the easiest materials to clean right now, it's not going to get any better. And I don't hold out any hope that the signage will be any better either.

2:03 PM , # , |


Saturday, March 22, 2008

Skunk Disaster!

... and Zack was caught in the crossfire.

5:06 PM , # , |


Thursday, March 20, 2008

Biofuel

Excuse me ...

4:22 PM , # , |




Comic

One of my favourites over at Funny Pages 2.0.

12:23 PM , # , |


Tuesday, March 18, 2008

Hot Docs 15

The press conference to launch this year's Hot Docs was held this morning at Revival on College. It's the 15th year and my 5th as art director. The fest starts April 17, 2008.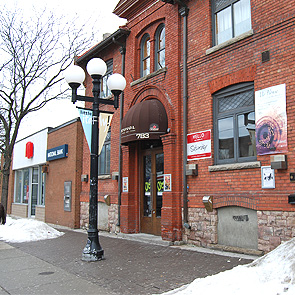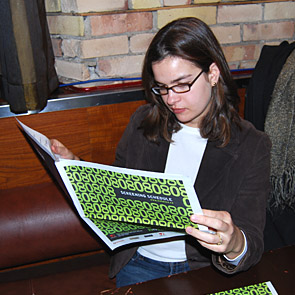 [above] Amber checks out the new screening schedule. It'll be everywhere starting today.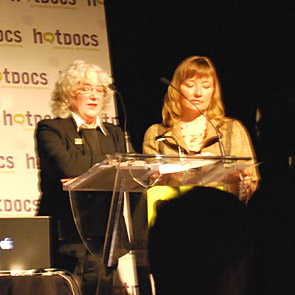 [above] The programmers announce the line-up: Programming Director, Sean Farnell and Canadian Programmers, Lynn Fernie and Gisele Gordon. It's the biggest Hot Docs yet: there are 171 films to choose from.

Here are a few filmmakers: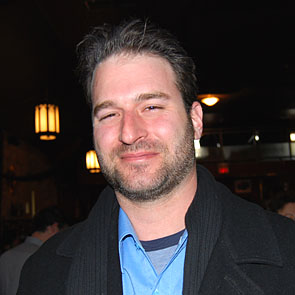 [above, left] Jody Shapiro has created 8 shorts with Isabella Rossellini called Green Porno. 6 of those will be kicking things off on Opening Night. [above, right] I never seem to bump into anybody from film school, but today that changed when I saw Andrew Nisker who was in my year at York. His doc, Garbage! The Revolution Starts at Home is screening as part of the World Showcase programme.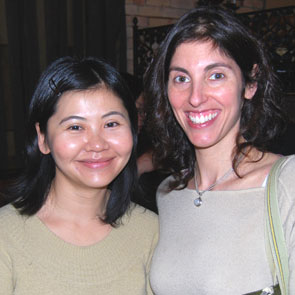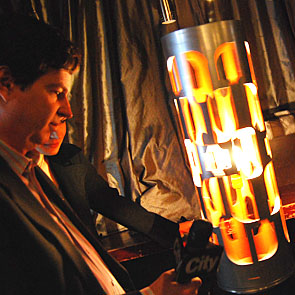 [above, left] I used to watch and liked This is Wonderland so I was disappointed when CBC cancelled it in order to produce more "popular" shows ... like MVP. Did you watch MVP? I have no idea how they could make a show so bad. Someone was channelling Ed Wood. Anyhow, Siu Ta (Nancy on Wonderland) has a personal doc called, Daddy Tran: A Life in 3D at the fest. [above, right] Apparently, this machine can make you experience a drug trip without the drugs. It made me experience a Star Trek TOS flashback.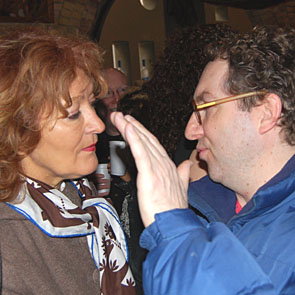 It was the biggest Hot Docs press conference ever and the place was packed with media. And they all think they're cool but only the Canadian Bureau Chief for The Hollywood Reporter, Etan Vlessing [above, left] has attended and survived one of my runfit classes. I'd like to see Rick Campenelli do THAT.

There's one month to go and there's a tonne of stuff to do. This blog remain on break until fest time ... see you at Hot Docs!
2:22 PM , # , |


Wednesday, March 12, 2008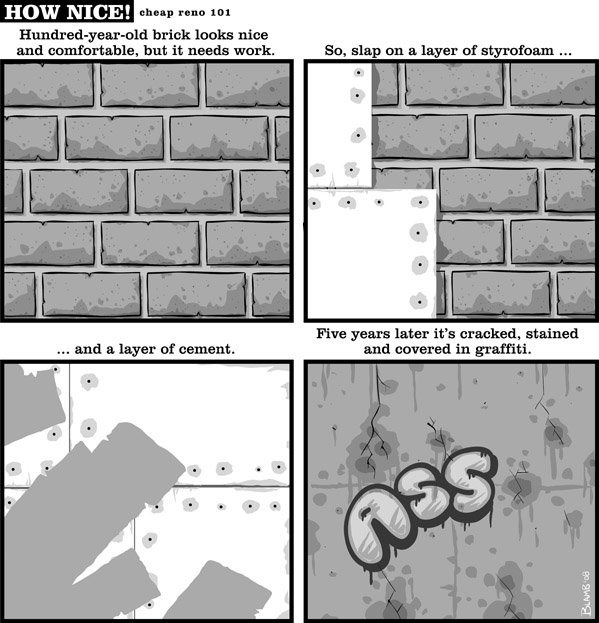 2:06 AM , # , |


Friday, March 07, 2008

Hometown Fest
The London -- Ontario -- Canadian Film Festival started yesterday. The homeworld is represented by Breakfast With Scott, written by Sean (who is not only from Glencoe, but we both also went to Beal).

All Hat is also playing ... tonight! Recent Doc Soup flick Up the Yangtze is playing on Sunday and Julian is doing the Q&A for The Tracey Fragments (which stars pre-Juno Ellen Page).

Hey, that's good festing ...
2:43 PM , # , |




Update
From one year ago:




But in parliament, Dion wears better suits.
10:10 AM , # , |


Thursday, March 06, 2008

Funny Pages 2.0
Sneak a peak at Christie's LA Times blog.
4:45 PM , # , |


Wednesday, March 05, 2008

Facts Are Fun
Eva's Regenesis Fact Sheet is up. Did you know that TB stands for "Transcendental Bepitation"? It's true. Read it.
1:19 AM , # , |


Tuesday, March 04, 2008

Before & After
Pics show landscapes transformed by human activity.
2:26 AM , # , |


Monday, March 03, 2008

Hat, Baby
Every few years this comes up. I love hats as much as anybody and would like it if it were true, but let's face facts ... it's a pie in the sky fantasy:

Yet hats are due for a full resurgence. Hats are both functional and stylish. They can cover a bad hair day, keep your head warm, and shade your eyes from the sun. They can also be worn to cover a receding hairline, which interestingly enough is why Frank Sinatra, an iconic hat wearer, start wearing one in the first place.

Frank Sinatra? Here's your Frank Sinatra:


1:17 AM , # , |


Sunday, March 02, 2008

Bill C-10
While the right-wing bloggers are happy to defend the right to "free speech" for neo-Nazi screwballs (see last post), Bill C-10 doesn't bother them a bit despite this little quirk:

the proposed measure applies only to Canadian film and television productions and not to service productions.

US shows shooting here would still get their credits.
12:21 PM , # , |