Friday, May 30, 2008
Review
Finally, an honest Indiana Jones review:

Seems pretty far fucking fetched, right? Not when you compare it to the scene where you see Indy & crew escape from the passage up to about 150 feet higher and two football fields further away than where they were two minutes ago so they have a spectacular view of THE GIANT FUCKING FLYING SAUCER EXITING THE STONE MOUNTAIN OFF TO WHATEVER FUCKING DIMENSION LUCAS OBVIOUSLY WENT TO FIRST AND NEVER FUCKING CAME BACK FROM.
4:30 PM , # , |




The Worst Part? Funwall.
Facebook is a 'privacy invasion minefield'. For example, everyone everywhere now knows that I suck at Scrabble ...
4:16 PM , # , |


Monday, May 26, 2008

Abrupt Movie Review
Dewey Cox is an overrated underrated movie. It starts well but the jokes dry up around the halfway point and it's downhill to the sappy, sentimental ending that isn't redeemed by the final joke. If you rent it, just turn it off when it starts to drag.
9:13 PM , # , |




A Lotta Stock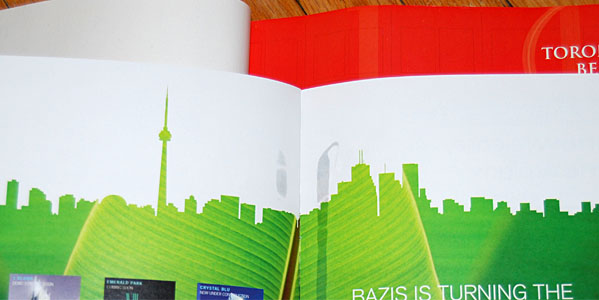 I found one of my stock images in a local publication for the first time. If you have a copy of Toronto Life, the Toronto skyline image on the condo ad is one of mine.

I've been building a collection of Toronto stock, you can also see: downtown, College Street, fun cartoon Toronto, Toronto at night, full detailed skyline, city hall and lots more.

Also, even though the thumbs page experiment hasn't been updated in a while, you can still see some pics there.
11:29 AM , # , |


Thursday, May 22, 2008

Bad Gas
Hey, it's the National Gas Map! [ via Christie ] I don't own a car, so I don't really give a rat's ass about gas ... but those of you who drive should take solace in the fact that there are parts of the country where gas is pricier than here. For now.

Meanwhile, over at The Oildrum, you can get an overview of Peak Oil; it's not just for Bigfoot and UFO enthusiasts anymore. Although, I'm sure they still enjoy a good peak oil yarn ...

But as bad as a peak in oil production is, there are still far greater nightmares.
6:47 PM , # , |


Wednesday, May 21, 2008

Hockey Night in Canada Finale
WARNING: SPOILERS

Hey, I found out what happens in the final episode of Hockey Night in Canada. This is your last chance to turn back ... I'm going to reveal the secrets of the final episode now:

In the last episode, Don Cherry undergoes deep brain stimulation to learn what happened during the lost hours when he blacked out. It turns out that when he was drunk at the bar, Cherry had phoned Ron McLean for a ride home ... but McLean didn't get the call; his girlfriend did.

McLean's girlfriend went to pick up Don Cherry instead and that's why they were on the bus together when the tragic accident happened. Once this is revealed, it is also revealed that Ron McLean's girlfriend will not survive her injuries. The last part of the episode features an emotional scene where Don McLean and his girlfriend spend her final moments together.

The episode ends with Don Cherry realizing that he may have permanently lost his friend. Brought to you by FORD! Ford trucks are Ford tough!
10:31 PM , # , |


Wednesday, May 14, 2008

We'll Do It Live!
5:45 PM , # , |


Tuesday, May 13, 2008


7:54 PM , # , |


Monday, May 12, 2008

CSI Theme Lyrics Explained
Ok, here's the deal with the CSI themes:

Original CSI
Key lyric: "Who are you? Who who, who who? I really want to know."

This lyric sums up what the CSI is all about. Being concise was important because this was the very first CSI and people didn't know what a CSI show was all about.

CSI New York
Key lyric: "Out here on the street..."

Unlike most places, New York City has streets. This is what distinguishes CSI New York from Original CSI. Original CSI is set in Las Vegas. There are no streets in Las Vegas. There is, however, a scale model of New York built as a casino. The cast of CSI New York have not appeared in a crossover episode on Original CSI where they solve a crime at the New York -themed casino. This is a tremendous missed opportunity.

CSI Miami
Key lyric: "Won't get fooled again!"

CSI Miami is the 'loser' of the CSI franchise (yet, oddly, the most entertaining). The show is a toxic stew of half-assed writing, bad acting and mangled facelifts. The other CSI themes are confident; the CSI Miami theme says, "We're idiots and our show bites, but we won't get fooled again!" Speaking of crossovers, the Second Life episode would have been more appropriate on CSI Miami.

Now you know about CSI theme songs!
11:44 PM , # , |





5:15 PM , # , |


Friday, May 09, 2008

Illuminating Your Mind
Sorry about that last post ... here's something to put you in a weekend mood:


4:55 PM , # , |




Bad Art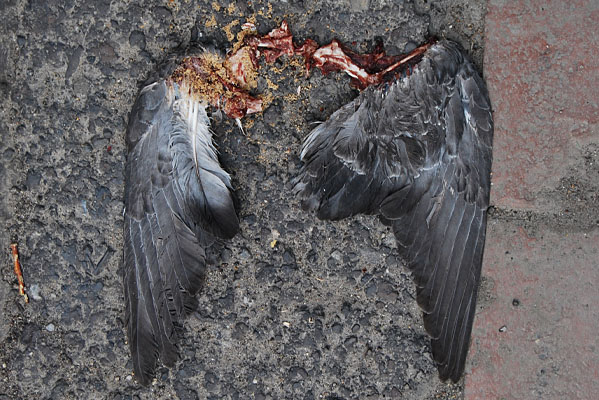 I saw this on the street. I title this photo, Lost Angel.
11:24 AM , # , |


Wednesday, May 07, 2008

Farm Fun

Chef Jamie Kennedy describes his plans.

Amber has been co-hosting Fulvio, an organic grower from Michoacán and Amato, a restaurant owner from Oaxaca. They're here as part of a knowledge exchange to see what's happening with sustainable agriculture in Ontario. I've been the driver.

This afternoon we visited with Jamie Kennedy and heard about how he's exploring local agriculture.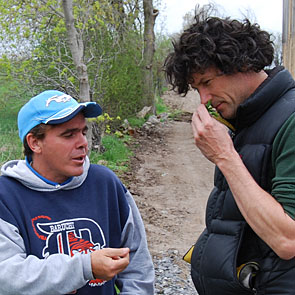 Fulvio describes the garlic-like qualities of a native plant species previously referred to as a "weed" as Amber & Amato look on.



Beer ... in a field.

Afterwards, we drove over to meet this vegetable grower who doesn't use chemicals or pesticides. You can find him at the farmer's market in the Distillery in the summer. He grows a wide variety of veggies and harvests wild fruit.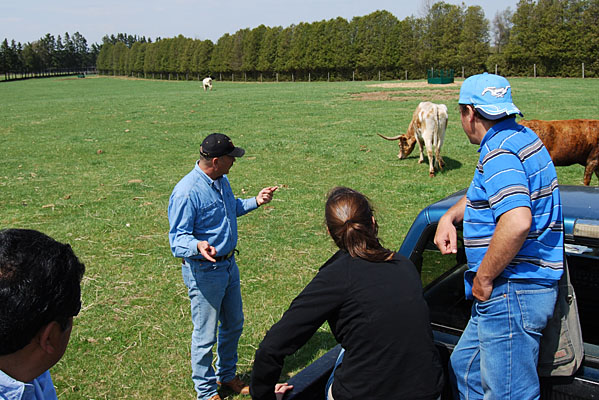 We rode around in the back of a pick-up at the ranch.

Back on Monday, we visited the YU Ranch where Bryan Gilvesy raises grass-fed Texas Longhorn Cattle using a variety of sustainable practices.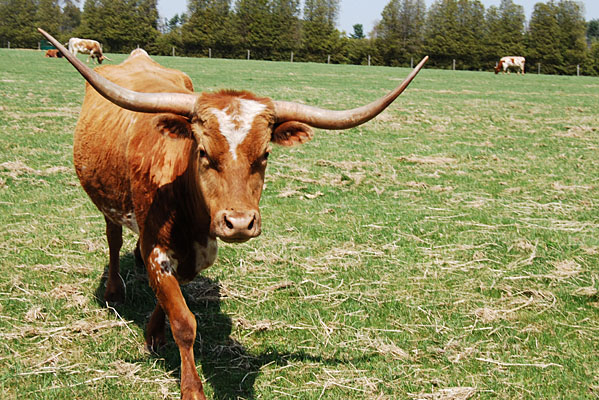 Do you like my ... long horns?

I'm sure you will hear more about it from Amber ... after all, I'm just the driver!
11:10 PM , # , |


Tuesday, May 06, 2008

Ethanol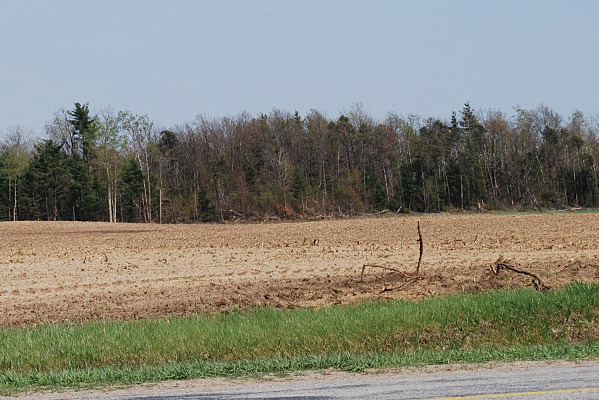 Here's the reality of corn ethanol. Above is an actual local field where hundreds of trees have been stripped away to make room to grow corn for ethanol ... because it's "good for the environment".
11:22 AM , # , |


Friday, May 02, 2008

Sci-fi Horror for your Weekend
This left me horrified when I read about it in NOW today:

PETA is now stepping in and offering a $1 million reward to the first scientist to produce and bring to market in vitro meat.

It`s a sci-fi nightmare brought to life ... BY PETA! What a bunch of fucking idiots ...

11:56 PM , # , |




The Only Good Commercial on TV


At a time when every other commercial on tv is about some lame idiot coveting another guy's cheap car, I'm thankful for Russell Oliver.
10:54 AM , # , |


Thursday, May 01, 2008

Steam Trek
6:16 PM , # , |