Saturday, June 28, 2008
It's Sound Science!
8:44 PM , # , |




40 Things
I'm gonna start working on a list of 40 Things I won't do when I'm 40. Here's one to kick it off:

Resurrect my "boy band".
12:38 PM , # , |


Thursday, June 26, 2008

That Idiot, Again ...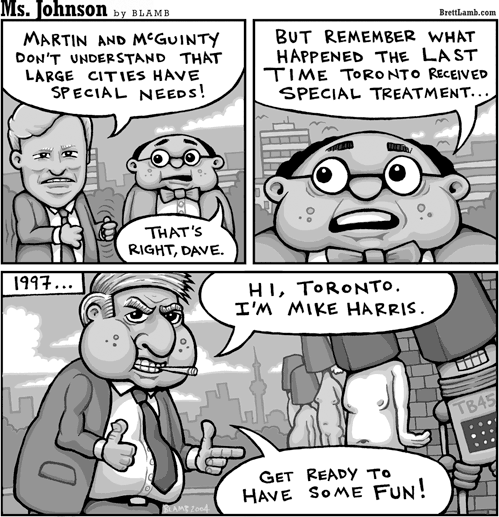 Mike Harris wants Toronto to know that it has a problem, but:

Both Harris and Manning maintain they are "not interested in pointing a finger of blame."

Obviously. Mike Harris deliberately created the city's current problems to force it to make cuts to services. Everything that's happened was by design.


1:06 PM , # , |


Wednesday, June 25, 2008

Dexter
Hates Dexter. Loves it.

I wasn't all that interested in Dexter until it started playing on CTV ... now we're completely hooked and mid-way through 2nd season.

In related news, Conrad Black is staying in jail.
6:17 PM , # , |


Tuesday, June 24, 2008

Dog Hell Redux
If you're a dog owner, you're always aware that your dog is putting things in his or her mouth. You hope that they're not eating things like antifreeze, but you know it's possible. But people who try to poison dogs in public spaces tend to forget that other creatures like to put things in their mouths, like children ...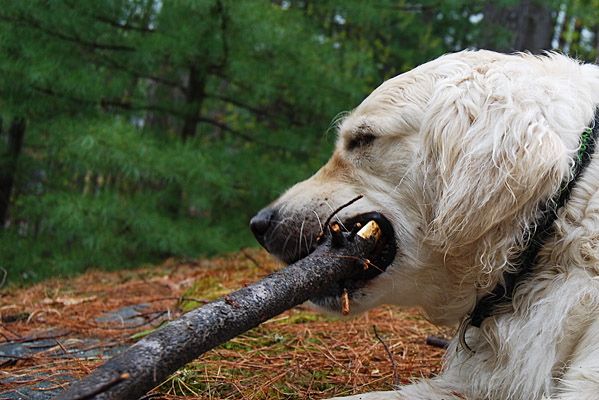 All you can really do is minimize your risks and as I've mentioned before, that's why we stopped taking Zack to Dog Hill at High Park years ago. In every way, Dog Hill is the worst setting for dog recreation. It consists of a bunch of picnic tables on top of a sandy hill with poorly-defined boundaries and the setting encourages dogs to run around together in wild bunches and there's no space for owners to actually play with their dogs ... in fact, the space discourages games like fetch, etc.

The location, right in the centre of the park, ensures that visiting dogs are always in everybody's face. The public sees the dogs at their worst: running around in packs acting like idiots while their owners sit on the picnic tables.

What's amazing about the situation -- which was just reviewed -- is that there's a really simple solution. There is a children's playground in a depression on the eastern edge of the park. It's an ideal space for the kids. There's a similar under-used spot close to the corner of Bloor and Keele that would be ideal for a dog play space. It's a well-defined grassy space and it's great for fetch.

But wait, there's more!

That spot links directly to the trail that leads to the paved road that is also a popular and appropriate off-leash area. That road could be used as a link to a second dog area somewhere on the southeast portion of the park. Having two dog spaces on the edges of the park would reduce the dog traffic on the nature trails and focus the dog traffic on less sensitive areas. Two dog areas would also dilute the number of dogs in one spot, reducing the concentration of undesirable behaviour.

When the issue was under review, nobody even considered moving the dog area from the centre of the park. There are obviously strong personalities with no sense steering this issue. Poison or no poison, we'll keep avoiding Dog Hill.
11:58 AM , # , |


Monday, June 23, 2008

Drip
If any of you car drivers were feeling hopeful because Saudi Arabia promised to pump more oil:

Saudi Arabia is promising the oil (and/or production capacity) it has been promising again and again over the past 5 years;
12:46 AM , # , |


Wednesday, June 18, 2008

Obama HQ
Last week in Chicago we managed to find the Obama campaign headquarters, but were disappointed that it was located in a big, blank office tower without any signs or banners.




If I was an American, would I vote for Obama? Yes, I would. I would vote for Michelle Obama.
12:54 PM , # , |




Cell Free, As Free As the River ...
Eva sent me a link to this post, Typical Reaction to the Revelation That I Do Not Own a Cell Phone, By Year. We were out last weekend and actually experienced the 2008 Incomprehension reaction first-hand:

2008: Incomprehension ("You don't ... how ...?")

But there's no reason for me to own a cellphone. I'm an introvert, I don't own a car and I work at home. I'm not mobile, so neither is my phone.
12:27 AM , # , |


Monday, June 16, 2008

Boyfriend Latte
Sorry, I was out of town and didn't encourage you to check you Mark Sanders and Shannon Beckner's short film, Boyfriend Latte. Which is okay, because those screenings at the Worldwide Shorts fest were sold out. Nikki Payne has 6000 fans on Facebook ... they must have all shown up.

Here's the promotional artwork I did for the film:


11:41 PM , # , |




Lists
One of the worst sci-fi "best of" lists yet. I think it's almost time to create a list of worst "best of" lists. This one is certainly vying for #1! Apparently, it was written by someone who has NEVER ACTUALLY WATCHED TV.
10:43 AM , # , |


Saturday, June 07, 2008

This is Your Brain
This is your brain on the phone ...



update: here's the Snopes page on this one. That's good hoaxin'!
10:26 AM , # , |




Nobody Dies on a Mac
2:57 AM , # , |


Thursday, June 05, 2008

You May Already Be a Winner
Spacing named Small Mag of the Year and Editor of the Year (for Dale Duncan) by the Canadian Society of Magazine Editors.
9:07 PM , # , |




Terror Photographers
I often hear about photographers being harrassed in the name of 'security'. However:

... it's a movie-plot threat.

Rannie has links to your rights as a photographer in Canada as well as stories of photographer harrassment.
10:40 AM , # , |


Monday, June 02, 2008

Knock, Knock
One quarter of Canadians do not believe in God.

The other three quarters have been ringing my doorbell all afternoon.
3:00 PM , # , |




Region Blocking
I was surfing around and had the same experience:

I just saw a link reading "PC Guy Explains Net Neutrality on The Daily Show" at Reddit (owned by Conde Nast). I can't watch the video because I'm in Canada.

You can see why the net neutrality debate is starting to hit home. Embedding video clips from mainstream media sources is pointless now because someone, somewhere won't be able to view it (better to use the CrooksandLiars approach). I love The Daily Show, but I avoid links to Daily Show posts because I know that The Comedy Network prevents Canadians from being able to view clips. The Comedy Network website is a useless mess and doesn't offer the same access as the Comedy Network, so as far as the The Daily Show on the internet is concerned, Canadians are 2nd class citizens.

In the long run, if region blocking continues to spread it could come back and bite the corporations in the ass the way DRM help knock down the music industry. If you frustrate users, they will find workarounds ... it may take a bit of time, but as with the music industry, once users have found alternatives, they won't be back.
1:37 PM , # , |